Castle Connolly names over 440 Ohio State faculty physicians 2023 Top Doctors
When you or a loved one is sick, finding the best care is priority number one. Patients and physicians alike have come to rely on the Castle Connolly Top Doctors List to find the most trusted and skilled physicians by specialty. Each year Castle Connolly evaluates physicians based on their education, research leadership, interpersonal skills, professional success and disciplinary history, and publishes the resource directory. When compiling the list, the independent research company also considers clinical excellence and dedication to ensuring each individual patient receives the best possible care.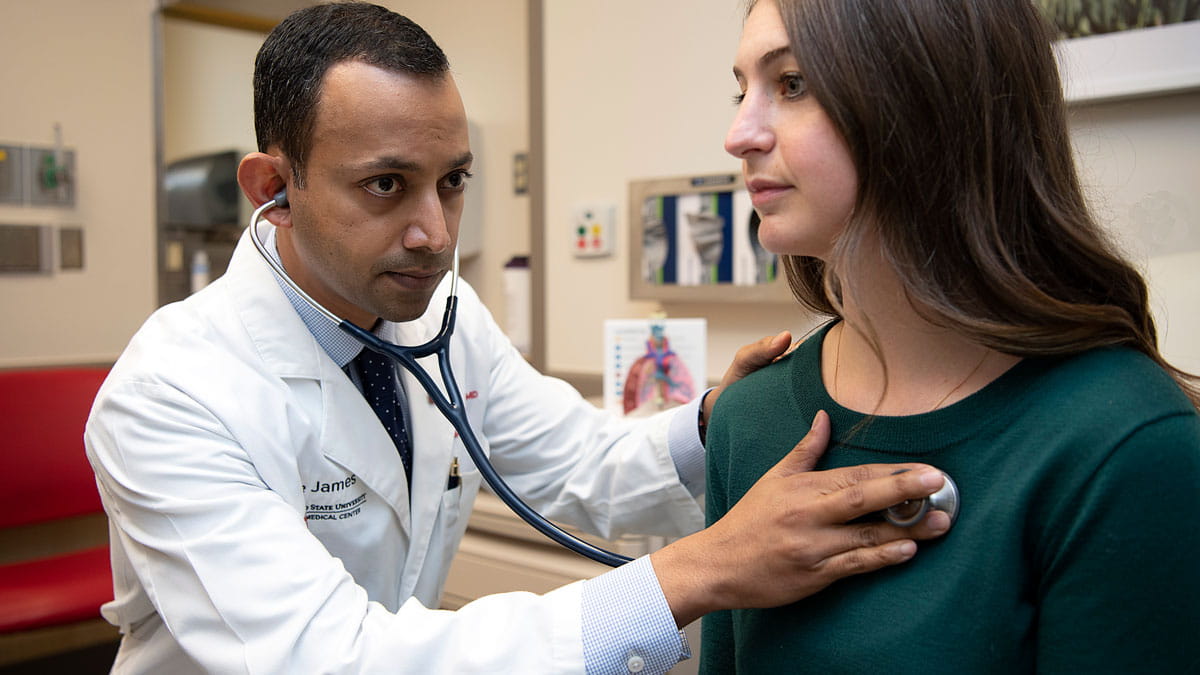 The good news for those residing in central Ohio — The Ohio State University College of Medicine and The Ohio State University Wexner Medical Center have more than 440 physicians on the 2023 Top Doctors List. This is more than any other medical institution in central Ohio.
"Seeing so many of our Ohio State physicians listed on Castle Connolly's roster is inspiring," says Andrew Thomas, MD, MBA, interim co-leader and chief clinical officer of the Ohio State Wexner Medical Center. "It is further evidence that the Ohio State Wexner Medical Center and College of Medicine are a national leader in academic health care."
Carol R. Bradford, MD, MS, FACS, dean of the Ohio State College of Medicine, is very proud of the college's faculty physicians.
"Ohio State's faculty physicians offer world-class primary and specialty medical care," says Dr. Bradford. "Their inclusion on Castle Connolly's list is a well-deserved endorsement of the fact that they are some of nation's top physicians."
Drs. Andrew Thomas and Carol R. Bradford and Laxmi Mehta, MD, professor of Internal Medicine at the Ohio State College of Medicine, came together for a plaque ceremony last week where they accepted Castle Connolly Top Doctor plaques on behalf of this year's top doctors.
Congratulations to the Ohio State College of Medicine Castle Connolly Top Doctors who practice at Nationwide Children's Hospital, The Ohio State University Comprehensive Cancer Center – Arthur G. James Cancer Hospital and Richard J. Solove Research Institute and the Wexner Medical Center.
Addiction Medicine
• Dr. Julie Teater, Ohio State University Wexner Medical Center
Adolescent Medicine
• Dr. Elise Berlan, Nationwide Children's Hospital
• Dr. Andrea Bonny, Nationwide Children's Hospital
• Dr. Fareeda Haamid, Nationwide Children's Hospital
• Dr. Cynthia Holland-Hall, Nationwide Children's Hospital
Allergy and Immunology
• Dr. Mitchell Grayson, Nationwide Children's Hospital
• Dr. Monica Kraft, Ohio State University Wexner Medical Center
• Dr. Tiffany Owens, Ohio State University Wexner Medical Center
• Dr. Kara Wada, Ohio State University Wexner Medical Center
Anesthesiology
• Dr. Fernando Arbona, Ohio State University Wexner Medical Center
• Dr. David Eckmann, Ohio State University Wexner Medical Center
• Dr. Hamdy Elsayed-Awad, Ohio State University Wexner Medical Center
• Dr. Michael Essandoh, Ohio State University Wexner Medical Center
• Dr. Antolin Flores, Ohio State University Wexner Medical Center
• Dr. Jonathan Hamilton, Ohio State University Wexner Medical Center
• Dr. William Perez, Ohio State University Wexner Medical Center
• Dr. Demicha Rankin, Ohio State University Wexner Medical Center
• Dr. Andrew Springer, Ohio State University Wexner Medical Center
Cardiac Electrophysiology
• Dr. Muhammad Afzal, Ohio State University Wexner Medical Center
• Dr. Ralph Augostini, Ohio State University Wexner Medical Center
• Dr. Emile Daoud, Ohio State University Wexner Medical Center
• Dr. Mahmoud Houmsse, Ohio State University Wexner Medical Center
• Dr. John Hummel, Ohio State University Wexner Medical Center
• Dr. Steven Kalbfleisch, Ohio State University Wexner Medical Center
• Dr. Toshimasa Okabe, Ohio State University Wexner Medical Center
Cardiovascular Disease
• Dr. William Abraham, Ohio State University Wexner Medical Center
• Dr. Daniel Addison, Ohio State University Wexner Medical Center
• Dr. Cindy Baker, Ohio State University Wexner Medical Center
• Dr. Ragavendra Baliga, Ohio State University Wexner Medical Center
• Dr. Raymond Benza, Ohio State University Wexner Medical Center
• Dr. Michael Donnally, Ohio State University Wexner Medical Center
• Dr. Veronica Franco, Ohio State University Wexner Medical Center
• Dr. Sakima Smith, Ohio State University Wexner Medical Center
• Dr. Gbemiga Sofowora, Ohio State University Wexner Medical Center
• Dr. Ayesha Hasan, Ohio State University Wexner Medical Center
• Dr. Laxmi Mehta, Ohio State University Wexner Medical Center
Child & Adolescent Psychiatry
• Dr. David Axelson, Nationwide Children's Hospital
• Dr. Richard Gilchrist, Nationwide Children's Hospital
Child Neurology
• Dr. Anne Connolly, Nationwide Children's Hospital
• Dr. Warren Lo, Nationwide Children's Hospital
• Dr. Margie Ream, Nationwide Children's Hospital
• Dr. Laurel Slaughter, Nationwide Children's Hospital
• Dr. Chang-Yong Tsao, Nationwide Children's Hospital
• Dr. Jaime-Dawn Twanow, Nationwide Children's Hospital
• Dr. Jorge Vidaurre, Nationwide Children's Hospital
• Dr. Pedro Weisleder, Nationwide Children's Hospital
Clinical Genetics
• Dr. Dennis Bartholomew, Nationwide Children's Hospital
• Dr. Kim McBride, Nationwide Children's Hospital
• Dr. Kandamurugu Manickam, Nationwide Children's Hospital
Colon & Rectal Surgery
• Dr. Mark Arnold, Ohio State's Comprehensive Cancer Center – James Cancer Hospital and Solove Research Institute
• Dr. Alan Harzman, Ohio State University Wexner Medical Center
• Dr. Emily Huang, Ohio State University Wexner Medical Center
• Dr. Amber Traugott, Ohio State University Wexner Medical Center
Critical Care Medicine
• Dr. Philip Diaz, Ohio State University Wexner Medical Center
Dermatology
• Dr. Mark Bechtel, Ohio State University Wexner Medical Center
• Dr. David Carr, Ohio State University Wexner Medical Center
• Dr. Brittany Dulmage, Ohio State University Wexner Medical Center
• Dr. Maya Jonas, Ohio State University Wexner Medical Center
• Dr. Benjamin Kaffenberger, Ohio State University Wexner Medical Center
• Dr. Jessica Kaffenberger, Ohio State University Wexner Medical Center
• Dr. David R. Lambert, Ohio State University Wexner Medical Center
• Dr. Patricia Malerich, Ohio State University Wexner Medical Center
• Dr. Susan Massick, Ohio State University Wexner Medical Center
• Dr. Alisha Plotner, Ohio State University Wexner Medical Center
• Dr. Stephanie Trovato, Ohio State University Wexner Medical Center
• Dr. Kelly Tyler, Ohio State University Wexner Medical Center
• Dr. Catherine Ulman, Ohio State University Wexner Medical Center
• Dr. Patricia Witman, Nationwide Children's Hospital
Developmental-Behavioral Pediatrics
• Dr. Jennifer Walton, Nationwide Children's Hospital
Diagnostic Radiology
• Dr. Chadwick Wright, Ohio State University Wexner Medical Center
Emergency Medicine
• Dr. Michael Prats, Ohio State University Wexner Medical Center
Endocrinology, Diabetes & Metabolism
• Dr. Kathleen Dungan, Ohio State University Wexner Medical Center
• Dr. Luma Ghalib, Ohio State University Wexner Medical Center
• Dr. Willa Hsueh, Ohio State University Wexner Medical Center
• Dr. Steven Ing, Ohio State University Wexner Medical Center
• Dr. Joshua Joseph, Ohio State University Wexner Medical Center
• Dr. Lawrence Kirschner, Ohio State University Wexner Medical Center
• Dr. Fadi Nabhan, Ohio State University Wexner Medical Center
• Dr. Lekshmi Nair, Ohio State University Wexner Medical Center
• Dr. Matthew Ringel, Ohio State's Comprehensive Cancer Center – James Cancer Hospital and Solove Research Institute
• Dr. Laura Ryan, Ohio State University Wexner Medical Center
• Dr. Jennifer Sipos, Ohio State's Comprehensive Cancer Center – James Cancer Hospital and Solove Research Institute
• Dr. Kathleen Wyne, Ohio State University Wexner Medical Center
Family Medicine
• Dr. Aaron Clark, Ohio State University Wexner Medical Center
• Dr. Whitney Christian, Ohio State University Wexner Medical Center
• Dr. Ernesto Cruzado, Ohio State University Wexner Medical Center
• Dr. Mimi Ghosh, Ohio State University Wexner Medical Center
• Dr. Balpreet Jammu, Ohio State University Wexner Medical Center
• Dr. Shalina Nair, Ohio State University Wexner Medical Center
• Dr. Eunice Oppenheim-Knudsen, Ohio State University Wexner Medical Center
Gastroenterology
• Dr. Lanla Conteh, Ohio State University Wexner Medical Center
• Dr. Philip Hart, Ohio State University Wexner Medical Center
• Dr. Sean Kelly, Ohio State University Wexner Medical Center
• Dr. Somashekar Krishna, Ohio State University Wexner Medical Center
• Dr. Luis Lara, Ohio State University Wexner Medical Center
• Dr. Peter Stanich, Ohio State University Wexner Medical Center
• Dr. Thangam Venkatesan, Ohio State University Wexner Medical Center
Geriatric Medicine
• Dr. Tanya Gure, Ohio State University Wexner Medical Center
Gynecologic Oncology
• Dr. Floortje Backes, Ohio State's Comprehensive Cancer Center – James Cancer Hospital and Solove Research Institute
• Dr. Kristin Bixel, Ohio State's Comprehensive Cancer Center – James Cancer Hospital and Solove Research Institute
• Dr. David Cohn, Ohio State Comprehensive Cancer Center – James Cancer Hospital and Solove Research Institute
• Dr. Larry Copeland, Ohio State Comprehensive Cancer Center – James Cancer Hospital and Solove Research Institute
• Dr. David O'Malley, Ohio State's Comprehensive Cancer Center – James Cancer Hospital and Solove Research Institute
Hand Surgery
• Dr. Hisham Awan, Ohio State University Wexner Medical Center
• Dr. Kanu Goyal, Ohio State University Wexner Medical Center
Hematology
• Dr. Seema Bhat, Ohio State's Comprehensive Cancer Center – James Cancer Hospital and Solove Research Institute
• Dr. Uma Borate, Ohio State's Comprehensive Cancer Center – James Cancer Hospital and Solove Research Institute
• Dr. Spero Cataland, Ohio State's Comprehensive Cancer Center – James Cancer Hospital and Solove Research Institute
• Dr. Narendranath Epperla, Ohio State's Comprehensive Cancer Center – James Cancer Hospital and Solove Research Institute
• Dr. Michael Grever, Ohio State's Comprehensive Cancer Center – James Cancer Hospital and Solove Research Institute
• Dr. Kami Maddocks, Ohio State's Comprehensive Cancer Center – James Cancer Hospital and Solove Research Institute
• Dr. Kerry Rogers, Ohio State University Wexner Medical Center
• Dr. Jennifer Woyach, Ohio State's Comprehensive Cancer Center – James Cancer Hospital and Solove Research Institute
• Dr. Jennifer Vaughn, Ohio State University Wexner Medical Center
Infectious Disease
• Dr. Jose Bazan, Ohio State University Wexner Medical Center
• Dr. Shandra Day, Ohio State University Wexner Medical Center
• Dr. Susan Koletar, Ohio State University Wexner Medical Center
• Dr. Christina Liscynesky, Ohio State University Wexner Medical Center
• Dr. Carlos Malvestutto, Ohio State University Wexner Medical Center
• Dr. David Wininger, Ohio State University Wexner Medical Center
Internal Medicine
• Dr. Seuli Brill, Ohio State University Wexner Medical Center
• Dr. Megan Brundrett, Nationwide Children's Hospital
• Dr. Jeanne Caligiuri, Ohio State University Wexner Medical Center
• Dr. Christopher Chiu, Ohio State University Wexner Medical Center
• Dr. Susan Friedman, Ohio State University Wexner Medical Center
• Dr. Sarah Jonaus, Ohio State University Wexner Medical Center
• Dr. Cynthia Kreger, Ohio State University Wexner Medical Center
• Dr. Kristina Lehman, Ohio State University Wexner Medical Center
• Dr. Stephen Koesters, Ohio State University Wexner Medical Center
• Dr. Patricia Ryan, Ohio State University Wexner Medical Center
• Dr. Nazhat Taj-Schaal, Ohio State University Wexner Medical Center
• Dr. Neeraj Tayal, Ohio State University Wexner Medical Center
• Dr. Andrew Thomas, Ohio State University Wexner Medical Center
• Dr. Geoffrey Vaughan, Ohio State University Wexner Medical Center
• Dr. Harrison Weed, Ohio State University Wexner Medical Center
Interventional Cardiology
• Dr. Talal Attar, Ohio State University Wexner Medical Center
• Dr. Konstantinos Boudoulas, Ohio State University Wexner Medical Center
• Dr. Ernest Mazzaferri, Ohio State University Wexner Medical Center
Maternal & Fetal Medicine
• Dr. Michael Cackovic, Ohio State University Wexner Medical Center
• Dr. William Grobman, Ohio State University Wexner Medical Center
• Dr. Mark Landon, Ohio State University Wexner Medical Center
• Dr. Philip Samuels, Ohio State University Wexner Medical Center
• Dr. Cynthia Shellhaas, Ohio State University Wexner Medical Center
• Dr. Stephen Thung, Ohio State University Wexner Medical Center
Medical Oncology
• Dr. Robert Baiocchi, Ohio State's Comprehensive Cancer Center – James Cancer Hospital and Solove Research Institute
• Dr. Marcelo Bonomi, Ohio State's Comprehensive Cancer Center – James Cancer Hospital and Solove Research Institute
• Dr. David Carbone, Ohio State's Comprehensive Cancer Center – James Cancer Hospital and Solove Research Institute
• Dr. Mathew Cherian, Ohio State's Comprehensive Cancer Center – James Cancer Hospital and Solove Research Institute
• Dr. Steven K. Clinton, Ohio State's Comprehensive Cancer Center – James Cancer Hospital and Solove Research Institute
• Dr. John Hays, Ohio State's Comprehensive Cancer Center – James Cancer Hospital and Solove Research Institute
• Dr. Bhavana Konda, Ohio State's Comprehensive Cancer Center – James Cancer Hospital and Solove Research Institute
• Dr. Pannaga Malalur, Ohio State's Comprehensive Cancer Center – James Cancer Hospital and Solove Research Institute
• Dr. Alice Mims, Ohio State's Comprehensive Cancer Center – James Cancer Hospital and Solove Research Institute
• Dr. J. Paul Monk, Ohio State's Comprehensive Cancer Center – James Cancer Hospital and Solove Research Institute
• Dr. Gregory Otterson, Ohio State's Comprehensive Cancer Center – James Cancer Hospital and Solove Research Institute
• Dr. Ashley Rosko, Ohio State's Comprehensive Cancer Center – James Cancer Hospital and Solove Research Institute
• Dr. Sameek Roychowdhury, Ohio State University Wexner Medical Center
• Dr. Sagar Sardesai, Ohio State's Comprehensive Cancer Center – James Cancer Hospital and Solove Research Institute
• Dr. Peter Shields, Ohio State's Comprehensive Cancer Center – James Cancer Hospital and Solove Research Institute
• Dr. Daniel Stover, Ohio State's Comprehensive Cancer Center – James Cancer Hospital and Solove Research Institute
• Dr. Gabriel Tinoco Suarez, Ohio State's Comprehensive Cancer Center – James Cancer Hospital and Solove Research Institute
• Dr. Robert Wesolowski, Ohio State's Comprehensive Cancer Center – James Cancer Hospital and Solove Research Institute
• Dr. Nicole Williams, Ohio State's Comprehensive Cancer Center – James Cancer Hospital and Solove Research Institute
Neonatal-Perinatal Medicine
• Dr. Elizabeth Bonanchea, Nationwide Children's Hospital
• Dr. Leif Nelin, Nationwide Children's Hospital
Nephrology
• Dr. Isabelle Ayoub, Ohio State University Wexner Medical Center
• Dr. Udayan Bhatt, Ohio State University Wexner Medical Center
• Dr. Khaled Boubes, Ohio State University Wexner Medical Center
• Dr. Alejandro Diez, Ohio State University Wexner Medical Center
• Dr. Aijaz Gundroo, Ohio State University Wexner Medical Center
• Dr. Nabil Haddad, Ohio State University Wexner Medical Center
• Dr. Rima Kang, Ohio State University Wexner Medical Center
• Dr. Uday Nori, Ohio State University Wexner Medical Center
• Dr. Samir Parikh, Ohio State University Wexner Medical Center
• Dr. Todd Pesavento, Ohio State University Wexner Medical Center
• Dr. Brad Rovin, Ohio State University Wexner Medical Center
• Dr. Jaysingh Singh, Ohio State University Wexner Medical Center
• Dr. Dan Spetie, Ohio State University Wexner Medical Center
Neurological Surgery
• Dr. Brian Dalm, Ohio State University Wexner Medical Center
• Dr. James Elder, Ohio State's Comprehensive Cancer Center – James Cancer Hospital and Solove Research Institute
• Dr. Andrew Grossbach, Ohio State University Wexner Medical Center
• Dr. Douglas Hardesty, Ohio State's Comprehensive Cancer Center – James Cancer Hospital and Solove Research Institute
• Dr. Jeffrey Leonard, Nationwide Children's Hospital
• Dr. Russell Lonser, Ohio State's Comprehensive Cancer Center – James Cancer Hospital and Solove Research Institute
• Dr. Shahid Nimjee, Ohio State University Wexner Medical Center
• Dr. Ciaran Powers, Ohio State University Wexner Medical Center
• Dr. Daniel Prevedello, Ohio State's Comprehensive Cancer Center – James Cancer Hospital and Solove Research Institute
Neurology
• Dr. Amir Adeli, Ohio State University Wexner Medical Center
• Dr. Bakri Elsheikh, Ohio State University Wexner Medical Center
• Dr. Miriam Freimer, Ohio State University Wexner Medical Center
• Dr. Pierre Giglio, Ohio State's Comprehensive Cancer Center – James Cancer Hospital and Solove Research Institute
• Dr. Tirisham Gyang, Ohio State University Wexner Medical Center
• Dr. Emily Harrington, Ohio State University Wexner Medical Center
• Dr. J. Chad Hoyle, Ohio State University Wexner Medical Center
• Dr. Allison Jordan, Ohio State University Wexner Medical Center
• Dr. Yasushi Kisanuki, Ohio State University Wexner Medical Center
• Dr. Stephen Kolb, Ohio State University Wexner Medical Center
• Dr. Sandra Kostyk, Ohio State University Wexner Medical Center
• Dr. Ariane Park, Ohio State University Wexner Medical Center
• Dr. Zarife Sahenk, Nationwide Children's Hospital
• Dr. Douglas Scharre, Ohio State University Wexner Medical Center
• Dr. Benjamin Segal, Ohio State University Wexner Medical Center
• Dr. Andrew Slivka, Ohio State University Wexner Medical Center
Neuroradiology
• Dr. Eric Bourekas, Ohio State University Wexner Medical Center
Obstetrics and Gynecology
• Dr. Deborah Bartholomew, Ohio State University Wexner Medical Center
• Dr. Amber Bondurant-Sullivan, Ohio State University Wexner Medical Center
• Dr. Michael Blumenfeld, Ohio State University Wexner Medical Center
• Dr. Kamilah Dixon, Ohio State University Wexner Medical Center
• Dr. Melissa Goist, Ohio State University Wexner Medical Center
• Dr. Geri Hewitt, Ohio State University Wexner Medical Center
• Dr. Megan Quimper, Ohio State University Wexner Medical Center
• Dr. Maggie Rosen, Ohio State University Wexner Medical Center
• Dr. Rebecca Rudesill, Ohio State University Wexner Medical Center
• Dr. Jonathan Schaffir, Ohio State University Wexner Medical Center
• Dr. Andrea Snyder, Ohio State University Wexner Medical Center
• Dr. Katherine Strafford, Ohio State University Wexner Medical Center
• Dr. Wayne Trout, Ohio State University Wexner Medical Center
• Dr. Brett Worly, Ohio State University Wexner Medical Center
Ophthalmology
• Dr. Mona Adeli, Ohio State University Wexner Medical Center
• Dr. David Castellano, Ohio State University Wexner Medical Center
• Dr. Colleen Cebulla, Ohio State University Wexner Medical Center
• Dr. Raymond Cho, Ohio State University Wexner Medical Center
• Dr. Ana Suelves Cogollos, Ohio State University Wexner Medical Center
• Dr. Gloria Fleming, Ohio State University Wexner Medical Center
• Dr. Andrew Hendershot, Ohio State University Wexner Medical Center
• Dr. Shelly Gupta Jain, Ohio State University Wexner Medical Center
• Dr. Rebecca Kuennen, Ohio State University Wexner Medical Center
• Dr. Matthew Ohr, Ohio State University Wexner Medical Center
• Dr. Tyler Oostra, Ohio State University Wexner Medical Center
• Dr. Andrea Sawchyn, Ohio State University Wexner Medical Center
• Dr. Mark Slabaugh, Ohio State University Wexner Medical Center
• Dr. Amit Tandon, Ohio State University Wexner Medical Center
• Dr. Michael Wells, Ohio State University Wexner Medical Center
• Dr. Fatoumata Yanoga, Ohio State University Wexner Medical Center
Orthopaedic Surgery
• Dr. Julie Bishop, Ohio State University Wexner Medical Center
• Dr. David Flanigan, Ohio State University Wexner Medical Center
• Dr. Nicholas Greco, Ohio State University Wexner Medical Center
• Dr. Adam Groth, Ohio State University Wexner Medical Center
• Dr. Grant Jones, Ohio State University Wexner Medical Center
• Dr. Christopher Kaeding, Ohio State University Wexner Medical Center
• Dr. Safdar Khan, Ohio State University Wexner Medical Center
• Dr. Robert Magnussen, Ohio State University Wexner Medical Center
• Dr. Joel Mayerson, Ohio State's Comprehensive Cancer Center – James Cancer Hospital and Solove Research Institute
• Dr. Timothy Miller, Ohio State University Wexner Medical Center
• Dr. Laura Phieffer, Ohio State University Wexner Medical Center
• Dr. Thomas Scharschmidt, Ohio State's Comprehensive Cancer Center – James Cancer Hospital and Solove Research Institute
• Dr. W. Vasileff, Ohio State University Wexner Medical Center
• Dr. Elizabeth Yu, Ohio State University Wexner Medical Center
Otolaryngology
• Dr. Oliver Adunka, Ohio State University Wexner Medical Center
• Dr. Amit Agrawal, Ohio State's Comprehensive Cancer Center – James Cancer Hospital and Solove Research Institute
• Dr. Carol R. Bradford, Ohio State University Wexner Medical Center
• Dr. Ricardo Carrau, Ohio State's Comprehensive Cancer Center – James Cancer Hospital and Solove Research Institute
• Dr. Brad DeSilva, Ohio State University Wexner Medical Center
• Dr. Edward Dodson, Ohio State University Wexner Medical Center
• Dr. L. Arick Forrest, Ohio State University Wexner Medical Center
• Dr. Stephen Kang, Ohio State's Comprehensive Cancer Center – James Cancer Hospital and Solove Research Institute
• Dr. Brandon Kim, Ohio State University Wexner Medical Center
• Dr. Leslie Kim, Ohio State University Wexner Medical Center
• Dr. Laura Matrka, Ohio State University Wexner Medical Center
• Dr. Bradley Nesemeier Ohio State University Wexner Medical Center
• Dr. Matthew Old, Ohio State's Comprehensive Cancer Center – James Cancer Hospital and Solove Research Institute
• Dr. Bradley Otto, Ohio State University Wexner Medical Center
• Dr. Enver Ozer, Ohio State's Comprehensive Cancer Center – James Cancer Hospital and Solove Research Institute
• Dr. James Rocco, Ohio State's Comprehensive Cancer Center – James Cancer Hospital and Solove Research Institute
• Dr. Nolan Seim, Ohio State's Comprehensive Cancer Center – James Cancer Hospital and Solove Research Institute
• Dr. Minka Schofield, Ohio State University Wexner Medical Center
Pain Medicine
• Dr. Whitney Luke, Ohio State University Wexner Medical Center
• Dr. Melissa Tornero-Bold, Ohio State University Wexner Medical Center
Pathology
• Dr. Wei Chen, Ohio State University Wexner Medical Center
• Dr. Wendy Frankel, Ohio State University Wexner Medical Center
• Dr. O. Iwenofu, Ohio State University Wexner Medical Center
• Dr. Giovanni Lujan, Ohio State University Wexner Medical Center
• Dr. Anil Parwani, Ohio State University Wexner Medical Center
• Dr. Christopher Pierson, Nationwide Children's Hospital
• Dr. Nilsa Ramirez, Nationwide Children's Hospital
• Dr. Adrian Suarez, Ohio State University Wexner Medical Center
• Dr. Martha Yearsley, Ohio State University Wexner Medical Center
Pediatric Allergy
• Dr. Elizabeth Erwin, Nationwide Children's Hospital
• Dr. Irene Mikhail, Nationwide Children's Hospital
• Dr. Peter Mustillo, Nationwide Children's Hospital
• Dr. David Stukus, Nationwide Children's Hospital
Pediatric Anesthesiology
• Dr. Olubukola Nafiu, Nationwide Children's Hospital
Pediatric Cardiology
• Dr. Amy Armstrong, Nationwide Children's Hospital
• Dr. Curt Daniels, Nationwide Children's Hospital
• Dr. Robert Gajarski, Nationwide Children's Hospital
• Dr. Naomi Kertesz, Nationwide Children's Hospital
• Dr. Omar Khalid, Nationwide Children's Hospital
• Dr. Kovalchin, Nationwide Children's Hospital
• Dr. May Mah, Nationwide Children's Hospital
• Dr. Deipanjan Nandi, Nationwide Children's Hospital
• Dr. Karen Texter, Nationwide Children's Hospital
Pediatric Critical Care Medicine
• Dr. Onsy Ayad, Nationwide Children's Hospital
• Dr. Maria Estrada, Nationwide Children's Hospital
• Dr. Markita Suttle, Nationwide Children's Hospital
Pediatric Dermatology
• Dr. Esteban Fernandez Faith, Nationwide Children's Hospital
Pediatric Endocrinology
• Dr. Sasigarn Bowden, Nationwide Children's Hospital
• Dr. Monica Chaudhari, Nationwide Children's Hospital
• Dr. Robert Hoffman, Nationwide Children's Hospital
• Dr. Justin Indyk, Nationwide Children's Hospital
• Dr. Aurelia Holland Wood, Nationwide Children's Hospital
Pediatric Gastroenterology
• Dr. Brendan Boyle, Nationwide Children's Hospital
• Dr. Steven Ciciora, Nationwide Children's Hospital
• Dr. Carlo Di Lorenzo, Nationwide Children's Hospital
• Dr. Cheryl Gariepy, Nationwide Children's Hospital
• Dr. Praveen Goday, Nationwide Children's Hospital
• Dr. Kent Williams, Nationwide Children's Hospital
• Dr. Desalegn Yacob, Nationwide Children's Hospital
Pediatric Hematology
• Dr. Rolla Abu-Arja, Nationwide Children's Hospital
• Dr. Anthony Audino, Nationwide Children's Hospital
• Dr. Jeffery Auletta, Nationwide Children's Hospital
• Dr. Timothy Cripe, Nationwide Children's Hospital
• Dr. Amy Dunn, Nationwide Children's Hospital
• Dr. Maryam Fouladi, Nationwide Children's Hospital
• Dr. Teri Guinipero, Nationwide Children's Hospital
• Dr. Amanda Jacobson-Kelly, Nationwide Children's Hospital
• Dr. Bryce Kerlin, Nationwide Children's Hospital
• Dr. Randal Olshefski, Nationwide Children's Hospital
• Dr. Mark Ranalli, Nationwide Children's Hospital
• Dr. Vilmarie Rodriguez, Nationwide Children's Hospital
• Dr. Bhuvana Setty, Nationwide Children's Hospital
• Dr. Anthony Villella, Nationwide Children's Hospital
• Dr. Nicholas Yeager, Nationwide Children's Hospital
Pediatric Infectious Disease
• Dr. Monica Ardura, Nationwide Children's Hospital
• Dr. William Barson, Nationwide Children's Hospital
• Dr. Pablo Sanchez, Nationwide Children's Hospital
• Dr. Rebecca Wallihan, Nationwide Children's Hospital
Pediatric Nephrology
• Dr. O.N. Ray Bignall, Nationwide Children's Hospital
• Dr. John Mahan, Nationwide Children's Hospital
• Dr. Hiren Patel, Nationwide Children's Hospital
• Dr. John Spencer, Nationwide Children's Hospital
• Dr. Beth Vogt, Nationwide Children's Hospital
• Dr. Diana Zepeda-Orozco, Nationwide Children's Hospital
Pediatric Otolaryngology
• Dr. Tendy Chiang, Nationwide Children's Hospital
• Dr. Charles Elmaraghy, Nationwide Children's Hospital
• Dr. Jonathan
Grischkan
, Ohio State University Wexner Medical Center
• Dr. Kris Jatana, Nationwide Children's Hospital
• Dr. Prashant Malhotra, Nationwide Children's Hospital
• Dr. Meredith Merz Lind, Nationwide Children's Hospital
• Dr. James Ruda, Nationwide Children's Hospital
• Dr. Patrick Walz, Nationwide Children's Hospital
• Dr. Gregory Wiet, Nationwide Children's Hospital
Pediatric Pulmonology
• Dr. Debra Boyer, Nationwide Children's Hospital
• Dr. Karen McCoy, Nationwide Children's Hospital
• Dr. Richard Shell, Nationwide Children's Hospital
• Dr. Shahid Sheikh, Nationwide Children's Hospital
Pediatric Rheumatology
• Dr. Stacy Ardoin, Nationwide Children's Hospital
Pediatric Surgery
• Dr. Jennifer Aldrink, Nationwide Children's Hospital
• Dr. Gail Besner, Nationwide Children's Hospital
• Dr. Renata Fabia, Nationwide Children's Hospital
• Dr. Jonathan Groner, Nationwide Children's Hospital
• Dr. Brian Kenney, Nationwide Children's Hospital
• Dr. Marc Michalsky, Nationwide Children's Hospital
• Dr. Jaimie Nathan, Nationwide Children's Hospital
• Dr. Benedict Nwomeh, Nationwide Children's Hospital
• Dr. Oluyinka Olutoye, Nationwide Children's Hospital
• Dr. Rajan Thakkar, Nationwide Children's Hospital
Pediatrics
• Dr. Rena Kasick, Nationwide Children's Hospital
• Dr. Jamie Macklin, Nationwide Children's Hospital
• Dr. Garey Noritz, Nationwide Children's Hospital
• Dr. Catherine Sinclair, Nationwide Children's Hospital
• Dr. Dominque Williams, Nationwide Children's Hospital
Physical Medicine & Rehabilitation
• Dr. Albert Clairmont, Ohio State University Wexner Medical Center
• Dr. Sheital Bavishi, Ohio State University Wexner Medical Center
• Dr. Samuel Colachis, Ohio State University Wexner Medical Center
• Dr. Carl Gelfius, Nationwide Children's Hospital
• Dr. Sarah Grove, Ohio State University Wexner Medical Center
• Dr. Karl Klamar, Nationwide Children's Hospital
• Dr. Michelle Miller, Nationwide Children's Hospital
• Dr. Walter Mysiw, Ohio State University Wexner Medical Center
• Dr. William Pease, Ohio State University Wexner Medical Center
• Nathan Rosenberg, Nationwide Children's Hospital
• Dr. Mark Tornero, Nationwide Children's Hospital
Plastic Surgery
• Dr. Rajiv Chandawarkar, Ohio State University Wexner Medical Center
• Dr. Albert Chao, Ohio State's Comprehensive Cancer Center – James Cancer Hospital and Solove Research Institute
• Dr. Sonu Jain, Ohio State University Wexner Medical Center
• Dr. Jeffrey Janis, Ohio State University Wexner Medical Center
• Dr. Richard Kirschner, Nationwide Children's Hospital
• Dr. Kerry-Ann Mitchell, Ohio State's Comprehensive Cancer Center – James Cancer Hospital and Solove Research Institute
• Dr. Amy Moore, Ohio State University Wexner Medical Center
• Dr. Gregory Pearson, Ohio State University Wexner Medical Center
• Dr. Lambros Viennas, Ohio State University Wexner Medical Center
Psychiatry
• Dr. Kathleen Brownlowe, Ohio State University Wexner Medical Center
• Dr. James Young, Ohio State University Wexner Medical Center
Pulmonary Disease
• Dr. Lynn Fussner, Ohio State University Wexner Medical Center
• Dr. Jennifer McCallister, Ohio State University Wexner Medical Center
• Dr. Stella Ogake, Ohio State University Wexner Medical Center
• Dr. Jonathan Parsons, Ohio State University Wexner Medical Center
• Dr. Arindam Singha, Ohio State University Wexner Medical Center
• Dr. Carleen Spitzer, Ohio State University Wexner Medical Center
• Dr. Jing Wang, Ohio State University Wexner Medical Center
Radiation Oncology
• Dr. Arnab Chakravarti, Ohio State's Comprehensive Cancer Center – James Cancer Hospital and Solove Research Institute
• Dayssy Diaz Pardo, Ohio State's Comprehensive Cancer Center – James Cancer Hospital and Solove Research Institute
• Dr. John Grecula, Ohio State's Comprehensive Cancer Center – James Cancer Hospital and Solove Research Institute
• Dr. Douglas Martin, Ohio State's Comprehensive Cancer Center – James Cancer Hospital and Solove Research Institute
• Dr. Men Welliver, Ohio State's Comprehensive Cancer Center – James Cancer Hospital and Solove Research Institute
Rheumatology
• Dr. Ali Ajam, Ohio State University Wexner Medical Center
• Dr. Wael Jarjour, Ohio State University Wexner Medical Center
• Dr. Zhanna Mikulik, Ohio State University Wexner Medical Center
Sleep Medicine
• Dr. Aneesa Das. Ohio State University Wexner Medical Center
• Dr. Ulysses Magalang, Ohio State University Wexner Medical Center
Sports Medicine
• Dr. Steven Albrechta, Ohio State University Wexner Medical Center
• Dr. James Borchers, Ohio State University Wexner Medical Center
• Dr. Kendra McCamey, Ohio State University Wexner Medical Center
• Dr. Michael Jonesco, Ohio State University Wexner Medical Center
• Dr. Thomas Pommering, Nationwide Children's Hospital
• Dr. Bryant Walrod, Ohio State University Wexner Medical Center
Surgery
• Dr. Doreen Agnese, Ohio State's Comprehensive Cancer Center – James Cancer Hospital and Solove Research Institute
• Dr. Nicole Bernal, Ohio State University
• Dr. Sylvester Black, Ohio State University Wexner Medical Center
• Dr. William Carson, Ohio State's Comprehensive Cancer Center – James Cancer Hospital and Solove Research Institute
• Dr. Carlo Contreras, Ohio State University Wexner Medical Center
• Dr. Priya Dedhia, Ohio State University Wexner Medical Center
• Dr. Daniel Eiferman, Ohio State University Wexner Medical Center
• Dr. Valerie Grignol, Ohio State's Comprehensive Cancer Center – James Cancer Hospital and Solove Research Institute
• Dr. Ashley Limkemann, Ohio State University Wexner Medical Center
• Dr. Barbra Miller, Ohio State's Comprehensive Cancer Center – James Cancer Hospital and Solove Research Institute
• Dr. Bradley Needleman, Ohio State University Wexner Medical Center
• Dr. Samilia Obeng-Gyasi, Ohio State's Comprehensive Cancer Center – James Cancer Hospital and Solove Research Institute
• Dr. Bridget Oppong, Ohio State's Comprehensive Cancer Center – James Cancer Hospital and Solove Research Institute
• Dr. Ko Un Park, Ohio State's Comprehensive Cancer Center – James Cancer Hospital and Solove Research Institute
• Dr. Timothy Pawlik, Ohio State's Comprehensive Cancer Center – James Cancer Hospital and Solove Research Institute
• Dr. Raphael Pollock, Ohio State's Comprehensive Cancer Center – James Cancer Hospital and Solove Research Institute
• Dr. Benjamin Poulose, Ohio State University Wexner Medical Center
• Dr. Stephen Povoski, Ohio State's Comprehensive Cancer Center – James Cancer Hospital and Solove Research Institute
• Dr. Austin Schenk, Ohio State University Wexner Medical Center
• Dr. W. Washburn, Ohio State University Wexner Medical Center
Thoracic & Cardiac Surgery
• Dr. Mark Galantowicz, Nationwide Children's Hospital
• Dr. Robert Merritt, Ohio State's Comprehensive Cancer Center – James Cancer Hospital and Solove Research Institute
• Dr. Nahush Mokadam, Ohio State University Wexner Medical Center
• Dr. Peter Kneuertz, Ohio State's Comprehensive Cancer Center – James Cancer Hospital and Solove Research Institute
Urogynecology/Female Pelvic Medicine & Reconstructive
• Dr. Andrew Hundley, Ohio State University Wexner Medical Center
• Dr. Silpa Nekkanti, Ohio State University Wexner Medical Center
Urology
• Dr. Nima Baradaran, Ohio State University Wexner Medical Center
• Dr. Geoffrey Box, Ohio State's Comprehensive Cancer Center – James Cancer Hospital and Solove Research Institute
• Dr. Michael Gong, Ohio State University Wexner Medical Center
• Dr. Bodo Knudsen, Ohio State University Wexner Medical Center
• Dr. Cheryl Lee, Ohio State's Comprehensive Cancer Center – James Cancer Hospital and Solove Research Institute
• Dr. Kamal Pohar, Ohio State's Comprehensive Cancer Center – James Cancer Hospital and Solove Research Institute
• Dr. Ahmad Shabsigh, Ohio State's Comprehensive Cancer Center – James Cancer Hospital and Solove Research Institute
Vascular Surgery
• Dr. Michael Go, Ohio State University Wexner Medical Center
• Dr. Kristine Orion, Ohio State University Wexner Medical Center
• Dr. Jean Starr, Ohio State University Wexner Medical Center
• Dr. Bryan Tillman, Ohio State University Wexner Medical Center