Annual Internal Medicine Scientific Symposium Showcases Research Achievements
The Department of Internal Medicine Annual Scientific Symposium was held on May 11 in the Biomedical Research Tower at The Ohio State University Wexner Medical Center. The Scientific Symposium featured more than 140 posters and brought together over 220 students, residents, fellows and faculty.
Mark Gladwin, MD, dean of the University of Maryland School of Medicine, was the keynote speaker. Four researchers in the Department of Internal Medicine were named "Rising Stars" and gave lectures at the event: Joseph Bednash, MD, Nicholas Ferrell, PhD, Brittany Waterman, MD, and Linghua Zheng, PhD.
Internal Medicine research leaders were thrilled with the turnout at the symposium.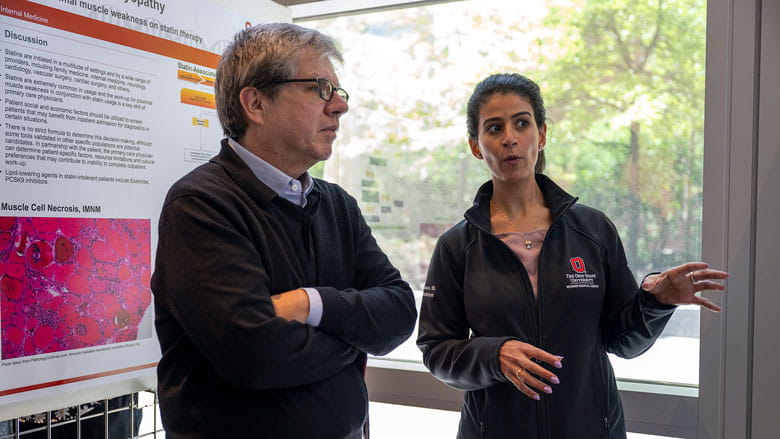 "The success of this year's symposium was not only the number of attendees or abstracts submitted, but also the quality of the science presented. The growth and expansion of the research program in our department was quite evident," said Mauricio Rojas, MD, associate vice chair of Research in the Department of Internal Medicine.
First and second place winners in each of the categories listed below received a travel award and were invited to a dinner with department leaders to celebrate their achievement.
Junior faculty
1st place – Eswar Shankar, PhD, MSc: "Synergistic inhibition of Akt and EZH2 attenuates Triple Negative Breast Cancer proliferation"
2nd place – Gregory Eisinger, MD: "SARS-CoV-2 IgG Seroconversion after Convalescent Plasma Transfusion does not Improve Hospital Outcomes in COVID-19"

Postdoctoral fellows
1st place – Caymen Novak, PhD: "Alveolar macrophages drive lung fibroblast function in co-cultures of IPF and normal patient samples"
2nd place – Kaylin Chasser, PhD: "Characterization of Circulating Immune Cells Expressing Neutrophil Gelatinase Associated Lipocalin in Subjects with Chronic Pancreatitis"

Fellows
1st place – Geoffrey Newcomb, MD: "Dysregulation of the Cytosolic Double Stranded RNA Receptor System and Interleukin-10 Signaling in Endothelial Dysfunction in Pulmonary Arterial Hypertension"
2nd place – Joshua Gordon, MD: "Associations between patient and surrogate assessments of pre-critical illness physical function"

Residents
1st place – Logan Hunkus, PharmD: "Impact of a Pharmacist-Led Population Health Initiative to Improve Statin Prescribing"
2nd place – Kurtis Host, MD, PhD: "Viral DNA Methylation Heterogeneity Within KSHV Associated Malignancies"

Medical students
1st place – Grace Wang: "Development of a sustainable longitudinal chronic care program in El Progreso, Honduras"
2nd place – Kerestina Khalil: "Barriers to Navigating the Medical Path: A Qualitative Focus Group Study of First-Generation Medical Students and Residents"

Graduate students
1st place – Hannah Lovins: "The ChemR23 Axis Regulates Ozone-Induced Lung Inflammation and Injury"
2nd place – Alexander Marr: "The Multi-CDK Inhibitor Dinaciclib Reverses Bromo- and Extra-Terminal Domain (BET) Inhibitor Resistance in Acute Myeloid Leukemia via Inhibition of Wnt/ß-catenin Signaling"
Undergraduate students
1st place – Mikayla Bull: "NOD2-mediated monocyte/macrophage stimulation as a therapeutic strategy for chronic lymphocytic leukemia"
2nd place – Daria Jelic: "Sex differences modulate airway hyperresponsiveness in a model of ozone-exacerbated allergic asthma"