21st Annual Trainee Research Day - April 7, 2022
Research Day is an annual event held each spring and features posters from hundreds of trainees, a trainee speaker series and a keynote address by a world-renowned researcher in the field of biomedical science. Faculty members judge poster presentations and travel awards are given to the highest-scoring trainees. This group includes trainees at all levels of programming, including graduate, undergraduate, medical and MD/PhD students, as well as postdoctoral fellows, researchers and clinical residents and fellows.
Research Day also presents an opportunity for colleagues and visitors to learn about the cutting edge research occurring at Ohio State. Faculty judges review poster presentations and make the final selections for the awards. The day also features at least one scheduled presentation by a leader in the biomedical sciences or related fields who will speak about his or her work and the latest developments in that research area, as well as presentations by selected Ohio State College of Medicine trainees. Research Day concludes with a late afternoon reception followed by a presentation of awards for outstanding research projects.
Keynote Speaker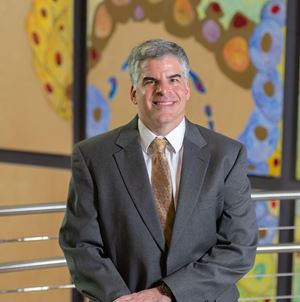 Andrés J. García, Ph.D.
Executive Director, Parker H. Petit Institute for Bioengineering and Bioscience
Petit Director's Chair in Bioengineering and Bioscience
Regents' Professor, George W. Woodruff School of Mechanical Engineering
Georgia Institute of Technology
Andrés J. García
is the Executive Director of the Petit Institute for Bioengineering and Bioscience and Regents' Professor at the Georgia Institute of Technology. Dr. García's research program integrates innovative engineering, materials science, and cell biology concepts and technologies to create cell-instructive biomaterials for regenerative medicine and generate new knowledge in mechanobiology. This cross-disciplinary effort has resulted in new biomaterial platforms that elicit targeted cellular responses and tissue repair in various biomedical applications, innovative technologies to study and exploit cell adhesive interactions, and new mechanistic insights into the interplay of mechanics and cell biology. In addition, his research has generated intellectual property and licensing agreements with start-up and multi-national companies. He is a co-founder of 3 start-up companies (CellectCell, CorAmi Therapeutics, iTolerance). He has received several distinctions, including the NSF CAREER Award, Young Investigator Award from the Society for Biomaterials, Georgia Tech's Outstanding Interdisciplinary Activities Award, the Clemson Award for Basic Science from the Society for Biomaterials, the International Award from the European Society for Biomaterials, and Georgia Tech's Class of 1934 Distinguished Professor Award. He is an elected Fellow of Biomaterials Science and Engineering (by the International Union of Societies of Biomaterials Science and Engineering), Fellow of the American Association for the Advancement of Science, Fellow of the American Society of Mechanical Engineers, and Fellow of the American Institute for Medical and Biological Engineering. He served as President for the Society for Biomaterials in 2018-2019. He is an elected member of the National Academy of Engineering, the National Academy of Medicine, and the National Academy of Inventors. Read more here
http://www.garcialab.gatech.edu/