20th Annual Trainee Research Day - April 6, 2021
Research Day is an annual event held each spring and features posters from hundreds of trainees, a trainee speaker series and a keynote address by a world-renowned researcher in the field of biomedical science. Faculty members judge poster presentations and travel awards are given to the highest-scoring trainees. This group includes trainees at all levels of programming, including graduate, undergraduate, medical and MD/PhD students, as well as postdoctoral fellows, researchers and clinical residents and fellows.
Research Day also presents an opportunity for colleagues and visitors to learn about the cutting edge research occurring at Ohio State. Faculty judges review poster presentations and make the final selections for the awards. The day also features at least one scheduled presentation by a leader in the biomedical sciences or related fields who will speak about his or her work and the latest developments in that research area, as well as presentations by selected Ohio State College of Medicine trainees. Research Day concludes with a late afternoon reception followed by a presentation of awards for outstanding research projects.
Register to attend the April 6th virtual event
Keynote Speaker
A developmental geneticist and cell biologist, Ruth Lehmann, PhD studies the biology of the reproductive cells. Her research has illuminated how germ cells, the precursors of egg and sperm, control reproduction from generation to generation. Studying the germ cell lifecycle, she elucidated mechanisms of extra-chromosomal inheritance by focusing on how RNA and mitochondria in the egg cytoplasm are transmitted from the egg to the next generation and determined how germ cells attain their unique fate, how they differentiate into functional gametes and how they retain totipotency to protect the continuity of the species. Lehmann's recent work proposed a mechanism through which harmful mutations in mitochondrial DNA are eliminated during oogenesis, which has implications for better understanding the transmission of human mitochondrial disorders.
Dr. Lehmann received her Ph.D. with Nobel Laureate Dr. Christiane Nüsslein-Volhard at the Max Plank Institute in Tübingen, Germany. After postdoctoral training at Medical Research Council in Cambridge, UK, she joined the Whitehead Institute of Biomedical Research and the faculty of the Massachusetts Institute of Technology (MIT), before she was recruited to the then newly founded Skirball Institute for Biomolecular Medicine at NYU Langone Health. Prior to moving back to the Whitehead Institute and MIT in 2020, she was Laura and Isaac Perlmutter Professor and Chair of the department of Cell Biology at NYU Langone Medical Center, where she directed the Skirball Institute for Biomolecular Medicine. She was also an investigator of the Howard Hughes Medical Institute from 1990-1996 and from 1997-2020. This summer, Dr. Lehmann re-joined the Whitehead Institute as its fifth the president and director and is also a professor in the Department of Biology at MIT.
Dr. Lehmann is a member of the American Academy of Arts Sciences (1998) and the National Academy of Sciences (2005), Associate (foreign) Member of EMBO (2012). She was awarded the Conklin Medal of the Society of Developmental Biology, was the inaugural recipient of the Klaus Sander Prize of the German Society for Developmental, received the Keith Porter Award from the American Society of Cell Biology and most recently the Vilcek Award, which recognizes immigrants with a legacy of outstanding achievements in the biomedical sciences, and the Amory Award from the American Academy of Sciences. Dr. Lehmann has been the President of the Society for Developmental Biology and serves as President of the American Society for Cell Biology in 2021. She is a tireless advocate for basic research and strives to empower scientists to pursue their experimental dreams in a fair, safe and inspiring environment.
Dr. Lehmann is also featured in the film Picture a Scientist, the official selection at the 2020 TRIBECA Film Festival. We are excited to be hosting a Faculty Panel Discussion after this year's awards ceremony about the film, please be our guest and enjoy the film prior to attending the panel discussion, you can submit a question for the panel prior to the event here.
State of the Art Speakers
Elaine Mardis, PhD is co-Executive Director of the Steve and Cindy Rasmussen Institute for Genomic Medicine at Nationwide Children's Hospital and holds the Rasmussen Nationwide Foundation Endowed Chair of Genomic Medicine. She also is Professor of Pediatrics at The Ohio State University College of Medicine. Educated at the University of Oklahoma with a B.S. in Zoology and a Ph.D. in Chemistry and Biochemistry, Dr. Mardis did postgraduate work in industry at BioRad Laboratories. She was a member of the faculty of Washington University School of Medicine from 1993-2016. Dr. Mardis has authored over 350 articles in peer-reviewed journals and has been listed since 2013 as one of the most highly cited researchers in the world by Thompson Reuters. Dr. Mardis was given the Morton K. Schwartz award from the American Association for Clinical Chemistry in 2016 and the Heath Memorial Award from MD Anderson Cancer Center in 2020. Dr. Mardis is the Immediate Past AACR President. She was elected a Fellow of the AACR Academy, and was elected to membership in the National Academy of Medicine in 2019.State of the Art Speaker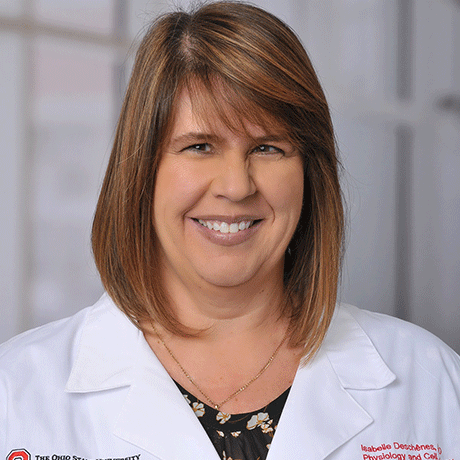 Isabelle Deschenes, PhD is Professor and Chair of Physiology and Cell Biology. Her research focuses on the molecular basis of cardiac arrhythmias. Studying the fundamental molecules that underlie the electrical function of the heart: ion channels and their accessory subunits. Cardiac excitability is finely controlled by a combination of depolarizing and repolarizing currents. Regulation and dysregulation of a host of inward and outward ion currents play a major role in numerous clinically relevant cardiac arrhythmias. Her lab utilizes electrophysiological, biochemical, molecular, and imaging techniques to study the involvement of ion channels and their accessory subunits in arrhythmias. Among patients at high risk for sudden cardiac death are those with inherited cardiac arrhythmias caused by mutations in ion channels subunits referred to as channelopathies. One of her research focuses has been to elucidate the mechanisms involved in this incomplete penetrance seen in cardiac channelopathies through the use of patient-specific induced pluripotent stem cells in order to identify modifier genes.