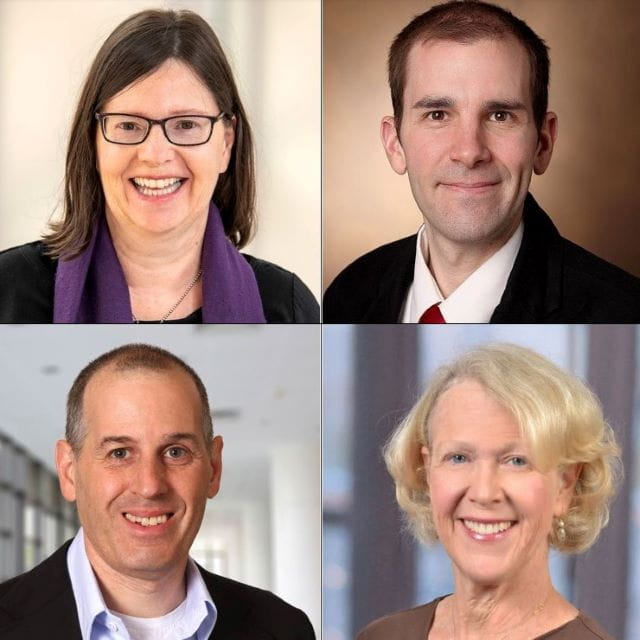 Four faculty members at The Ohio State University Wexner Medical Center are working to advocate for a more comprehensive approach to pain management for adults with sickle cell disease. They have outlined a pain management model that frames pain as a complex phenomenon with neural, psychological and social dimensions.

The group includes Janet Childerhose, PhD, Assistant Professor in the Division of General Internal Medicine (top left in photo); Associate GIM Professors Robert Cronin, MD (top right in photo) and Andrew Schamess, MD (bottom left in photo); and Maryanna Klatt, PhD, Professor in the Department of Family and Community Medicine and Director of OSU's Center for Integrative Health (bottom right in photo).
In "Treating Chronic Pain in Sickle Cell Disease — The Need for a Biopsychosocial Model," recently published in the New England Journal of Medicine, the four state that acute pain in adults with sickle cell disease should not be viewed simply as a hematologic problem, and that healthcare settings can manage their pain better with a more comprehensive approach.
They describe how the experience of pain for adults with sickle cell disease is compounded by the bias that people of color sometimes encounter in clinical settings, where they are often under-treated for chronic pain and may be labelled as "drug-seeking." They outline multiple strategies and systemic changes that are needed to address improve care for patients with acute pain.
"Sickle cell disease is one of the most painful health conditions," said Dr. Childerhose, who is also a medical anthropologist and bioethics researcher. "We need to provide patients with tools, such as mindfulness training, to help them manage their pain better, while also focusing on compassionate care and pain validation in the healthcare settings they visit."