About the Program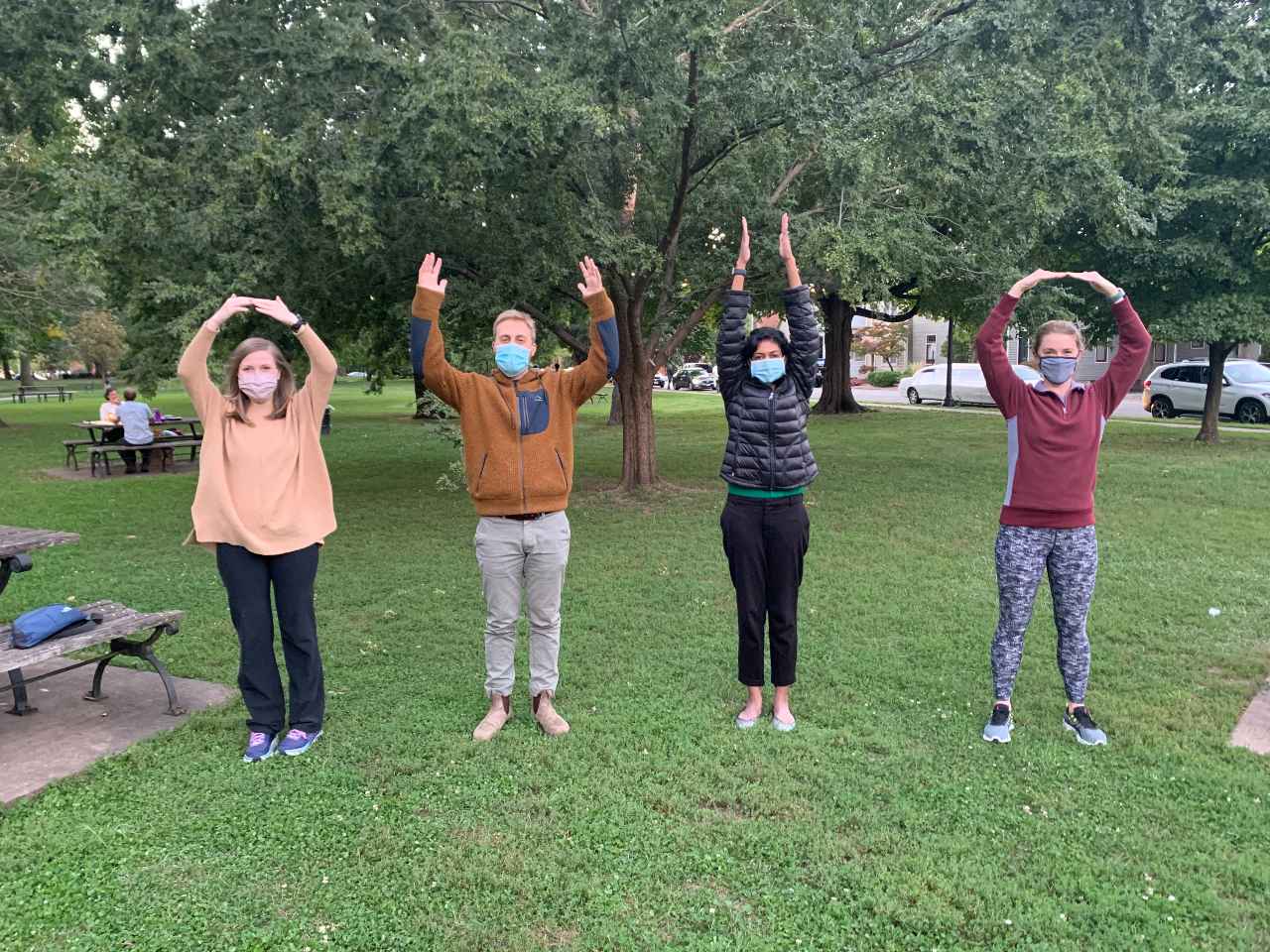 The Ohio State University Hospice and Palliative Medicine Fellowship is a well-established ACGME-accredited program devoted to training future physicians and leaders in the care of patients with serious illnesses. The one-year program accepts four physicians as fellows to prepare them to launch successful palliative medicine careers in ambulatory, hospice or hospital-based settings with diverse patient populations.
Experienced and committed educators use a combination of approaches (clinical experiences, workshops, didactics, mentoring, etc.) to foster learning in clinical skills as well as develop the foundation for those individuals interested in becoming leaders, researchers or clinical educators in the field.
Our program offers:
A one-year clinical fellowship offered by the Division of Palliative Medicine Department of Internal Medicine that includes a high-volume, interdisciplinary clinical program and the opportunity to receive a certificate in medical education
A one-year combined adult/pediatric track offered at The Ohio State University and the Pediatric Palliative Care and Hospice Program in the Department of Anesthesia at Nationwide Children's Hospital for those physicians interested in practicing hospice and palliative medicine for both adults and children
Participating Institutions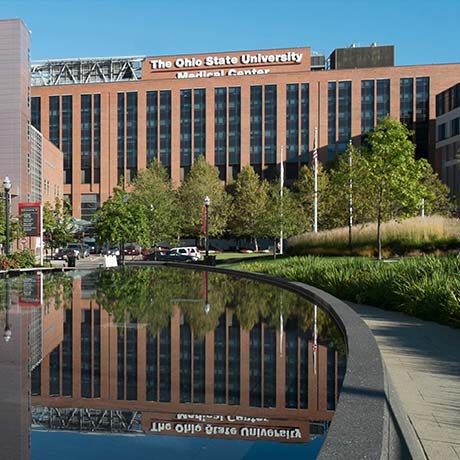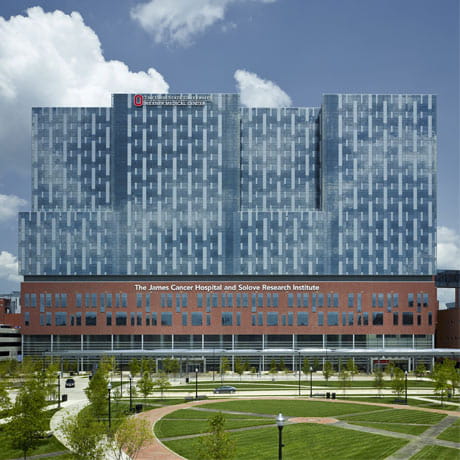 The James Cancer Hospital and Solove Research Institute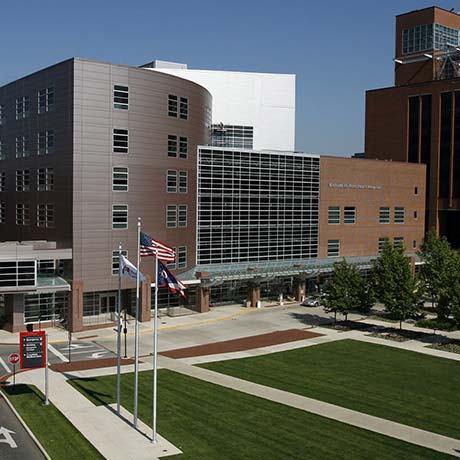 Richard M. Ross Heart Hospital
Partnering Institutions
Most educational sessions (workshops, lectures, small group discussions) are shared with the Hospice and Palliative Medicine fellows at OhioHealth and Nationwide Children's Hospital to provide a collaborative learning environment that draws on Hospice and Palliative Medicine experts in the Greater Columbus area.
Program Tracks
Blocks - Rotation for Adult Program
1 - Boot Camp
5 - Inpatient Palliative Medicine Consultation Service
2.5 - Home Hospice
1 - Elective
1 - Research/Quality Improvement Project
1 - Long-Term Care
1 - Inpatient Pediatric Palliative Medicine Consultation Service
0.5 - Pharmacology
Blocks - Rotation for Combined Adult/Pediatric Program
1 - Boot Camp
2 - Inpatient Adult Palliative Medicine Consultation Service
1.5 - Adult Home Hospice
1 - Pediatric Home Hospice
2 - Elective (Interventional Pain, Geriatrics, etc.)
1 - Research/Quality Improvement Project
1 - Long-Term Care
3 - Inpatient Pediatric Palliative Medicine Consultation Service
0.5 - Pharmacology
Each block is four weeks for a total of 13 blocks
Continuity Clinic
Fellows have an ambulatory clinic weekly during which they will see a diverse patient population including patients experiencing the following serious illnesses: cancer, heart failure, lung disease, neurologic disorders, HIV, etc. For those fellows interested in the Adult/Pediatric track, fellows will split their time between the Adult Palliative Care Clinic at Ohio State and the Complex Care Clinic at Nationwide Children's Hospital.
Foundational Knowledge Rotations
Boot Camp — This rotation is designed to orient the fellow to the hospital system and to key Palliative Medicine concepts through workshops, small group discussions, literature review and clinical teaching.
Pharmacology rotation — approximately mid-year, fellows spend two weeks with the Palliative Medicine pharmacist on a clinical inpatient service to deepen their knowledge on the pharmacology of symptom management (e.g., use of opioids in renal and/or hepatic dysfunction, pharmacologic options for management of delirium, anorexia/cachexia, insomnia, malignant bowel obstruction, etc.).
Inpatient Consultation Service Rotations
Fellows spend a total of five blocks on inpatient consultation services with an interdisciplinary team (including chaplain, social worker and pharmacist), an APN, an attending, and often medical students and residents. Adult/Peds track fellows spend three months on the consultation service at Nationwide Children's Hospital. Adult track fellows will rotate through the four hospitals below:
The James Comprehensive Cancer Center — Fellows care for patients with cancer at all stages of disease and all levels of treatment, including clinical trials. Fellows consult on patients with both solid and hematologic malignancies, including patients who will or have undergone a bone marrow transplant as well as patients with nonmalignant hematologic illnesses such as sickle cell disease.
The University Hospital — Fellows care for a diverse patient population in the intensive care units (medical, surgical, neurological), Harding Psychiatric Hospital, Dodd Rehabilitation Hospital and on the general medical and surgical services.
The Ross Heart Hospital Service — Fellows care for patients with advanced heart failure as well as patients receiving advanced heart therapies and undergoing high-risk procedures (e.g., LVADs, transplants, TAVR, ECMO).
East Hospital — Fellows work in MICU and progressive ICU in a community hospital setting.
Pediatric Palliative Medicine Rotation
Fellows provide care to children with complex palliative care needs in the following settings associated with Nationwide Children's Hospital: patients' homes (both palliative care and hospice), complex care clinics and inpatient consultation. Adult track fellows spend at least four weeks on this rotation. Adult/Pediatric track fellows spend at least three blocks on the inpatient consultation service, one block on pediatric home-based palliative care, and four blocks in Complex Care Clinic on a weekly basis.
Hospice Rotation
Fellows spend a total of 2.5 blocks at Mount Carmel Hospice. Fellows participate in the care of hospice patients in conjunction with an interdisciplinary team in patients' homes, in the skilled nursing facility and/or in the inpatient hospice unit.
Long-Term Care Rotation
Fellows spend one block at Ohio Health's Inpatient Hospice Care Center, Kobacker House, providing clinical care in the 32-bed inpatient hospice facility and occasionally at the skilled-nursing facility in conjunction with an interdisciplinary team.
Elective
Fellows select from a large number of electives to allow further exposure to fields related to Hospice and Palliative Medicine. Some electives that have been chosen by past fellows include:
Hematology/Oncology
Congestive Heart Failure
Ethics
Medical Intensive Care Unit
Integrative Medicine
Pediatric (Inpatient and Outpatient)
Geriatrics
Spiritual Care
Interventional Pain
Scholarly Activity Rotation
Fellows spend one block focusing exclusively on their scholarly activities. Fellows complete a quality improvement project with close supervision from the Palliative Medicine faculty. In addition, fellows present a topic of interest at the Division of Palliative Medicine Grand Rounds after close supervision and mentorship on developing an effective lecture. Finally, fellows are strongly encouraged to work on another scholarly activity with close faculty supervision (e.g., a case report, a Fast Fact, literature review, presentations at local or national meetings).
Psychosocial Curriculum
Fellows participate in quarterly meetings with a PhD clinical psychologist to discuss clinical cases with a focus on psychosocial issues identified in clinical encounters. Topics covered during this time include bereavement, grief, depression, anxiety, PTSD, etc.
Billing Curriculum
Fellows are involved in didactics, small group discussion and chart review throughout the year designed to teach the components of a comprehensive palliative care consultation and integration of billing requirements.
Communication Curriculum
Fellows meet monthly for small group workshops that teach patient-centered communication strategies through simulated patient experiences. They also attend two full-day communication workshops, emphasizing VitalTalk concepts and skills.
Ethics Curriculum
Fellows learn to recognize and manage ethical issues in the practice of Hospice and Palliative Medicine through a reading list, lectures and small group discussions. Fellows are encouraged to participate in a monthly Clinical Ethics Case conference.
Spirituality Curriculum
Fellows learn to screen for and address existential and spiritual distress for patients and their families who are facing serious illness. Fellows participate in multiple workshops throughout the year to gain knowledge and skills regarding the spiritual needs of patients from major world religions with a particular focus on end-of-life care.
Chemical Dependency Curriculum
Fellows develop basic knowledge and skills in caring for Hospice and Palliative Medicine patients with current and/or prior chemical dependency issues through longitudinal lectures, workshops and precepted clinical care.
Structured Learning Activities
Fellows have ample protected time for learning during their block rotations. Educational sessions occur weekly on Tuesday mornings from 8 – 11 a.m. Fellows from The Ohio State University, OhioHealth and Nationwide Children's Hospital participate in these sessions together to foster collaborative learning. The educational sessions include:
Ethics Curriculum
Psychosocial Curriculum
Communication Curriculum
Billing Curriculum
Spirituality Curriculum
Chemical Dependency Curriculum
Leadership Training
Journal Club
Case Conference
Division of Palliative Medicine Grand Rounds
Application Process
Fellow applicants must have completed or will complete an ACGME or AOA-accredited residency program in Anesthesiology, Emergency Medicine, Family Medicine, Internal Medicine (including combined Internal Medicine/Pediatric programs), Pediatrics, Neurology, Obstetrics and Gynecology, Physical Medicine and Rehabilitation, Psychiatry, Radiation Oncology or Surgery. In addition, fellow applicants must be board-certified or board-eligible with demonstration of active pursuit of certification.
To Apply:
Applicants interested in pursuing fellowship training in Hospice and Palliative Medicine at The Ohio State University Wexner Medical Center should follow the instructions via ERAS.
ERAS applications open July 15 for entry in July one year later.