Innovations in General and Gastrointestinal Surgery at Ohio State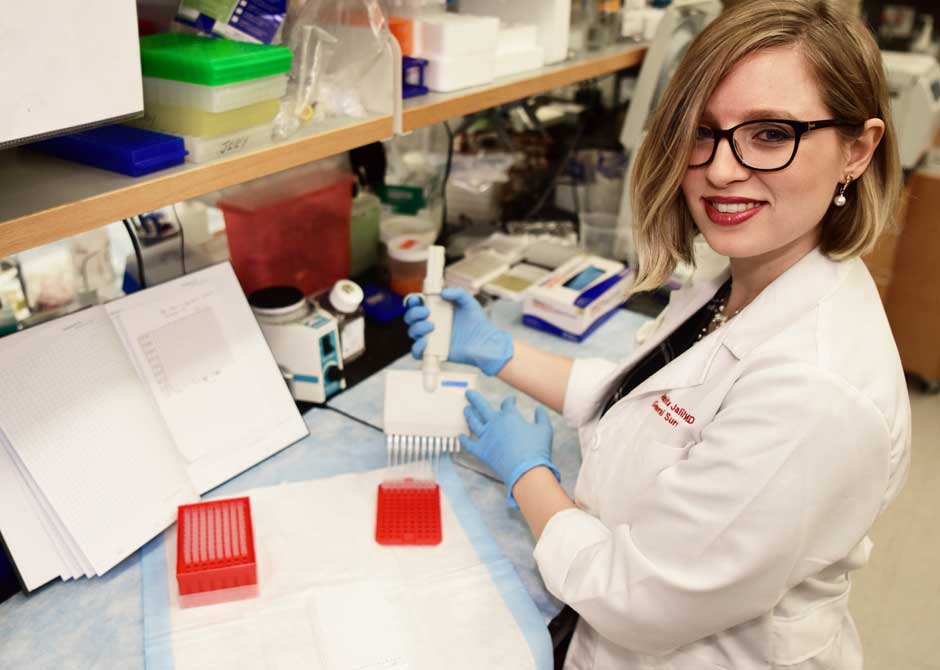 The Division of General and Gastrointestinal Surgery continues to successfully grow its clinical research portfolio year over year. Our faculty members are trained experts in minimally invasive surgery who share a focus to better understand outcomes of current practices while pursuing opportunities to investigate those that will influence the future of medicine. Our profile maintains three surgical areas of disease concentration – Foregut, Abdominal Core Health (including hernia), and Bariatrics – that span various topics including clinical outcomes, innovation, education, and patient access models.
The Division of General and Gastrointestinal Surgery is also active in several collaborative research efforts across The Ohio State Wexner Medical Center and University while serving as home to accomplished translational science researchers who explore the functions behind wound angiogenesis and healing.
Toward Opioid-Free Ambulatory Surgery (TOFAS)
TOFAS is a study led by The Ohio State University Wexner Medical Center's Division of General and Gastrointestinal Surgery and funded by the Care Innovation and Community Improvement Program to investigate the effectiveness of pain management without opioids for same-day or ambulatory surgery patients.
The Center for Surgical Health Assessment, Research, and Policy (SHARP)
Under the direction of Heena Santry, Vice Chair for Health Services Research, SHARP provides resources for faculty to pursue high-impact, high-quality health services research by linking multidisciplinary members through shared interests and goals.
Highlighted Clinical Trials by Specialty
Highlighted Clinical Trials by Specialty
A Post-Approval Study of the LINX® Reflux Management System

Foregut

A Multicenter, Randomized, Double-Blind, Sham-Controlled Clinical Investigation of the EndoStim Lower Esophageal Sphincter (LES) Stimulation System for the Treatment of Gastroesophageal Reflux Disease (GERD)

Foregut

Parietene™ DS Composite Mesh in Ventral Hernia Repair Clinical Study

Hernia

TAP Blocks for Robotic Inguinal Hernia Repair

Hernia

Stomach Intestinal Pylorus Sparing (SIPS) as a Primary and Revisional Bariatric Surgery

Bariatrics

Reducing Barriers to Care after Bariatric Surgery for Medicaid Patients and Patients with Disabilities on Medicare Using an Outpatient Bariatric Care Coach

Bariatrics
Basic and Translational Science
Basic and Translational Science
Novel Nanoscale Approaches to Whole Tissue Reprogramming
Highlighted Collaborative Clinical Trials
Highlighted Collaborative Clinical Trials
Effect of Genetic Variations on Successful Post Bariatric Surgery Outcomes

Relative Contributions of Obesity and Smoking to the Oral Microbiome

The Colorectal Cancer Risk Paradox After Roux-en-Y Gastric Bypass Surgery and Weight Regain: Interplay and Mechanistic Insights into the Role of Gut Microbiome and Lipidomics

Effect of Adiposity Changes on Endometrial Tissue and Blood Biomarkers

A Prospective Randomized Open-Label Trial Investigating the Effect of Sugammadex versus Neostigmine during Neuromuscular Blockade Reversal in Outpatient Surgeries – An Evaluation of Clinical and Associated Health Care Cost