About Ohio State's Division of Thoracic Surgery
The Division of Thoracic Surgery is dedicated to providing multidisciplinary care for malignant and benign diseases of the chest. Our physicians collaborate with specialists across the medical center to provide comprehensive care for lung, esophageal and mediastinal diseases.
Welcome from the division director
Welcome to Ohio State's Division of Thoracic Surgery. We have grown to be one of the leading centers in the country and continue to use innovative technology in new and exciting ways such as robotic techniques to improve outcomes and recovery for our patients. Robotic procedures also support the robotic curriculum for our thoracic surgery fellowship, making our program a destination for specialists.
Robert Merritt, MD
Director, Division of Thoracic Surgery
Ohio State offers a number of programs that set us apart from other medical centers. Some of our many areas of excellence include the following:
Minimally Invasive Esophagectomy
A partnership was established with MIS surgery, GI medicine and Oncology. From 2014 to 2018, 150 procedures have been completed, with a mortality rate of less than one percent. Thoracic Surgery has earned a distinguished three-star rating from The Society of Thoracic Surgeons (STS) for esophagectomy. The three-star rating, which denotes the highest category of quality, places The Ohio State University Wexner Medical Center Thoracic Surgery among the elite for general thoracic surgery in the United States and Canada.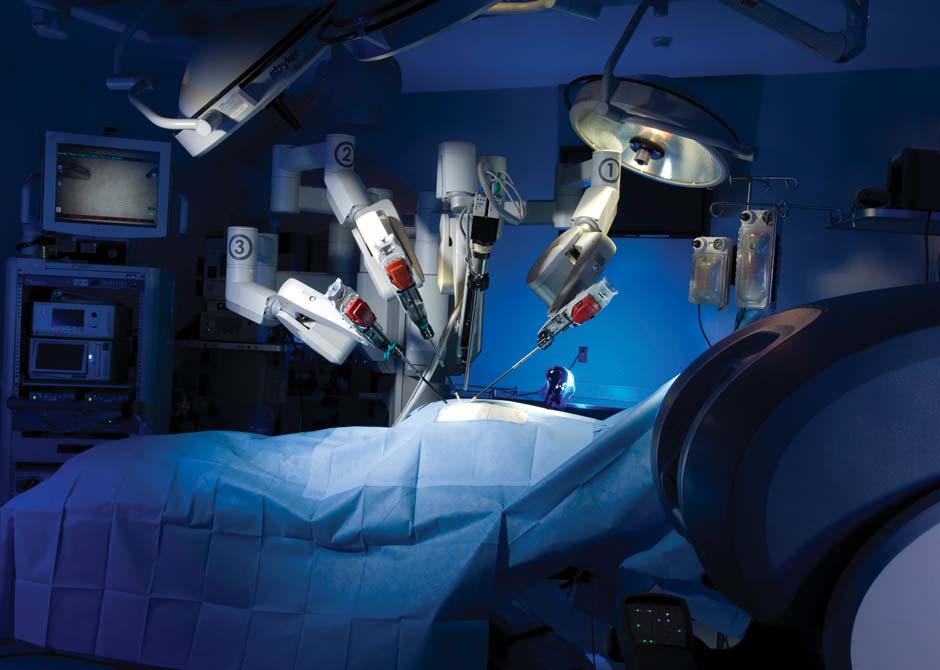 Robotic Surgery
The Division of Thoracic Surgery, ranked first in the state of Ohio, is the fastest-growing
robotic surgery
program in the country for general thoracic surgery. Division surgeons are able to perform complex pulmonary resections and esophageal surgery with the da Vinci Xi robot with excellent results. Our thoracic surgeons have performed approximately 200 lobectomy procedures annually and have among the best outcomes in the country.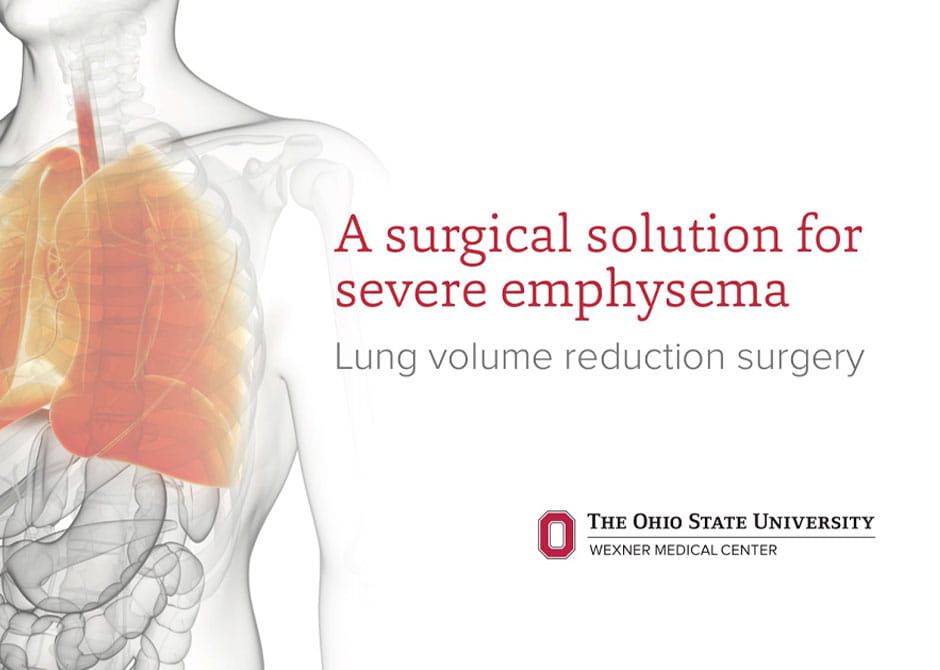 Lung Volume Reduction Surgery Program
The Ohio State Wexner Medical Center is the only hospital in central Ohio offering lung volume reduction surgery. It has performed more
lung volume reduction
surgeries than anyone in the country, with 22 cases performed in FY2020. In addition, the Lung Volume Reduction Surgery program is part of a multidisciplinary program with pulmonary medicine.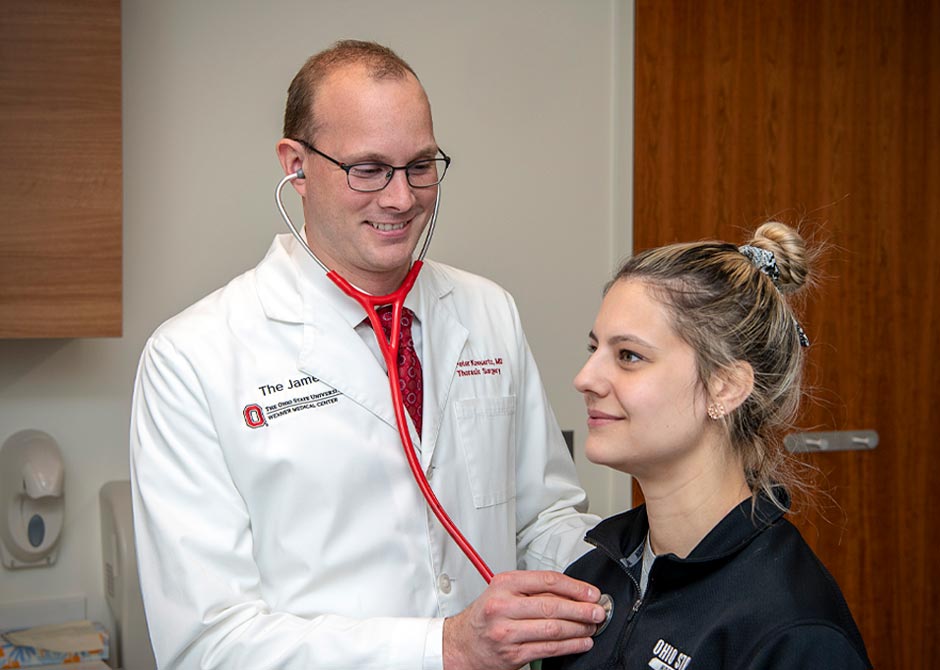 Thoracic Oncology
In addition to their other areas of treatment, our surgeons also support programs in thoracic oncology, collaborating with the lung and gastrointestinal disease sites at The Ohio State University Comprehensive Cancer Center – James Cancer Hospital and Solove Research Institute. Our research initiatives also increase opportunities within the industry to convert research discoveries into new therapeutics and technologies.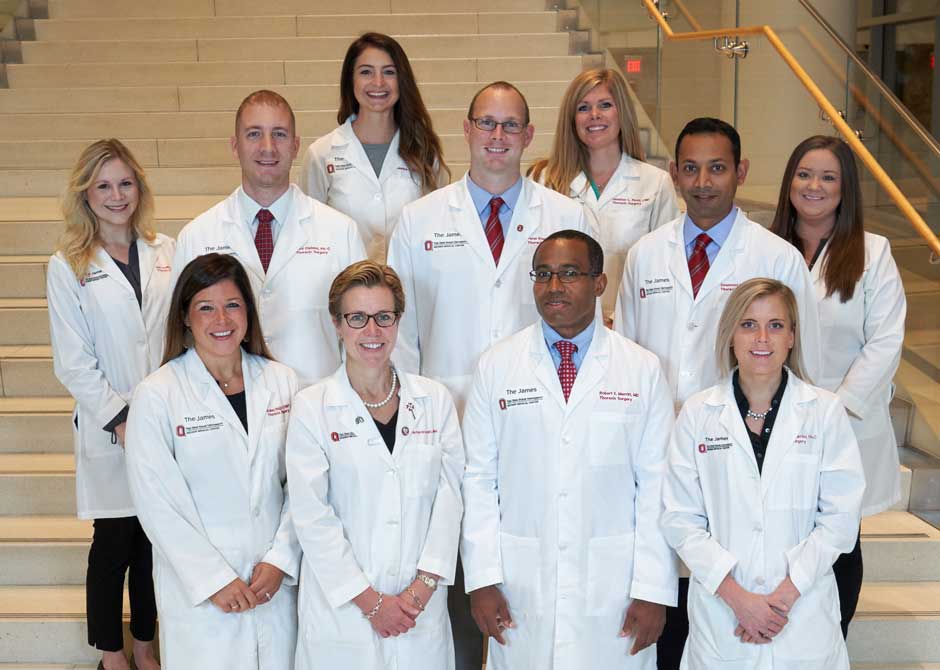 Ohio State's Thoracic Surgery Team
The Division of Thoracic Surgery comprises a comprehensive team of surgeons and staff, all focused on delivering high-quality patient care, contributing to innovations in medicine and educating medical students and postgraduate trainees.
More about the division