About the Division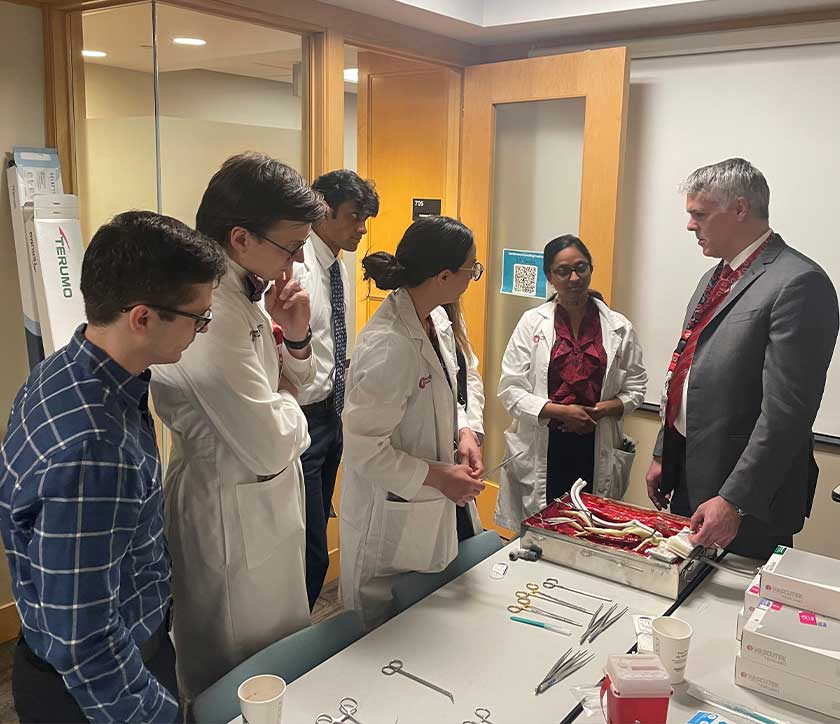 The Division of Vascular Diseases and Surgery is one of nine specialty divisions within the Department of Surgery at The Ohio State University Wexner Medical Center.
Our division provides state-of-the-art vascular care to the citizenry of Ohio and surrounding states at the Richard M. Ross Heart Hospital and the affiliated health care facilities of the Ohio State Wexner Medical Center. We remain deeply engaged in the education and training of medical students, surgery residents, and fellows while continuing our involvement in clinical outcomes and quality initiatives research.
Ohio State Wexner Medical Center's heart and vascular experts offer the best care in central Ohio. No other hospitals or heart centers in central Ohio are ranked among the nation's best by U.S. News & World Report.
The Mission of the Division of Vascular Diseases and Surgery is to deliver the highest quality of care to vascular patients throughout Ohio and the surrounding regions, to innovate in medicine through translational research and clinical outcomes studies, and to educate medical students, postgraduate trainees, and vascular care providers.
Vascular surgery service
As our programs evolve to follow the changing paradigms in vascular education, we have maintained a high quality depth and breadth of experience for our general surgery residents, and the vascular surgery rotation remains a favorite among the residents. The service consists of a first and second-year fellow, two fourth-year chief residents, and one to three interns, as well as medical students.
Most clinical activity occurs in the Ross Heart Hospital, East Hospital, University Hospital, and the James Cancer Center, but service is also provided at Nationwide Children's Hospital. With six surgeons operating at the main campus, there is ample operative experience for both fellows and residents. There are four operating rooms dedicated to the vascular surgery service in the Ross Heart Hospital OR, two of which are GE 740-equipped hybrid endovascular suites that opened in September 2017. Peripheral vascular GE Innova suites are used in the cath lab and at East Hospital.
Vascular surgery integrated residency
Our ACGME-accredited integrated residency program began in 2020, and is supported by a long tradition of excellence in education within the Department of Surgery at The Ohio State. This five-year program develops competency in the surgical treatment of patients with complicated vascular conditions, leading to primary certification in vascular surgery. We also offer our residents the option to take a dedicated research year.
Residency Interview Dates: Dec. 9, 2022; Jan. 9, 2023; Jan. 20, 2023; check back for additional dates
Vascular surgery fellowship
The crown jewel of the division is our ACGME-accredited Vascular Surgery Fellowship, which has been in existence since 1978 and is one of the oldest vascular surgery fellowships in the country. This is a two-year fellowship, and qualified applicants have completed the requirements for certification in general surgery by the American Board of Surgery.
Fellowship Interview Dates: Feb. 3, 2023; Feb. 13, 2023; March 3, 2023; check back for additional dates
Why choose Ohio State?
Learn more about life in Columbus and working at The Ohio State.