Program overview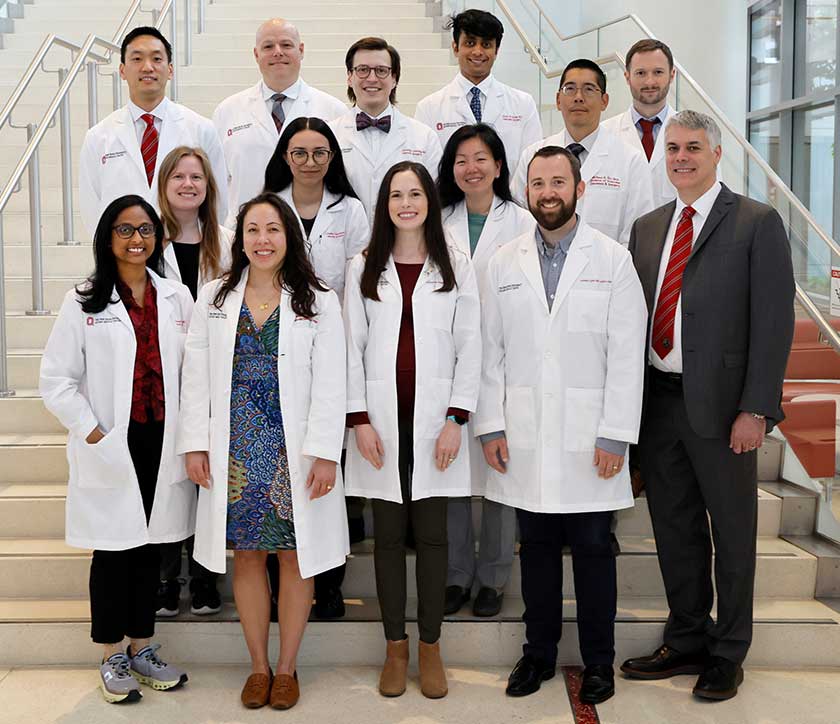 The Ohio State University Department of Surgery offers an integrated vascular surgery residency program, where residents enter directly after completing medical school. This five-year program was established in 2020 and develops competency in the surgical treatment of patients with complicated vascular conditions. Through The Ohio State University Wexner Medical Center, residents are exposed to routine patient care as well as complicated medical problems, in both inpatient and outpatient settings. Interaction with a multitude of specialties occurs regularly along with grand rounds and didactic conferences. Residents who complete the program are prepared to serve in both academic and clinical care settings. They will be eligible to sit for the Vascular Surgery Qualifying Exam.
Program goals and objectives
To prepare physicians to function as well-qualified, independent specialists in vascular surgery, the faculty are committed to the education of vascular surgery residents in basic science and clinical surgery as it relates to the vascular surgery specialty. Ohio State faculty hope to instill in our trainees the essential elements of success for a career in surgery, including honesty and integrity, objectivity, self-motivation, curiosity, timeliness, a sense of responsibility and a commitment to excellence.
To achieve the general educational goals, the following specific curriculum goals have been established:
Provide learning experiences based on measurable objectives for education of vascular surgeons during the residency
Integrate principles of basic sciences with clinical experiences;
Promote a broad understanding of the role of vascular surgery and its interaction with other medical disciplines;
Provide for progressive responsibility from initial patient care to complete management including surgical procedures as required by the American Board of Surgery;
Provide VS residents with the ability to function as teachers and consultants;
Acquire in-depth diagnostic and therapeutic skills through extensive exposure to patients who present with a broad spectrum of common and complex vascular disorders;
Participate and direct the preoperative assessment, operative management, and postoperative care of patients on the Vascular Service in cooperation with the designated attending;
Promote learning from the residents' patient care practices, including appraisal of outcomes of treatment as it relates to benchmark scientific evidence;
Gain experience in the non-invasive laboratory diagnosis of vascular disease;
Gain experience with diagnostic and intra-operative imaging techniques as well as detailed interpretation of imaging studies;
Train and become proficient in catheter and guidewire skills;
Perform diagnostic arteriography with the ability to selectively cannulate secondary and tertiary branches. This includes not only the lower extremity circulation but also the visceral circulation and branchiocephalic circulation;
Perform a variety of peripheral interventions including PTA, stenting, arhrectomy and lysis procedures;
Gain proficiency with intravascular ultrasound for diagnostic and therapeutic procedures;
The resident will become proficient in the repair of abdominal and thoracic aneurysm using a variety of devices;
Develop professional leadership and management skills including involvement in systems-based patient care assessment and process improvement;
Promote the understanding of the ethical; socioeconomic, cost-containment, and medical-legal issues as they pertain to VS;
Actively pursue research in an environment of inquiry and scholarship, with the goal of presenting at regional and national conferences;
Residents are required to take the Vascular Surgery In-Training Exam which is given annually.
Residents completing the vascular surgery program will be expected to teach the specialty of vascular surgery, undertake investigations into the various areas of vascular surgical care, appoint, educate, and supervise specialized personnel and coordinate the activities of the vascular unit with other clinical units within the hospital.
Rotations
Ohio State University Wexner Medical Center
The majority of vascular surgery training is provided at the Ohio State University Hospital main campus and the Ohio State East Hospital campus, where most faculty reside and have exposure to residents. The variety of cases is extensive and includes both straight-forward and complex cases. Residents are exposed to routine patient care as well as complicated medical problems, in both inpatient and outpatient settings. Interaction with a multitude of specialties occurs regularly. Grand Rounds and didactic conference are held here weekly.
Nationwide Children's Hospital
Residents provide consultation and vascular surgical coverage during their 4th and 5th years. The volume of cases is low while providing coverage as this is mostly done on an emergent basis, but provides an invaluable education as many vascular surgeons do not have access and exposure to pediatric patients as trainees that may become valuable in valuable in practice. Sample Rotation
Schedule for PGY-1 Residents
Block 1

Block 2

Block 3

Block 4

Block 5

Block 6

Block 7

Vascular

Vascular
SICU
CT ICU
Gen Surg East Hospital
CT ICU
Vascular
Block 8

Block 9

Block 10

Block 11

Block 12

Block 13

Vascular Lab
Zollinger

ACS

Thoracic

Night Float
Vascular
Educational conferences
Our program has weekly protected time, where clinical activity is suspended and our educational conferences take place. All faculty, fellows, and on-service residents and students participate. Faculty and fellows rotate presenting topics following the APDVS Basic Science & Clinical Curricula the entire curriculum is covered over a two-year period.
Vascular residents will attend and participate in the following vascular surgery conferences:
Vascular Morbidity and Mortality
Vascular Research Review
Vascular Grand Rounds
Clinical Case Presentations
Vascular Lab Lecture
Faculty lectures from other specialties/outside speakers
Vascular Journal Club
Pre-operative Case Conference
Aortic Center of Excellence Conference
Vascular residents will also participate in General Surgery Grand Rounds, M&M, and Professor Conference.
Application Process
We accept applications through the Electronic Residency Application Service (ERAS) of the National Resident Matching Program. You'll need to provide your curriculum vitae, personal statement, letters of recommendation, and medical school transcript. Applications are accepted from Sept. 1 through Oct. 15 each year. Selected applicants will be invited for a personal interview.
Interview dates are December 1, January 5 and January 23.
Program ID: "4513800123 Ohio State University Hospital Program"
The Department of Surgery is an equal-opportunity employer. It does not discriminate with regard to sex, race, age, religion, color, national origin, disability, or veteran status.
International applicants
Foreign medical graduates applying to the program must hold or be eligible for a valid certificate from the Educational Commission for Foreign Medical Graduates (ECFMG) and a J-1 Visa and must have at least one year of experience in an accredited clinical training program in the United States.