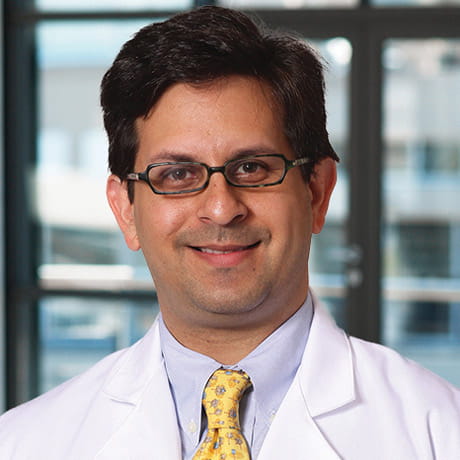 Director, Division of Spine
The Benjamin R. and Helen Slack Wiltberger Endowed Chair in Orthopaedic Spine Surgery
Clinical Professor, Department of Orthopaedics
Clinic: 614-293-0706
Office: 614-293-0706
Fax: 614-293-6250
Background
As a spine surgeon, Dr Khan takes care of patients with all conditions affecting the cervical, thoracic and lumbar spine including complex degenerative conditions as well as adult and pediatric advanced deformity, which is his area of interest. Prior to clinical orthopaedics and spine surgery, Dr Khan spent nearly 4 years investigating the complexity of spine surgery by performing bench-top and clinical research at the prestigious Hospital for Special Surgery in New York City in the Spine Service under the tutelage of Harvinder S. Sandhu, MD and Joseph M. Lane, MD. One of the highlights of his time in research was to investigate the biology of spinal fusions and the role of growth factors and commonly used medications on spinal fusion. This was followed by a 6 year residency in orthopaedic surgery with a research year built in at the University of California, Davis. There with his mentor Mark Lee, MD, he was the first to identify adipokines (fat-derived cytokines) as playing a significant role in fracture repair during his research year.
Residency was followed by an adult and pediatric complex spine fellowship at the prestigious Rush University Medical Center in Chicago. Thereafter Dr Khan was recruited to The Ohio State University Wexner Medical Center to develop a spine service in the Department of Orthopaedic Surgery.
Dr Khan is the author of over 90 research publications, over 18 book chapters and has presented his research numerous times both nationally and internationally. Some of his accolades include "Intern of the Year" awarded by the Department of Neurosurgery at UC Davis; Best Research Paper Award for his work on adipokines from the California Orthopaedic Association (COA) as well as the Orthopaedic Research and Edication Foundation (OREF). His research has also been recognized as best paper awards in national and international meetings. He has been invited to give lectures on his research as well as clinical topics nationally and internationally.
He is on numerous national committees including the Biologic Implants Committee of the American Academy of Orthoapedic Surgeons (AAOS) and the North American Spine Society (NASS) Biologics Section. He is Section Editor of the Clinical Spine Surgery Journal and a member of the International Society for the Advancement of Spine Surgery Research Board. He has received grant support from OREF, Scoliosis Research Society (SRS) and Orthopaedic Trauma Association (OTA). He is currently a member of international and national Spine Societies such as AAOS, CSRS, NASS, ISASS, LSRS and OOS.
His patient care philosophy is to treat each patient as he would treat a member of his own family. In circumstances where surgery is needed, it's already a very difficult and tense time for people. He prides himself in treating each patient as an individual. What might work for one patient might not work for everyone, so part of his job is to develop a treatment plan that's specific to each person's condition. That might include non-operative care or possibly surgery.
Dr Khan believes that by combining the tenants of research, teaching and education to provide excellent patient care, he is living Ohio State University Wexner Medical Center's mission to provide personalized medicine for everyone. His area of research interests include biologic manipulation and reprogramming of cytokines and cells responsible for disc regeneration and spinal fusion, the economic aspects of healthcare utilization for spinal surgery and functional outcomes after spinal surgery.
He was born in Canada, grew up in Pakistan and came to this country in 1998. Since then, he has been involved in medical research, teaching and education. His wife is a clinical psychologist from California and they have four boys. In his free time, he love to cook and fancies himself an amateur chef. Back in the day he also used to play bass guitar in a band; he enjoys soccer (Favorite club – Columbus Crew and Barcelona/Real Madrid) and spending time with his family.
Clinical Highlights
Benjamin R. and Helen Slack Wiltberger Endowed Chair in Orthopaedic Spine Surgery
Chief of the Division of Spine in the Department of Orthopaedic Surgery
Rated in top 10 percent of physicians in the nation for patient satisfaction, 2016
Published over 90 peer reviewed papers, 18 book chapters and presented his work nationally and internationally
Sits on numerous national committees advancing spine surgery research
Becker's Spine Surgeons to Know, 2014
Research Highlights
Best Paper at North American Spine Society (NASS)

"Fusion for Fracture Has No Place in a Lumbar Fusion Bundled Payment Model" (2020)
"Are current DRG-based bundled payment models for lumbar fusions risk adjusting adequately?" (2019)
"Posterior Cervical Fusion for Degenerative Cervical Pathology vs. Fracture: Implications for a bundled payment model" (2019)
"Elective ACDFs at Physician-Owned Hospitals" (2019)
"Healthcare Utilization and Costs in the two years prior to a single-level posterior lumbar fusion: What happens before surgery?" (2018)

Value in Spine Care Award at North American Spine Society (NASS)

"Fusion for Fracture Has No Place in a Lumbar Fusion Bundled Payment Model" (2020)
"Are current DRG-based bundled payment models for lumbar fusions risk adjusting adequately?" (2019)
"Elective ACDFs at Physician-Owned Hospitals" (2019)
"Healthcare Utilization and Costs in the two years prior to a single-level posterior lumbar fusion: What happens before surgery?" (2018)

Best Paper at American Society for Surgery of the Hand (ASSH)
"Declining Trend in Anti-Osteoporosis Treatment, Despite a Rise in DEXA Screening Following Sentinel Distal Radius Fractures" (2020)
Best Paper at Lumbar Spine Research Society (LSRS)
"Declining Trend in Osteoporosis Management and Screening Following Vertebral Compression Fractures" (2019)
Best Poster at the International Society for the Advancement of Spine Surgery (ISASS)
"The Modified 5-item Frailty Index - A concise tool for predicting post-operative morbidity following Elective 1-to-2 level posterior lumbar fusions" (2019)
The Spine Journal 2019 Outstanding Paper for Value Award
"Are current DRG-based bundled payment models for lumbar fusions risk adjusting adequately?"
Society of Lateral Access of Surgery (SOLAS) 2019 Young Investigator Award
"Costs associated with a 90-day Episode of Care following a Single-Level Anterior Lumbar Interbody Fusion (ALIF)"
Best Paper Award at Musculoskeletal Tumor Society (MSTS)
"Has the Affordable Care Act Been Associated with Increased Insurance Coverage and Early-stage Diagnoses of Bone and Soft-tissue Sarcomas in Adults?" (2019)
Young Investigator Travel Award at International Society for Study of the Lumbar Spine (ISSLS)
For work on opioid usage and bundled-payments in spine surgery (2018)
Research Fellow Award at Lumbar Spine Research Society (LSRS)
For work on bundled payments in spine surgery (2017)
Best Basic Science Paper at International Society for Advancement of Spine Surgery (ISASS) Annual Meeting
For work on the temporal expression of adipokines during spinal fusion (2017)
Invited Faculty Spine Interactive Education Program (IEP) Fellows and Young Surgeons at Magnifi Group International Non-Profit Spine Educational Organization (2017)
Education and Training
MD: The Aga Khan University Medical School, 1998
Residency: Orthopaedic Surgery, UC Davis Medical Center, Sacramento, CA, 2010
Fellowship: Complex Adult and Pediatric Spine Surgery, Rush University, Chicago, IL, 2011