Castle Connolly names 37 Ohio State clinical faculty Top AAPI Doctors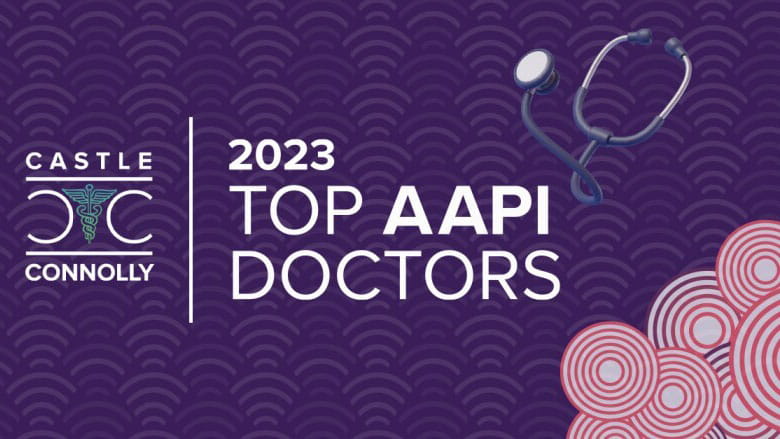 Castle Connolly has named 37 clinical faculty members from The Ohio State University College of Medicine to its inaugural list of Top Asian American and Pacific Islander Doctors.
"These extraordinary doctors bring their unique experiences and skills to ensure each and every patient in our community receives access to innovative treatments and compassionate care," says Carol R. Bradford, MD, MS, FACS, dean of the Ohio State College of Medicine. "They exemplify the commitment to diversity and excellence that makes Ohio State a leader at the bedside, in the research lab and in the classroom."
This year marks the first time the organization has recognized outstanding AAPI doctors in the Castle Connolly network, part of its Diversity, Equity, Inclusion and Belonging initiative. The new distinction, awarded to 350 doctors from 35 states, is designed to honor top clinicians and enable patients to find Castle Connolly Top Doctors who have shared backgrounds and experiences. Other 2023 recognitions include Top Black Doctors and Exceptional Women in Medicine, announced earlier this year, Top LGBTQ+ Doctors, being announced in June, and Top Hispanic/Latin Doctors, being announced in September.
Increasing AAPI representation is a priority at the Ohio State College of Medicine. The college's Strategic Plan includes enhancing the recruitment of Asian Americans in leadership roles as a scorecard goal, and in January 2022, the university hosted the Asian Pacific American Medical Student Association's National Conference.
At The Ohio State University Wexner Medical Center, a new Asian Pacific Islander Desi American (APIDA) Employee Resource Group was formed in 2021 through a program of the Diversity Council. The APIDA Employee Resource Group seeks to empower staff, faculty and learners who identify as Asian, Pacific Islander or Desi American and to amplify their values, voices and visibility at both the Ohio State Wexner Medical Center and the university.
To be considered for the Castle Connolly Top AAPI Doctors distinction, physicians are nominated by peers, then the organization's research team evaluates important criteria to determine who makes the list, including professional qualifications, education, hospital and faculty appointments, research leadership, professional reputation, disciplinary history, interpersonal skills and outcomes data.
Congratulations to the College of Medicine clinical faculty named Castle Connolly Top AAPI Doctors, who practice at he Ohio State Wexner Medical Center; The Ohio State University Comprehensive Cancer Center – Arthur G. James Cancer Hospital and Richard J. Solove Research Institute; and Nationwide Children's Hospital.
Sitaramesh Emani, MD, The Ohio State University Wexner Medical Center
Laxmi Mehta, MD, The Ohio State University Wexner Medical Center
Kandamurugu Manickam, MD, MPH, FACMG, Nationwide Children's Hospital
Endocrinology, Diabetes & Metabolism
Steven Ing, MD, The Ohio State University Wexner Medical Center
Mimi Ghosh, MD, The Ohio State University Wexner Medical Center
Shalina Nair, MD, MBA, The Ohio State University Wexner Medical Center
Eunice Oppenheim-Knudsen, MD, The Ohio State University Wexner Medical Center
Seema Bhat, MD, The Ohio State University Comprehensive Cancer Center – Arthur G. James Cancer Hospital and Richard J. Solove Research Institute, The Ohio State University Wexner Medical Center
Seuli Brill, MD, The Ohio State University Wexner Medical Center
Christopher Chiu, MD, FACP, FAAP, The Ohio State University Wexner Medical Center, Nationwide Children's Hospital
Bhavana Konda, MD, MPH, The Ohio State University Comprehensive Cancer Center – Arthur G. James Cancer Hospital and Richard J. Solove Research Institute, The Ohio State University Wexner Medical Center
Sameek Roychowdhury, MD, PhD, The Ohio State University Comprehensive Cancer Center – Arthur G. James Cancer Hospital and Richard J. Solove Research Institute, The Ohio State University Wexner Medical Center
Sagar Sardesai, MBBS, The Ohio State University Comprehensive Cancer Center – Arthur G. James Cancer Hospital and Richard J. Solove Research Institute, The Ohio State University Wexner Medical Center
Udayan Bhatt, MD, The Ohio State University Wexner Medical Center
Samir Parikh, MD, The Ohio State University Wexner Medical Center
Ariane Park, MD, MPH, The Ohio State University Wexner Medical Center
Jaysingh Singh, MD, The Ohio State University Wexner Medical Center
Elizabeth Yu, MD, The Ohio State University Wexner Medical Center
Amit Agrawal, MD, The Ohio State University Comprehensive Cancer Center – Arthur G. James Cancer Hospital and Richard J. Solove Research Institute, The Ohio State University Wexner Medical Center
Stephen Kang, MD, The Ohio State University Comprehensive Cancer Center – Arthur G. James Cancer Hospital and Richard J. Solove Research Institute, The Ohio State University Wexner Medical Center
Otolaryngology/Facial Plastic Surgery
Leslie Kim, MD, The Ohio State University Wexner Medical Center
Wei Chen, MD, PhD, The Ohio State University Wexner Medical Center
Anil Parwani, MD, PhD, MBA, The Ohio State University Wexner Medical Center
May Ling Mah, MD, Nationwide Children's Hospital
Pediatric Hematology-Oncology
Bhuvana Setty, MD, Nationwide Children's Hospital, The Ohio State University Wexner Medical Center
Hiren Patel, MD, Nationwide Children's Hospital
Tendy Chiang, MD, FACS, Nationwide Children's Hospital, The Ohio State University Wexner Medical Center
Physical Medicine and Rehabilitation
Sheital Bavishi, DO, The Ohio State University Wexner Medical Center
Albert Chao, MD, The Ohio State University Comprehensive Cancer Center – Arthur G. James Cancer Hospital and Richard J. Solove Research Institute, The Ohio State University Wexner Medical Center
Sonu Jain, MD, The Ohio State University Wexner Medical Center
Clara Lee, MD, The Ohio State University Wexner Medical Center
Nitin Bhatt, MD, The Ohio State University Wexner Medical Center
Ali Ajam, MBBS, The Ohio State University Wexner Medical Center
Ulysses Magalang, MD, The Ohio State University Wexner Medical Center
Priya Dedhia, MD, PhD, The Ohio State University Wexner Medical Center, The Ohio State University Comprehensive Cancer Center – Arthur G. James Cancer Hospital and Richard J. Solove Research Institute
Aslam Ejaz, MD, The Ohio State University Comprehensive Cancer Center – Arthur G. James Cancer Hospital and Richard J. Solove Research Institute, The Ohio State University Wexner Medical Center
Benjamin Poulose, MD, The Ohio State University Wexner Medical Center