Growing talent to develop new immunotherapeutic strategies for human disease
Ohio State launches PhD program in immunology and immunotherapeutics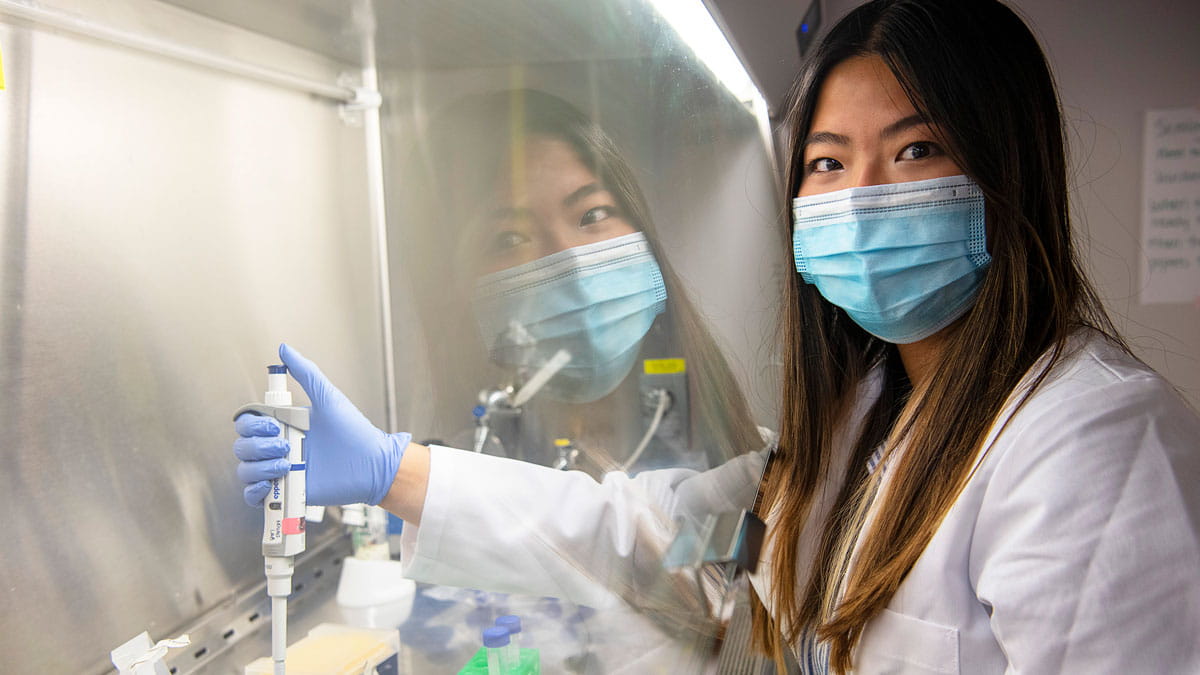 The human immune system is repetitively bombarded by pathogenic insults, like cancer or COVID-19. Most of the time, our immune system can fight off these villains and keep us healthy. These infections and diseases cause the body's intricate network of cells and molecules to respond – in some instances as protection, in others as a dangerous reaction. Occasionally, the immune system can turn on the body and promote autoimmune diseases that can damage healthy tissues.
Either way, the undertaking can be complicated, diverse and life changing. Those poised to become the immunologists of the future can now learn the fundamental aspects of molecular and cellular immunology and how to manipulate these cells for immunotherapeutic strategies at the same time. The substantial growth in immunological research across The Ohio State University College of Medicine positions the academic medical center to significantly impact the prevention, diagnosis and treatment of disease.
"We feel that now is the ideal time to leverage this growth and launch the Immunology and Immunotherapeutics Graduate Program, or I2GP, to train the next generation of immunologists," says Ken Oestreich, PhD, associate professor of Microbial Infection and Immunity at the Ohio State College of Medicine and director of I2GP.
"The need for graduate programs like this one, which emphasizes both basic and clinically applied aspects of immunology research, is greater than ever, given exciting advances and new opportunities in cancer immunotherapy, as well as challenges we face with global pandemics."
I2GP just welcomed its first cohort of students — seven in total — three of whom are already connected with their dissertation research labs and four are rotating in labs performing diverse aspects of different immunology research. The program, housed in the college and managed through the Department of Microbial Infection and Immunity, currently has 45 principal investigator-led laboratories. Other immunology researchers throughout the system, including those in the Pelotonia Institute for Immuno-Oncology (PIIO) and The Ohio State University Comprehensive Cancer Center – Arthur G. James Cancer Hospital and Richard J. Solove Research Institute, are also providing training environments and physical research space.
I2GP has been in development since 2021 by Eugene Oltz, PhD, professor and chair of the Department of Microbial Infection and Immunity, and Zihai Li, MD, PhD, director of the PIIO. Insights into broadening the use of immunotherapies against cancer and disease led the department to launch a new Master of Science in Immunology and Microbial Pathogenesis program in autumn of 2022.

Image above: This image depicts a hematoxylin and eosin stain of a mouse lung following sterile lung injury with ozone. It captures the alveolar spaces, a blood vessel, and a small airway. Hematoxylin stains cell nuclei a purplish blue, and eosin stains the extracellular matrix and cytoplasm pink. Photo courtesy of the lab of Kymberly Gowdy, PhD.
The PhD students are joining a community comprising scientists who study microbial infection and immunity, the PIIO and 11 additional clinical departments and divisions at the institution. Dr. Oltz says the scope of their ongoing work examines how groups of immune cells respond to myriad challenges.
"This includes improving the innovative vaccines already in existence and discovering and developing new cancer therapeutics and ways to reinvigorate T-cell responses for tumor immunotherapy," Dr. Oltz says.
Dr. Li credits the strong framework and enhanced research capabilities as important drivers in assisting them to make big strides in the coming years.
"This next phase of fundamental and translational work will allow us to develop and expand treatments that turn on the immune system to fight disease," Dr. Li says.
The new program has four emphasis areas:
Fundamental Cellular and Molecular Immunology, which examines what helps immune cells develop
Immunology of Infectious Diseases, which examines how an immune system is going to respond to intruders
Translational Immunology, which includes immunotherapeutics and immuno-oncology and vaccine development for cancer treatment
Systems Immunology, an emerging area that examines how a group of immune cells come together to make a particular response as a system
The college stands at the leading edge of curriculum development that centers on the learner. In keeping with this mission, learning new ways to harness the body's immune system will allow scientists to leverage and engineer these cells to become more efficient shields in the quest for human health.
Those interested in learning more about the I2GP program can reach out to I2GP@osumc.edu.
Explore more stories of innovation, clinical care, education and community outreach at The Ohio State University College of Medicine.