As the world continues to battle diseases such as cancer, autoimmune disorders, and those due to microbes and viruses like COVID-19, the Master of Science in Immunology and Microbial Pathogenesis program at The Ohio State University College of Medicine prepares students for an exciting and rewarding career in the medically important fields of immunologic and microbial pathogenic disease research. Scientists earning this degree can expect to be highly competitive for research and lab management positions in laboratories carrying out essential and groundbreaking research. This program prepares you to contribute to these efforts by providing you an opportunity to develop a cutting-edge skill set in basic science and health care-related laboratory techniques and lab management skills, priming you to aid in the discovery of new approaches and technologies to benefit the health and wellness of your community.
Upon completing this hands-on, full-time degree program, you will gain a foundational understanding of human health-related immunology and microbial pathogenesis through intensive, hands-on experience in one of Ohio State's top-tier research laboratories.
While completing your master's degree in immunology, you can expect to:
Develop the practical knowledge, experience and leadership skills to prepare you to contribute to solving real challenges in the ever-changing world.
Gain significant clinical research experience through the program's proximity to The Ohio State University Wexner Medical Center and affiliation with its Division of Infectious Diseases.
Work alongside accomplished researchers in Ohio State laboratories. The MS in Immunology and Microbial Pathogenesis curriculum is taught by the Ohio State College of Medicine faculty from a variety of basic research and clinical departments.
Join and engage with Ohio State's collaborative, diverse and supportive community. Connect with and learn from your fellow Buckeyes — our cohorts are small so you have the opportunity to learn from and collaborate with fellow scholars as you develop your own independent research thesis.
Carry out your own independent research project, culminating in a written and approved thesis.
Graduate with the knowledge and skills to be competitive for advanced-level laboratory positions in fields such as: emerging infectious diseases, immunologic-related diseases,

pharmaceuticals and therapeutics research,

agriculture biotechnology and medical testing laboratories.
Pursue professional success in a growing field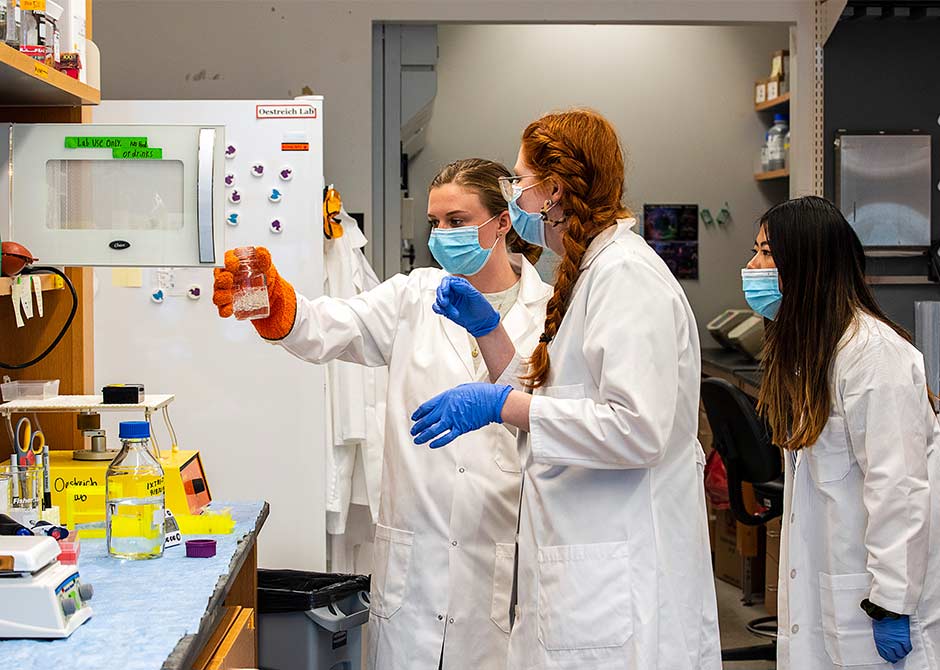 According to the 2020 Ohio Bioscience Report, the bioscience field is growing with over 4,000 related organizations in Ohio alone. Examples of employers in the central Ohio area seeking trained bioscience professionals with laboratory research experience include: The Ohio State University, Abigail Wexner Research Institute at Nationwide Children's Hospital, Abbott, Battelle, Cardinal Health and more. Additionally, the report projects nearly 5,000 new jobs in these areas in Ohio and workers in these fields earn well above the average living wage. According to the American Society for Microbiology, the addition of a Master of Science to a relevant bachelor's degree will afford graduates the opportunity to enter at a higher pay scale and be considered for positions such as clinical or research laboratory managers, biosafety officer jobs, biotech careers, microbiology and instructor/laboratory coordinators.
In addition to its emphasis on independent research skills, this program is unique in that it addresses the need for a workforce not only trained in specialized areas of biomedical research, but also equipped with the skill set necessary to oversee and manage a productive research laboratory. Throughout the program, lab managers within the department will serve as "lab manager mentors" for each student. The required didactic coursework and focused mentoring by lab managers will allow you to gain an in-depth knowledge of lab management practices such as staffing, purchasing and safety oversight. This will set you apart as you prepare to enter the workforce or look to further your career.