To earn the MS in Immunology and Microbial Pathogenesis, you will complete a minimum of 40 credit hours. These credit hours consist of 30 hours of core courses (including a minimum of 15 from laboratory research practicum) plus 10 hours of elective courses. The curriculum is designed to be completed in five terms with an autumn start and graduation in the spring of your second year. As this is a full-time program, you are expected to be enrolled in a minimum of eight credit hours per semester.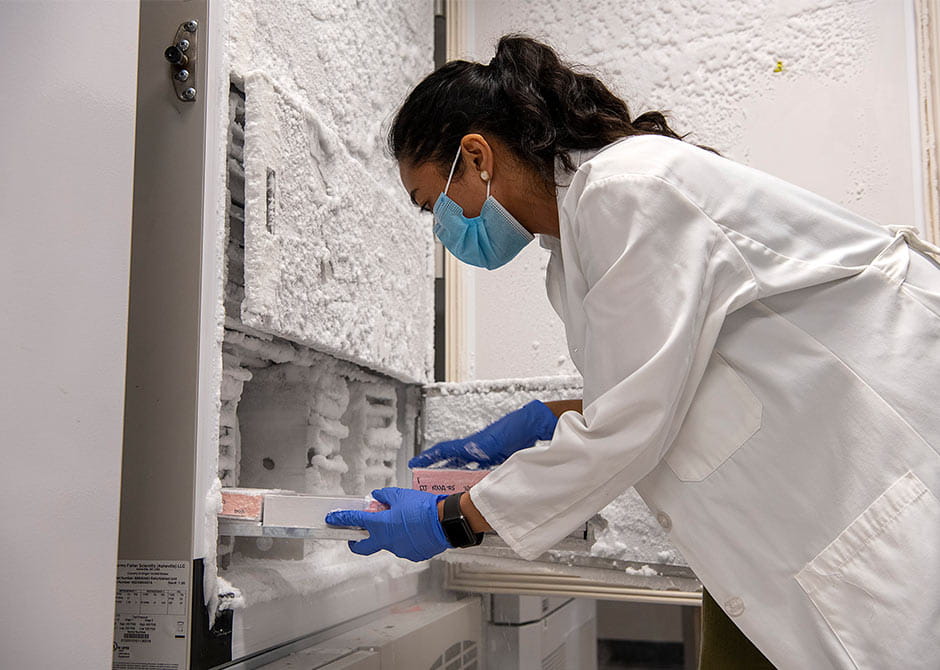 You can also elect to begin the program early by enrolling in your research laboratory rotation course during the summer term prior to your first autumn semester.
Your curriculum is designed to provide you with a depth of knowledge and practical skill-sets in the following key areas:
Laboratory management practices including the day-to-day logistics of laboratory operations (e.g., scheduling, ordering, personnel management, safety guidelines)

Foundational and advanced knowledge of the fields of immunology and microbial pathogenesis

Capacity to properly design, conduct, interpret and present independent research experiments and projects

Ability to convey, in written form, scientific hypotheses, research proposals and findings as demonstrated through the successful completion of a written thesis
Curriculum
Laboratory Scientific and Management Skills (required)

Molecular Pathogenesis (required)

Cellular and Molecular Immunology (required)

Departmental Seminar: Recent Discoveries in Immunology and Microbial Pathogenesis (required)

Graduate Research in Microbial Infection and Immunity (required)

Selected Topics in Advanced Immunology (recommended)

Current Topics in Virus-Host Interactions (recommended)

Pathobiology of Cystic Fibrosis (recommended)

Selected Topics in Microbial Pathogenesis (recommended)
Electives
In addition to the required and recommended courses listed above, the curriculum includes a minimum of 10 credit hours of elective coursework to personalize your education to align with your interests and career goals. The courses below represent a few of the many examples of electives offered from various colleges and departments at The Ohio State University. Your research mentor or the course director will help advise you in selecting your elective courses.
Department of Bioethics, Ohio State College of Medicine
BIOETHC 6010 (3 credits): Biomedical Research Ethics
Department of Biomedical Informatics, Ohio State College of Medicine
BMI 5710 (3 credits): Introduction to Biomedical Informatics
BMI 5760 (3 credits): Public Health Informatics
BMI 5770 (3 credits): Health Analytics: Data to Discovery to Dissemination
Department of Microbiology, Ohio State College of Arts and Sciences
MICRBIOL 5147 (3 credits): Eukaryotic Pathogens
MICRBIOL 5161 (3 credits): Bioinformatics and Molecular Microbiology
MICRBIOL 5270 (3 credits): Antibiotics and Natural Products
MICRBIOL 6010 (2 credits): Principles of Microbiology
MICRBIOL 6020 (3 credits): Microbial Physiology and Biochemistry
MICRBIOL 6080 (3 credits): Advanced Microbial Genetics
MICRBIOL 6155 (3 credits): Microbial Ecology and Evolution
MICRBIOL 7536 (2 credits): Advanced Food Microbiology