To apply for the MS in Immunology and Microbial Pathogenesis, you must complete an online application and submit it to The Ohio State University Graduate School through the Graduate Admissions Office. The following items are required for admission:
A personal statement of why you are applying to the program

An official transcript with proof of completed bachelor's degree (or higher) in any of the biological sciences or related areas, or a combination of a related major along with successful completion of relevant prerequisite for the curriculum (contact the MSIMP@osumc.edu for clarification)

Three letters of recommendation

All international applicants whose native language is not English will be required to take the Test of English as a Foreign Language (TOEFL) and have an official score report sent directly to the associate dean for Graduate Studies from the Educational Testing Service. The recommended minimum TOEFL scores are 560 (written) or 220 (electronic) or 89 (internet-based)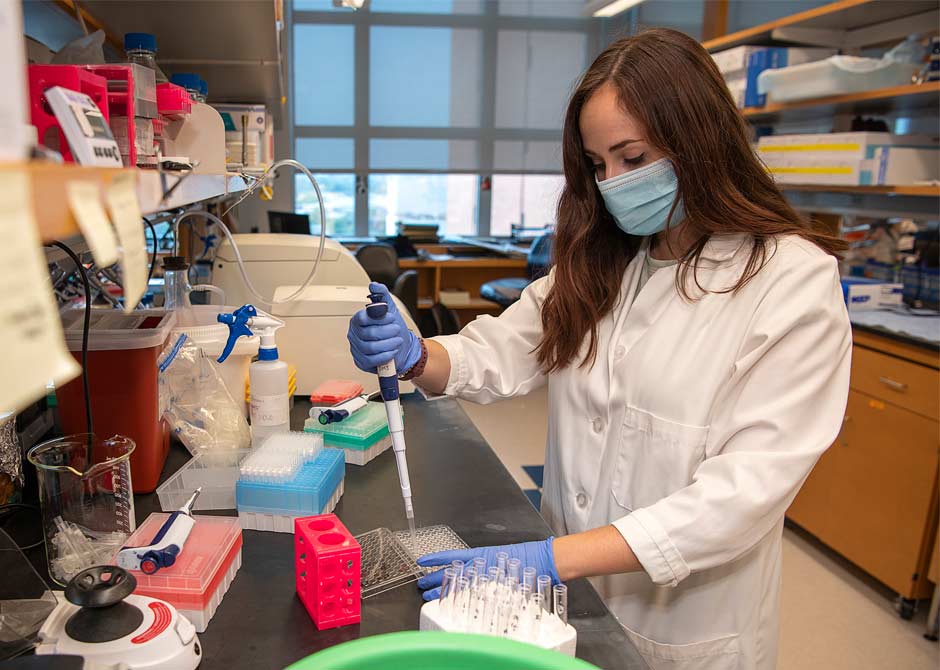 Working professionals looking to further their education
As this is a full-time program, you must be able to attend the required in-person courses and take a minimum of eight credit hours per semester. Employees from Ohio State and other local full-time or part-time professionals are welcome to apply to the program; however, you will need to work with your supervisor to ensure you have the flexibility in your schedule to attend the required daytime courses and hands-on lab time.

Prior to applying to the program, you are encouraged to reach out to MSIMP@osumc.edu, to discuss how well aligned your individual academic and professional experience is with the curriculum.

The deadline to apply for the autumn semester is January 31st, applications submitted beyond the deadline may be considered, based on program availability.


Ohio State's commitment to diversity and inclusion
The MS of Immunology and Microbial Pathogenesis degree program strives to recruit a diverse student body to allow for collaboration with people from different cultures and experiences, to broaden perspectives and create space for new ideas. Through a diverse learning environment, you and your peers will learn from each other's knowledge, experiences and perspectives to drive your own growth. The Ohio State University's Office for Diversity and Inclusion is committed to enhancing the recruitment, admission and retention of students from underrepresented groups. This office currently offers professional and personal guidance, career development and networking and mentorship opportunities throughout Ohio State's affiliations.