Four-Pillar Philosophy of the Program
Clinical Excellence
The Fellow in Training (FiT) will be challenged on his or her clinical decision making and treatment interventions with one-on-one mentoring with complex patient cases.
Learn and apply evidence-based interventions through didactic training and clinical mentoring with fellows of American Academy of Orthopaedic Manual Physical Therapists as well as with specialists in subspecialty fields such as temporomandibular disorder, vestibular rehabilitation, upper extremity, sports medicine and women's health.
Comprehensive testing of learned material with both written and practical application with final comprehensive examination at the end of the fellowship.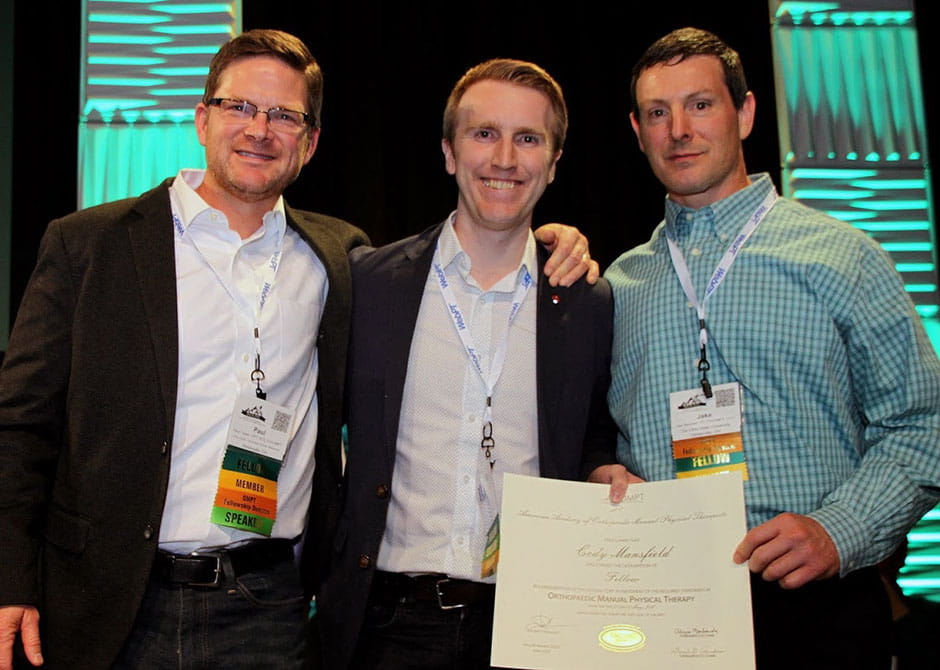 Our first graduate of the Ohio State Sports Medicine OMPT fellowship, Cody Mansfield, receives his FAAOMPT certificate, with Jake Bleacher (right), the director of the fellowship, and Paul Tadak (left), the former co-director of the fellowship and co-founder.
Leadership
The FiT will receive both didactic coursework on leadership as well as organize, design and implement a six-hour manual therapy course for physical therapists in central Ohio, where the proceeds are donated to charity.
Submit research and/or educational proposal to Ohio Physical Therapy Association annual conference and scientific meeting, and AAOMPT.
Education
The FiT will be responsible for instructing first- and third-year students at The Ohio State University Doctor of Physical Therapy program on assessment and advanced manual therapy techniques to the spine and extremities.
The FiT will lead a weekly lab skills practice session on techniques to the other residents and fellows at the university.
Research
The Fellow will be responsible for submitting original research to be submitted for publication under the mentorship of PT PhD staff at the Jameson Crane Sports Medicine Institute.
Previous Fellows have contributed to ongoing randomized controlled trials assessing the effects of dry needling, have presented at AAOMPT and OPTA, and have been published in journals such as the Journal of Orthopaedic & Sports Physical Therapy, Journal of Manual and Manipulative Therapy, Physiotherapy Theory & Practice, Physical Therapy in Sport, and the International Journal of Sports Physical Therapy.
Program Details
Clinical Practice
One-one-one Mentoring 3 hours/week
Non-mentored 30 hours/week
Didactic
Weekly Residency Conference 1 hour/week
Independent Study 169 hours
Dry Needling Course 24 hours
Laboratory instruction 165 hours
Journal Club 1 hour/month
Anatomy Dissection Lab 8 hours
AAOMPT Annual Conference 10 hours/year
Teaching
Advanced Topics in Ortho PT Course 6 hours (one to two lectures)/ per week
MSK Spinal Manipulation Lab 6 hours/ per week
Research
Original or Case Study Variable
Publish original research or case report
Research experience in our Motion Anyalysis and Performance Lab at Jameson Crane Sports Medicine Institute
Mentorship provided by physical therapists and post doctoral research staff