Each year we select nine interns: six categorical general surgery and three preliminary general surgery. Categorical positions are six to seven years in length, a period that includes five years of clinical training and one or more years of research or other advanced training, such as a critical care fellowship. Most residents complete a master's degree during that time. Six chief residents in general surgery graduate each year.
The residency provides progressive responsibility in preoperative and postoperative care, nonoperative management of surgical patients, development of operative skills and the ability to assume independent responsibility for clinical decision-making.
Program Goals and Objectives
First-year residents participate actively in patient care in and out of the operating room. First-year residents will develop expertise in patient management, acquire basic operative skills, learn to set priorities in management and develop problem-solving, leadership and teaching skills.
Second-year residents become familiar with important surgical specialties, develop expertise in the evaluation of trauma patients and develop expertise in surgical critical care and burns. Procedural exposure is excellent during the second year. Second through fifth year residents have the opportunity to participate in a leadership elective (LEAD in Surgery) that helps develop leadership skills in addition to clinical knowledge.

The goal of the third year is to further develop surgical skills. The resident serves as an intermediate resident on the surgical services, and conducts consultations, decision-making and a greater number of major procedures. During the fourth and fifth years, the resident is the most senior on each service. In addition to further developing surgical expertise, the goal of these years is to develop management and leadership skills. During the fourth year, residents are supervised by faculty and advanced special residents (fellows); during the fifth year, residents act as service chiefs.

The Department of Surgery pays for fourth- and fifth-year residents to attend one major meeting each year, and provides PGY3-5s with $2,000 for the purchase of loupes and books.
Rotations


Rotations at the Wexner Medical Center make the most of the wealth of knowledge and expertise within the Ohio State and Columbus medical communities.
Our rotation locations expose residents to the highest quality medical care the region has to offer, providing the opportunity to learn first-hand surgical best-practices and patient care.
View rotations for each year
.
Global surgery electives occur during the PGY4 year, with one resident going to Australia and one or more going to Ethiopia.
Training Sites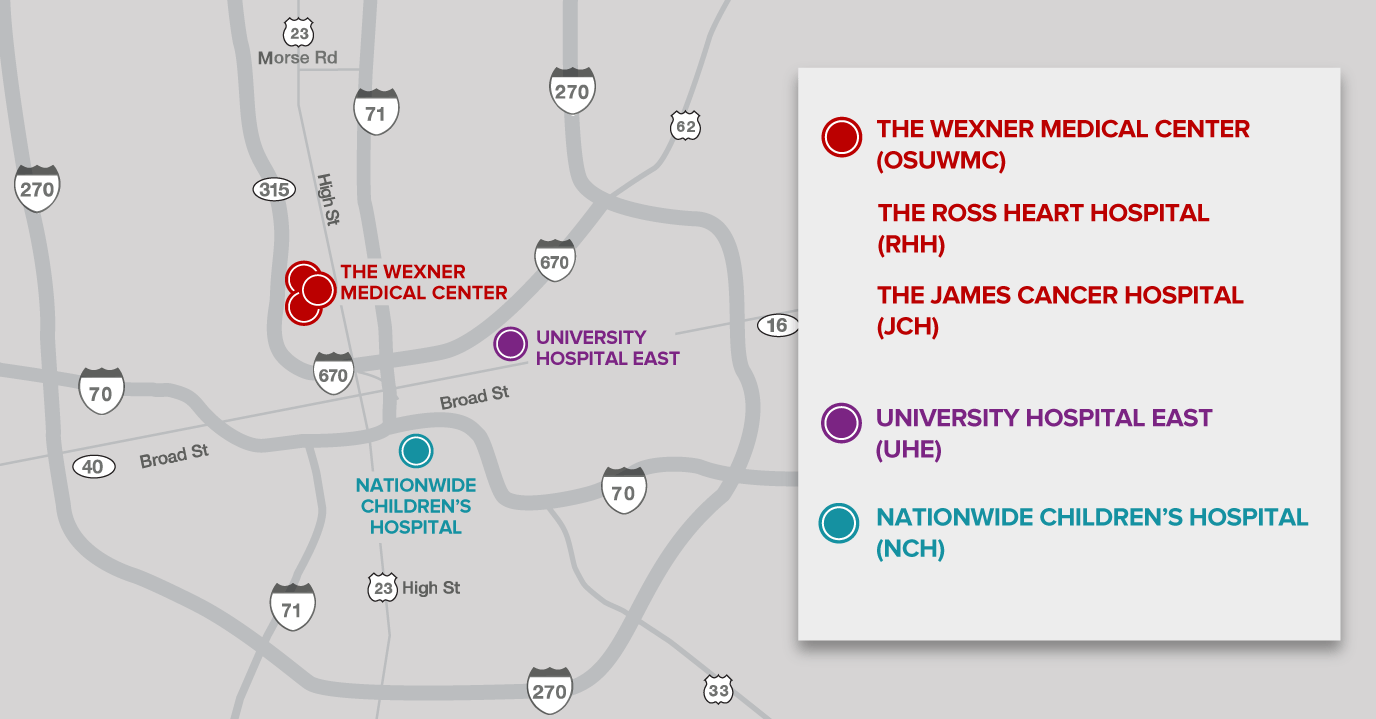 Nationwide Children's Hospital (NCH), James Cancer Hospital (JCH), Ross Heart Hospital (RHH), East Hospital (EH), The Ohio State University Wexner Medical Center (OSUWMC)
All are located in Columbus, Ohio.
The James
,
Ross
and
Wexner Medical Center
are all part of one complex on OSU's main campus.
Surgical Skills and Simulation

OSUWMC utilizes a variety of tools to prepare residents for surgery. Simulation incorporated into our curriculum establishes a strong foundation of knowledge to be applied in procedures.
Residents participate in simulation throughout the curriculum, starting with introductory lessons in safety and equipment use and progressing through porcine and cadaver labs in complex surgery. We also use virtual reality simulators for laparoscopic, robotic and endoscopic procedures throughout the curriculum.
Operative Experience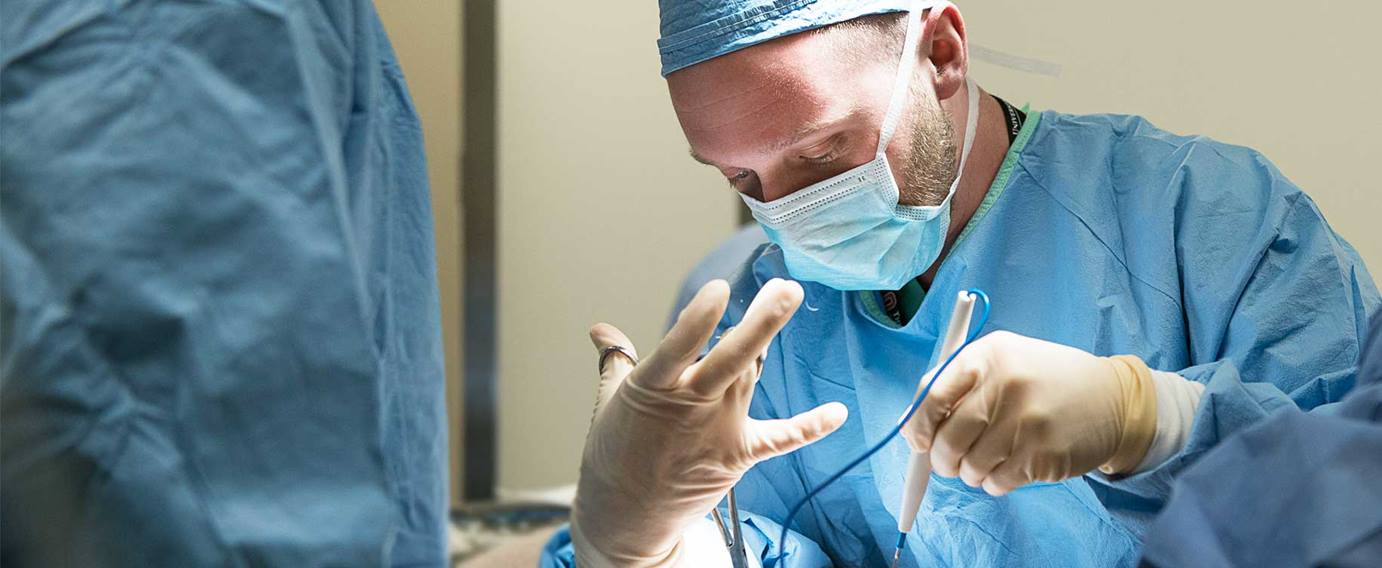 Residents graduate with an average of 1,000 major cases.
Our program has excellent volumes in all specialties and exceptional experience in hepatobiliary and endoscopy. We also have training/certification in robotic surgery with upwards of 40-50 cases at the end of the chief year.
Research and Professional Development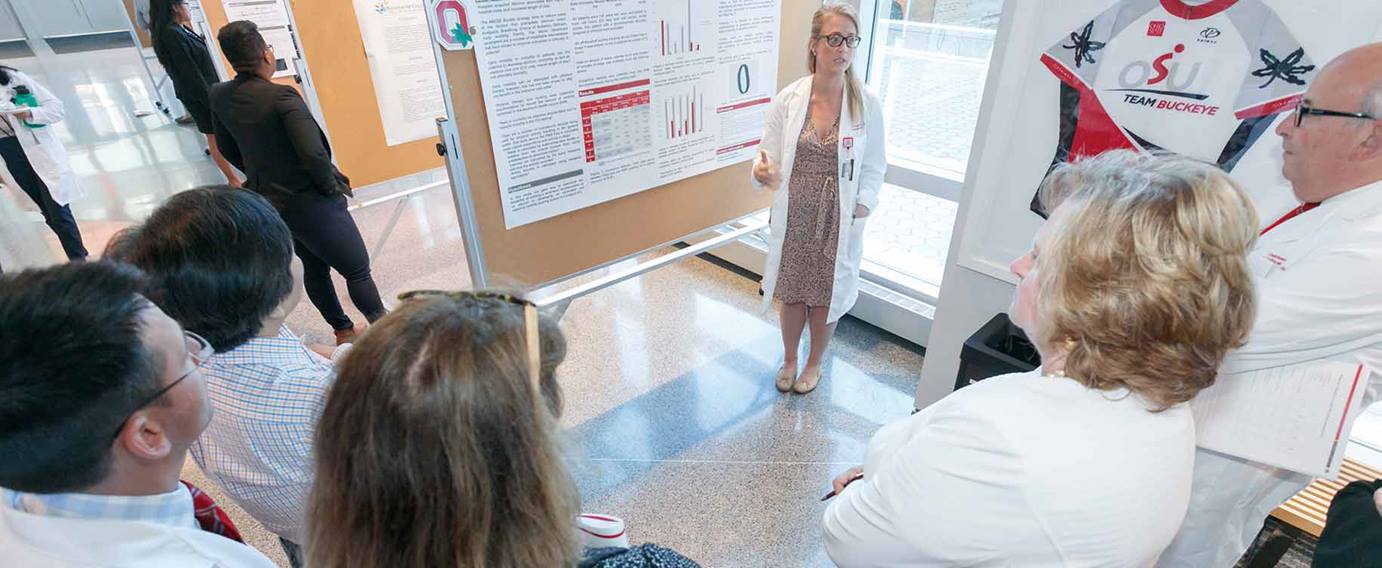 All residents have one or more years of professional development time, frequently focusing on research and the attainment of a master's or doctoral degree.
All Ohio State general surgery residents are required to spend at least one year doing engaged in mentored basic/translational science, clinical or education research after their second or third clinical year. Mentored research can be conducted at Ohio State or at another academic institution. During the research year(s), residents earn either a master's of medical science degree or another advanced degree from The Ohio State University.
Hear from our residents
who have completed the research training program.
Some Ohio State surgery residents may be given the option to complete a one-year surgical critical care fellowship in the Department of Surgery after their third year of clinical training instead of research. This fellowship prepares the graduating resident to sit for the American Board of Surgery certificate in Surgical Critical Care.
All second- and third-year residents must also do a clinical or basic science research project, which they present at the Department of Surgery Annual Surgical Research Conference in May. The department will pay for residents to attend professional meetings if they have an abstract accepted at any time during their residency.
Conferences, Didactics and Teaching Skills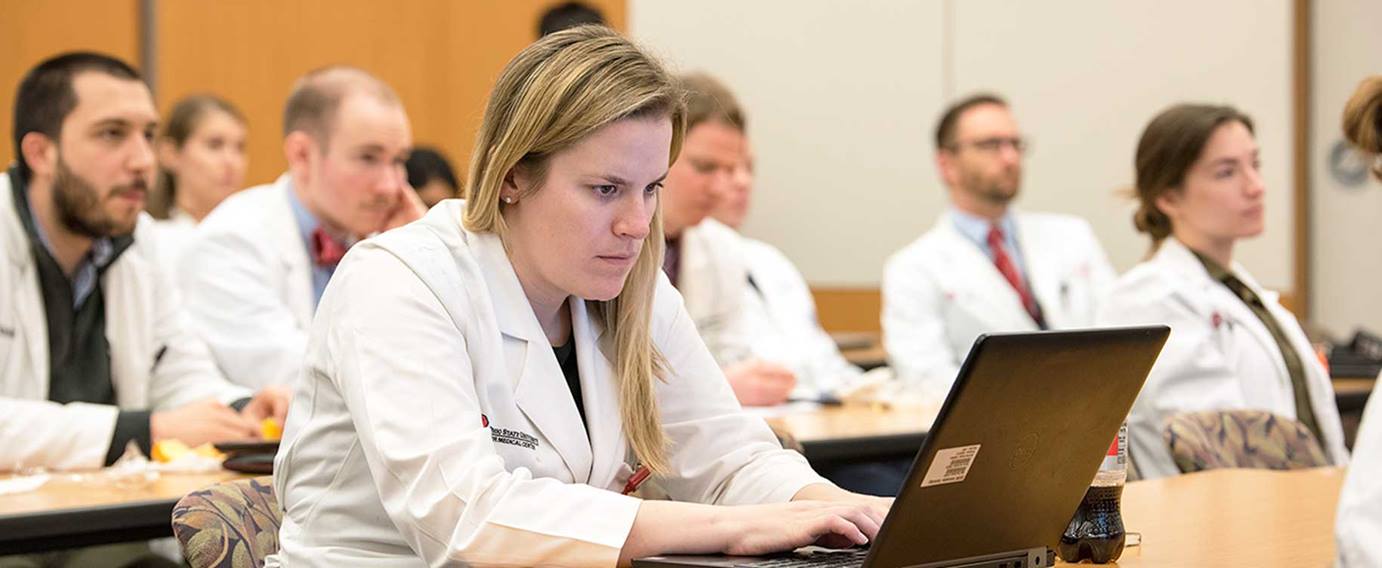 All residents attend a morbidity and mortality conference, grand rounds and resident- and faculty-run didactic conferences each week.
Lab and senior residents also participate in a two-year course titled "Seminars in Practice Management" taught by vascular surgeon Dr. Bhagwan Satiani.
Residents teach Ohio State medical students throughout their training, including during their professional development (lab) time. We also send multiple senior residents each year to the American College of Surgeons Residents as Teachers and Leaders course in Chicago. This has given us an excellent cadre of senior residents to teach and to teach the art of teaching to junior residents.
Evaluation
Faculty evaluate residents at the end of each rotation and semiannually. Residents are also evaluated by nurses, peers and medical students using a 360-degree evaluation. Residents are evaluated on professionalism, medical knowledge, patient-care skills, technical skills, interpersonal and communication skills, practice-based learning and improvement and systems-based practice.
All residents take the American Board of Surgery In-Training Exam (ABSITE) in January. Residents at the PGY3 through PGY5 levels participate in Mock Oral Exams.