Underrepresented students find academic opportunity and community in ASPIRE program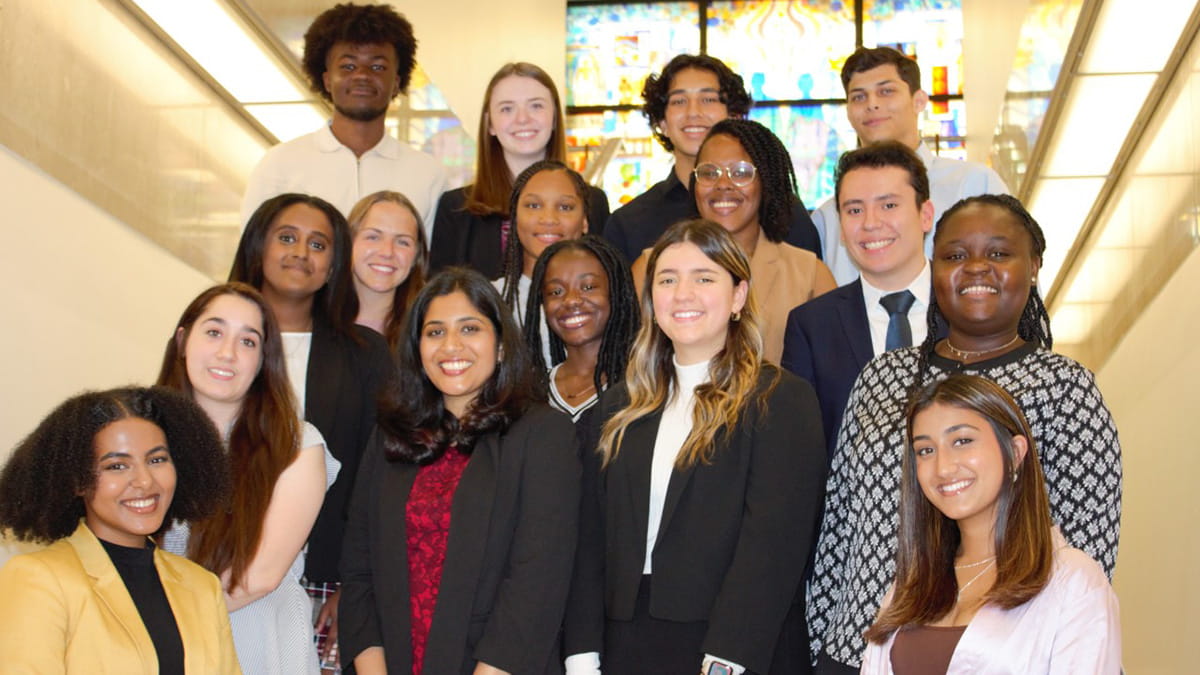 For nearly six years, the ASPIRE Medical Research Program at The Ohio State University College of Medicine has helped students build a strong foundation for a career in the health sciences. The ASPIRE program strives to support undergraduate students from populations that have been historically excluded from medicine by equipping them with the tools and knowledge to succeed as future health care providers.
To prepare its students for a graduate or professional degree in medicine, one fundamental aspect of the ASPIRE program includes giving students the opportunity to conduct medical research. But the program expands far beyond laboratory experience — over the span of 12 months, students engage in a variety of activities including personal and academic support, didactic sessions, counseling and test preparation. Aaron Thomas, the ASPIRE program manager, says that these opportunities allow students to form connections with others who have similar backgrounds.
"These are opportunities that aren't usually given to these students," Thomas says. "Our whole purpose is to show them how much opportunity there is for them, and to hopefully help them find a place where they fit in and where their interests align with their education, passion, family and community."
This year's ASPIRE cohort has participated in activities such as journal clubs led by PhD candidates; a session taught by Jason Reece, PhD, a program partner in the Knowlton School of Architecture and Kirwan Institute for the Study of Race and Ethnicity, that introduced health information mapping software; a chance to connect with leaders at Nationwide Children's Hospital and much more.
More recently, Thomas developed a new initiative within the ASPIRE program called Community Conversations after he noticed many students were struggling to find a safe place to discuss current issues. Recent conversations with students centered around processing trauma, gun violence, abortion access and bodily autonomy. The ability of the ASPIRE program to adapt to students' needs and actively create a more inclusive environment is what sets it apart from other programs, according to Thomas.
"I think the key to our success is most programs ask students to bend to the will of the program, but we bend the will of the program to our students," Thomas says.
The program continues to evolve and expand over time. This year, the ASPIRE program received a 25% increase in applications. The size of the program has also grown significantly — one year ago, 10 students were accepted, and this year's cohort has 16 students.
Two years ago, the ASPIRE program was integrated into the Medical Scientist Training Program (MSTP), a dual MD-PhD program at the Ohio State College of Medicine that trains students to become physician-scientists. After ASPIRE joined this program, Tamar Gur, MD, PhD, assistant professor of Psychiatry and Behavioral Health at the college, took the lead as faculty director of the ASPIRE program, with Ashley Bertran, MLHR, as the administrative director.
"This program exemplifies what can be done when resources and support are provided to individuals who are historically excluded — they thrive and excel," Dr. Gur says. "Their end-of-summer presentations were stellar and reflective of a deep understanding of their laboratory experiences as well as internalization of the themes instilled in them by the myriad speakers brought to them in didactic sessions. In summary — it was a resounding success and a delight to be a part of."
The ASPIRE program's positive impact persists even after students complete the program. Many students return to take courses, participate in Medical College Admission Test (MCAT) preparation, practice the interview process or teach classes. With this extended involvement, students aren't just learning additional academic and professional skills — they're also being exposed to real-life issues and experiences that they can carry with them throughout their daily lives.
"A lot of our students are intent on taking what they've learned from this program and using it later on down the road, with their families or in their personal life," Thomas says. "We have been told by the students who come through this program that nowhere else on campus have they found such support and a place of belonging than what has been given to them in the ASPIRE program."