When Benjamin Segal, MD, a physician - scientist internationally known for his work in multiple sclerosis and neuroimmunology, was recruited as chair of the Department of Neurology at The Ohio State University College of Medicine in 2019, he had a convincing, one-word reason to come here.
Possibility.
"I feel Ohio State is at an inflection point for dramatic growth in a positive direction," says Dr. Segal, who also serves as the co-director of Ohio State's Neurological Institute, which houses over 200 medical, surgical and research specialists dedicated to the treatment of patients with neurological and psychiatric disorders. "There are tremendous riches here in terms of breadth and depth of clinical and research expertise, in terms of support of the academic mission, in terms of the dedication of leadership to enhance education and research as well as clinical excellence."
Dr. Segal is a key figure in Ohio State's rapidly growing neuroscience effort, a deep and sweeping investment in tackling the world's most pressing health challenges of the brain, spine, nerves and muscle. As one of the country's first academic health centers to combine several neuroscience-related specialties into one program—the Neurological Institute—the university has made it a priority to forge unexpected connections while recruiting the foremost experts across neurology, neuroscience, neurosurgery and psychiatry.
Combined and working in partnership, these powerhouse programs are building a world-class institute in basic, translational and clinical neuroscience research leading to top-notch care.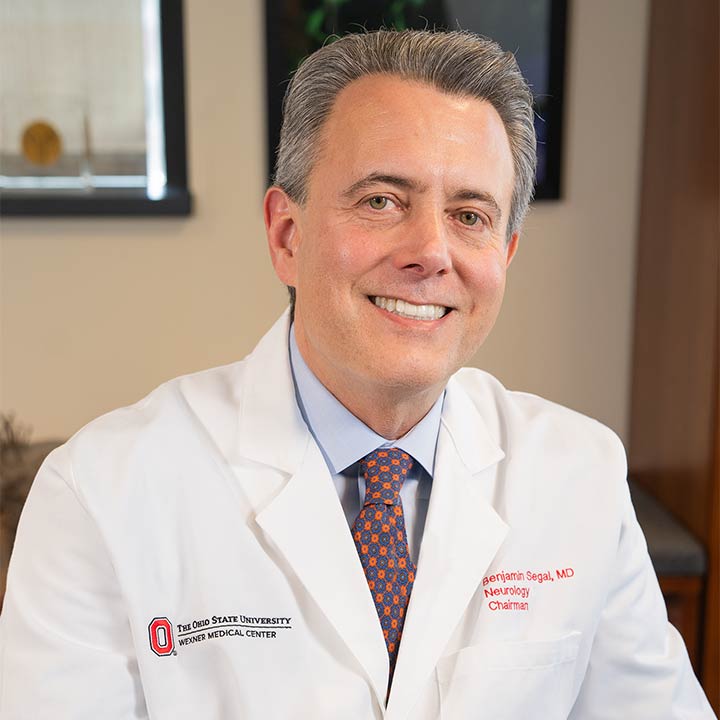 "Anybody can form a neurological institute, but the advantages unique to Ohio State are the individuals involved, from scientists to staff," says Russell Lonser, MD, a nationally recognized neurosurgeon and brain and spine researcher who serves as chair of the Department of Neurological Surgery and co-chair of the Neurological Institute. "We're a massive university with incredible resources and talented individuals coming together in a very intentional way."
The novel collaborative work emerging from Ohio State's neuroscience effort spans a wide range of conditions, including multiple sclerosis, dementia, stroke, epilepsy, addiction, schizophrenia, spinal cord and traumatic brain injuries, brain tumors, and Parkinson's, Huntington's and Alzheimer's diseases.
"The Ohio State Neurological Institute is poised to be at the cutting edge of discovery and treatment of a spectrum of neurological diseases," Dr. Segal says.
Among the highlights:
Using the immune system to stimulate neural repair
Dr. Segal and Andrew Sas, MD, an associate professor in the Department of Neurology, are exploring how the immune system can be manipulated to rescue damaged nerve cells from death, and to stimulate the regrowth of severed nerve fibers. They've identified a unique immune response that directly induces nerve fibers to regenerate in the setting of optic nerve and spinal cord injury. The pro-regenerative immune cells also trigger cortical brain cells to grow new fibers.
In ongoing research, the Segal lab is investigating how to generate neuroprotective/regenerative immune cells from bone marrow cells in vitro for use as a cellular therapy.
"We've come a long way in developing therapies that prevent or mitigate damage, or provide symptom relief, in a range of nervous system diseases such as MS, Parkinson's disease and epilepsy," Dr. Segal says. "However, there's an unmet need for therapies that reverse damage to the brain and spinal cord once it has already occurred. This research could lead to the first treatments that actually restore lost neurological function across a range of conditions, from traumatic brain and spinal cord injury to MS, Alzheimer's disease and ALS."
Preventing muscle loss in disease and with aging
In diseases such as ALS and spinal muscular atrophy (SMA), nerves that innervate muscles (known as motor neurons) degenerate, leading to weakness, difficulty swallowing and, ultimately, difficulty breathing. Ohio State was one of the institutions that led the way in the discovery and initial clinical trials of nusinersin, the first FDA-approved gene-based therapy for SMA that halts disease progression and improves motor function.
W. David Arnold, MD, an associate professor in the Department of Neurology, has found that loss of muscle size and function that normally occurs during aging is also related to the attrition of motor neurons. His lab is exploring the mechanisms underlying motor neuron loss and repair with the long-term goal of developing therapeutics that prevent muscle loss in the elderly, as well as in individuals with neurological diseases, thereby improving day-to-day functioning.
Gene therapy for neurologic disease
A leader in gene therapy, Ohio State has multiple studies for Parkinson's and Huntington's diseases as well as aromatic L-amino acid decarboxylase deficiency, a rare genetic disorder affecting children and resulting in developmental delay, weak muscle tone and difficulty moving.
Using the direct delivery of gene therapy to target diseased brain circuits, Ohio State is performing first-in-patient gene therapy trials for incurable neurologic diseases, including Huntington's disease, Dr. Lonser says. In a worldwide first, surgeons at the Ohio State Wexner Medical Center treated two patients with Huntington's using a novel gene therapy treatment as part of a multi-center, double-blind randomized clinical trial. Since 2000, the Ohio State Wexner Medical Center has been designated a Huntington's Disease Society of America Center of Excellence, led by Sandra Kostyk, MD, PhD, an associate professor of Neurology.
Neuromodulation and focused ultrasound
Deep collaborations across psychiatry, neurology, neuroscience and neurosurgery are leading to state-of-the art basic, translational and clinical research into the use of neuromodulation to treat conditions such as epilepsy and pain disorders, Dr. Lonser says. And, in a first-in-world clinical trial, Ohio State College of Medicine researchers are studying how well focused ultrasound surgery works in adults with a specific type of epilepsy whose seizures aren't controlled by medication, with the goal of developing real-time physiological feedback during treatment.
Brain imaging in psychiatry
"The key theme is: How do we begin to use the most modern neuroscientific tools to discover a brain basis of psychiatric illness?" says K. Luan Phan, MD, chair of the Ohio State College of Medicine's Department of Psychiatry and Behavioral Health. "It's a very important question for us, and we can only answer it in the context of a large integrated neuroscience program that crosses both basic and clinical sciences."
Dr. Phan, nationally recognized for his patient-oriented translational research, and his department are employing functional brain imaging to study how conditions such as addiction, depression and anxiety appear in the brain—and using those findings to see whether they can predict events such as suicide or heavy drinking in young adults.
Spinal cord injury
In 2018, a $10 million gift from the Belford Family Charitable Fund established a center for spinal cord injury and a lifetime commitment to spinal cord research at Ohio State. The center's executive director, Phillip Popovich, PhD, chair of the Ohio State College of Medicine's Department of Neuroscience, together with Dana McTigue, PhD, professor of Neuroscience, and Jan Schwab, MD, PhD, professor of Neurology, are building on a strong basic science base to create a leading translational research program.
Dr. Popovich, whose groundbreaking work has advanced the fields of neurotrauma and neuroimmunology, was the lead author in a recent mouse study that found spinal cord injuries caused an acquired bone marrow failure syndrome that may contribute to chronic immune dysfunction—and that it's possible to overcome certain aspects of this bone marrow failure. All of this could have an immediate impact on people affected by spinal cord injury.
And much, much more
Dr. Popovich easily names other Department of Neuroscience faculty who are conducting translational research in their labs. A short list includes Andy Fischer, PhD, a professor in the department who's studying the cellular and molecular mechanisms of eye diseases; Glenn Lin, PhD, also a professor, whose lab is developing a novel small-molecule therapy with great potential to treat multiple neurological disorders, notably Alzheimer's disease; and Jie Gao, PhD, and Hongjun Fu, PhD, two recently recruited assistant professors who also are focused on developing novel molecular therapies for Alzheimer's disease.
From a brain tumor program with over 40 active clinical trials to industry partnerships driving breakthroughs in medical technology to targeted innovations in bench-to-bedside research, Ohio State's ambitious neuroscience effort continues to gain momentum. Leaders say they're just getting started as they recruit talent from around the world, reach across—and eliminate—aisles, and continue to build life-changing programs and partnerships in ways that could only happen at Ohio State.
"Ohio State isn't content to be a regional leader in neuroscience," Dr. Lonser says. "The team that has been assembled is only going to be satisfied by being a national leader working together in each of those spaces."