About the program
The Neuroanesthesia Fellowship is a 12-month program (July 1 - June 30) and an optional six-month program is also offered. One position is available each year. The fellowship provides training in the perioperative management of patients undergoing neurological surgery, including intracranial vascular and nonvascular surgeries, complex spine procedures, minimally invasive surgeries and endovascular procedures, among others.
The fellowship, under the leadership of Brian Dishong, MD, who serves as director of the Neuroanesthesia Fellowship, offers a comprehensive and diverse opportunity to train at a world-class medical center
Curriculum
he fellowship consists of a 12-month or six-month program:
80 percent clinical
20 percent research
Prerequisites
Graduates of medical schools outside the United States and Canada should hold a valid certificate from the Educational Commission for Foreign Medical Graduates
Applicants must be eligible for either a training certificate or a permanent medical license as granted by the state medical board of Ohio
Application materials from the eligible fellowship candidates are reviewed by the program coordinator, program director and CT anesthesia director
Application Process
To apply, submit an application (PDF) to Taylor Stein at Taylor.Stein@osumc.edu.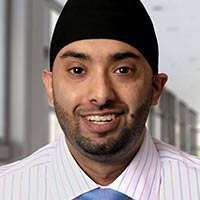 Gurneet Sandhu, MD
Interim Program Director, Neuroanesthesia Fellowship