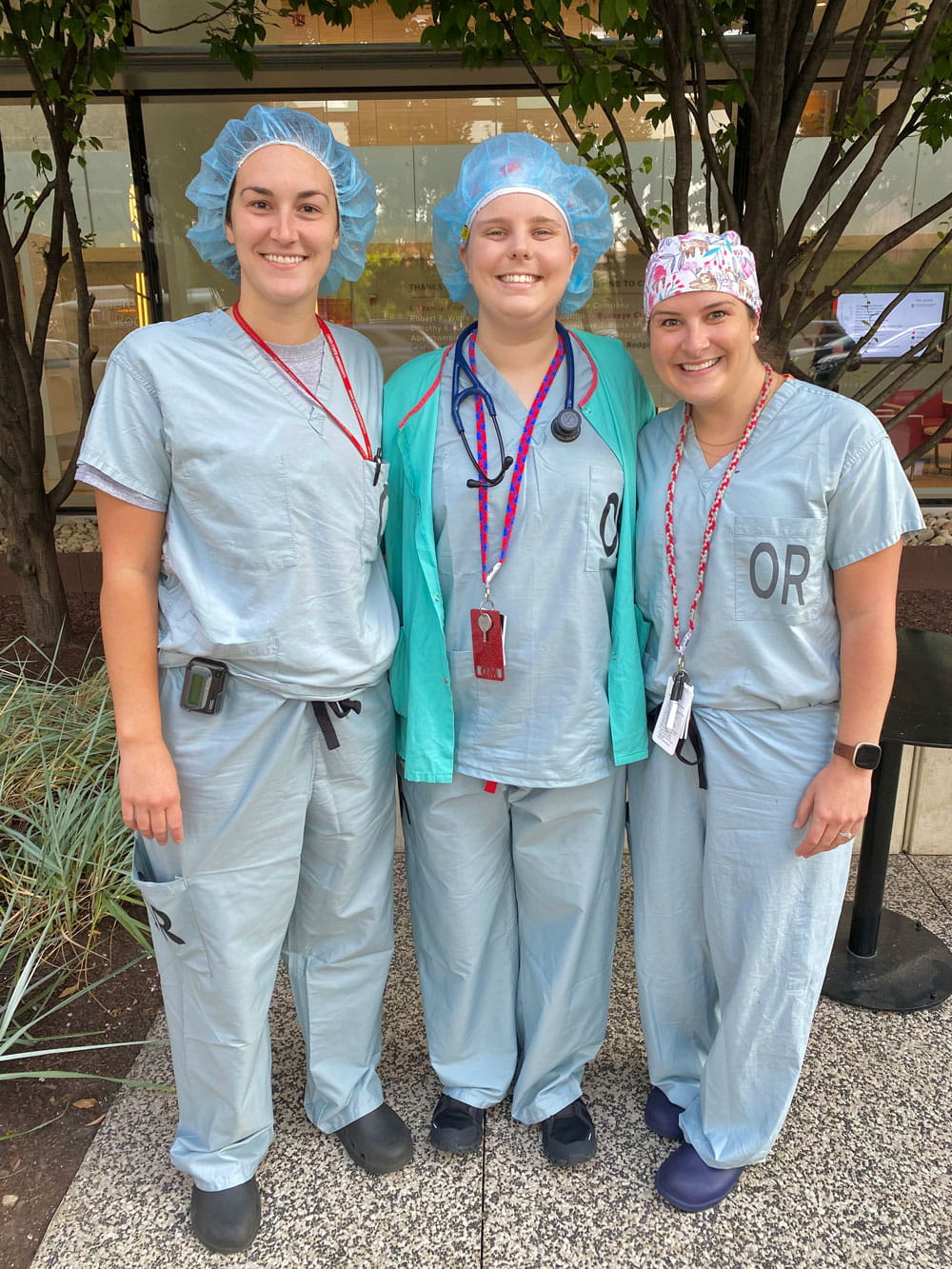 Welcome to the Department of Anesthesiology at The Ohio State University Wexner Medical Center! We are so excited that you are interested in learning more about us!

By choosing Ohio State for residency you will unlock a wide array of academic and personal opportunities. As residents in a large quaternary care center, we enjoy exposure to a comprehensive variety of cases and anesthetic subspecialties. We also rotate at our neighboring pediatric center, Nationwide Children's Hospital, which is ranked in the Top 10 pediatric centers in the country. Whether they pursue careers in academic or private practice, those who train at OSU will find themselves equipped with the tools necessary to excel in even the most complex of cases. For those considering fellowship, Ohio State houses a program for all of the ACGME accredited anesthesiology fellowships. Recent graduates have gone on to match at renowned institutions across the country in subspecialties such as Pain Medicine, Critical Care, Pediatric, Regional, Obstetric, and Cardiothoracic Anesthesiology. We also house a unique, 2-year Executive Leadership and Business in Anesthesiology fellowship that blends leadership experience in the operating suite with the completion of an executive MBA from the Fischer School of Business. Whatever your career aspirations may be, residency at Ohio State will get you there!
Outside of the operating room, our didactic program is constantly evolving and supplements our clinical education with lectures, simulation sessions, and oral boards training. Our residents are given Butterfly Ultrasounds to use as part of our POCUS curriculum for the entire duration of their residency. Our program director, David Stahl, MD, associate program director, Bryan Hill, MD, and assistant program directors Amy Baumann, MD, and Nasir Hussain, MD are strong resident advocates who emphasize education and resident wellness. Our vice chair for education and former program director, Kenneth R. Moran, MD, is very involved in multiple aspects of the residency program and has demonstrated great, longitudinal dedication to the residents. Our vice chair for diversity, equity and inclusion and associate admissions dean for the OSU School of Medicine, Demicha Rankin, MD, is highly involved in our program as a former program director. The American Society of Anesthesiology president, Ronald L. Harter, MD, is a formerprorgam director and department chairman, and remains part of our faculty providing strong mentorship and education to residents. Dr. Michael Essandoh, MD is assistant dean of the GME, one of our cardiothoracic faculty, and is deeply invested in resident education, even boasting multiple appearances on the popular anesthesia podcast, ACCRAC. Richard Urman, MD is our current chairman and is a welcomed addition from Brigham and Women's Hospital who is already acting as a resident mentor for the program. We are incredibly fortunate to have department leaders heavily involved in resident training and we are confident that the administration has our best interests in mind.
While it would be impossible to summarize the city of Columbus in a few sentences, we think it is a terrific city for residency! Our residents love getting together to enjoy the several dog-friendly metroparks, the variety of national & local craft breweries, rooftop restaurants, and of course to cheer on our Ohio State Buckeyes. You will find us celebrating at Columbus' annual festivals including Buckeye Countryfest, Stonewall Columbus Pride, Doo Dah July 4th Parade, Breakaway Music Festival, and HighBall Halloween. Not only does Columbus offer fun opportunities for our residents, but there are plenty of activities for families as well, including our world-renowned zoo, the "hands-on" learning Center of Science & Industry (COSI), and the LEGOLAND Discovery Center. When combined with a low cost of living and continual growth, all of these incredible opportunities make the city a great place for both young professionals and established families. Regardless of your stage in life, Columbus offers a wide variety of housing, social opportunities, and culture.
We think that the excellent clinical training combined with strong camaraderie in an outstanding location makes The Ohio State University the ideal setting to pursue an anesthesiology residency. Thank you for your interest in our program and please feel welcome to contact us!

Taylor Branstool, MD; Jordan Holloway, MD; Cassie Wernke, DO
2023-2024 Chief Residents