About the program
The Department of Anesthesiology offers two ACGME Accredited fellowships spot, which provide participants with a well-rounded, one-year clinical, research and teaching experience focused on the perioperative care of surgical patients. Our hospitals are located in Columbus, Ohio, with most rotations (including core months) being completed at University Hospital East. The fellowship has an emphasis on regional anesthesia for orthopaedic surgery during the core months of training, including refining skills for single-shot peripheral nerve and neuraxial blocks, as well as extensive training in perineurial catheter placement and management techniques.
Application Process
To provide more consistency and predictability to the RAAPM fellowship application process, nearly 60 RAAAPM fellowship programs have decided to participate in a common application and match process provided by SF Match for recruitment. The Ohio State University Wexner Medical Center Regional Anesthesia and Acute Pain Medicine Fellowship program is proud to be one of these programs participating in this new match process for the upcoming interview season for the 2024-2025 Academic year.
This resulting match system will improve the equity of the process, create a more flexible and comprehensive interview process, and benefit both applicants and individual programs.
Applicants will have to register with and apply to our program through the SF Match website below. SF Match will be the central site involved in processing applications, accepting rank lists, processing of the match itself, as well as providing post-match vacancy matching.
Regional Anesthesiology & Acute Pain Medicine Fellowship with SF Match Portal
Clinical Exposure

Research Exposure

Teaching Exposure

Participating Institutions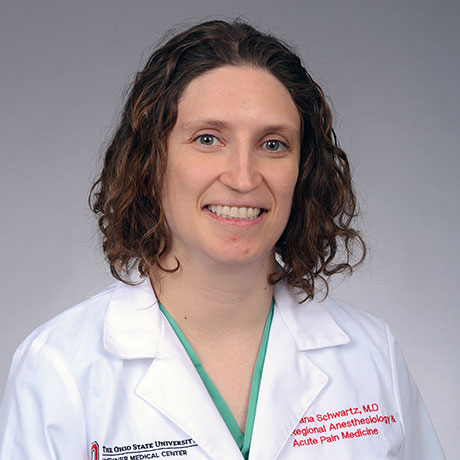 Shana Schwartz, MD
Program Director, Regional Anesthesiology Fellowship