About the Program
US healthcare, and emergency medicine in particular, largely reacts to disease within individuals. Public health and healthcare systems are far from integrated. Emergency departments see all people including many not encountered elsewhere and are uniquely poised to proactively impact population health, policy, and social change.
The Ohio State University Emergency Medicine Population Health and Health Services (PH2S) Fellowship is a two-year, highly individualized training and career development program that will grow the cadre of specialized health professionals necessary to proactively improve health across populations and ultimately bridge gaps between public health, healthcare, and community resources and systems.
Fellows will have the opportunity for exposure to the full breadth of focus areas encompassed within PH2S, such as:
social emergency medicine, street medicine, community engagement
health equity, social justice, social determinants of health
health promotion, disease prevention, applied epidemiology, surveillance
public health, functional expansion of population health priorities within healthcare settings, advocacy and health policy
In addition to selecting from these many concentrations, fellows can prioritize interests in specific:
diseases (i.e., HIV, addiction, diabetes, etc.)
patient populations (i.e., unstably housed, immigrant, etc.)
service settings (i.e., ED, community, rural, corrections, cross-over experience in global health, etc.)
Expert and intensive mentorship as well as a remarkable array of program resources ensure fellows succeed in their individualized career development plans. The Ohio State University Department of Emergency Medicine, The Ohio State University Wexner Medical Center, and the surrounding community provide an ideal setting with robust clinical opportunities, academic support, and research infrastructure.
Columbus, the 14th largest city in the U.S., is a diverse, vibrant, and quickly growing urban community, also with proximity to rural geography. As the state capital, Columbus is home to all major state agencies including the Ohio Department of Health, as well as the Franklin County and Columbus City health departments
Ohio State University, 3rd largest in the U.S., is a vast, comprehensive research institution with more than twenty schools and colleges including renowned and rapidly expanding colleges of public health, business, arts and sciences, nursing, pharmacy, and medicine
HealthNow is a robust and rapidly growing "early intervention program" providing screening, counseling, and linkage-to-care services in the emergency department and beyond. HealthNow is operated from within emergency medicine's similarly expanding Population Health and Health Services (PH2S) academic and research infrastructure.
Curriculum
Fellows will develop, in collaboration with their mentor team, a highly structured and specifically detailed plan for training and overall career development that draws on the broad and flexible array of opportunities within the fellowship structure.
All fellows will expand skills in leadership and multi-disciplinary collaboration while gaining experience in program development, operation, financing, sustainability, and evaluation.
The fellowship includes both didactic and experiential components in population health and health services, allows retention of clinical skills as an emergency physician (~16 hours/week), and provides opportunities for involvement in teaching and curriculum development. Fellows will obtain a Master of Public Health Degree or equivalent degree based on interests and prior background, and gain project experience involving program development, evaluation, improvement, and leadership.
Fellows will select their own balance of emphasis between (i) clinical, administrative, and operations training in service delivery programs and (ii) formal research methods, according to fellow needs. This is also the option for joint completion of the Ohio State University research fellowship.
Fellows will have a broad range of networking opportunities appropriate to their career development goals, including exposure to institutional, local, state, and national working groups and committees in emergency medicine, behavioral health, public health/community organizations.
Application Process
Prior to beginning fellowship, candidates will need to be board eligible/certified to practice emergency medicine, have completed emergency medicine residency training in the United States, and have an Ohio medical license.
Passion for health promotion and disease prevention are essential. Prior relevant experience is advantageous. For example (not required),
research or other similar program evaluation
systems/service development or improvement
teaching or education in population health, social emergency medicine, epidemiology, or other relevant disciplines
community or other multi-setting engagement
multidisciplinary or interdisciplinary collaborations
How to Apply
To apply, submit the listed application materials to Jeanine Hatfield at Jeanine.Hatfield@osumc.edu.
Cover letter expressing interest and career development goals
Current CV
Two letters of recommendation, including one from current program director, chair, department director or equivalent (additional letters optional)
List of professional references that includes the individuals providing required letters and at least two additional contacts
Abstracts, publications, or other relevant work products (optional)
Our Leaders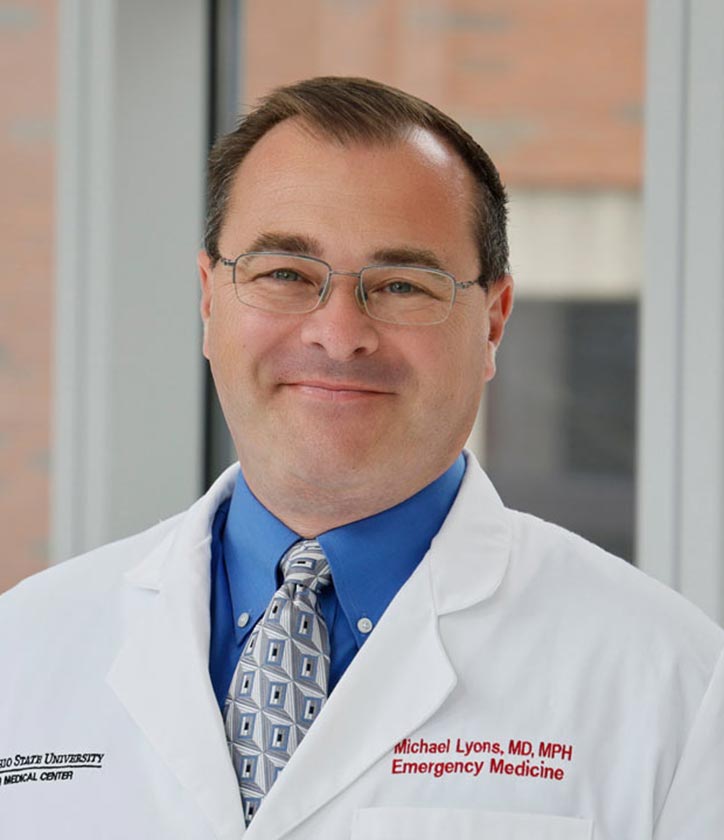 Michael S. Lyons, MD, MPH
Director, Population Health and Health Services
Professor Emergency Medicine
Michael.Lyons@osumc.edu
"An ounce of prevention is worth a pound of cure."
– Benjamin Franklin