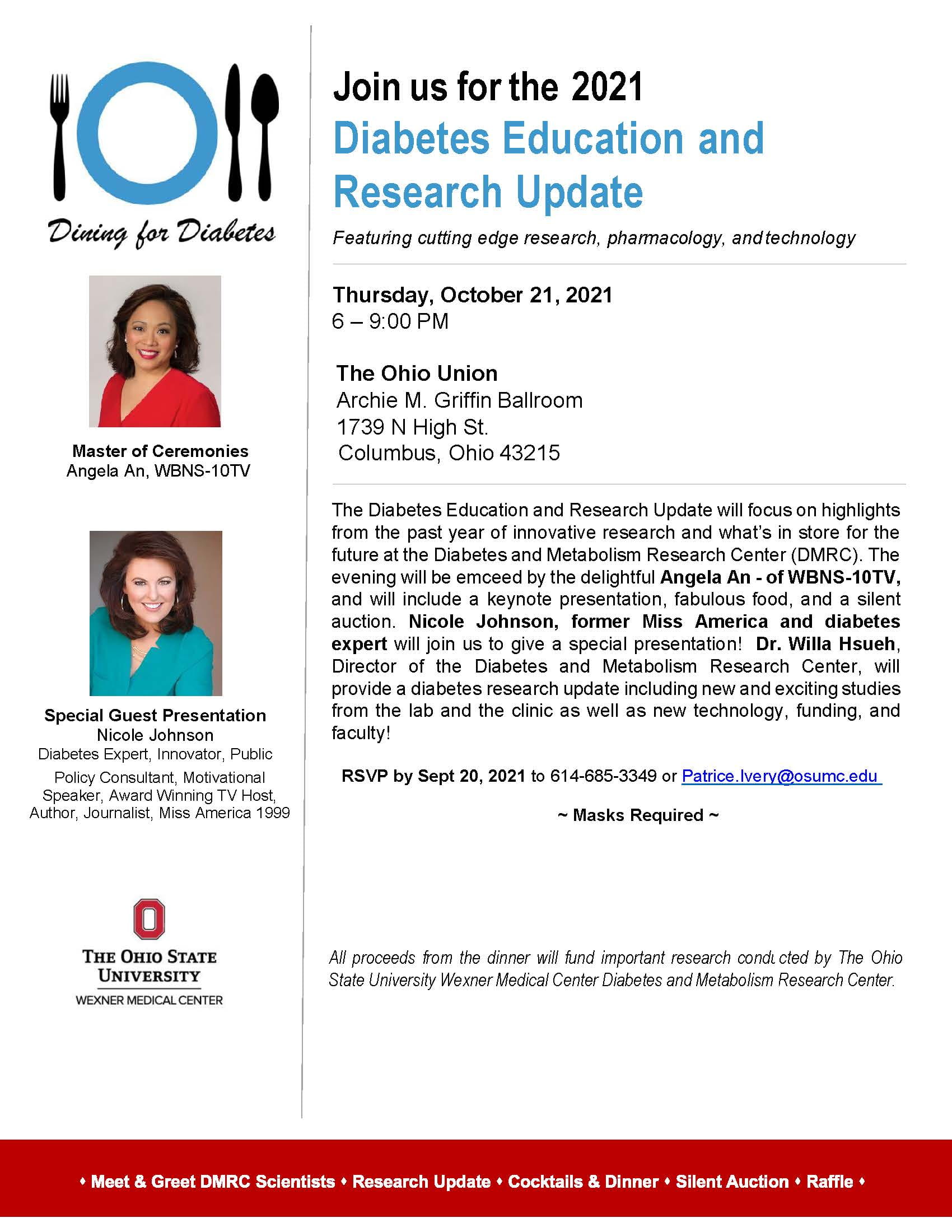 ---
Greetings from the Director
I am very excited to announce that our annual DMRC Research Update and Education dinner, "Dining for Diabetes", will be held Thursday, October 21, 2021, at 6-9 pm, at Archie Griffin Ballroom of the Ohio Union in person! The Diabetes Education and Research Update dinner program will focus on highlights from the past year of innovative research, as well as the future goals of the Diabetes and Metabolism Research Center. The evening will be hosted by Angela An, a 6-time Emmy Award winning journalist and anchor of Central Ohio's #1 weekday morning newscast on WBNS-10TV. It will also include a keynote presentation, fabulous food, special guests and a silent auction (please see details below). This year we are thrilled to have Nicole Johnson, a former Miss America, diabetes expert, and outstanding public speaker, who has been a strong advocate for diabetes research, treatment, and education, and a great inspiration for many people, to join us to give a special presentation on how she hasn't let Type 1 diabetes deter her from a successful career. This event will also provide a more detailed description of what The Ohio State University is doing in the ongoing fight against diabetes and obesity, both of which are epidemics in the central Ohio Community, and our strategies to develop a world-class Type 1 Diabetes Research Program within the DMRC.
Have a fabulous and safe Fall!
Best wishes,
Willa Hsueh, MD
Director, Diabetes and Metabolism Research Center
Division of Endocrinology, Diabetes and Metabolism
---
Current Event
Silent Auction Highlights
As part of our annual "Dining for Diabetes" event, we are excited to announce that we are holding a silent auction. This social activity is filled with fun and exciting opportunities. Some of the countless deals include: four days and three nights in Las Vegas with a $100 gift certificate to a great Chinese Restaurant, Mott 32, with authentic chefs from Hong Kong, located in the Venetian shops; four days and three nights in Hilton Head Beach, South Carolina; golf event for 4 players with the pro at Columbus Country Club; The Leveque Tower, an original painting by Charles Rowland, a professional active artist and teacher in watercolor for over 50 years. Some of his art work has won many awards in Ohio and he was also featured in the 2004 article "Master Painters of the USA" in International Artist Magazine. Additionally, his work was included in the 2012 hard cover book "The Best of American Artists – Watercolor". Charles Rowland was a president of the Worthington Area Art League, a signature member and past secretary of the Central Ohio Watercolor Society, and Central Ohio Plein Air Painters (Charles Rowland's art gallery); "Dine with the DMRC doctor," a dinner for 8 prepared by the DMRC's own Chef Jacob Kuchan; and many more amazing deals!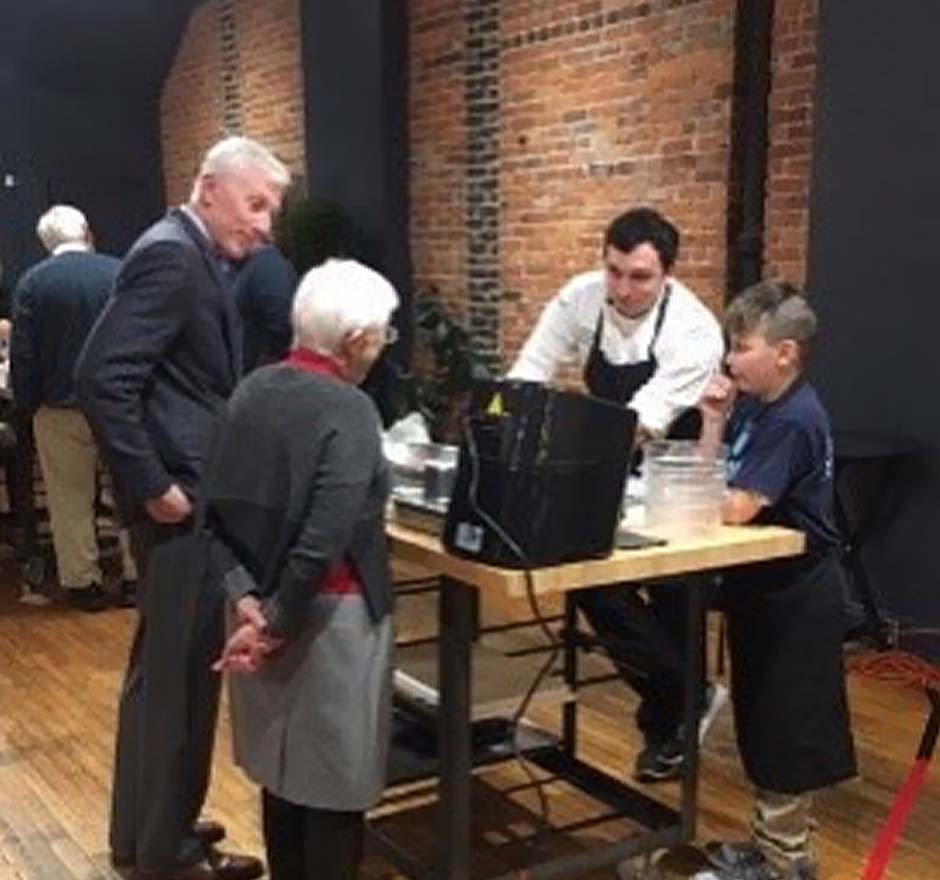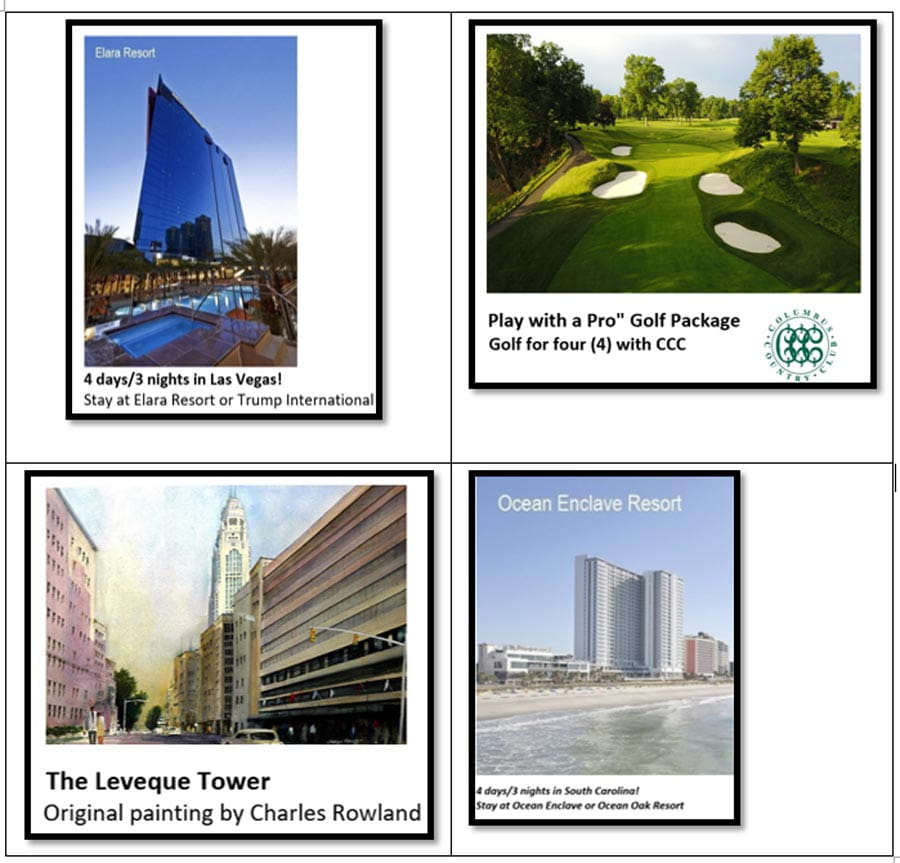 ---
Featured Story
T32 Postdoctoral Fellowship in Cardiometabolic Science
This first-in-its-class training program sponsored by the National Heart Lung and Blood Institute and led by co-PIs, Dr. Willa Hsueh and Dr. Sakima Smith has successfully hosted our first Cardiometabolic Science Boot Camp! It was an exciting opportunity for researchers in diabetes and heart disease to collaborate, and for our Fellows and other trainees to hear from our medical professionals in the field of cardiometabolic science.
---
Researcher Spotlight
Loren E. Wold, PhD, FAHA, FAPS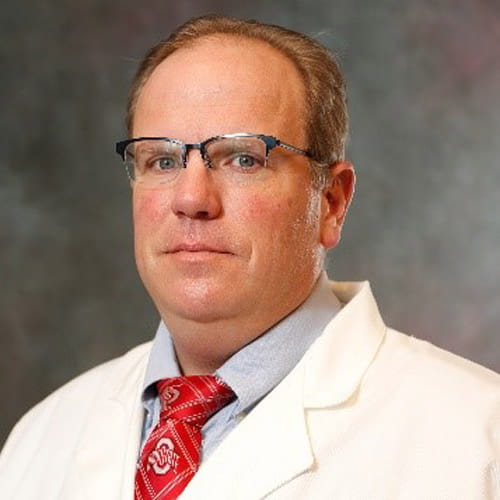 Congratulations to Dr. Wold, PhD, FAHA, FAPS on his appointment of associate dean for Research Operations and Compliance! Dr. Loren Wold has been amazing colleague, mentor, and researcher. He is a Professor in the Department of Physiology and Cell Biology of the College of Medicine, and has been serving as Assistant Dean for Biological Health Research in the College of Nursing. The focus of his research is to define the impact of the environment on the heart, from both the whole organ to cellular level.
---
COVID-19 and Diabetes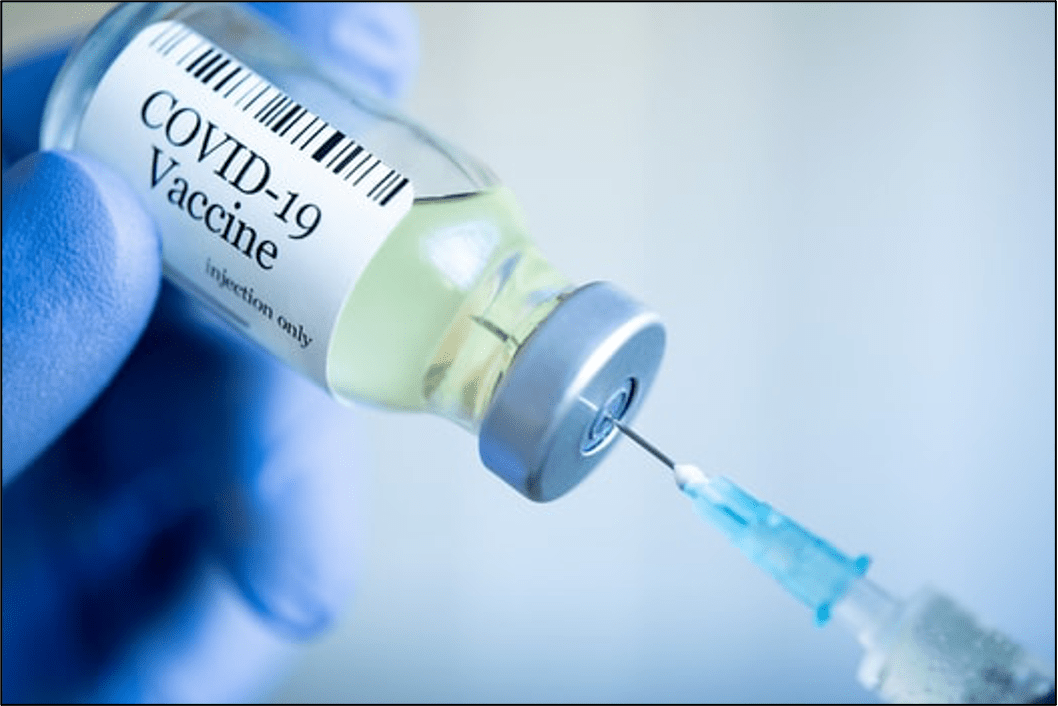 Getting vaccinated is the best way to protect yourself and your loved ones from getting COVID-19. Safe and effective COVID-19 vaccines are now being administered statewide to those 12 years and older, and the DMRC encourages you to get vaccinated, especially if you or someone in your household has diabetes.
---
Research Updates
OSU Wexner College of Medicine Leadership, The Department of Internal Medicine, and the DMRC have started an official search for a leader of our planned Type 1 Diabetes Research program.
---
From the Clinic
Stay Active and Exercise
Staying physically active reduces complications of diabetes. Physical activity makes your body sensitive to insulin and makes cells in your body to use blood sugar for energy. It also helps to control blood sugar levels and lowers your risk for heart disease. Exercise helps to control weight, lower blood pressure, lower harmful LDL cholesterol and triglycerides, raises healthy HDL cholesterol, strengthen muscles and bones, reduces anxiety, and improves mood. It is important to get at least 150 minutes per week of moderate-intensity physical activity. The best way to get the needed exercise is to get at least 20 to 25 minutes of activity every day. These activities can be something you like such as walking briskly, swimming, dancing, bicycling or simply doing housework. Finding a physical activity that is enjoyable, is important because if you don't like it you won't stick with it. Centers for Disease Control and Prevention, "Get Active", (CDC_Diabetes Management)

---
Healthy Cooking
New recipes for healthier meals—in under 20 minutes!
Join us live every 2nd and 4th Tuesday at noon when Chef Katie McCurdy, BHS from the James Mobile Education Kitchen and Diabetes Care and Education Specialist Jenny C. Shrodes, RD, LD, CDCES bring you flavorful Diabetes Friendly Recipes, offer tips and tricks, and answer your questions about cooking with diabetes, all in under 20 minutes.
Low calorie, diabetes-friendly recipes, from our kitchen to yours:
Browse through our Garden to Table recipe book that emphasizes the fruits and vegetables that are key components of a healthy diet.

---
Announcements
Join us for the 2021
Diabetes Education and Research Update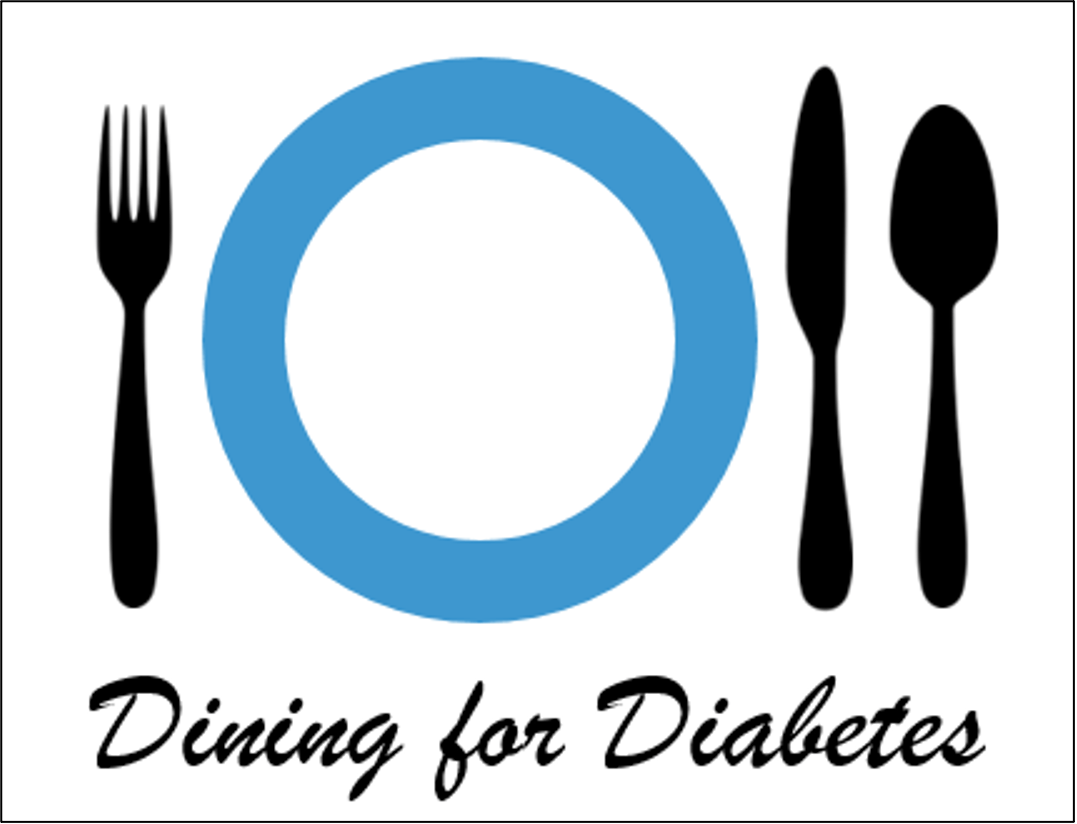 Thursday, October 21, 2021
6 – 9:00 PM
The Ohio Union
Archie Griffin Ballroom
1739 N High St.
Columbus, Ohio 43215
The evening will be hosted by the delightful Angela An - of WBNS-10TV with special presentation from Nicole Johnson, former Miss America and diabetes expert.
RSVP by Sept 20, 2021 to 614-685-3349 or contact Patrice Ivery at Patrice.Ivery@osumc.edu.
---
Past Newsletters