Innovations in minimally invasive surgery at Ohio State
The Center for Minimally Invasive Surgery (CMIS) research unit is a comprehensive team of physicians and research staff dedicated to the continued development and enhancement of surgical medicine. Our efforts are widespread in scope and ranging in complexity, from retrospective reviews to industry-sponsored, multicenter, FDA-regulated clinical trials.
The scope of research at CMIS includes:
Refining existing techniques
Testing innovative devices and procedures
Developing new minimally invasive surgical techniques
Interdisciplinary collaboration
Surgical training
CMIS faculty and fellows, with the assistance of two full-time clinical research coordinators and a postdoctoral researcher, develop and conduct research within several surgical specialties, including:
Bariatric Surgery
Foregut Disease
Hernia Repair
Robotic Surgery
Collaborative Research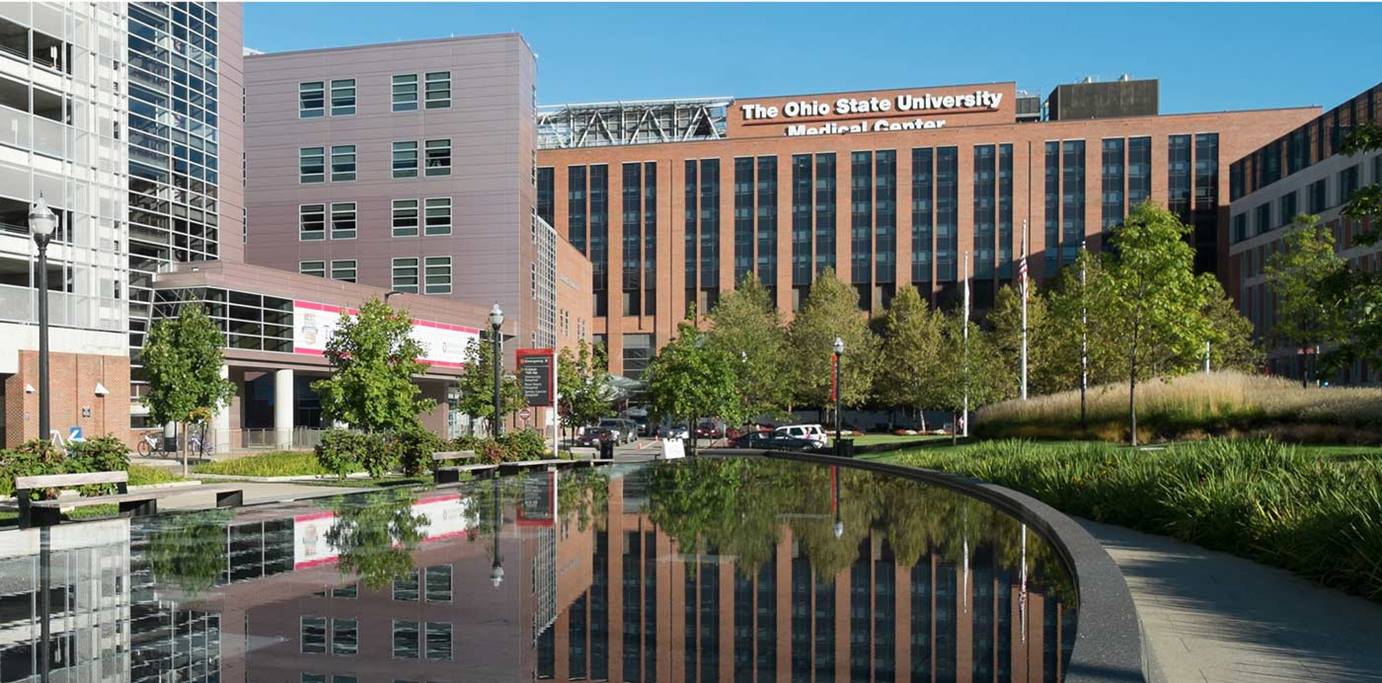 Bariatric Research
The Comprehensive Weight Management, Metabolic and Bariatric Surgery Program at The Ohio State University Wexner Medical Center is a designated Center of Excellence for bariatric surgery, where our research focuses on the improvement of established treatment options and the evaluation of innovative devices and techniques. Our surgeons offer procedures on the cutting edge in the field of weight-loss surgery, including investigative endoscopic and laparoscopic operations.
Foregut Disease

In 2007, Ohio State was the first institution in the United States to use an FDA-approved device for the transluminal surgical treatment of gastroesophageal reflux disease (GERD). Now, CMIS continues to stand at the forefront of treatments for GERD, Barrett's esophagus and esophageal cancer through active participation in trials that investigate surgical options not yet available on the open market. In addition, we rigorously evaluate the efficacy of the established minimally invasive procedures and continuously compare the safety and efficacy of all our treatment options.
Hernia Repair

Ohio State's Comprehensive Hernia Center provides a multi-disciplinary approach combining the proficiency of our minimally invasive surgeons with the expertise of our multi-discipline colleagues in plastic surgery and acute, critical care surgery to ensure the best treatment option is selected for hernias of all sizes and complexity. Our research evaluates emerging techniques, including robotic surgery, and analyzes the use of different meshes and fixation methods to optimize patient outcomes and satisfaction.
Robotic Surgery

The OSU Center for Minimally Invasive Surgery was among the first medical institutions in the world to obtain a robotic surgery platform and, since then, our surgeons have performed more than 10 types of robotic operations spanning the specialties of hernia, bariatric, and foregut surgery. Our researchers evaluate for and identify the optimal opportunities and circumstances where the precision of robotic technique can be implemented in order to achieve improved patient outcomes and satisfaction.
Collaborative Research

The surgeons of CMIS frequently participate in collaborative research that spans a variety of investigative settings including basic science, internal medicine, public health, and other surgical specialties. Our current collaborators include the disciplines of human development and family science, human sciences, endocrinology, radiology, gastroenterology, anesthesiology, epidemiology, cardiology, thoracic surgery, neurosurgery, colorectal surgery, and acute and critical care surgery. These established networks of teamwork help to accelerate the identification of impactful findings contributing to the diagnosis, treatment and successful outcome of disease treatments.