What is SCARLET?
SCARLET is a standard registry framework used to create research registries that pull data for consented study participants from the EHR. Collaborating with The Ohio State University Wexner Medical Center, College of Medicine Research Information Technology provides the tools to extract, transfer and load data from the EHR into SCARLET for custom disease-specific research registries. Researchers can then query the SCARLET registries without an intermediary. SCARLET's querying interface can also be used to query other data collected during research.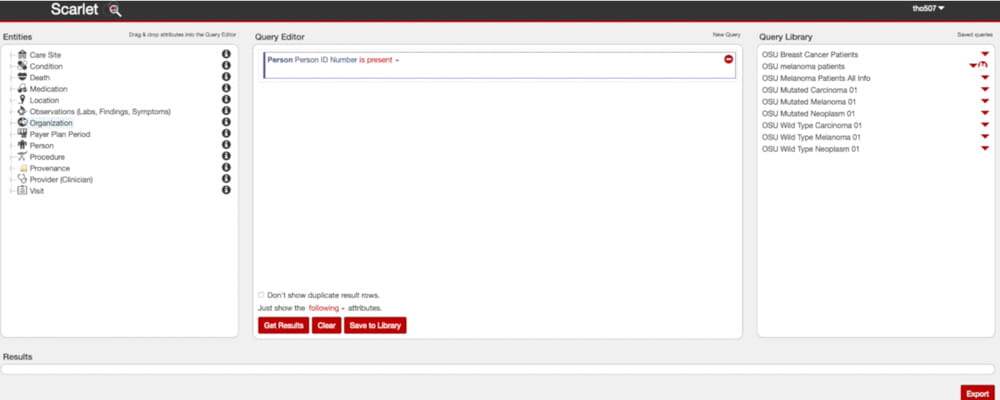 Researchers can construct queries using a variety of fields in SCARLET.
Why would you need to use SCARLET?
Continuous data loads
Data is loaded into SCARLET from the EHR every week using the OMOP data model. Researchers can save queries in SCARLET, and run queries on new data without submitting an explicit request.
Self-service queries
Researchers can use a drag-and-drop interface to form queries in SCARLET, and reports run on the data can be exported into standard formats for further analysis. The self-service querying developed for SCARLET can also be used in connection with other projects, even those not using a research registry.
Access and training for SCARLET
Researchers who have had the appropriate protocol approved by the IRB may request a registry on SCARLET. To request a registry on SCARLET, contact RIT with the study ID, study name and name of the PI. RIT will follow up to learn more about your protocol and confirm its approval by the IRB.
Researchers using SCARLET should follow the CCTS acknowledgement guidelines.
FAQs
FAQs
What data elements are included in a SCARLET registry?

What customizations are available for SCARLET?

How should I cite the Center for Clinical and Translational Science when using SCARLET?