2023 Research Day
Research Day Recap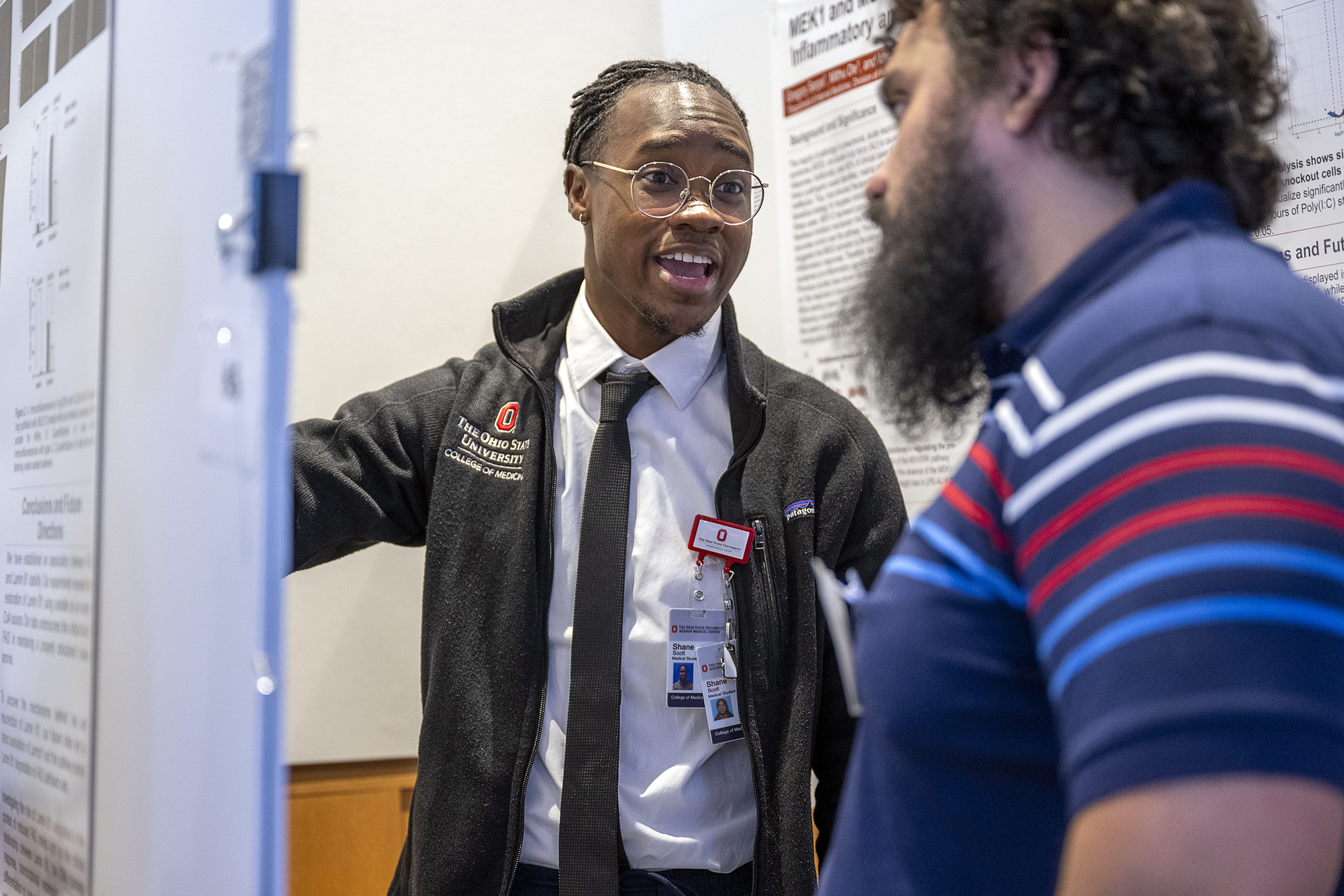 On October 10, 2023, the Dorothy M. Davis Heart and Lung Research Institute hosted its 18th Annual Research Day, showcasing the latest projects and achievements of its faculty and students. The event featured ~130 poster presentations and talks by researchers from various areas of cardiovascular and lung disease. Dr. John Warner, CEO of the Wexner Medical Center and Executive Vice President of The Ohio State University, gave remarks and the introduction to keynote speaker Anthony Rosenzweig, MD, a renowned expert in identifying novel mechanism and therapeutic targets in heart failure, using the exercised heart to understand heart health.
Over the past many years, the DHLRI Research Day successes were due, in part, to the unwavering philanthropic support of our friend Charles (Chuck) Webb. Losing a strong advocate of the Institute in June, we pay tribute to his memory and his continuing legacy for his passion of research and social responsibility. His support provided the platform from which to celebrate our best and brightest.
Awards
The day concluded with an awards ceremony where we recognized the outstanding achievements of the DHLRI family recognizing their efforts to advance science and innovation.
Distinguished Award Recipients: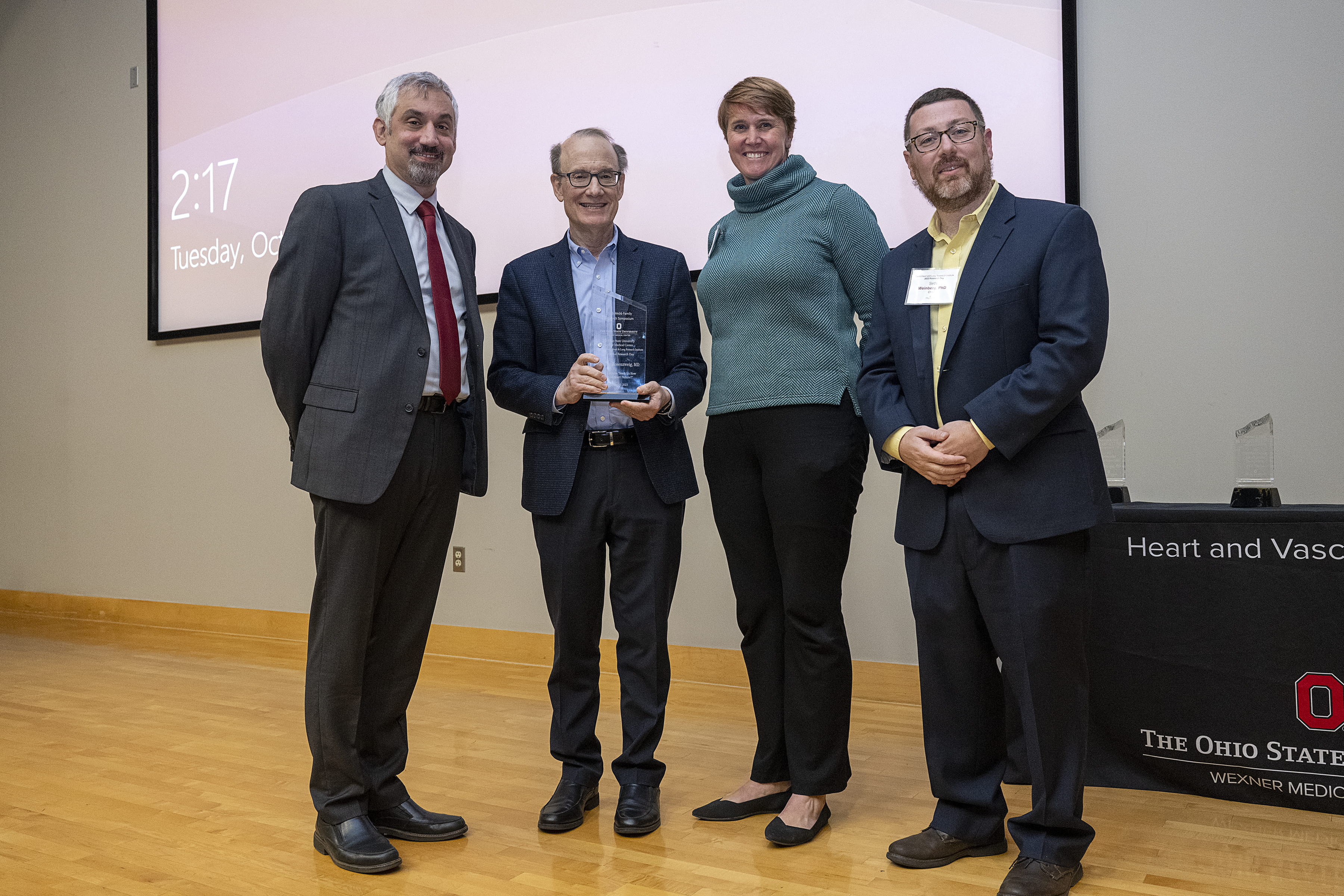 Lorri Fowler - DHLRI Director's Award
Orlando Simonetti, PhD - Melissa G. Piper Distinguished Mentor Award
Yingman Liu, PhD - Distinguished Basic Research Staff Award
Akash Goyal, MD - Distinguished Clinical Fellow Award
DeeAnn Willis-Berry - Distinguished Administrative Staff Award
Tatiana Cuellar Gaviria, PhD - Post -Doctoral Scholar of the Year Award
Vrishti Phadumdeo - Graduate Student of the Year Award
Poster Award Recipients:
Sally Diep and Aidan George - 1st Place Undergraduate
Hank Kern - 2nd Place Undergraduate
Jeniffer Park - 3rd Place Undergraduate
Aaron Argall - 1st Place Pre-Doctoral
Benjamin Johnson - 2nd Place Pre-Doctoral
Sarah Sturgill - 3rd Place Pre-Doctoral
Elisa Felix Soriano, PhD - 1st Place Post-Doctoral
Paula Agudelo Garcia, PhD - 2nd Place Post-Doctoral
Jyotsna Joshi, PhD - 3rd Place Post-Doctoral
Mithu De, PhD - 1st Place Research Staff
Ege Kacira - 2nd Place Research Staff
Magdalena Blaszkiewicz, PhD - 3rd Place Research Staff
Ian Bentley, MD - 1st Place Clinical Fellow
Azariyas Challa, MD - 2nd Place Clinical Fellow
Ashlee Asada, MD - 3rd Place Clinical Fellow
Past Events