Welcome from the Department Chair, Dr. Jeffrey Caterino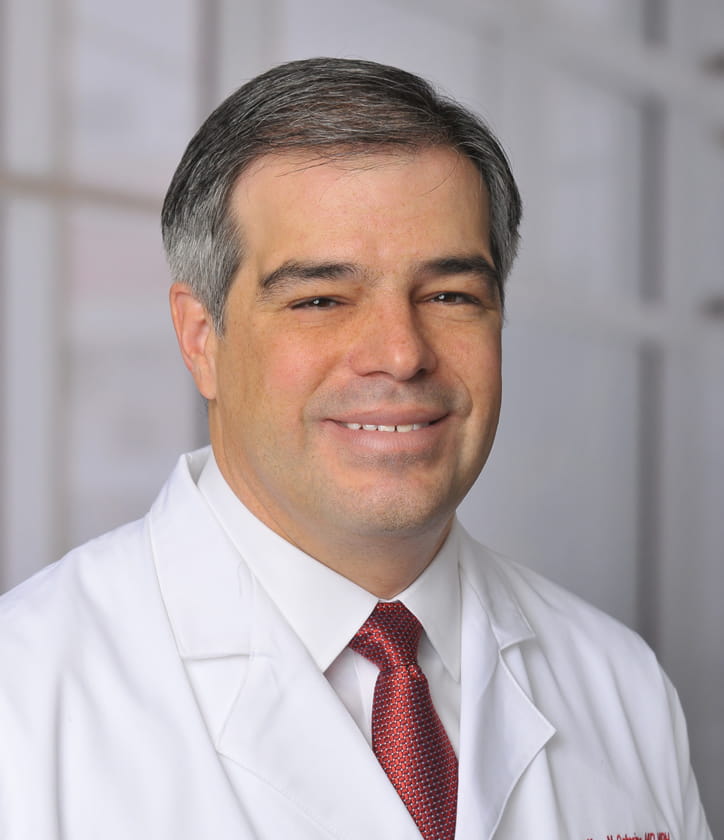 It is my pleasure to welcome you to our Department of Emergency Medicine's Residency Program at The Ohio State University and Ohio State Wexner Medical Center. Having been part of this program for the past 14 years, I have had the opportunity to see this program grow into one of the strongest programs in the country. As a new chair of the department, I am excited about the innovation, energy and devotion of the residency leadership under the direction of Dr. Sorabh Khandelwal, Dr. Geremiha Emerson, Dr. Simiao Li-Sauerwine and Dr. Andy King. The residency program continues to grow and mature providing our resident graduates with outstanding career opportunities in academia and community medicine. Our Emergency Medicine/Internal Medicine (EM/IM) Residency is entering its eighth year and has been a highly successful collaboration between the Departments of EM and IM.

The residency is located within a strong academic department of EM with nearly 60 faculty members who have a wealth of experience in clinical medicine, education and research. I'd encourage you to explore some of the accomplishments of our faculty many of whom are national leaders in their areas. The result is that we are able to offer residents exposure to and participation in cutting-edge clinical, education, and research activities. In addition to training excellent clinicians, our goal is to prepare residents to become leaders, both locally and nationally, in their areas of interest. We particularly value diversity among our residents and are able to proudly point to the successes of past classes – whether in their local communities, pursuing fellowships at OSU and other highly regarded institutions, or successfully advancing their career in academic EM.
Our new ED, with approximately 110 beds, has doubled our size and is allowing us to engage in some innovative new care models including oncologic emergencies, geriatric emergency care and observations medicine. Our community site, East Hospital, provides an additional site to practice emergency medicine outside the confines of the tertiary care center. We seek to train the emergency medicine leaders of tomorrow and welcome you to Ohio State. We are dedicated and proud to provide the best possible patient care, while respecting the individual's background and needs. As a department, we continue to aspire to be one of the top academic departments in the country and see our residency as one of the department's crown jewels.

Jeffrey Caterino, MD, MPH
Chair, Department of Emergency Medicine


Message from Dr. Martin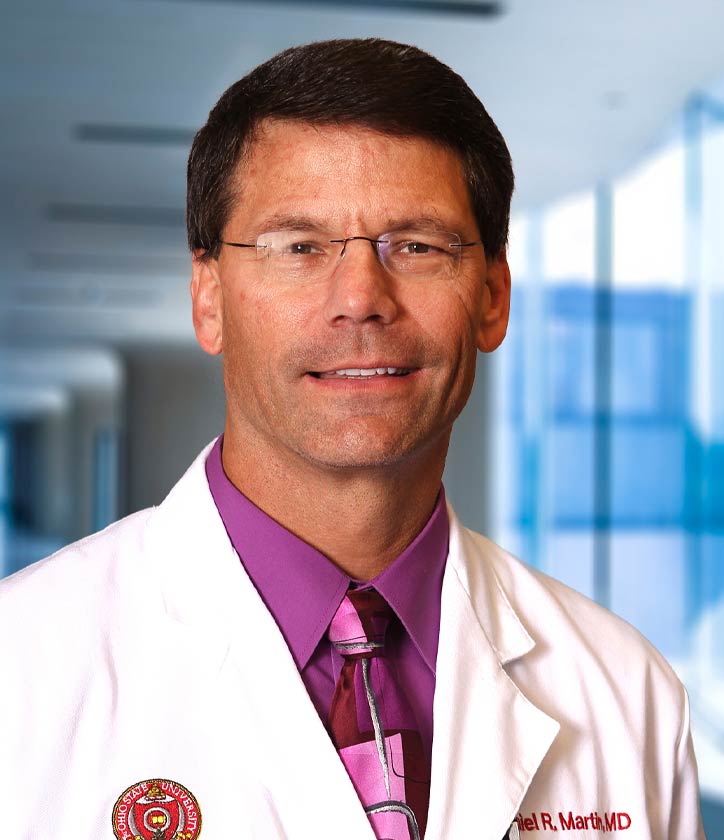 As the Emergency Medicine/Internal Medicine Residency Director and Vice Chair of Education, I have the privilege of overseeing our department's education mission. From our roots as one of the first academic departments of emergency medicine and one of the earliest residency training programs, our department now includes a categorical emergency medicine residency program with 16 residents per year, an emergency medicine/internal medicine residency program and multiple fellowship training opportunities.
Our goal for residency education is simply to be one of the top programs in the country and to train the future leaders and scholars of emergency medicine. Our graduates will impact and influence our field at every level. We intend to accomplish these goals through four important areas of focus:
A culture of education, innovation and excellence

Our core faculty consists of dedicated faculty, who have devoted their entire academic careers to honing their teaching skills, engaging in medical education research and developing educational innovations. Our faculty have been recognized at both a local and a national level for their educational expertise. Professor rounds, a resident-focused coaching program and wellness initiatives are a small sample of some of our innovative ingredients and our department's focus on educational excellence. Looking ever towards the future, we're currently working on developing new technology initiatives and career-focus tracks to enhance our residents' educational experiences. We embrace the John Maxwell quote that "the only thing certain about tomorrow it that it will be different than today."
Curriculum development and innovation

We have extrapolated from the best practices of adult learning theory and the medical education literature to blaze new trails and develop an innovative curriculum for our residency training programs. Our didactic curriculum features flipped classrooms and is small-group discussion-based. Simulation and procedure skills labs experiences are included every month. Nationally-renowned speakers, an EBM journal club, and a unique M&M format emphasizing learning through a cognitive autopsy model round out our didactic conferences. Maximizing resident education and achieving expertise and excellence through self-directed learning augmented by high-quality didactics is the goal of our curriculum.
Lead, contribute and influence by example

Attend our specialty's national meeting and you are likely to experience the impact of our faculty, our residency alumni or our current residents. Many of our faculty members are regular presenters at national meetings such as ACEP, SAEM and CORD. In addition, many of our faculty members hold or have held leadership positions in national organizations such as ACEP, ABEM, SAEM and the AMA. We encourage resident participation in these and other organizations like EMRA, as well.
Win with people

At Ohio State, we believe our people – specifically our faculty and residents – are one of our most valuable resources. Imagine a department of over 50 faculty members, many with national reputations, committed to your educational development. Our faculty offer a wealth of varied experience and interests. Whatever your future career intentions, we likely have someone who can mentor you and share the wisdom they've gained through time and practice. Our faculty will become your leaders, mentors and colleagues. In turn, we believe your development as physicians and as individuals is equally important, so we strive to create a community that promotes professional collegiality, personal friendship and support amongst our residents. Periodic social activities foster development of relationships between faculty and residents. Our coaching program is designed to assist residents in building the professional skills and qualities that will make them successful physicians for years to come. Senior residents also take a special interest in mentoring and supporting our new interns as they begin their journey toward becoming experts in emergency medicine.
Ohio State features a culture of innovation and excellence, an expertise in curricula design, a department with national reputation and people who foster an educational work environment.
Daniel Martin, MD
Vice Chair for Education
Message from Dr. Khandelwal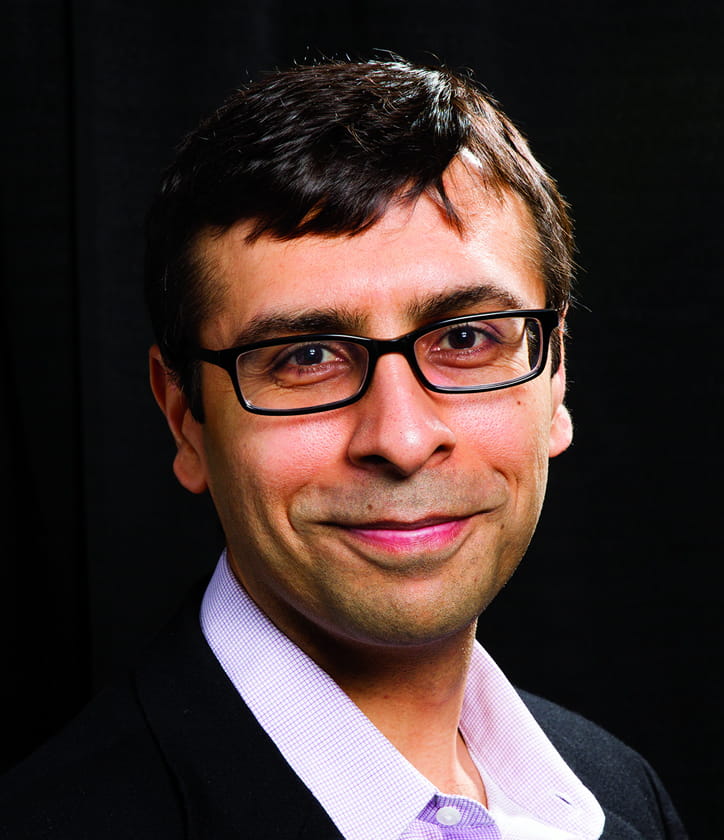 Choosing the right emergency medicine training program is one of the most important decisions you will make. Our program offers a comprehensive education within a nurturing environment. Through our resident selection process, we look for highly motivated candidates who will become leaders in emergency medicine.
Our residents learn from a diverse group of faculty educators, many of whom have received local and national awards for research, clinical care and education. Significant time and resources have gone into producing an optimal learning environment. We have built our conferences around sound educational principles like active learning. We have also introduced a coaching program to help motivate residents reach their maximum potential.
Our overall goal is to produce self-directed lifelong learners who are phenomenal clinical practitioners. The primary mode of information sharing is through small group sessions led by senior residents and faculty. There is a strong focus on improving clinical reasoning skills as well as gaining comfort with reading medical literature and practicing EBM. Integrated in this learning experience are high-fidelity simulation exercises and procedural training sessions that occur as part of our conference schedule. There are joint conferences with many departments including cardiology, IM, psychiatry and trauma surgery to enhance resident education.
Our residents will hone their skills in a new 110-bed emergency department, complete with a state-of-the-art observation center and a comprehensive section devoted to the emergent care of cancer patients. Ohio State serves as both a local hospital and regional referral center. Consequently, our residents are exposed to a wide variety of patient cases and a patient population with high acuity. Exposure to children is through our sister hospital, nationally renowned Nationwide Children's Hospital, where our residents are supervised by board certified pediatric emergency physicians. Our residents receive excellent training in trauma and critical care through experiences at Ohio State and our community partners.
Residents are encouraged to participate in research. Our Department of Emergency Medicine has gained international acclaim for scientific research, especially in the area of cardiac resuscitation and ultrasound application and education. In addition, we collaborate with specialists in other disciplines to conduct of a variety of clinical studies. Faculty research interests are varied and include EMS, ultrasound, education, infectious disease, clinical operations and geriatrics.
Our program, through the comprehensive and individualized training offered, hopes to graduate emergency physicians with a strong personal identity, who are self-directed lifelong learners, who are resilient and thoughtful, who are excellent clinicians with advanced clinical reasoning skills, and most importantly, who are committed to making a difference in the world.
Sorabh Khandelwal, MD
EM Residency Director
Message from our chief residents
The chief residents of the emergency medicine residency program welcome you to our website. Our goal is to empower our residents to make a difference. We take great pride in being Ohio State emergency medicine residents, and with that we take ownership of our program. Our residents have a voice to make real change to enrich our program through resident organized committees. The education/research, clinical operations, and wellness committees all meet regularly to discuss ways we can continuously adapt and improve the resident experience.
We would love to hear from you if you have any questions. For those applying to residency this year, we wish you good luck in matching the Emergency Medicine residency of your choice.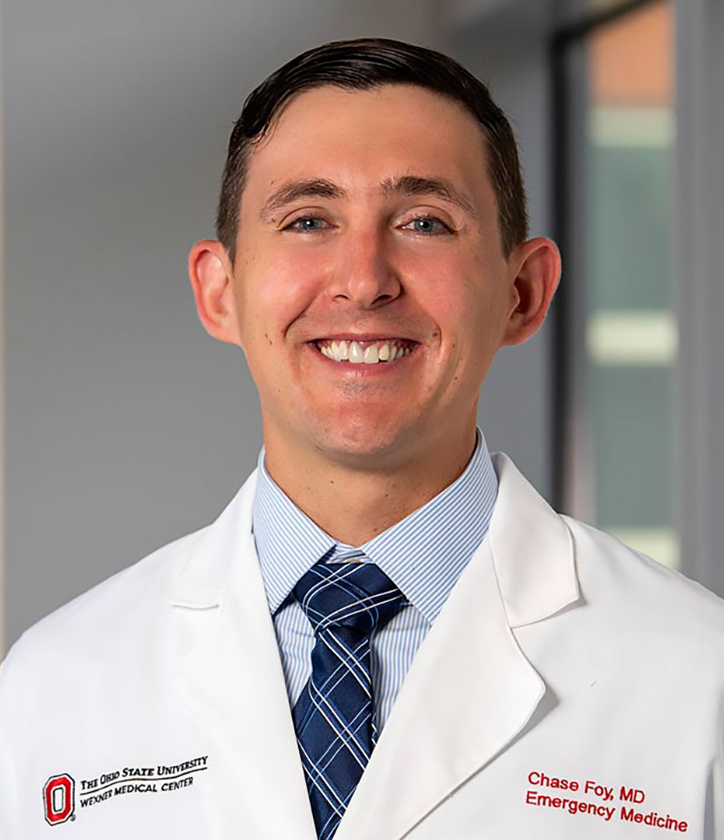 Chase Foy, MD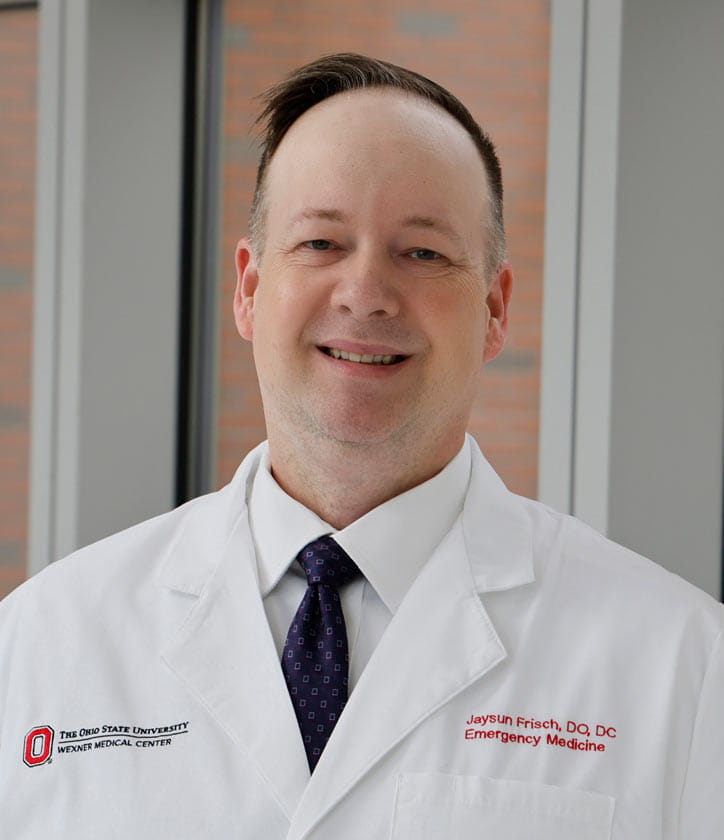 Jaysun Frisch, DO, DC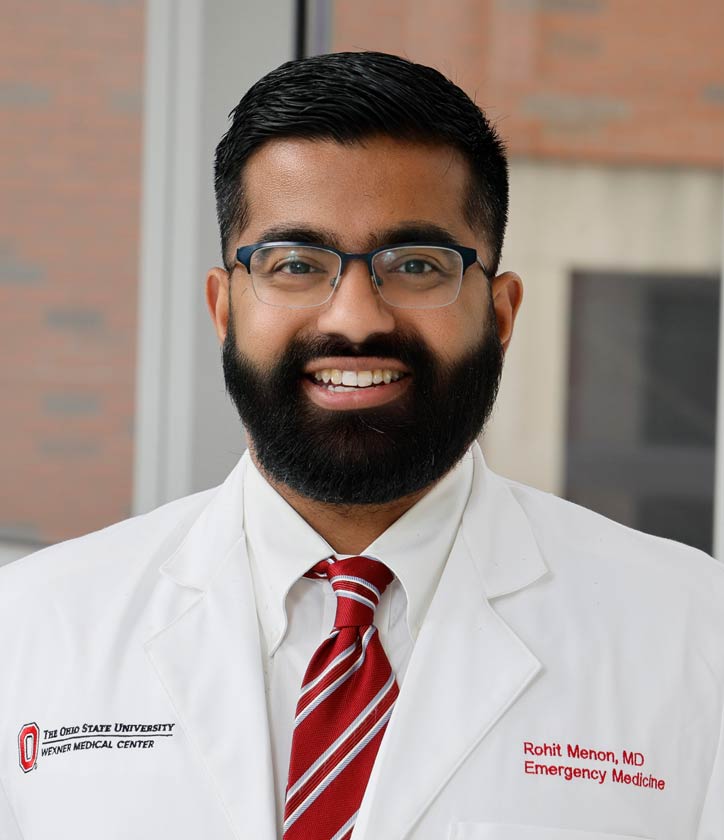 Rohit Menon, MD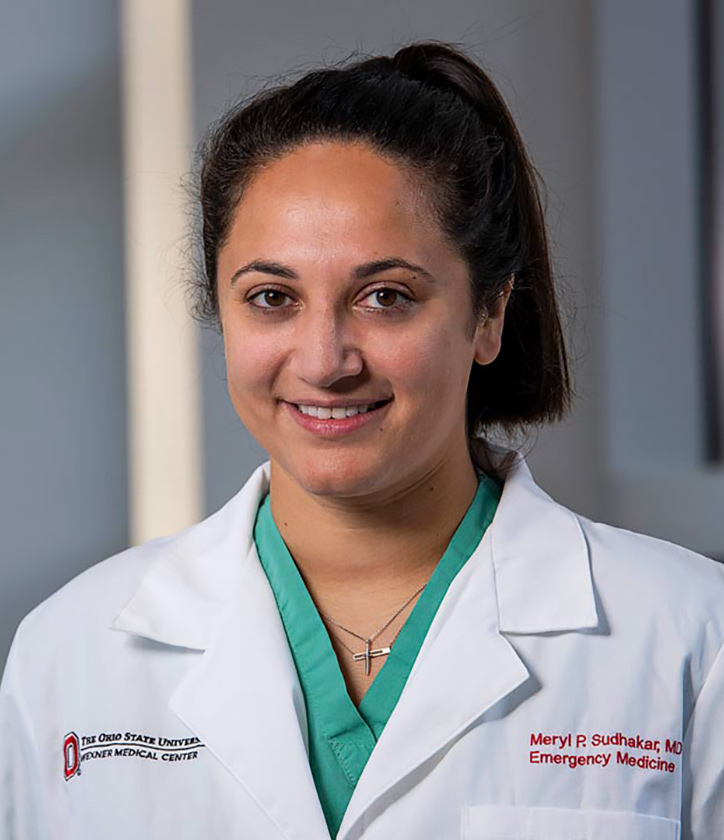 Meryl Sudhakar, MD