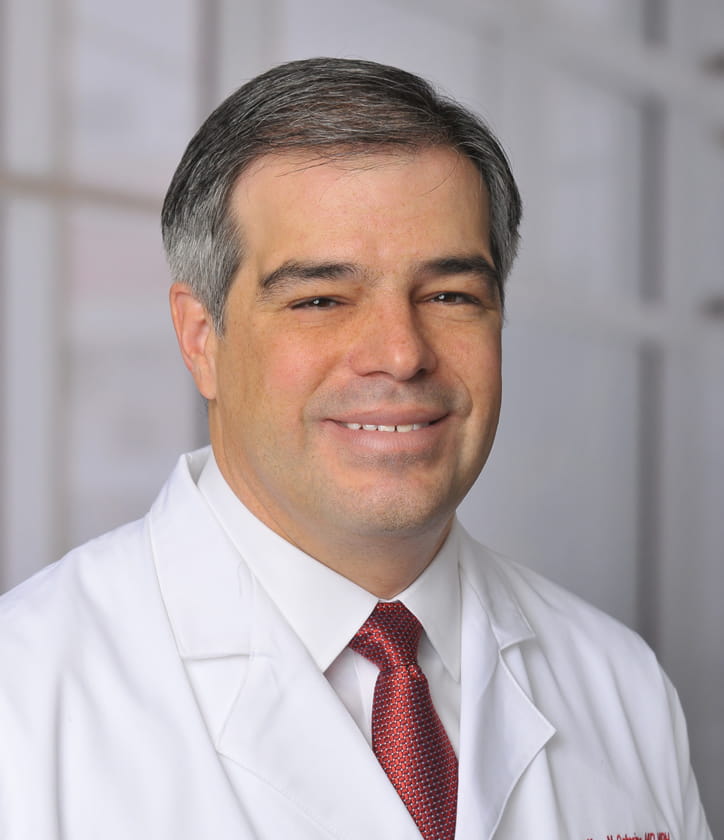 Jeffrey M. Caterino, MD, MPH, FACEP
Chair, Department of Emergency Medicine
Welcome to The Ohio State Department of Emergency Medicine. It is a great pleasure to lead this group of exceptionally talented faculty who are noted national experts in the care of emergency department patients, education of the next generation of emergency physicians, and conduct of research to advance the science of caring for the acutely ill and injured. As clinicians first and foremost, we are committed to providing cutting edge care to the over 150,000 patients we care for each year. Our educators have established nationally-recognized, innovative curricula to ensure that our fellows, residents, and medical students emerge ready to be not just outstanding clinicians but leaders in their areas of interest. Our research program is ranked in the top 15 nationally among departments of emergency medicine and includes funded investigators in clinical, translational, and basic sciences areas. Some ongoing exciting initiatives include a unique residency wellness program, a focus on the academic development of our trainees, the Midwest's first Level 1 Geriatric ED, a new Level 3 trauma center at OSU East, focused efforts to increase our diversity and faculty development, and a rapidly growing research program in both investigator-initiated studies and multicenter clinical trials. I invite you to explore these pages to see some of the exciting things happening in OSU emergency medicine.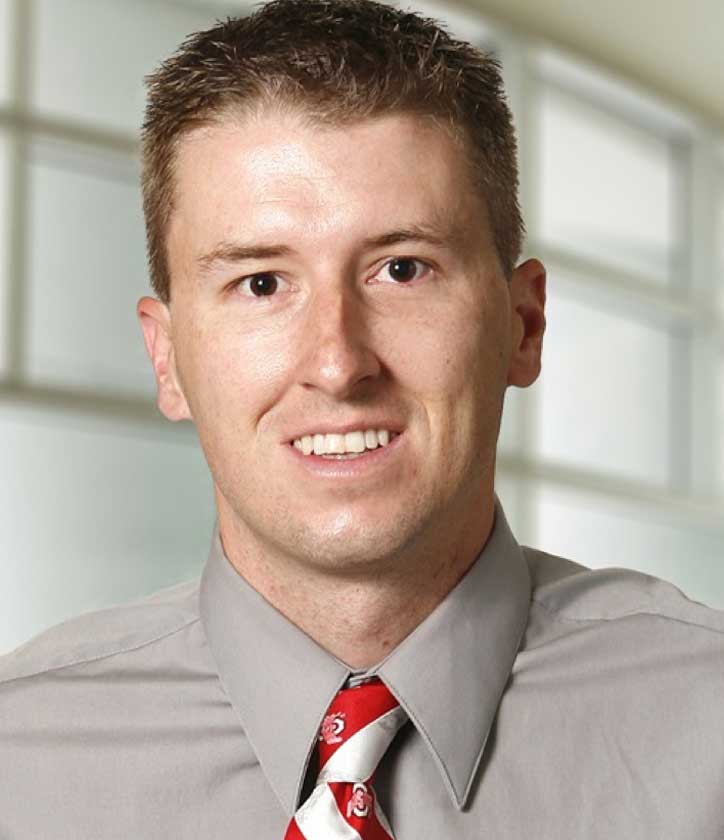 Eric Adkins, MD
Vice Chair for Clinical Affairs, Department of Emergency Medicine
It is truly an exciting time to be a member of the outstanding team in emergency medicine here at The Ohio State University. We are a committed to delivering compassionate, high quality, evidence based and personalized care to the many patients that seek treatment from our team members every day. The breadth and scope of our clinically offerings, the reach of our department's clinical footprint, the expertise of our faculty and the future growth that is planned here at OSU is certainly unique and exciting. We are fortunate to work in an environment where students, residents, attendings and nursing staff work collaboratively toward a shared vision of excellence. A brief summary of our clinical operations is as follows:
The Abercrombie and Fitch Emergency Department at The Ohio State University Wexner Medical Center is located in the heart of one of the largest university campuses in the country and serves as the point of entry for OSU's University Hospital, the James Cancer Hospital, the Ross Heart Hospital and the Harding Psychiatric Hospital. We are an academic Level 1 Trauma Center, Joint Commission Accredited Comprehensive Stroke Center, ABA Accredited Burn Center, Level Cardiovascular Emergency Program and regional STEMI referral center. Our emergency department, which was fully renovated and significantly expanded in 2014 and 2015, now has more than 105 treatment spaces and is almost two football fields in length, making it one of the largest and best equipped academic emergency departments in the country. We enjoy a high acuity, high complexity, tertiary care patient population with an expected annual census of almost 80,000 patients this year. Located at the base of a new 21-story Cancer and Critical Care Tower, our new emergency department also contains the first fully integrated cancer/oncology emergency department with 15 treatment spaced dedicated to our patients with hematologic and oncologic emergencies.
Our inner city community hospital at OSU East is a model of emergency department clinical efficiency and manages over 54,000 patients annually. Supervised and managed by our faculty, this clinical site serves as an outstanding pathophysiology complement to our tertiary care setting for our trainees, and increasingly has tertiary care services such as its own STEMI, stroke and sepsis programs. Our Clinical Decision Unit is a national best practice example for the care of emergency department based observation patients, and offers numerous care protocols to manage patients that require more time and resources to determine their ability to be discharged or need for inpatient admission. Our hyperbaric oxygen (HBO) unit (lead by three board certified emergency medicine faculty members) is one of only two centers in the state of Ohio that offers 24/7 access to HBO services for patients with emergent indications such as carbon monoxide poisoning, necrotizing fasciitis and air embolism. Our AfterHours clinics at Martha Morehouse and Gahanna provide both traditional urgent care services as well as many resources usually found exclusively in the emergency department setting. These unique and innovative ambulatory clinics are run and managed by our faculty and helps provide critical access to a wide range of services that benefit the University Health Plan and the University community.
As you can see, Ohio State is an exciting place to learn and practice emergency medicine. We (as a department and medical center) are thriving, growing and expanding our reach at a time where others are challenged to succeed. While we have outstanding facilities, impressive scope to our clinical operations and opportunities for education and practice, what truly sets us apart are the amazing people that work here. We are proud Buckeyes that are passionate about our community, our team and our University. If you similarly share a passion for pushing boundaries and defining the future of our specialty in emergency medicine, please consider joining us.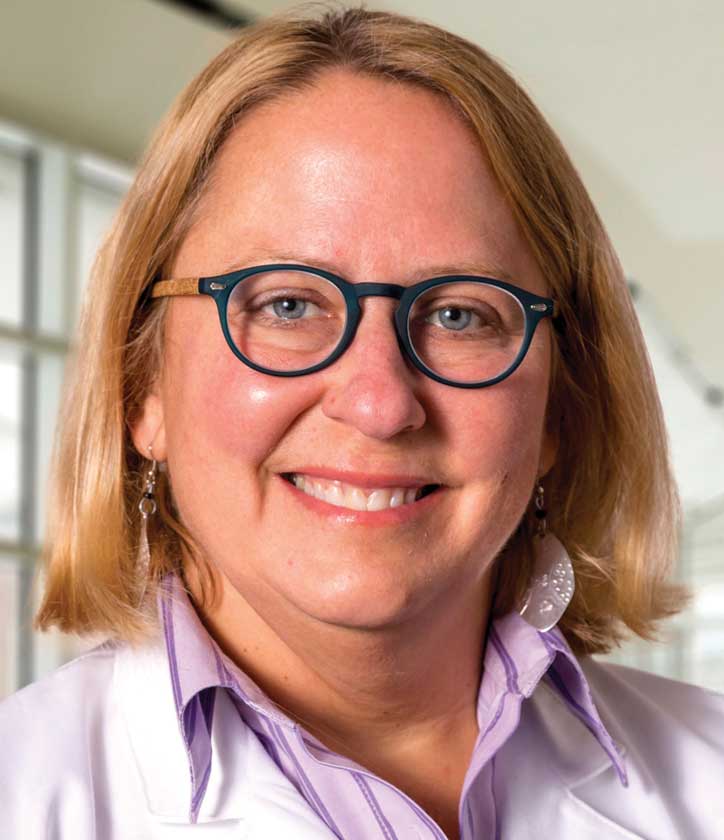 Diane L. Gorgas, MD
Vice Chair for Academic Affairs
As the Vice Chair of Academic Affairs here at Ohio State, I have the privilege of overseeing faculty recruitment, development, and retention. The cornerstone of Ohio State's excellence in education, research, and clinical services is the strength of our faculty. The faculty is a diverse group of skilled clinicians, who share a passion for academic emergency medicine, which translates into a creative and energetic education group, a national presence in clinical research, and an outstanding local, regional, and national reputation in clinical care. Diversity is a core value of our faculty, and of the university and college of medicine. Serving on the college of medicine's Diversity Counsel and leading the subcommittee examining disparities of care here at the medical center, we are a department deeply committed to eliminating disparities of care and are widely recognized throughout the medical center as thought leaders in this area, and national leaders in the development of curriculum in health care disparities education. As the executive director of the Office of Global Health at Ohio State, the opportunities afforded to both trainees and faculty within global health, public health, or health care administrative interests in low income countries are limitless. It is through this lens that the Department of Emergency Medicine focuses its efforts to deliver quality, sustainable, affordable emergency care beyond the geographic limits of central Ohio, and truly act as catalysts for change in the world.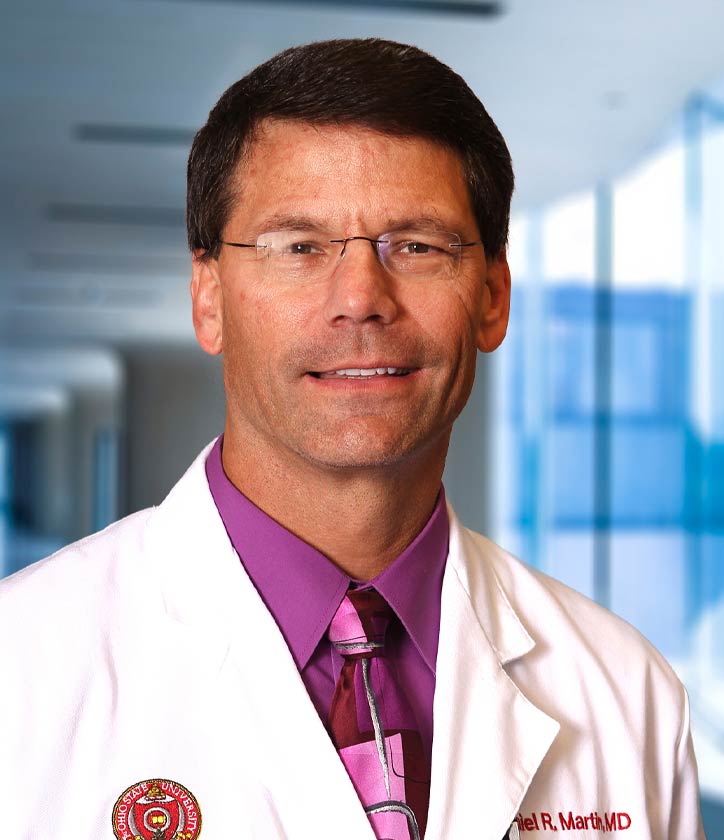 Daniel Martin, MD
Vice Chair for Education, Department of Emergency Medicine
Our education mission within the Department of Emergency Medicine here at The Ohio State University has grown immensely in size and impact since the start of our residency program in 1982. Over half of our faculty are clinical educator faculty and are committed to education at a variety of levels. This includes education and teaching at the medical student level in our College of Medicine, residency and fellowship education and faculty development. At all levels, our goal is to strive for excellence through state-of-the-art innovation and scholarship and to disseminate this expertise throughout our specialty of emergency medicine. We want to add value to our students, residents, fellows and faculty so they in turn can add value to others in emergency medicine and ultimately to our patients and to our specialty. We want to provide our learners with limitless academic and educational opportunities.
Several of our faculty members are supported by our College of Medicine at multiple levels and have been active at scholarship dissemination nationally and internationally. This includes significant leadership positions in many areas of our new curriculum, ranging from assistant dean to expert educator, portfolio coaches and clerkship directors. Several of these faculty members have created curricula, developed innovations and have presented education scholarship at a variety of national forums ranging from SAEM to CORD to the AAMC. Several have been recognized by our College of Medicine with prestigious awards such as "The Courage to Teach Award" and "Professor of the Year." Our education impact is palpable as the specialty of emergency medicine has become one of the most popular specialties among graduating students. Our students not only experience elective third year and required fourth year rotations in emergency medicine at our multiple sites, but they also have the opportunity to experience Advanced Topics in Emergency Medicine (ATEM) and Honors Ultrasound. These advanced longitudinal curricula are designed to bridge the gap between medical student education and residency experiences. During these advanced experiences, our students get the opportunity to participate in required scholarship and lectures.
Our residency now includes our three-year categorical programs with a recent expansion to 14 residents per year as well as our new Emergency Medicine/Internal Medicine Residency program which began in July of 2013. Our residency program leadership has had considerable national impact with representation and involvement in many organizational areas such as ABEM, CORD, ACEP, SAEM and the ACGME. Residents have the opportunity to gain exposure to a variety of clinical problems at multiple sites. Their training also emphasizes education and teaching excellence by teaching students and residents at the bedside, in our skills lab and through lectures. They can also choose specific areas of concentration to begin to prepare for any future career paths. Many choose to complete fellowships and gravitate toward academic careers and leadership positions.
After residency training, our department and our medical center offer a number of important fellowships. Emergency Medicine Residency graduates have completed fellowship training in areas such as toxicology, pediatric emergency medicine, ultrasound, administration, critical care, sports medicine and research. Recent fellowships just developed include EMS and medical education.
The most exciting feature of these education areas are the collaboration and facilitation between them. Our fellows provide teaching and education to our residents and our residents have a curriculum regarding the education of our students. In fact, our Emergency Medicine ATEM students participate in a tiered mentorship program designed to provide mentorship to first and second year students. Meanwhile our committed education faculty provides education expertise and innovation at every educational level. Limitless education and academic opportunity provides a maximal impact and a positive influence on the specialty of emergency medicine.