Greetings from the Department of Otolaryngology
I'm pleased to share that it's been another active and productive year. The medical center was once again named the "Best Hospital" in central Ohio, while our department moved up the rankings to be named #3 in the nation by U.S. News & World Report. This recognition, determined in part by the opinions of our colleagues, is a testament to our entire team's dedication to advancing medicine through research, education and patient care.
Recruiting exceptional clinical and research talent to lead this charge continues to be one of our top priorities. To expand our expertise and meet increased clinical volume, Jameson Mattingly, MD, and Nolan Seim, MD, joined our clinical faculty in Otology and Head and Neck Surgery, respectively. Yuanyuan Wang, PhD, also joined our growing Otology research faculty. Consequently, our department faculty has grown to 48 clinicians and scientists, and we expanded our research funding portfolio by an outstanding 65% between FY18 and FY19.
Our residency program also continues to improve in size and reputation, increasing from four to five residents per year. This change went into effect with the National Residency Matching Program's 2019 "Match Day," and makes our five-year accredited residency program among the largest in the nation. Continued clinical and research-driven growth of our department was a prerequisite for this expansion, and I wish to acknowledge Residency Program Director Brad deSilva, MD, for making this happen.
I also thank Minka Schofield, MD, for her tremendous efforts in deploying a Difficult Airway Response Team (DART) throughout the health system this past September. Quality and safety efforts within the medical center remain a high priority for our department, and her work on this initiative will lead to reduced sentinel events and improved patient care.
On the educational front, our department has also been working to provide learning opportunities for the otolaryngology community. In 2019, we partnered with the Naval Medical Research Unit Dayton to host the first annual Vestibular-Oriented Research Meeting in Dayton (under the leadership of Dan Merfeld, PhD). We also hosted an inaugural World Voice Day event, sponsored by the Division of Laryngology. These events will take place again in 2020 and are already set to increase in size and stature. In addition, we've also introduced the Curriculum for Ongoing Anatomy and Surgical Training (COAST) program, led by Stephen Kang, MD. This program will enhance resident surgical education and team building, and recently kicked off with a pilot rotation within our Head and Neck division; plans to expand to other divisions are forthcoming.
In addition to their clinical responsibilities, our faculty remains committed to embracing new leadership opportunities. Of special note, Dr. Schofield was elected as chief of staff for Ohio State Wexner Medical Center; Amit Agrawal, MD, was elected as chief of staff for The Ohio State University Comprehensive Cancer Center — James Cancer Hospital and Richard J. Solove Research Institute; Ricardo Carrau, MD, was selected as president of the board of directors for the North American Skull Base Society; and Laura Matrka, MD, was inducted into the prestigious Triological Society's Harris P. Mosher Society. We could not be more proud of their achievements and contributions to our field and healthcare system.
The past year has been remarkable and I expect 2020 to be a year of further growth and success. Our department has a number of active clinical and research recruits, we are evaluating space for our vestibular center, and we are laying groundwork for a large-scale effort to improve childhood hearing in Ohio. Further departmental opportunities will arise with the introduction and evolution of several medical center ventures, including the commitment to build a new $155.9 million Interdisciplinary Health Sciences Center; the launch of the Healthy State Alliance with Mercy Health; and an increase in Ohio State College of Medicine research funding by $50 million.
I am honored to serve this department and look forward to guiding us in our advancement of the academic mission. On behalf of all of us, I hope you enjoy our annual report.
Sincerely,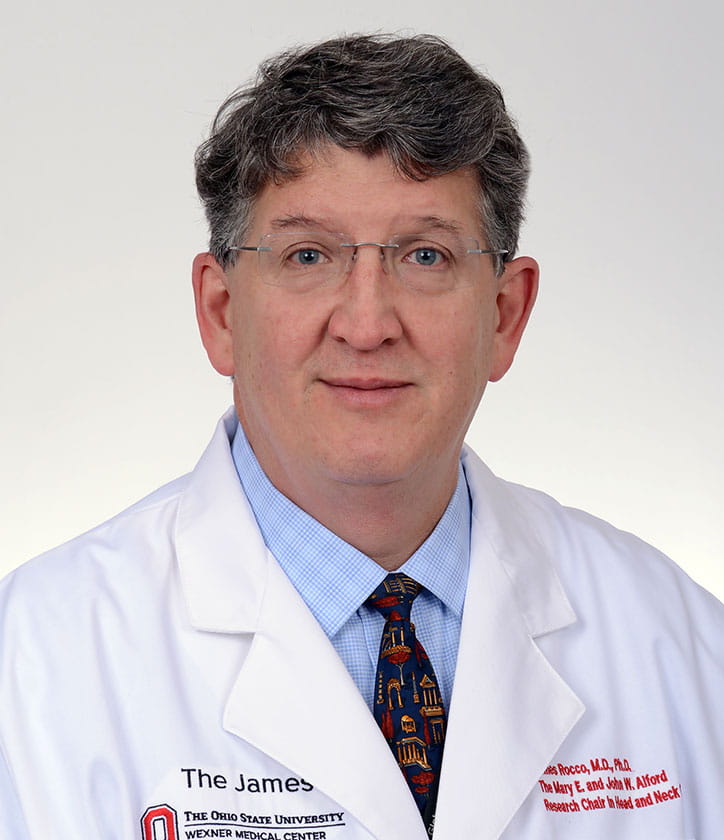 James W. Rocco, MD, PhD
Professor and Chair, Department of Otolaryngology – Head and Neck Surgery
Interim Dean, The Ohio State University College of Medicine
The Mary E. and John W. Alford Cancer Research Chair in Head and Neck Cancer
Director, Head and Neck Disease Specific Research Group