The Department of Surgery recognizes the importance and impact of surgical experiences for medical students. These early opportunities provide valuable insight for students, helping them to define their specific focus in medicine, whether it's surgery or another specialty. That's why we offer an innovative program for third-year students as well as comprehensive fourth-year programs in a clinical setting. A surgery honors program for accomplished medical students interested in a surgical career provides another layer of knowledge and experiences.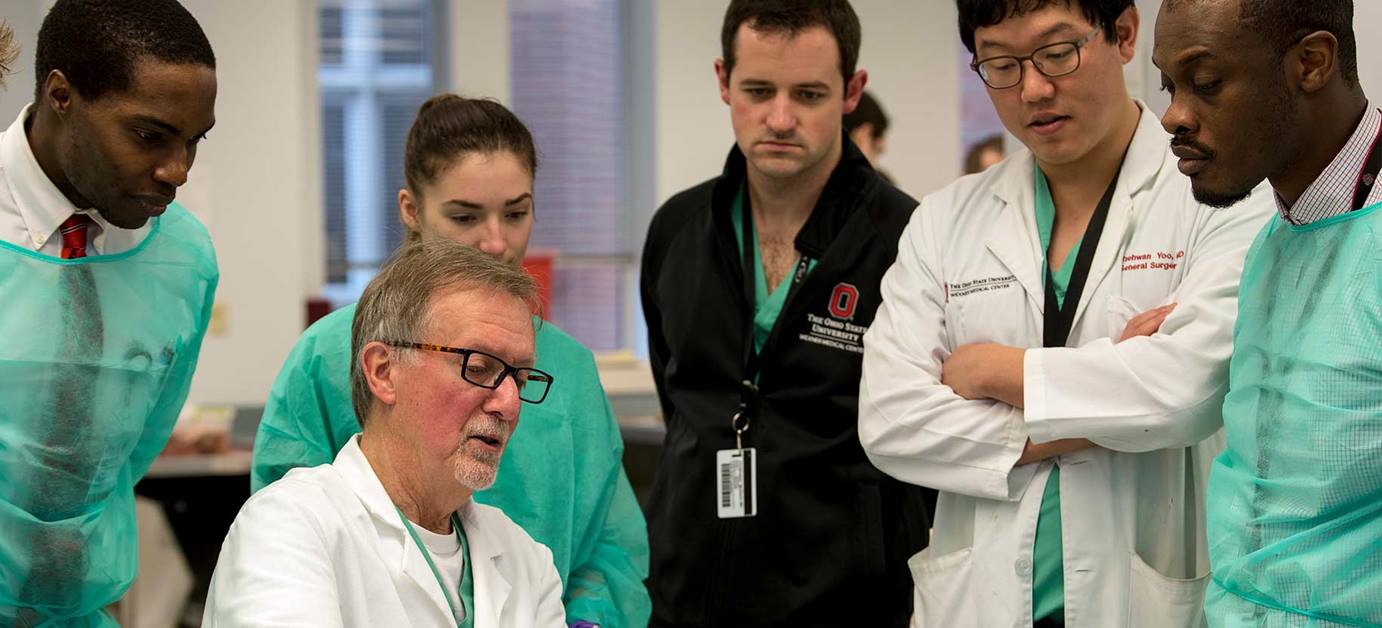 Third-Year Collaboration With Ob/Gyn
The Ohio State College of Medicine's Lead.Serve.Inspire. (LSI) curriculum implemented a longitudinal and vertically integrated curriculum in 2012 aimed at a competency-based education. After 18 months of clinical foundations have been completed in part one, part two of the LSI curriculum introduces the clerkship experiences in three integrated "rings" combining medical disciplines with similar foundational principles.
The
Understanding Patients with Reproductive and Surgical Needs (UPRSN)
ring combines the surgery clerkship with obstetrics/gynecology and anesthesiology over a 16-week ring comprising an orientation week, 14 weeks of unique clinical experiences and a final assessment week. You can read more about this program by downloading the
clerkship manual
.
Fourth Year Specialty With Career Track
The clinical track in surgery is designed for students who will enter a surgical specialty through a general surgery program or for students who will pursue a residency in general surgery. The goal for the clinical track is to measure the success of students who have completed LSI Phase 3, and to prepare students for residency selection and matching, as well as for success as a surgical resident.
Our surgery "Boot Camp" is a two-week program offered shortly after the Match, and is strongly encouraged for all students entering a surgery residency. It's structured on the
ACS/APDS/ASE Resident Preparation Curriculum
.
Surgery Honors Program M4
The Surgery Honors Program is a longitudinal elective that promotes additional education, research and leadership to exceptional students who are interested in careers in surgery. The Surgery Honors course is open to fourth-year students who have received overall honors or honors in surgery during their third year, and is through application only.
Students selected for the program will advance their basic surgical techniques, gain an in-depth understanding of the major issues related to surgery and further develop their critical thinking skills. This will help students develop lifelong learning habits and experience the many facets of being an academic surgeon. A mentored, publishable research project is a requirement for the course as well.
Visiting Med Student Rotations
Limited visiting medical student rotations are available to qualified medical students who have completed a core clerkship in general surgery at their home institution. For example, a limited number of students from Meharry Medical College in Nashville have participated in rotations at Ohio State as part of a diversity initiative.
Surgery Research Mentorship
The Ohio State College of Medicine Office of Research Education aims to connect interested medical students to basic, clinical and translational research, mentors and funding opportunities.
Advanced Competency: LSI Surgeon-Scientist Advanced Competency
The LSI Surgeon-Scientist Advanced Competency was implemented to address the national concern regarding a shrinking physician scientist workforce at academic medical centers and an insufficient pipeline of physician-scientists as noted in the NIH Adhoc Physician Scientist Workforce Working Group Report (2014). These deficiencies are even more acute for surgeon-scientists as noted in multiple publications over the past several years in the Annals of Surgery. AAMC 2018 report indicates a growing interest in surgical specialties among dual degree MD PhD students.
Students will advance their scientific and career development through scholarship, mentorship and participation in the national community of surgeon-scientists.
The goals for the advanced competency program are to utilize the full resources of The Ohio State University (OSU) for the purpose of developing surgeon-scientists within the OSU College of Medicine; to advance scholarly research within medical students pursuing training in surgical specialties; and to facilitate career development and provide networking opportunities for medical students interested in a career as a surgeon-scientist.
The learning objectives are to understand the fundamentals of scientific study design and how to apply study design principles to research questions of relevance to surgical disease and practice by completing a longitudinal mentored research project; to develop written and oral science communication skills by participating in writing and presentation of results of scholarly research; to critically evaluate and analyze published works by participating in journal clubs and literature review for mentored research; and to develop a network of colleagues and mentors, both within OSU and the national surgical community who will provide professional advice and guidance regarding a surgeon-scientist career by attendance at Surgeon-Scientist Career presentations, DOS Surgery Grand Rounds, American College of Surgeons annual meeting, and other local/regional/national scientific meetings.