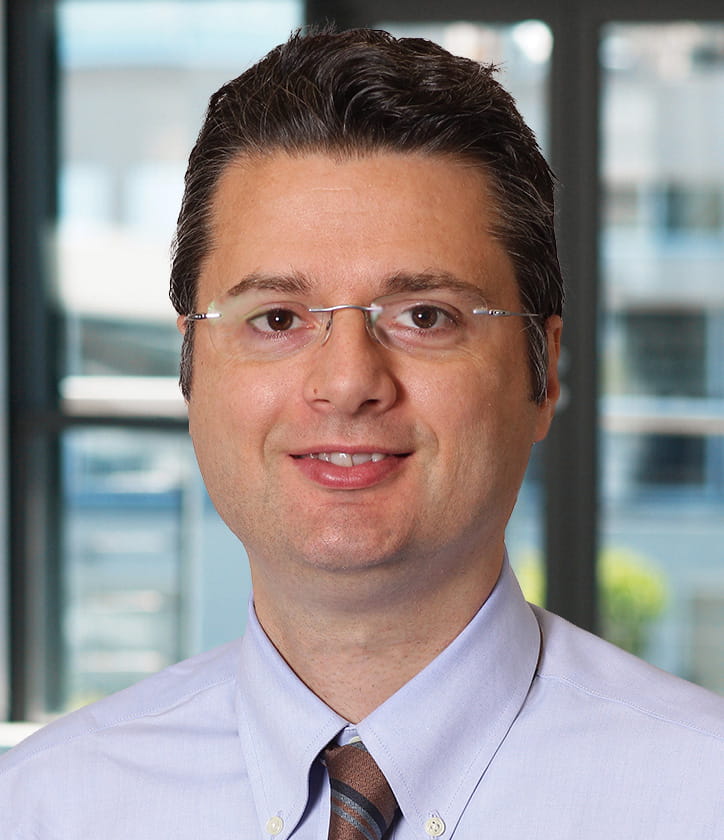 The Ohio State University, James Comprehensive Cancer Center
410 W. 12th Ave., Room 464
Columbus, OH, 43210
Phone: 614-685-9256
Fax: 614-293-4890
Lapo.Alinari@osumc.edu

I was born in Florence, Italy, I graduated from Liceo Scientifico "Gobetti", (high school) Florence, in July 1991. I started medical school at the University of Florence in October 1991 and received my medical degree with honors in 1998 after defending my dissertation on the biology of hepatocellular carcinoma.
In 1999, I started clinical training in medical oncology at the Oncology Department, Malpighi Hospital, Bologna. I spent the first two years working primarily with patients with solid tumors. At the end of my second year, I joined the Hematologic Malignancies Program at the "Seràgnoli" Institute of Hematology of the University of Bologna. This was a time when my interest in translational research began to develop and subsequently focused my efforts on B-cell non-Hodgkin's lymphoma, Hodgkin's disease and chronic lymphocytic leukemia.
In April 2003, I presented my research dissertation entitled "Identification of outcome predictors in diffuse large B-cell lymphoma. Immunohistochemical profiling of homogeneously treated de novo tumors with nodal presentation on tissue micro-arrays," and became board certified in medical oncology. I then started a hematology fellowship program at the "Seràgnoli" Institute of Hematology and Medical Oncology, University of Bologna.
I was enthusiastic and flattered by the invitation (November 2005) offered by Dr. John Byrd to join the outstanding group of scientists he leads at The Ohio State University. My primary focus dealt with discovery and characterization of novel therapeutic targets for B-cell lymphoma. In Dr. Baiocchi's laboratory, I went on to develop a project focused on the role of protein arginine methyltransferase-5 (PRMT5) overexpression in B-cell lymphomagenesis. I completed training in hematology in November 2007.
Given this strong introduction to basic and translational research, I decided to enroll in a PhD program in clinical and experimental hematology and hematopathology, which I completed in May 2011. The highly collaborative scientific atmosphere at Ohio State allowed me multiple opportunities to become involved in several basic, preclinical research projects. I have spent the last ten years of my life training as a cancer research scientist and I decided that The Ohio State University was the best place for me to continue growing as a physician scientist. I subsequently applied and was accepted in the Physician Scientist Training Program, I completed two years of internal medicine and three years of training as a hematology fellow in June 2016. Over the years I focused my research on the preclinical and early clinical development of novel experimental therapeutic strategies for B-cell lymphomas, particularly mantle cell lymphoma. I found that witnessing my preclinical research translated to therapies that may offer patients superior care over standard (and ultimately ineffective) treatments to be a rewarding and noble career path to follow.

Over the past 12 years I have produced a substantial amount of work that has resulted in the publication of more than 60 papers in peer-reviewed journals including Blood, Journal of Clinical Oncology, Clinical Cancer Research, many invited oral presentations at national and international conferences, the receipt of multiple competitive awards, as well as funding for myself and my former mentors. Perhaps more importantly, I have come to the realization that my skills are best suited in a collaborative scientific environment that will promote the translation of my research to meaningful therapies that benefit patients with cancer.

I joined the OSU Division of Hematology as an assistant professor on the tenure track in July 2016. I currently have an independent laboratory and our research focuses on identification of novel therapeutic targets and drugs development to treat patient with aggressive B-cell lymphomas and Hodgkin's disease. I currently spend 75% of my time and effort conducting translational research in lymphoid malignancies, the remaining 25% of his time is devoted to patient care (eight weeks of inpatient service per year).

View CV

Education

PhD, Clinical and experimental hematology and hematopathology, University of Bologna, Italy, May 2011
MD, University of Florence, Italy, April 1998

Honors
Davis Bremer Award, The Ohio State University, February 2017
James V. Warren Internal Medicine Fellow Research Award, The Ohio State University, June 2016
American Society of Clinical Oncology Conquer Cancer Foundation Young Investigator Award, April 2016
Lymphoma Research Foundation Clinical Research Mentoring Program Award, November 2015
2015 Excellence in Hematology and Oncology Research Award, Division of Hematology and Medical Oncology, The Ohio State University, June 2015
2014 AACR Basic Cancer Research Fellowship, July 2014
2013 Celgene Award for Future Leaders in Hematology, November 2013
Clara D. Bloomfield Excellence in Hematology and Oncology Research Award, June 2013
Chairman's Award for Scholarly Achievement by a Senior Internal Medicine Resident, College of Medicine, The Ohio State University, June 2013
American Society of Hematology Abstract Achievement Award, October 2012
American Society of Hematology Abstract Achievement Award, October 2011
American Society of Hematology-European Hematology Association International Award, July 2008
2007 Italian Society of Experimental Haematology Award, December 2006
Professional activities
American Society of Clinical Oncology (ASCO), 2013 - present
American Association for Cancer Research (AACR), 2013 - present
American Society of Hematology (ASH), 2008 - present
European Hematology Association (EHA), 2007 - present
Certifications
Board certification: Internal Medicine, American Board of Internal Medicine, 2014 - present
Board certification: Hematology, American Board of Internal Medicine, 2016 - present
Licensures
Medical license: State Medical Board of Ohio (active)
DEA license: Drug Enforcement Agency (active)
Patents
US Patent. No. 8,591,892 issued on Nov 26, 2013. Expiration date: 07/18/2032: FTY720 Increases CD74 Expression and Sensitizes Cancer Cells to Anti-CD74 Antibody-Mediated Cell Death. First named inventor: Lapo Alinari
Contributions to National, Institutional and Professional Organizations

Postdoctoral Training

Presentations