Innovations in internal medicine at The Ohio State University Wexner Medical Center

Health care is changing. With greater numbers living with complex chronic diseases, the need for primary care research in internal medicine is more essential than ever. Patients need high quality evidence-based care and help to preserve their independence and quality of life. Additionally, patients need this to be accomplished while stabilizing the costs associated with medical care. The division is tackling these problems by focusing on clinically relevant research in the areas of patient care, education and innovative care models.
We are building strong collaborative relationships throughout the University. Current collaborators are found in the Colleges of Nursing, Pharmacy and Public Health. We also have research partnerships with the Center for Clinical and Translational Science and the Departments of Economics, English and Psychology.
If you are interested in working with us or learning more about the Division of General Internal Medicine, please contact Seuli Brill, MD at Seuli.Brill@osumc.edu.

OSU General Internal Medicine Primary Care Research Fellowship
Fellows in the Primary Care Research Fellowship program will undergo training for academic careers that emphasize research. Fellows will obtain the knowledge and skills to develop a research program, earn a master's degree in public health or a related field, participate in hands-on research projects, and present their work at regional and national conferences. Possible areas of research will include, but are not limited to:
Prevention and screening
Evidence-based medicine
Implementation science
Clinical trials in primary care
New models of primary care delivery
Minority health and disparities
Quality improvement and patient safety
Unhealthy alcohol and drug use
Cardiovascular disease risk
The two-year fellowship, with an option for a third year, will be led by GIM Division Director, Dr. Daniel Jonas and GIM Research Director, Dr. Seuli Brill, who will serve as mentors for the program's fellows.
Interested candidates who have completed a U.S. residency in either Internal Medicine or Med-Peds, and who are board certified or board eligible in either discipline, may apply by sending a CV and a personal statement (2 pages or less) detailing their interest in primary care research to the fellowship coordinator at shannon.libby@osumc.edu.

Please note this program is unable to sponsor training or work visas.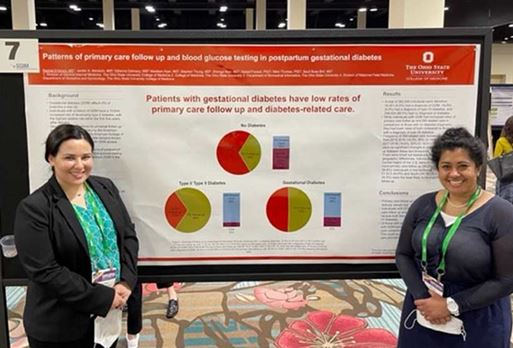 The Center for Health Outcomes in Medicine Scholarship and Service (HOMES)
The
Center for Health Outcomes in Medicine Scholarship and Service (HOMES)
takes
pride in fostering collaborations that can lead to real impact in the healthcare system. Faculty members from across The Ohio State University community, including the colleges of
Nursing
and
Public Health
, join
several postdoctoral researchers committed to certain
HOMES research projects
.
This rich network of
collaborators
conduct innovative health outcomes research in
internal medicine
.
If you're interested in collaborating with HOMES or would like to discuss how HOMES can partner with you on your research, please submit this electronic form.
Pragmatic Clinical Trials Network (PCTN)



The Division of General Internal Medicine is proud to house the Pragmatic Clinical Trials Network (PCTN), a service offered through the Center for Clinical and Translational Science at OSU.
The PCTN was designed to allow investigators access to a "living laboratory" for their research. In addition to accessing a diverse population of more than 50,000 patients spanning seven clinical sites, the PCTN offers researchers assistance in project planning, development and execution. To discuss how the PCTN can partner with your project, please contact Seuli Brill, MD at Seuli.Brill@osumc.edu.
Collaboration



We collaborate widely within The Ohio State University Wexner Medical Center and University community in a vast array of patient-centered research. The breadth of our primary care internal medicine, pediatrics and geriatric practices opens the door for productive interdisciplinary collaborations with medical sciences, social sciences and humanities. Some of our current collaborative partnerships include work with researchers from the College of Nursing, the College of Pharmacy, the College of Public Health, the Department of English, the Department of Psychology and the Department of Economics here at Ohio State. We also work with several research teams across the country.
Such partnerships are mutually beneficial to our patients, clinicians and research collaborators. We strategically work with researchers who investigate questions that are clinically relevant to our patient population. We want our research to directly improve the quality of care we provide and influence the health and well-being of our patients.
Our Researchers
Publications
Publications
2023

2022

2021

2020

2019

2018

2017

2016

2015

2014

2013