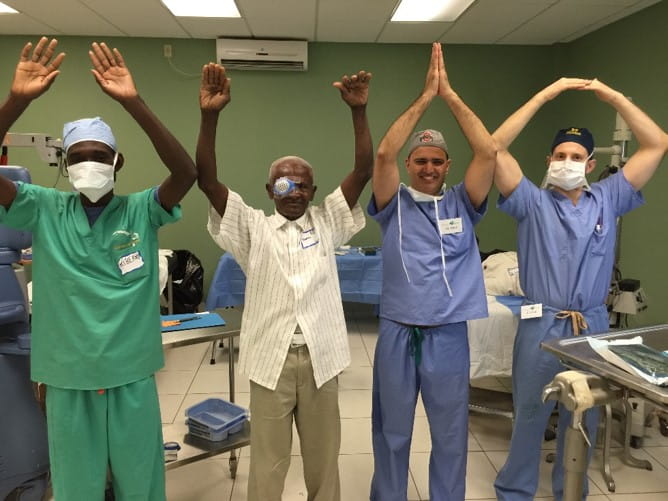 Give Now
Out of Haiti's 10 million population there is only one ophthalmologist per 180,000 people, and as many as one of 10 Haitians is blind. The need for eye care is urgent, and every January for the past six years Dr. Amit Tandon has traveled to Croix-des-Bouquets to help.
It is almost part of Haitian culture to accept blindness with age, Tandon says. But it doesn't have to be that way; a large portion of blindness in Haiti is due to fixable cataracts.
"We see people who are really a burden to their community because they're older and they're completely blind," Tandon explains. "Haitians get cataracts at a younger age because they mostly don't wear sunglasses and the UV light is so strong.
"So you do the surgery and not only do you fix them so they can see again, but you allow them to be able to contribute to their communities again. People who were previously relying on their family or neighbors are now not only independent, but can continue working and contributing."
Tandon is joined on each trip by former colleague Dr. Matt Thompson who practices at Tower Clock Eye Center in Wisconsin. The pair try to bring a new ophthalmologist every year with the hope that they'll want to return.
"Now we have 12 doctors, so every two months there are two who go to Haiti," Tandon explains. "It's great because if we see someone who needs a follow-up, there will be two ophthalmologists back in two months."
The team does 60 surgeries per visit. One of the most memorable cases Tandon has seen was an 8-year-old boy who had developed cataracts to the point that he was blind in both eyes.
"I was especially touched by his situation because my daughter is the same age. I don't do children's surgery, but since there was no one else there who could do it, I had to try," Tandon says. "The next day when he came back for a follow-up he had a book with him and was reading.
"When you leave, you feel like you really did something – like you really made a difference. When you're there you're sometimes a little stressed out, but for me, on the plane home it hits me that I really made a difference."
Data source: SEE International