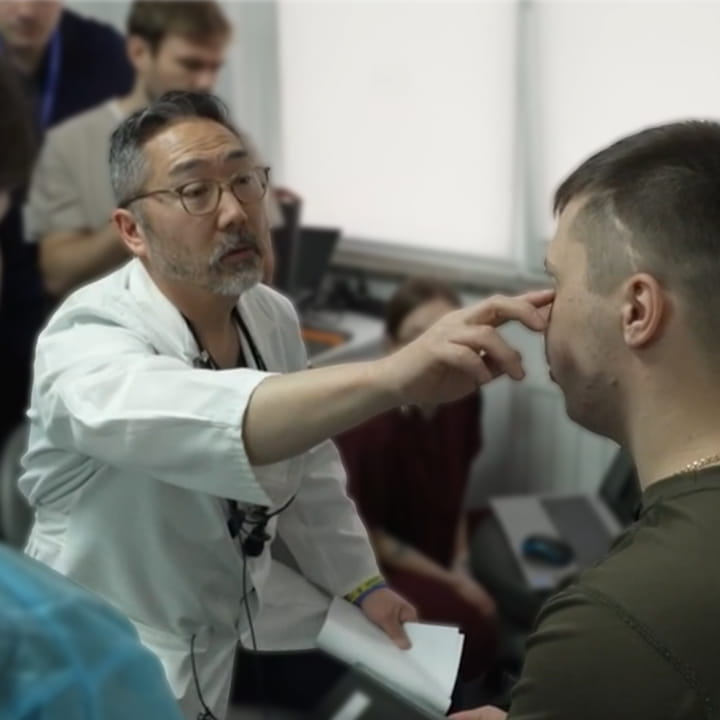 Give Now
Raymond Cho, MD went to Ukraine in 2023 as part of Face the Future, a team of skilled reconstructive surgeons that volunteer their expertise across the globe to those with facial injuries. Dr. Cho was hand selected by Peter Adamson, founder of Face the Future, for his renowned oculoplastic abilities. Following the invasion of Ukraine, many soldiers and civilians have been left with crippling facial injuries that require a specialized team to give the best results to those injured.
These reconstructive surgeries were conducted in Ivano-Frankivsk, a small city in Western Ukraine that has been relatively safe during the war. Before leaving for Ukraine, the doctors involved scheduled video calls to exchange x-rays and CT scans and create treatment plans before arriving. During their week in the country, the highly trained physicians performed multiple surgeries. For some patients, one surgery was all that was needed to repair their injuries and bring back their quality of life. For others, this surgery was just one in many that will be needed to return their face to full function. For this reason, all physicians involved are expected to give a 5 to 10 year commitment to these patients.
At the Department of Ophthalmology & Visual Sciences, we are dedicated to providing quality ophthalmic care to patients here at home and across the globe. We are proud of our physicians, such as Dr. Cho, that work tirelessly to make our mission a success.
To read the full article, visit here.
Data and photo sources: CNN