About the Program
The cornea division at The Havener Eye Institute includes four, full-time geographic faculty. The fellowship is one year in duration. Clinical and surgical care are emphasized with ample research and teaching opportunities. The fellow will have excellent opportunity to both perform and assist in keratoplasties (PK, DALK, DSAEK, DMEK, keratoprosthesis, and patch grafts), pterygium excision, excision of ocular surface tumors and lesions, amniotic membrane grafting, ocular surface reconstruction, limbal stem cell transplantation, Gunderson flaps, tarsorrhaphy, corneal laceration repair, superficial keratectomy, refractive surgery (if desired), cataract surgery, lens implant exchanges, corneal cross-linking and pediatric anterior segment management. In recent years fellows have performed between 50-90 corneal transplants and 80-100 cataract surgeries as primary surgeon, in addition to many other primary surgeries. The fellow acts as an attending for resident cataract surgeries and ruptured globe repair at both Ohio State and the Columbus VA. The fellow also serves as an attending in clinic at the Columbus VA.
The fellow will participate in Grand Rounds and resident teaching conferences. For the duration of their fellowship, the fellow will be expected to take primary call for the cornea division with time off approved by the fellowship director. The fellow will have twenty-two days of leave, which is inclusive of vacation, interviews and CME conferences. The fellow is encouraged to present papers at national meetings and will be given travel support to present at approved meetings.In order to be eligible for our cornea fellowship program, all applicants must be US citizens, graduates of an ACGME-accredited residency program and must be eligible to obtain a full medical license in the State of Ohio.
Please contact Meredith.Hess@osumc.edu with questions.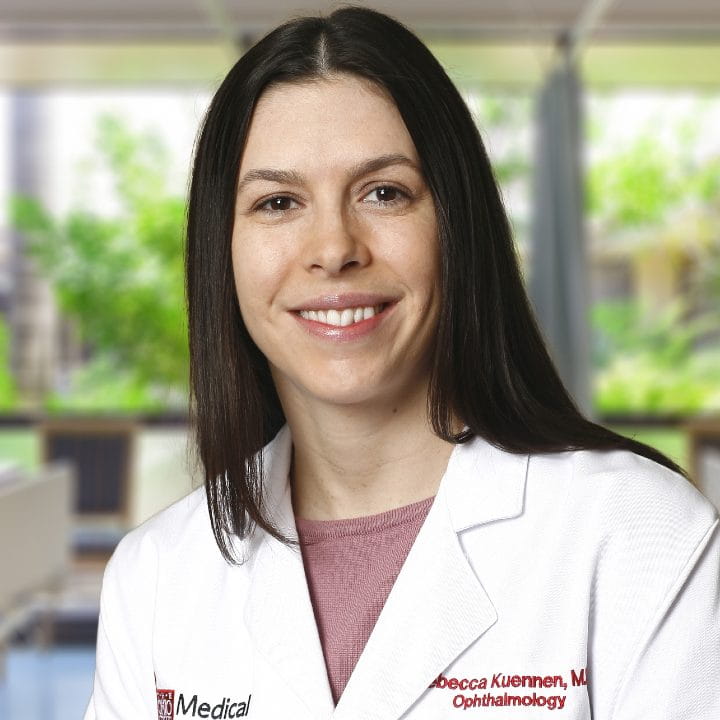 Co-Program Director
Rebecca Kuennen, MD