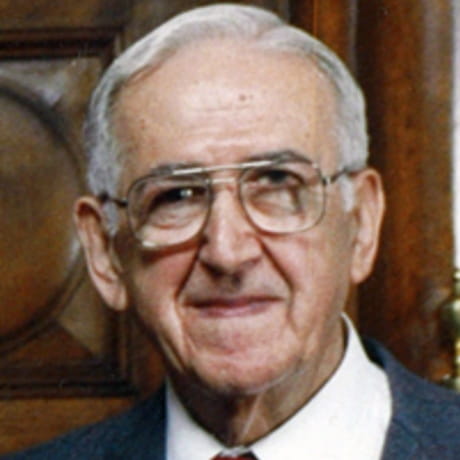 Make a contribution
He was instrumental in educating and training numerous medical students and residents.
The Jacob Moses MD Lectureship Fund has been established with gifts made in his memory from his son, James L. Moses, MD of Canal Winchester, Ohio. Dr. Moses was born July 25, 1914 to Phillip and Sarah Moses in Washington, PA. He received his undergraduate degree in Biology at Washington & Jefferson College and his medical degree at Western Reserve Medical School. He completed both his ophthalmology residency and fellowship at The Cleveland Clinic Foundation.
Dr. Moses was practicing ophthalmology from 1945 to 2002, almost until his death on October 15, 2003. He joined the faculty of the Department of Ophthalmology in 1946, holding various positions from instructor to clinical professor. During his tenure, he contributed substantially to the clinical growth of the Department during its early years. He was instrumental in educating and training numerous medical students and residents, including those undertaking clinical rotations at Mount Carmel Hospital, where he held many administrative positions, including Ophthalmology Program Director.
He was a member of the American Medical Association and The American Academy of Ophthalmology. He was a diplomat of the American Board of Ophthalmology. He received multiple commendations for his contributions in medicine in general and the ophthalmic services in particular. His career spanned seven decades during which time he saw hundreds of thousands of patients and treated an wide variety of eye diseases and disorders, and performed thousands of medical and surgical procedures.
He was known as a compassionate, contributing individual and physician whose thoroughness, tenacity, and endurance were unequaled. Dr. Moses was a devoted husband to his wife of 63 years, Florence E. Moses, and father to their six children. He was an avid biologist, an accomplished clarinetist, and devoted to athletic programs, including OSU's football program.