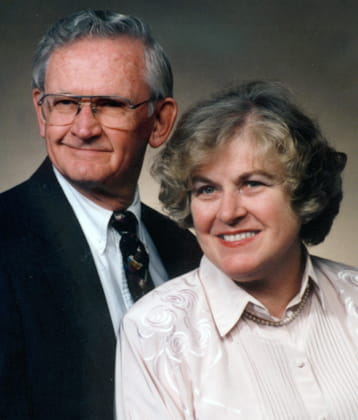 Make a contribution
For Lois Ann Moor and her family,
the decision to create an endowment in ophthalmology honoring her late husband was a natural connection based on gratitude.
"The idea for the fund was to contribute to ophthalmology because Dr. Havener saved Ted's sight, which enabled him to continue his teaching career in dentistry at Ohio State for 17 years," she said. Theodore Lyman Moor, DDS '51, served on the Ohio State College of Dentistry faculty from 1971 to 1988.
It was through the care of the late William Havener, MD, former chair of the Department of Ophthalmology, that Dr. Moor was able to have his sight restored and sustained, according to Mrs. Moor.
This gift of vision was significant to the Moor family, and in 2005 they established the Dr. Theodore Lyman Moor Graduate Student Research Fund. The endowment supports research activities and the dissemination of research findings of a graduate student engaged in ophthalmic research in the Department of Ophthalmology.
As lifelong Columbus residents who raised three children, Lois and Ted Moor always appreciated their connections to Ohio State. Mrs. Moor obtained a BS in Business Administration in 1952 and met her late husband shortly after he graduated from the Ohio State College of Dentistry. She was a member of the Alumni Scholarship House and later served on its board. For 23 years she was a teacher in the Columbus Public Schools.
"I could not have graduated college without the Scholarship House," she said, "and Ted and I were both very grateful to Ohio State. It paved the way for our lives and our educational paths." Her husband's appreciation for medical research and teaching can now be carried on through the endowment, according to Mrs. Moor. By supporting promising research to improve the diagnosis and treatment of vision diseases, many more patients and their families will be given a second chance, she said.
"We truly appreciate the foresight and partnership of the Moor family in creating this important fund," said Dr. Thomas Mauger, former chair of the Department of Ophthalmology and former Baldwin Chair. "Supporting the best young researchers and graduate students who are interested in vision diseases will advance care for all of our patients."