Find out why our residents chose Ohio State
We are proud of our diverse house staff who currently come from approximately 60 medical schools across the nation. While they are dedicated to patient care and learning, our residents also have a sense of adventure and have rich lives outside the workplace. Find out from our residents what makes Ohio State's Internal Medicine Residency Program unique.
Hear why our residents love Columbus, Ohio!
Patrick Sylvester, MD
Emergency Medicine/Internal Medicine Track, PGY3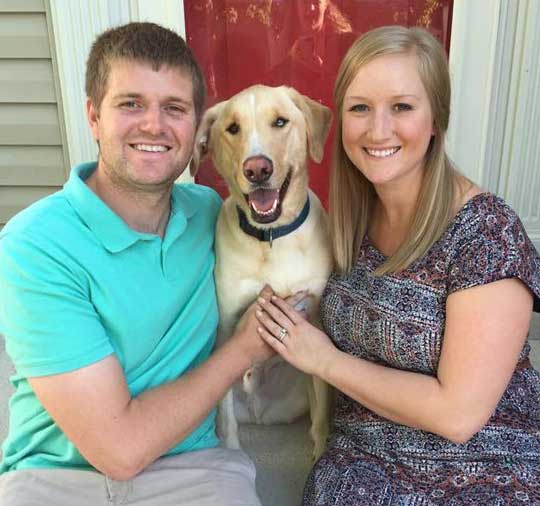 Patrick Sylvester has moved around a couple of times in his life. However, if asked, he would identify the small town of Chebanse, Illinois as the place where he "grew up." He completed his undergraduate studies at the University of Illinois at Urbana-Champaign, with dual majors in molecular and cellular biology and psychology. Thereafter, he made the move to Ohio where he completed medical school at The Ohio State University College of Medicine. Patrick and his wife, Julie, are thrilled to be staying in Columbus as he continues his training at The Ohio State University Wexner Medical Center in the combined Emergency Medicine-Internal Medicine Residency program.
"As a medical student here at OSU, I had the great pleasure of learning from expert clinicians in both the Department of Emergency Medicine and the Department of Internal Medicine. Having gotten to know several faculty members who themselves had been dual-trained in this manner, I was very interested in what such a program might look like our institution, given a history of excellence in these departments individually.
As I got a chance to interact with the residents in the classes before me, I knew that we all shared a similar set of interests and goals, and that the type of training in this specific program would help us achieve them. I have no doubt that at the end of this training, I will be well-equipped to take on a wide variety of positions in medicine, thanks to a strong foundation in clinical medicine, academics and research."
Caleb Taylor, MD, MPH
Emergency Medicine/Internal Medicine Track, PGY3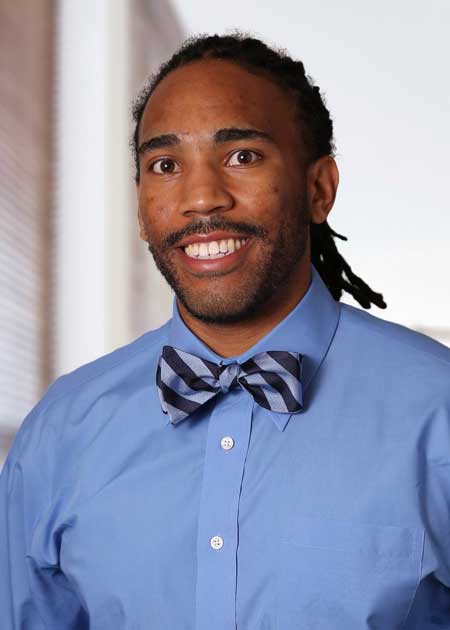 Caleb was born and raised in Phoenix, Arizona and earned an Associate in Science degree from Glendale Community College. He received an academic scholarship to attend Arizona State University and graduated with a B.S. degree in biochemistry and medicinal chemistry. He then decided to immerse himself in the Southwestern culture and the Spanish language and graduated from a five year MD/MPH dual degree granting program at the University of Arizona in Tucson. In medical school he developed an interest in critical care, medical education and the care of indigent and Spanish speaking populations. It was those interests which prompted him to pursue residency at The Ohio State University.
"The Ohio State University is a large state institution which is on the cutting edge of research, the care of indigent populations and critical care. My interest in emergency medicine and internal medicine was born from a strong desire to care for patients in both an ED and an ICU. The faculty here impressed me with their expertise in my expressed areas of interest.
The emergency medicine and internal medicine leadership took a personal interest in my career development from day one. They were knowledgeable about what an emergency medicine/internal medicine experience at OSU offered and how it could be tailored toward my interests. Both the individual program leaders were flexible and understanding, and they treated me like family in all of my interactions with them. They really inspired me to maximize my five years with OSU, and to use this time to jump start a career in academic medicine doing both EM and IM.
My goal is to pursue a pulmonary critical care fellowship and an ultrasound fellowship, hopefully with OSU. I am also currently thinking about pursuing an MBA through the Fisher College of Business at OSU. I ultimately hope to practice in an academic medical center possibly in an administrative role in the future at a state or county hospital caring for indigent patients. I love everything about Ohio and OSU so far, and I am happy to be a Buckeye for life!"
Nishi Patel, MD
Categorical Track, PGY3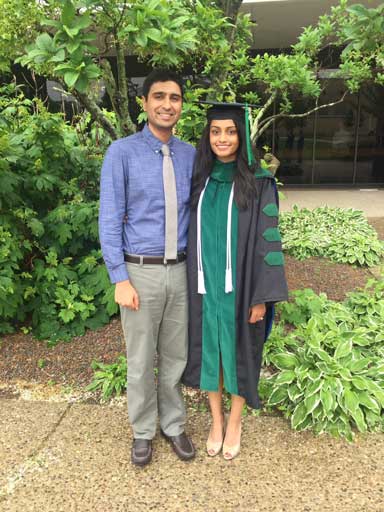 Nishi grew up in Lexington, Kentucky. She attended Indiana University in beautiful Bloomington, IN for her undergraduate studies and earned a degree in Biology. She came back home and attended University of Kentucky for medical school.

"My attraction to OSU was instantaneous. It was one of my early interviews and upon leaving Columbus on interview day, I knew I there was a strong possibility I could be coming back to OSU for good. The residency program affords so many positives – a large, academic center with renowned faculty, immense research opportunities and a great balance of inpatient and outpatient medicine. During interview day, I noticed the collegiality and "homeyness" that exists within the program. Just after a few months here, I can first-handedly attest to this, as I not only have great colleagues but am lucky enough to call them my friends! We definitely work hard but there's no shortage of fun. Whether it's a small potluck or full blown residency happy hour, everyone is always up for a good time.

I've had such a great time exploring Columbus and have been floored by all it has to offer. It's a classic Midwest town with warm and inviting people (unless you're a Michigan fan) but also affords the positives of a bigger cosmopolitan city. On any given weekend you can find a music festival, gallery hop or a city-wide event taking place.

I've been very happy at OSU and can confidently say I made the right decision for my residency training. I encourage you to further explore our program, I know you won't be disappointed!"
Jared Stroud, MD, PharmD
Primary Care Track, PGY3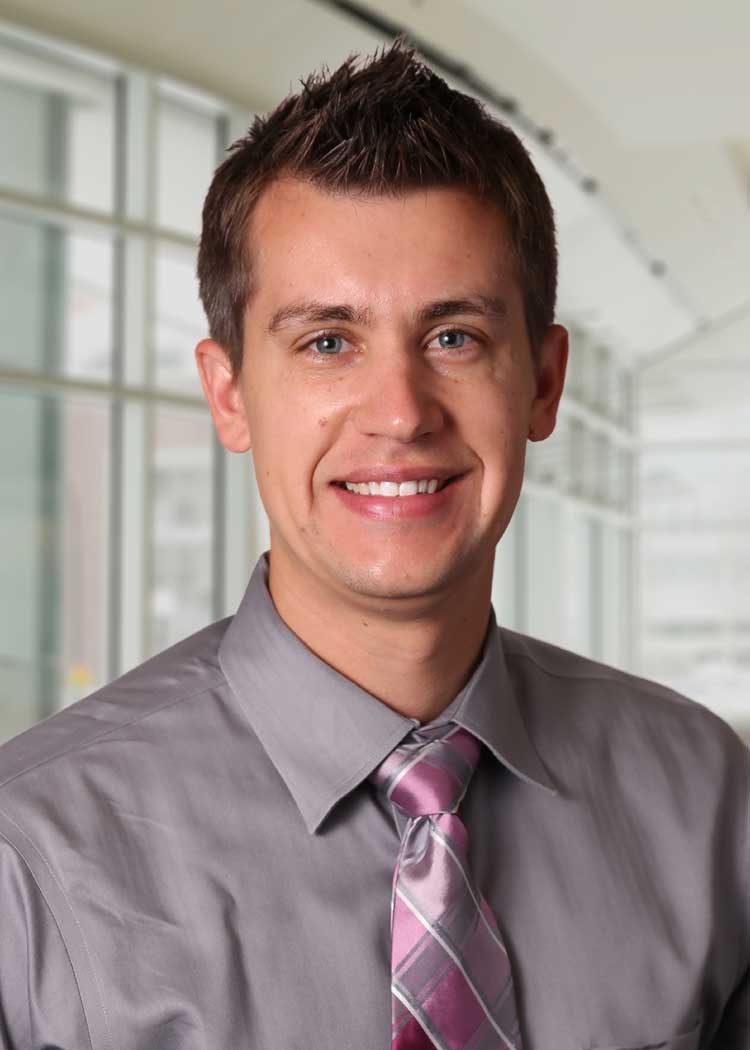 Jared grew up in the town of Sylvania, OH. He earned a B.S. in pharmaceutical sciences and Pharm.D. from the University of Toledo College of Pharmacy. After two years of practicing clinical pharmacy in Ann Arbor, he returned to Northwest Ohio to attend the University of Toledo College of Medicine. He graduated from medical school in May 2015 and moved to Columbus, OH to begin his internal medicine training at The Ohio State University Wexner Medical Center.

"Although the application process and interview trail were somewhat overwhelming at times, choosing to train at Ohio State ended up being an easy decision. Simply put, I left the interview day with good vibes about the program and never looked back. From the residents, to the faculty, to the support staff, everyone genuinely seemed excited to be at OSU. It had the feel of a community program, but in the setting of a large academic medical center – an ideal combination in my eyes. In addition, the Primary Care Track at Ohio State offered me a completely unique experience that did not exist at other institutions. While other programs had training pathways focused on outpatient medicine, Ohio State's Primary Care Track was the only program that would allow me to spend 50 percent of my time as a resident in the ambulatory setting. Having clinic block every other month afforded me the opportunity to have true continuity with my patients!

Through the first two months of intern year, the program has more than lived up to my expectations. The Internal Medicine Residency leadership did a fantastic job of orienting us to both the program and to the great city of Columbus. The orientation week picnic, intern scavenger hunt and the resident-organized happy hours made getting to know my colleagues and building a camaraderie easy. Moreover, "Transition Week" during the last week of June ensured that we made a seamless move into life as an intern on service."

"There is a fantastic atmosphere surrounding the Internal Medicine Residency p\Program at Ohio State. Between the outstanding clinical faculty, myriad of academic lectures and access to countless online educational modules, I know I am getting a fantastic training experience here. As interview season rolls around, I am sure I will inevitably get the question "Would you choose Ohio State again?" The answer: Absolutely."

Kyle Stinehart, MD
Categorical Track, PGY3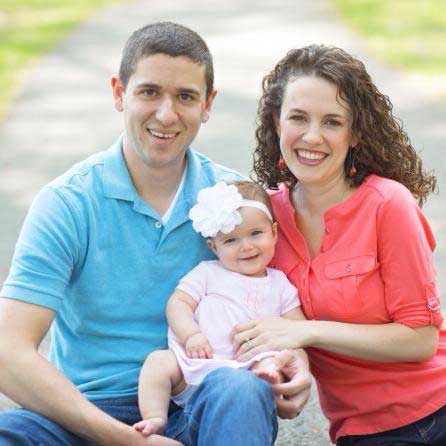 Kyle was born and raised in Northwest Ohio, where his family still resides. He attended Ohio Northern University for his undergraduate studies, receiving a BS in molecular biology and a BSBA in management. At ONU he also met his wife, Ashley. The two of them spent their first years of marriage living in Morgantown, WV, where Kyle completed his MD at West Virginia University.

Kyle and his wife, along with their daughter Olivia, have been enjoying their new home in Columbus and have been exploring the restaurants, festivals and outdoor activities that the city and surrounding area have to offer – there are so many that it's hard to keep up! In his free time, Kyle enjoys spending time with his family and friends and doing anything that involves being outdoors, especially hiking and boating.

"There were many things that attracted me to Ohio State, but when it was time to rank programs, the people that I met during my interview day sealed the deal. I was incredibly impressed by the camaraderie present among the residents. The faculty and staff were all welcoming, approachable and genuinely passionate about resident education. The structure of the program itself was a perfect fit for the type of training I was looking for – one that balances general and subspecialty training with an emphasis in both inpatient and outpatient experiences. Ohio State provides all of the resources, mentorship and research opportunities of a well-renown academic medical center while simultaneously facilitating a training experience that is warm and collegial. Now that I'm here, I couldn't be happier with my decision to train at Ohio State. Both the people and the program have gone well beyond my expectations."
Sam Jersak, MD | Taylor Jersak, MD
Categorical Track, PGY3 and Internal Medicine/Pediatrics Track, PGY3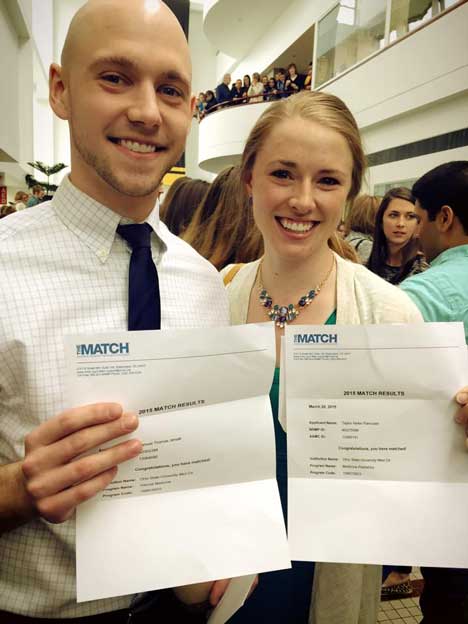 Sam and Taylor both come from Missouri, where they completed undergrad and medical school at University of Missouri - Columbia. Sam was born and raised in southern Missouri, and Taylor spent the first part of her childhood in Toledo, OH before moving to Columbia, MO. They met in undergrad, got married at the end of medical school, and currently live in the Brewery District with their cats, Chip and Meko.

"Going through the Couples Match for residency was both challenging and exciting. Because we were matching in internal medicine and medicine-pediatrics, it was easier to find programs that worked for both of us. The most challenging part was having to interview on different days and then keep all of the programs straight when we got back together to discuss! Prior to creating our official rank list, we ranked schools separately. Then, we compared our lists and created the final rank list together."

"As we were deciding on our rank list, we knew we would be thrilled to match at OSU! During our interview dinners, all of the residents were genuinely interested in getting to know BOTH of us, regardless of whose dinner we were attending. As a couple going through the Match, it meant so much to hear how OSU takes couples into consideration when making schedules. We were able to experience this firsthand, as we have our vacations and our Night Float together! OSU is equally strong in internal medicine and pediatrics, which was extremely important for us, as we know we will thrive here both as individuals and together as a couple. Finally, the people here are truly amazing. We were both expecting the move from Missouri to be a challenging transition, but we have had absolutely no problems adjusting. From happy hours, to trivia nights, to playing board games and making pizza with our friends, we love our new home and are so happy to be Buckeyes!"
Jason Gonzalez, MD
Internal Medicine/Pediatrics Track, PGY3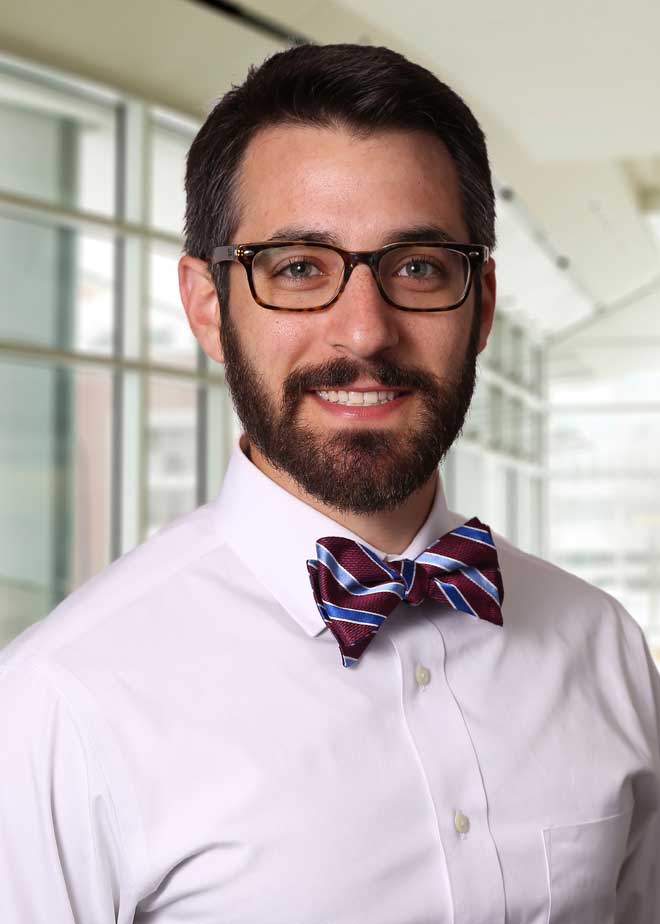 Jason grew up in North Carolina where his parents still live. He attended the University of North Carolina at Chapel Hill for his undergrad where he studied exercise and sport science. He then took a year off to work at a patient care assistant in Raleigh before returning to UNC for medical school. He currently lives with his wife Ashley and their dog, Linus. In his free time, he enjoys exercising with his dog and exploring the countless Columbus festivals with his wife.

"What drew me to OSU med-peds was its balanced strength in training and reputation at both OSU for medicine and Nationwide Children's for pediatrics. These two hospitals are each in their own rights powerhouses both in Ohio and nationally, but work together to create a seamless med-peds curriculum. This was important to me, as I intend to truly practice as both an internist and a pediatrician in my career going forward. With an interest in outpatient care, I am very pleased with the dedicated med-peds clinic.

Coming from Chapel Hill-Durham-Raleigh, NC, I was pleased to find that Columbus shares the same mix of city and college town that I had come to enjoy. Columbus has a festival almost every weekend celebrating everything from music, to food, to history, to arts, to beer. Convincing my wife that I wanted to make Columbus our new home ended up being a surprisingly easy sell. Of course, the most important reason for me – and I am certain this will sound like a broken record to any applicant, current or former, reading this – is the people. Seriously. Vibe means everything on the interview trail, and OSU hooked me immediately. I chose OSU because of how happy and excited my wife noticed that I was after my interview day."



Natalie Beckett, DO
Categorical Track, PGY3
Natalie Beckett grew up in a small steel mill town on the Ohio River where her family still lives. She attended The Ohio State University for her undergraduate studies and has always been a Buckeye at heart. She remained in Columbus following graduation where she worked as a respiratory therapist. She has always had a passion for teaching and prior to pursing medicine she earned her Master of Science degree in 2010. She then moved to New York City to attend medical school at Touro College of Osteopathic Medicine. Following graduation, her husband and dog, Lucy, moved back to Columbus, where she is completing her residency in internal medicine at The Ohio State University Wexner Medical Center.

"It is the people that make Ohio State such an amazing place to train. Together, the residents, staff and attending physicians create an environment that cultivates learning and does so in a safe, supportive environment. I did an away rotation here as a fourth year student, and was blown away by the camaraderie that I witnessed amongst the residents. They truly respected and cared about one another, and worked together for the well-being of the patient. These attributes in combination with Ohio State's dedication to academic excellence and providing their residents with the highest quality training provide a truly unique culture, which is rarely seen in a large academic medical center. The schedule exposes you to various subspecialties which strengthens and broadens your knowledge base. In addition, every third month clinic block gives you extensive outpatient experience. I am confident that I will leave my training as a competent, compassionate physician in addition to becoming a well-rounded individual.

Columbus has changed so much since my undergraduate training. When my husband and I moved from New York City, we were pleasantly surprised to find how much Columbus has grown. It is becoming an amazing city for food, concerts and festivals. In addition there are so many amazing neighborhoods to explore, each with their own unique character. We are so happy to be back!"


Susan Li, MD
Internal Medicine/Pediatrics Track, PGY3

"I initially applied to OSU because it came with high regard and praise by my mentor at UNC– turns out to be the best decision I ever made. Any reservation I initially had about moving to the Midwest from sunny North Carolina immediately dissipated after my interview. This program met every single category I was looking for: strong categorical programs on both sides, an emphasis on resident education, a rocking primary care clinic operating under the PCMH model, a place that values lifestyle and extremely dedicated program leadership. To my surprise, this program has not only met those expectations, but has continued to surprise me.

First, I never really understood the importance of a "strong med/peds presence," but it is HUGE! We are well-known and well-respected here (quite a reputation to have to live up to). Our med/peds program is an extremely tight-knit group and are my core support system. It makes a world of difference to have nine others who are facing the same hardships as you, and to have 30 others who have worked their way through these same problems who can provide you guidance. For moving to a brand-new city by myself, I could not have asked for a better transition!

Second, the camaraderie and collegiality at both OSU and NCH is off the charts. These are colleagues who will bend over backwards so that you can get out on time or make it to that special wedding, and are some of the most hard-working and fun-loving people I have ever met. Third, the city of Columbus is AMAZING! There is a ton to do here–festivals galore, incredible restaurants, awesome happy hour deals, a famous zoo and amazing park systems just to name a few. I am so glad I ended up here, and could not possibly imagine a better place to train!"
Greg Eisinger, MD
Emergency Medicine/Internal Medicine Track, PGY4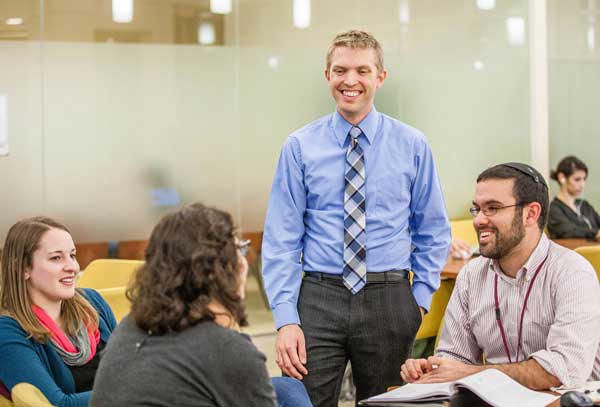 Greg Eisinger grew up in about eight different states but still calls Chicago home. He began his undergraduate studies at Benedictine University in Lisle, IL and then moved to Knoxville, TN where he completed a BA in psychology at the University of Tennessee in 2002. He remained at UT Knoxville for graduate studies as well, earning a Master of Science in social work in 2006. Prior to deciding to pursue medical school, Greg worked for five years as a child and youth psychotherapist at a community mental health center. He then moved back to Chicago to attend medical school at Loyola University Chicago's Stritch School of Medicine. After graduating in 2014, he came to OSU Wexner Medical Center for a combined residency in emergency and internal medicine.

"I chose OSU for the unique opportunity to pursue the combined training path at a nascent program that I could be a part of shaping as it moves forward. There are only twelve of these combined programs available in the U.S. and few, if any, have the level of strength and excellence from both departments as does OSU. The faculty from both internal medicine and emergency medicine are well-known and well-published in their fields and share my passion for advancing the cause of medical education.

I felt very at home with the faculty, staff and other residents that I met on my interview day and left feeling sure that I would graduate as both an outstanding internist and emergency physician. I was also very excited to be part of the first residency class to make our home in the new James Cancer Center. I am not sure exactly which direction my career will take me at this point and the beauty the combined training program is that the possibilities for the future are limitless. What I do know though is that I will leave this program extremely prepared to be an excellent teacher and a leader in academic medicine."

Serena Day, MD
Categorical Track, 2016 graduate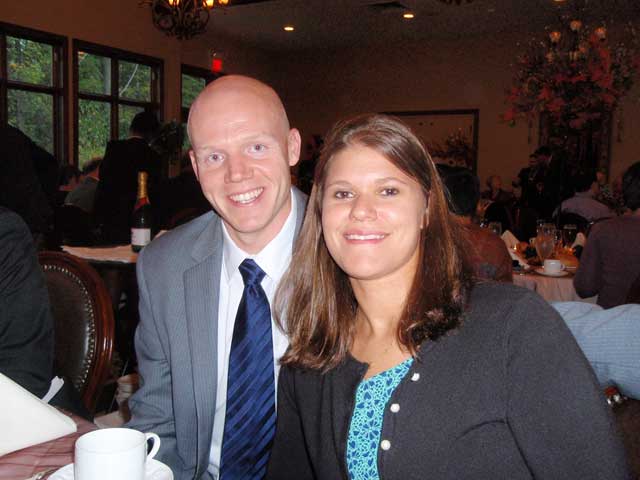 Serena grew up in NH where her family still lives. She attended undergrad at Gettysburg College in Gettysburg, PA where she majored in biology and minored in chemistry. Serena worked for a food science lab for two years before medical school at Drexel University in Philadelphia, PA. She currently lives with her husband, Nate and dog, Molly. In her free time, her and her husband enjoy watching movies, jogging through the parks, playing with their dog, cooking and dining out.

"I chose OSU for a lot of reasons but the most important one was the residents that I met during my interview day. Although they all said that they worked hard (and it's true, we do work hard!) they also uniformly agreed with how much they loved the program and their colleagues - residents, attendings and staff members alike. OSU attracts very intelligent and outstanding candidates like many other top programs, but I think the warm, collegial atmosphere is what sets OSU apart. The residents really are the focus here, and there are many initiatives in place to make sure that our education and experience is of the best quality.

Now that I'm here, I have found even more to love about this program. The unique rotation structure of every third month being outpatient really allows for the true outpatient experience without having to sacrifice inpatient time and the hectic schedule juggling of fitting in a clinic half day while on a busy service. In addition, during clinic months, we experience a different subspecialty each clinic block. This gives the opportunity to see both the inpatient and outpatient side of a particular field. The subspecialty services are run by subspecialists which gives us the chance to be immersed totally in a particular field for a month as well as really learn how to manage these patients from the experts. The opportunities for research and fellowship fields are also numerous and very available. Everyone that I have worked with so far, from fellow residents to attendings to our chief residents, have been nothing but interested in giving me the tools I need to learn to be a competent, outstanding physician. These include lectures (which are actually very useful and relevant!), current literature and landmark trials sent via weekly emails, various online curricula, as well as "on the job" teaching during rounds.

Outside of work, Columbus has turned out to be a great place to live. It doesn't have all the hustle and bustle that makes major cities frustrating but instead has all of the big city excitement without the traffic! There have been no shortage of festivals, restaurants, parks or neighborhoods to explore and now that school is back in session, I have no doubt that I will soon be swept up in Buckeye football frenzy! Overall, I feel this program is very well balanced with clinical experiences as well as focused on teaching and professional development. There are plenty of opportunities to get involved in whatever you might be interested in, and the facilities and resources to do so are outstanding."
Sharon Santoso, MD
Internal Medicine/Pediatric Track, 2016 graduate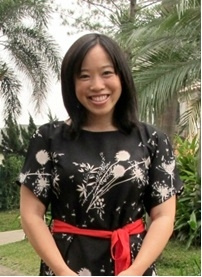 Before coming to the Midwest, Sharon grew up in California and Indonesia. She was born in Southern California then moved to Jakarta, Indonesia at the age of eight when her parents decided to move back to their home country. She later returned to the U.S. and studied biomedical engineering at the University of California, San Diego as her undergraduate degree. After deciding to pursue a career in medicine, she traveled to Cleveland, Ohio where she attended Case Western Reserve University's School of Medicine.

"Once deciding that I wanted to pursue a combined Internal Medicine-Pediatrics residency, Ohio State was an obvious consideration. It has one of the larger Med-Peds programs nationwide, with eight-10 residents per year and over 70 Med-Peds trained physicians who serve as faculty. To me this translates to many opportunities for mentorship and guidance in my training and future career choice. We also have our own Med-Peds continuity clinic which we go to weekly. OSU was the perfect fit for me with a wonderful balance between primary care opportunities and a large number of subspecialties. As I continue to decide my career path I believe it is important to have these diverse experiences and to be able to work closely with subspecialty experts. I am also interested in global health, especially to be able to spend some time in Indonesia where access to healthcare is such a problem. OSU gives me the opportunity to pursue this by offering international electives as well as a global health certificate program. We have a very supportive and involved program director, Dr. Holliday, and a dedicated program coordinator, Delana. I believe we definitely have the perfect balance of integration with both medicine and pediatrics as well as having our own Med-Peds identity.

In my free time, I have loved exploring Columbus! During the summer there have been tons of fun outdoor food and music festivals to go to. The Short North and Downtown areas have a lot of great restaurants, bars and galleries. I enjoy running as well, and there are some great local scenic running trails. Columbus also has a great freeway system and you can get pretty much anywhere within 15 minutes (including the two large shopping centers, Polaris and Easton). All of this in addition to the very affordable cost of living makes Columbus a very attractive place to live!"