BAP-1 Clinic
Mohamed Abdel-Rahman, MD, PhD, Colleen Cebulla MD, PhD, Frederick Davidorf, MD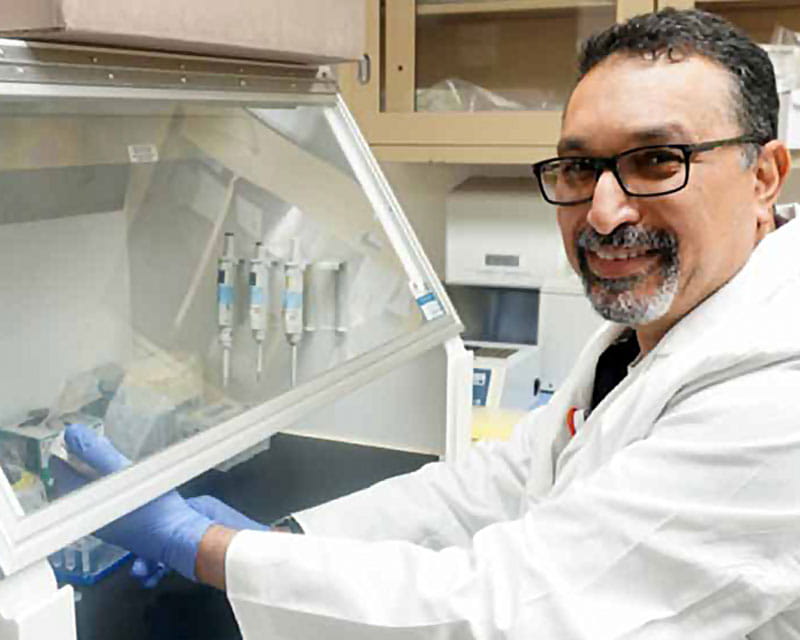 Ocular uveal melanomas are rare but deadly tumors of the eye. For over a decade Dr. Mohamed Abdel-Rahman, Md, PhD has been studying the genetic causes of uveal melanoma as well as genomic alterations in the tumors. The ultimate goal is to personalize the care of patients with uveal melanoma, improve diagnosis and treatment.
One of the important discovery of Dr. Abdel-Rahman laboratory is the identification of a hereditary tumor predisposition syndrome, BAP1-TPDS (OMIM 614327) caused by mutations in a tumor suppressor gene. The syndrome is associated with predisposition to mainly four cancers: uveal (ocular) melanoma, mesothelioma, cutaneous (skin) melanoma, and kidney cancer in addition to a preneoplastic melanocytic skin lesions (BAP1-Inactivated Melanocytic Tumors). Other cancers have been also reported in patients with germline BAP1 mutation but it is not clear whether they are part of the BAP1-TPDS. Since its characterization, more than 200 distinct families have been reported with an increasing number of pathogenic/likely pathogenic mutations being deposited in the public database ClinVar.
Testing for germline mutations in BAP1 has been included in cancer panels offered routinely by clinical laboratories worldwide leading to an increased number of patients identified with the syndrome. In addition, an increasing number of patients with genetic variants of uncertain significance have been detected with more than 700 of these variants reported in public databases. These genetic variants of uncertain significance are challenges for patients and families. Through a recently awarded grant by the National Cancer Institute Dr. Abdel-Rahman will carry out a study to assess the risk for different cancers in patients who inherit mutation in BAP1. Expected outcomes will include identification of different cancer associated with genetic alterations in BAP1, identification of different mutations that causes the disease and characterization of experimental assay to test for disease causing potential of different genetic alterations including variants of uncertain significance in the BAP1. In addition, he is working with several colleagues from different departments at OSU and James Comprehensive Cancer Center to develop a multi-specialty clinic to manage patients with BAP1-Tumor Predisposition Syndrome.
Expected outcomes with this multi-specialty team approach include the identification of different cancers and mutations associated with genetic alterations in BAP1. The results will deepen knowledge of the BAP1 tumor-suppressor predisposition syndrome, improve education of clinicians, and lead to development of surveillance tests for earliest diagnoses and new treatments that lead to improved outcomes for survival and cures.