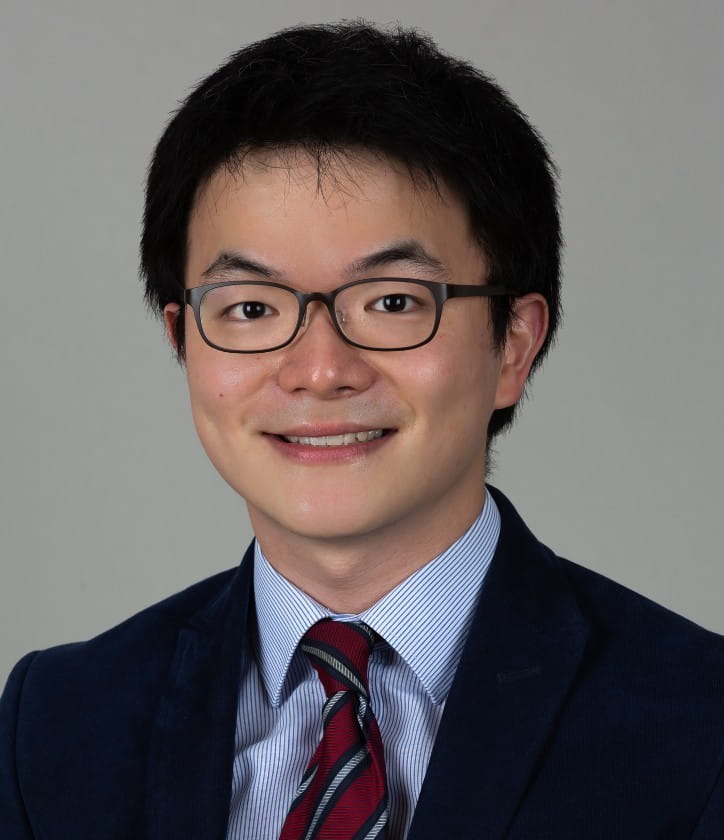 I was born and raised in Seoul, South Korea, until I was 11 years old when my family moved to Canada. My first research experience came as a high school student in the microbiology laboratory of Dr. John McCormick at Western University in London, Canada, where I characterized the antimicrobial activity of fresh garlic extract against Group A Streptococcus. As an undergraduate student in the immunology specialist program at the University of Toronto, I continued to pursue my passion for discovery in the cell biology laboratory of Dr. John Brumell at SickKids Hospital, investigating host-pathogen interactions by using Salmonella and Listeria as model organisms. During these 4 years, I also learned through clinical volunteering opportunities how incredibly rewarding it is to witness physical and emotional transformations that occur to patients and their loved ones upon healing. Given my passion for both scientific investigation and clinical practice, I decided to pursue a career as a physician-scientist.
In 2014, I moved to the US to join the Medical Scientist Training Program at the Medical University of South Carolina (MUSC). During my training, I became drawn to medical oncology as a meaningful profession that entails close interactions with patients, with the responsibility and privilege to have a fundamental impact on their lives. It also embodies opportunities for multidisciplinary collaboration and active research participation to provide the best evidence-based care. There has never been a more exciting time in medical oncology as several decades of basic science research are translating to increasing success in treating or palliating patients with advanced disease. I am particularly passionate about Immuno-Oncology, which represents one of several advances that have revolutionized cancer therapy.
I completed my graduate dissertation under the mentorship of Dr. Zihai Li, who was previously at MUSC and now is the founding director of Pelotonia Institute for Immuno-Oncology (PIIO) at The Ohio State University Comprehensive Cancer Center – Arthur G. James Cancer Hospital and Richard J. Solove Research Institute (OSUCCC – James). Based on our investigation of sexual dimorphism in cancer immunity, we demonstrated that androgen promotes dysfunction of CD8+ T cells – often referred to as cancer "killer" cells – in the tumor microenvironment. Our findings provide an important immunological mechanism underlying the male-biased incidence and mortality of various cancers and highlight androgen as a new target for cancer immunotherapy.
My long-term career goal is to utilize the "bedside-bench-bedside" approach of using clinical findings to facilitate mechanistic investigations that will help drive immunotherapy breakthroughs towards cancer cures. I am excited to join the Ohio State's Physician Scientist Training Program that simultaneously provides extensive clinical training, clear research support and intensive mentorship – all focused on the development of physician scientists. Given my goals, Ohio State is clearly a special place for its community-level commitment to Immuno-Oncology. As I look forward to my next chapter in my training, I feel confident that I have the experience, curiosity, and most of all, compassion to assist patients in need and contribute to our fundamental understanding of cancer immunology.
When I am not working, I enjoy spending time with my fiancé, family, and friends, as well as travelling and exploring local breweries and coffee shops.
Education
MD, Medical Scientist Training Program, MUSC, 2022
PhD, Medical Scientist Training Program, MUSC, 2022
BS, University of Toronto, 2014

Honors
Canadian Institutes of Health Research Doctoral Research Award – Doctoral Foreign Study Award (Ranked in top 2%), May 2019
Hollings Cancer Center Graduate Fellowship, March 2018
Korean Canadian Scholarship Foundation Award (Ph.D. Category), May 2018
APSA Excellent Mentor Award, May 2017
Abney Foundation Scholarship, MUSC Hollings Cancer Center, Jul 2015, 2016
Canada's Top 20 Under Twenty Award, Youth in Motion, Apr 2010
Publications
Kwon H, Schafer JM, Song NJ, Kaneko S, Li A, Xiao T, Ma A, Allen C, Das K, Zhou L, Riesenberg BP, Chang Y, Weltge P, Velegraki M, Oh DY, Fong L, Ma Q, Sundi D, Chung D, Li X and Li Z. 2022. Androgen Conspires with the CD8+ T Cell Exhaustion Program and Contributes to Sex Bias in Cancer. Sci Immunol. First Release. PMID: 35420889
Schafer JM, Xiao T, Kwon H, Collier K, Chang Y, Bolyard C, Chung D, Yang Y, Sundi D, Ma Q, Theodorescu D, Li X, and Li Z. 2022. Sex-Biased Adaptive Immune Regulation in Cancer Development and Therapy. Submitted to special issue entitled "Sex Differences in Cancer" in iScience.
Salem M, Wallace CH, Velegraki M, Li A, Ansa-Addo EA, Metelli A, Kwon H, Riesenberg B, Wu BX, Zhang Y, Guglietta S, Sun S, Liu B, and Li Z. 2019. GARP Dampens Cancer Immunity by Sustaining Treg Cell Function and Driving their Accumulation in the Colon. Cancer Res. 79(6):1178-1190. doi: 10.1158/0008-5472.CAN-18-2623. PMID: 30674536.
Kwon H, Lin CY, Chung D, Li X, and Li Z. 2018. Sex as a predictor of response to cancer immunotherapy – Correspondence to "Cancer Immunotherapy Efficacy and Patients' Sex: A Systematic Review and Meta–analysis". Lancet Oncol. 19(8):PE379. DOI: https://doi.org/10.1016/S1470-2045(18)30445-5.
Lin CY, Kwon H (co–first author), Rangel–Rivera GO, Li X, Chung D, and Li Z. 2018. Sex Differences in Using Systemic Inflammatory Markers to Prognosticate Patients with Head and Neck Squamous Cell Carcinoma. Cancer Epidemiol Biomarkers Prev. 27(10):1176-1185. PMID: 30049843.
Liu X, Kwon H (co–first author), Li Z and Fu YX. 2017. Is CD47 an Innate Immune Checkpoint for Tumor Evasion? J Hematol Oncol. 10(12). PMID: 28077173.
Fattouh R, Kwon H (co–first author), Czuczman MA, Copeland JW, Pelletier L, Quinlan ME, Muise AM, Higgins DE, and Brumell JH. 2015. The Diaphanous–related Formins Promote Protrusion Formation and Cell–to–Cell Spread of Listeria monocytogenes. J Infect Dis. 211(7):1185–95. PMID: 25281757.
Roppenser B, Kwon H, Canadien V, Xu R, Devreotes PN, Grinstein S, and Brumell JH. 2013. Multiple host kinases contribute to Akt activation during Salmonella infection. PLoS One. 8(8):e71015. DOI: 10.1371/journal.pone.0071015.
Selected posters and oral presentations
Kwon H, Schafer JM, Song NJ, Kaneko S, Li A, et al. T cell intrinsic androgen signaling contributes to sex-biased CD8+ T cell dysfunction in the tumor microenvironment. AAP/ASCI/APSA Joint Meeting. April 2022. Chicago, USA.
Kwon H and Li Z. Sex Differences in CD8+ T Cell Programming in the Tumor Microenvironment. Bladder Cancer Advocacy Network (BCAN) Think Tank: Biological Basis of Sex Disparities breakout session. Aug 2020 cancelled due to COVID19; Aug 2021. Virtual. Invited Speaker.
Kwon H. Immunological Basis for Sex Differences in Bladder Cancer. Pelotonia Institute for Immuno-Oncology (PIIO) Research in Progress Meeting. July 2019. Columbus, USA.
Kwon H, Kaneko S, Lin CY, Li A, Salem M, et al. Mechanisms Underlying Sex Discrepancy in Bladder Cancer Outcome. Perry V Halushka 2018 MUSC Research Day. Nov 2018. Charleston, USA.
Awarded 1st place in "PhD VI: Oral Presentation Category" – Willard and Betty Peterson Award
Kwon H, Kaneko S, Lin CY, Li A, Salem M, et al. Identifying Immunological Basis for Bladder Cancer Sex Bias. 28th Annual MUSC MSTP Research Day. Oct 2018. Charleston, USA.
Kwon H, Lin CY, Rangel Rivera GO, Kaneko S, Wallace C, et al. Mechanisms Underlying Sex Discrepancy in Bladder Cancer Outcome. 27th Annual MUSC MSTP Research Day. Dec 2017. Charleston, USA.
Kwon H, Lin CY, Rangel Rivera GO, Kaneko S, Wallace C, et al. Mechanisms Underlying Sex Discrepancy in Bladder Cancer Outcome. Perry V Halushka 2017 MUSC Research Day. Nov 2017. Charleston, USA. o Awarded 1st place in "PhD IV: Years 1–2 Oral Presentation Category"