Highlights from the Department of Psychiatry and Behavioral Health, Harding Hospital and the STAR Center of Excellence
Dear friends,
Over the years, The Ohio State University Department of Psychiatry and Behavioral Health has been steadfast in shining a light on the behavioral health of our community. Suicide rates and opioid overdose deaths have continued to rise in central Ohio. It is within this context that coronavirus disease 2019 (COVID-19) struck our community, leading to the unprecedented public health recommendation to shelter at home and to decrease human contact. As we prepare for physical and emotional consequences of COVID-19 we want you to know that we are working tirelessly and creatively to build resilience in our patients, in our fellow health care professionals and in our community.
We are here for our patients
Our faculty and clinical staff continue to work through the COVID-19 crisis. Ohio State Harding Hospital remains open, and we are leading the way in providing a safe and therapeutic environment, including innovative ways to help patients stay connected with their loved ones during the COVID-19 pandemic. Our clinics and ambulatory services nimbly converted from in-person to virtual (video, telephone) appointments—in the past month, we had more than 4,000 virtual visits. We anticipate growing need for mental health services in the months to come and will be prepared.
We are here for our health care professionals
Our medical colleagues are now on the front lines of the COVID-19 crisis caring for sick patients in the hospital, and we worry about their emotional health. Our Stress, Trauma And Resilience (STAR) Program has answered the challenge. First, STAR provides daily coping tips to both hospital workers and the community. Second, STAR made available a personal, confidential, one-on-one phone line for support that is live 24 hours per day, seven days a week. Third, STAR provides our health care professionals with a free, virtual support group called The Daily Boost (four times each day) facilitated by our licensed clinicians. We have also created a specialized treatment track for rapid access to talk therapy and medication treatment from a group of volunteer clinical psychologists and psychiatrists.
We have informed our communities
At this time of unparalleled uncertainty and stress, there are more questions than answers. However, we believe in the healing power of knowledge and information. Our faculty and clinical staff have regularly been in the local and national news, teaching the public about the science of stress, about the emotional and social consequences of stress, about how best cope with COVID-19 and the need to physically distance from each other.
Here are just a few of the stories our faculty and staff have contributed to:
We thank you!
In the midst of this crisis, we are often reminded of how you have supported us and our work over the years, and we are grateful. We strive to serve the emotional well-being of individuals and families and to build resilience in our communities. This is what we were built for. This is why we are here. This is what we do.
May you and your family stay healthy and well,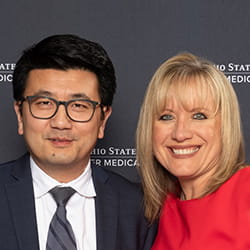 K. Luan Phan, MD
Professor and Chair
Department of Psychiatry and Behavioral Health
Amanda Lucas, MBA, MEd
Executive Director
Harding Hospital
---
If you have questions about the Department of Psychiatry and Behavioral Health, the STAR Center for Excellence or Harding Hospital, please contact Holly Kastan, Director of Community Education and Outreach at OSU Harding Hospital and Department of Psychiatry and Behavioral Health.
If you would like to make a donation to the Department of Psychiatry and Behavioral Health, please contact Michele Gregory, Executive Director, Medical Center and Health Sciences Colleges Advancement or by clicking the "Donate" button below.