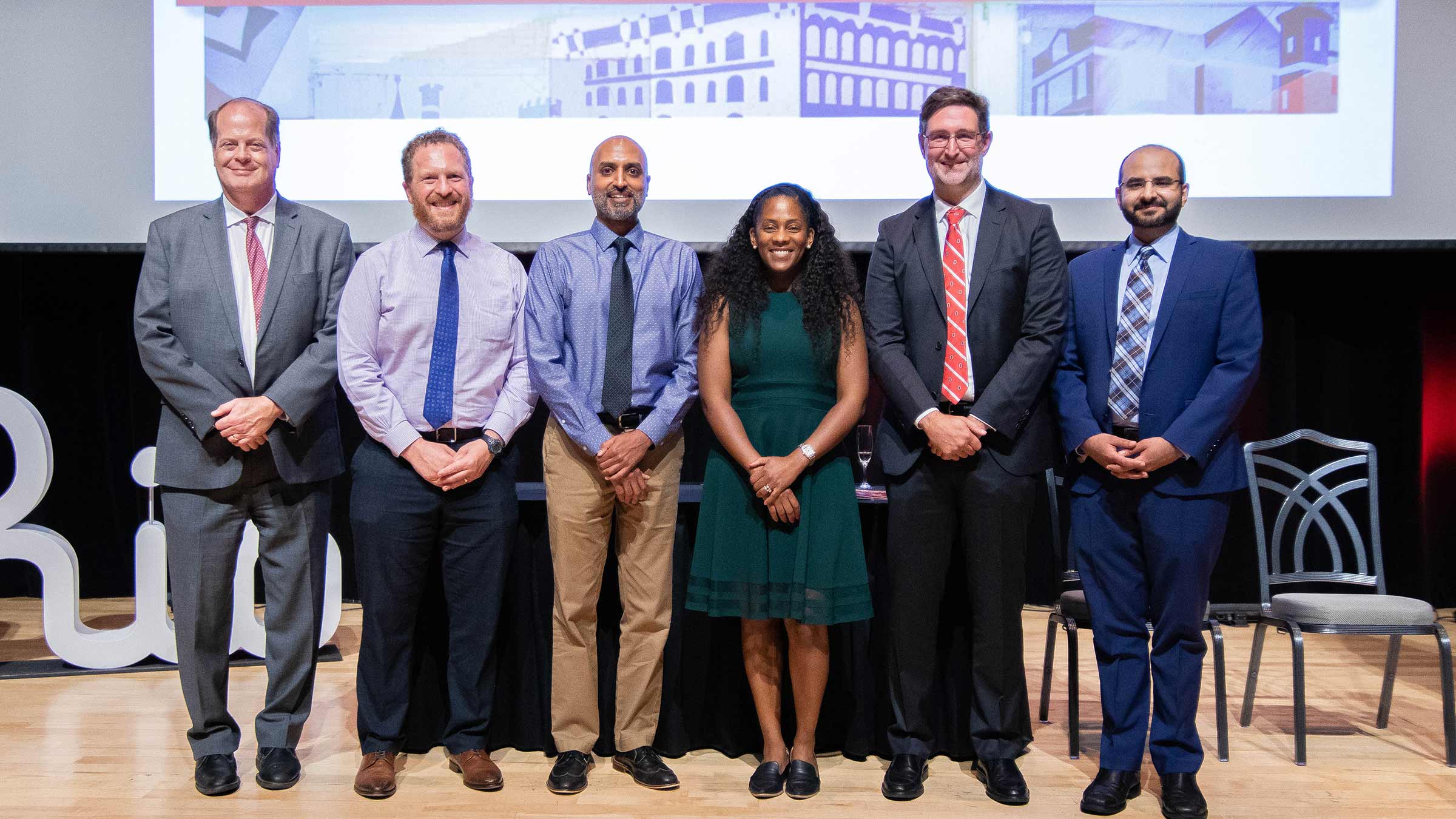 2022 Alumni Achievement Award
Thomas M. Coffman '80 MD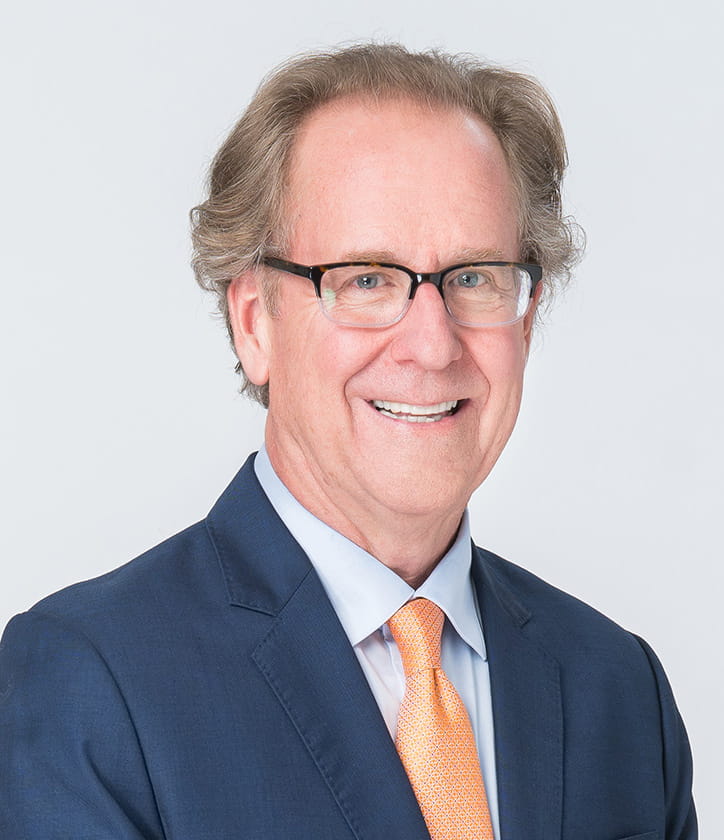 An international leader in the field of nephrology, Thomas M. Coffman is a clinician-scientist whose work has made seminal contributions to understanding the role of the renin-angiotensin system in hypertension and kidney diseases. Coffman is dean of Duke-NUS Medical School and founding director of its Cardiovascular and Metabolic Disorders Signature Research Programme. He is also the James R. Clapp Professor of Medicine at Duke University Medical Center, where he spent 18 years as chief of the Division of Nephrology.

In 2014 Coffman was conferred the Excellence Award for Hypertension Research from the American Heart Association in recognition of the major impact he has made in the field of hypertension through research contributing to improved treatment and greater understanding of high blood pressure. He is currently the lead investigator for DYNAMO, a large collaborative grant funded by the Singapore National Medical Research Council developing new strategies for the prevention and treatment of diabetic kidney disease.
A past-president of the American Society of Nephrology, Coffman is a member of the American Society for Clinical Investigation and the Association of American Physicians, and has served on the Nephrology Subspecialty Board of the American Board of Internal Medicine.
David A. Lewis '79 MD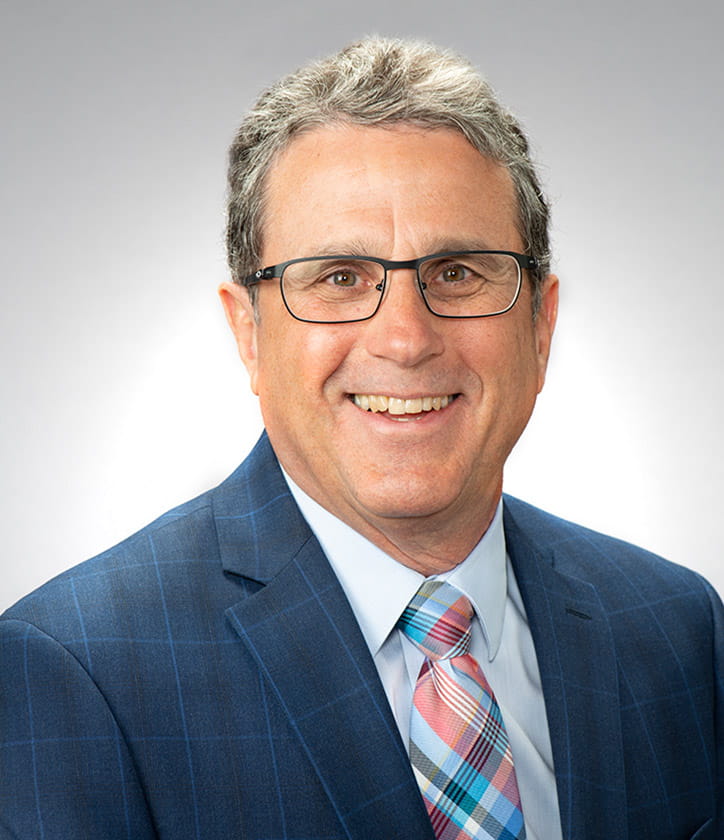 An internationally recognized expert in the fields of psychiatry and neuroscience, David A. Lewis has made numerous ground-breaking contributions to the study of schizophrenia through a career to dedicated to improving the lives of individuals with serious mental illness. Lewis is Distinguished Professor of Psychiatry and Neuroscience, Thomas Detre Professor of Academic Psychiatry and chair of the Department of Psychiatry at the University of Pittsburgh. He also serves as medical director at UPMC Western Psychiatric Hospital.
Lewis' research has identified alterations in cortical circuitry that underlie cognitive impairments in people with schizophrenia that are now widely accepted as the core substrate of this illness. Following his medical degree at The Ohio State University, Lewis completed residencies in internal medicine and psychiatry at the University of Iowa and received research training at the Research Institute of the Scripps Clinic.
His research findings, published in more than 500 scientific articles, have garnered him numerous prestigious awards, including the Lieber Prize for Schizophrenia Research from the Brain and Behavior Research Foundation, the Stanley Dean Research Award from the American College of Psychiatrists and the Gold Medal Award from the Society of Biological Psychiatry. Lewis is also an elected member of the National Academy of Medicine and of the Association of American Physicians.
2022 Alumni Service Award
Ron Harter '89 MD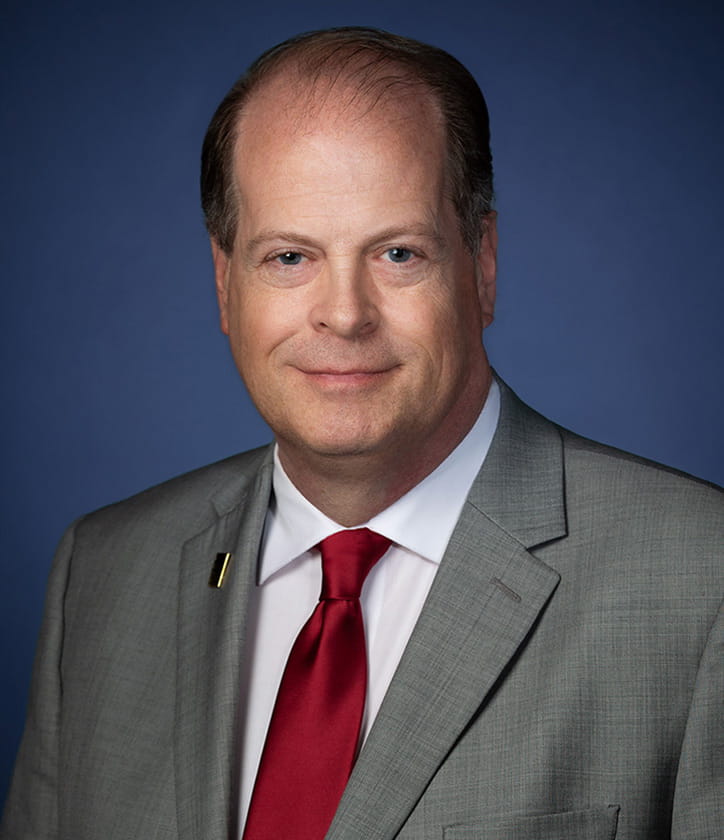 Ron Harter is the Jay J. Jacoby MD, PhD, Professor and Chair in Anesthesiology at The Ohio State University College of Medicine and an anesthesiologist at The Ohio State University Wexner Medical Center. Service has always been a part of Harter's experience, particularly in his role as a national leader in the field of anesthesiology, and his role in educating and training the next generation of anesthesiologists.
Harter's leadership began when he was a medical student at Ohio State, when he served on student council. During his residency at Georgetown University Medical Center, he served as chief resident. He returned to Ohio State in 1994 and soon led the anesthesiology residency program. He has trained and recruited anesthesiologists who have risen to national acclaim.
In 2007, Harter served as vice chair of Education and Professional Development, and was named department chair a year later. Harter has served in a number of roles in his specialty's societies, most notably as an officer for the American Society of Anesthesiologists, currently serving as first vice president, ascending to President-elect this October and to President in October 2023.
Gerard S. Kakos '67 MD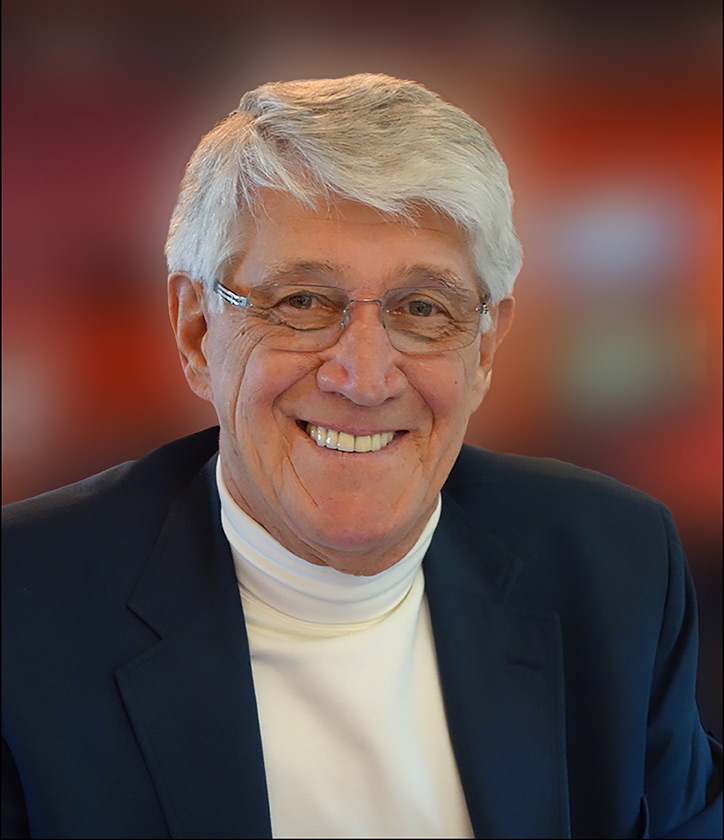 Gerard S. Kakos spent his career supporting the advancement of cardiac surgery in academic medicine, creating a legacy of service that lives on. After completing his medical degree in 1967 and his thoracic and cardiovascular residency at Ohio State, Kakos went on to Duke University as a National Institutes of Health fellowship. Kakos began his career as an assistant professor of Surgery at Ohio State in 1973, and later left to enter private practice. He returned in 2002, primarily to teach residents and share his experience with younger staff.
Over the course of his career, Kakos advanced clinical knowledge of surgical care, mentored dozens of cardiac surgeons and performed more than 7,500 open and closed heart surgeries. He is known as a caring person to all who know him and a philanthropist who supports the next generation of cardiac surgeons.
In 2012, Kakos endowed The Gerard S. Kakos, MD and Thomas E. Williams Jr., MD, PhD, Professorship with a gift of $1 million to Ohio State's Division of Cardiac Surgery. The creation of this professorship paved the way for numerous key advancements within the division. Kakos retired in 2008.
2022 Community Practice Alumni Award
Robert Nielson '80 MD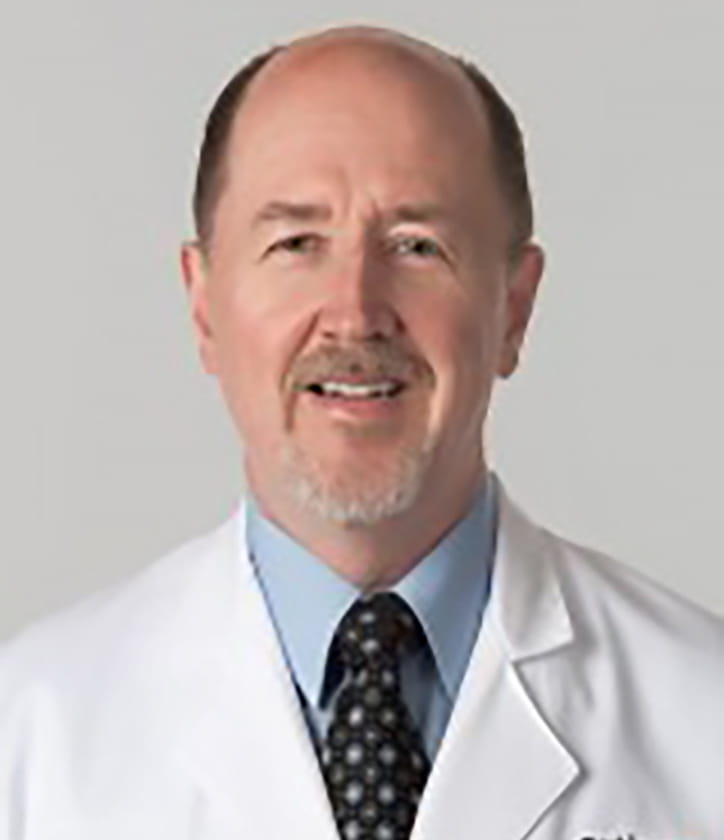 Upon graduating from The Ohio State University College of Medicine, Robert Nielson began a private practice in family medicine, a career that led to his passion for sports medicine. As a private practice physician in rural Pennsylvania, which included obstetrics, he covered the medical needs of the school football team.
After moving to Saratoga Springs, New York, near Lake Placid, he was accepted into the Volunteer Physician Program with the Olympic Training Center and became one of the first physicians to receive the American Board of Family Medicine's Certificate of Added Qualifications in Sports Medicine. Regionally, he volunteered covering winter sports and also amateur combat sports in northern New York involving underprivileged youth. He volunteered with USA Boxing for 12 years covering National Championships, conducting research on improving safety in combat sports and imparting necessary skills and knowledge to other ringside physicians. He became the volunteer team physician for the USA Boxing team on multiple trips, including the 2018 Rio Olympics.
Nielson says that Ohio State taught him that learning and giving is a lifelong adventure that brings fullfillment and joy.
2022 Early Career Achievement Award
Benjamin Abramoff '13 MD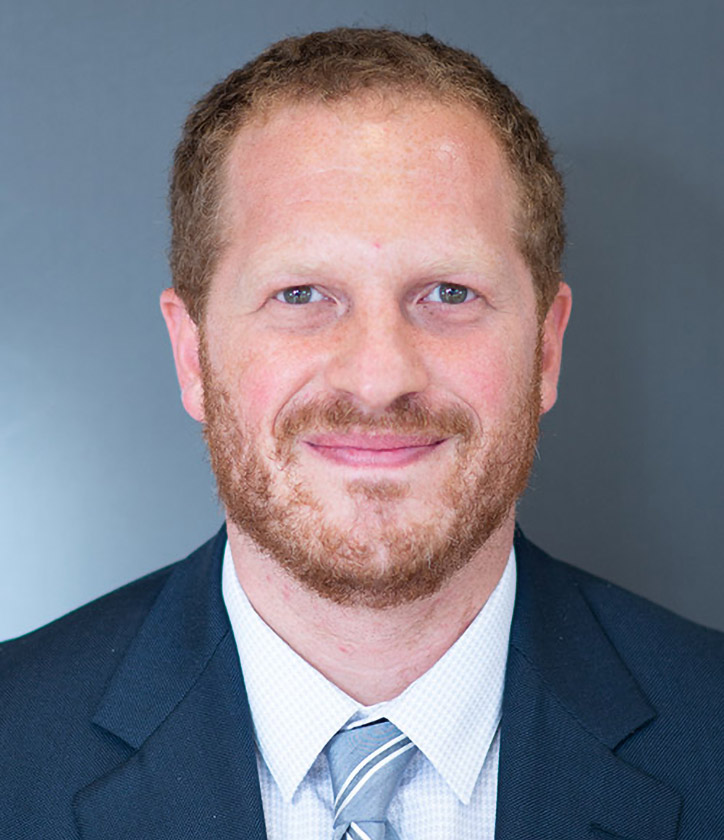 Benjamin Abramoff is considered a national expert on post-COVID infections. His tireless work developing the widely-referred-to UpToDate Post-COVID Guidelines — an evidence-based clinical decision-making tool for medical decisionmakers — continues to help clinicians struggling to treat this population.
Abramoff is assistant professor of Physical Medication and Rehabilitation at the University of Pennsylvania Perelman School of Medicine. He serves as the director of Spinal Cord Injury Services at the Penn Institute of Rehabilitation Medicine. He is also the founder and director of Penn Medicine's Post-COVID Assessment and Recovery Clinic, which is one of the first comprehensive clinics for Post-COVID care in the country. To date, the clinic has treated over 1,300 patients with persistent symptoms following acute COVID-19 infections.
As co-chair of the American Academy of Physical Medicine and Rehabilitation's Post-COVID Clinic Collaborative, a network made up of over 35 post-COVID clinics nationally, Abramoff has written and helped to develop several consensus guidance statements on the management of Long COVID. He has also advised a number of federal constituencies on post-COVID issues, including the Biden Administration, the Centers for Disease Control and Prevention, the National Institutes of Health and the National Council on Disability.
Michelle Golla '10 MD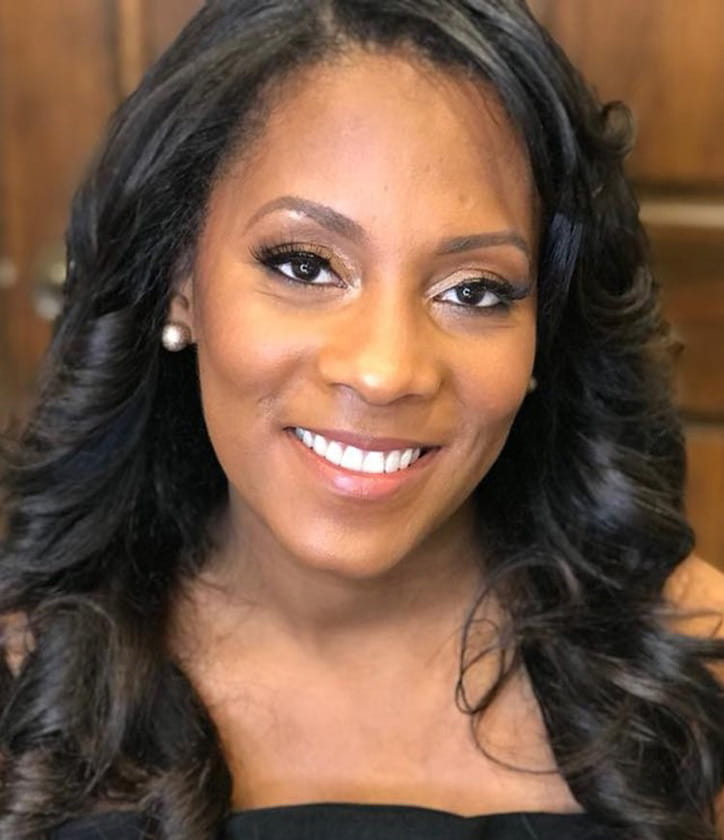 Michelle Golla is a leader in transforming health care for underserved communities and in creating hands-on opportunities for young Black and African American students to explore the health sciences. Golla is a pediatrician at Central Ohio Primary Care with a special interest in health care equity and disparities.
After receiving her medical degree from The Ohio State University College of Medicine in 2010, Golla went on to complete her Masters of Public Health with a research focus on disease states in immigrant Ethiopian populations. She completed her residency in Pediatrics at Nationwide Children's Hospital, where she received the distinguished Miner W. Seymour Resident Award for outstanding community practice. She was recently named an associate administrative medical director at Nationwide Children's.
Locally, she is founder and director of Kidsploration, which provides quarterly outside-the-classroom learning opportunities for elementary school students in Columbus. She also serves as a core faculty member of the Columbus Medical Association's Made for Medicine program, a pipeline effort designed to encourage local Black youth to pursue a career in health care. In addition, Golla travels internationally to Haiti and Ethiopia on mission trips, collaborating with fellow global medical teams working to improve community health and medical care.
Mina S. Makary '13 MD, '19 Res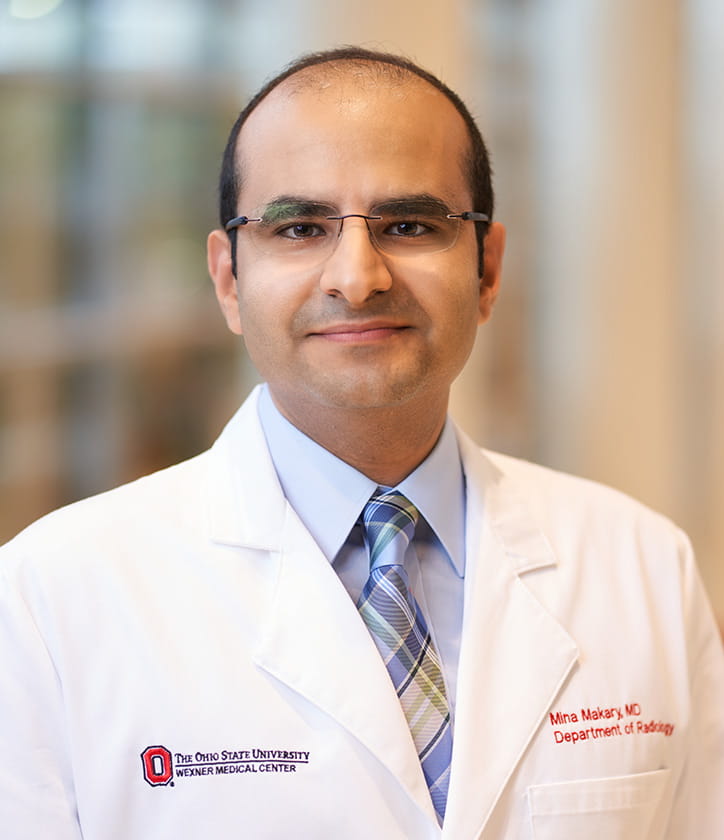 Mina Makary leads by example in his commitment to patients, trainees and colleagues at The Ohio State University Wexner Medical Center, where he is a dual board-certified interventional and diagnostic radiologist.
A Columbus native, Makary has a special interest in clinical care innovation, which includes his development of several new procedures in oncology and venous care, improving patient outcomes and offering hope to patients with complex conditions who would often otherwise have no treatment options. One example is when he performed the first total IVC and bilateral lower extremity endovascular reconstruction in the country in a patient born with congenital absence. He is fondly recognized for his expert and compassionate care, and for his love of teaching, serving as a medical student champion and mentor at the Ohio State College of Medicine.
Makary is a national leader and frequently invited speaker, with several leadership roles in the Society of Interventional Radiology, the American College of Radiology and the Society of Vascular Medicine, where he was most recently recognized as an appointed national appropriateness criteria expert panel member. Makary is passionate about research and discovery and is a prolific author of over 200 published manuscripts, abstracts and book chapters.
2022 Faculty Teaching Award
Kanu Goyal, MD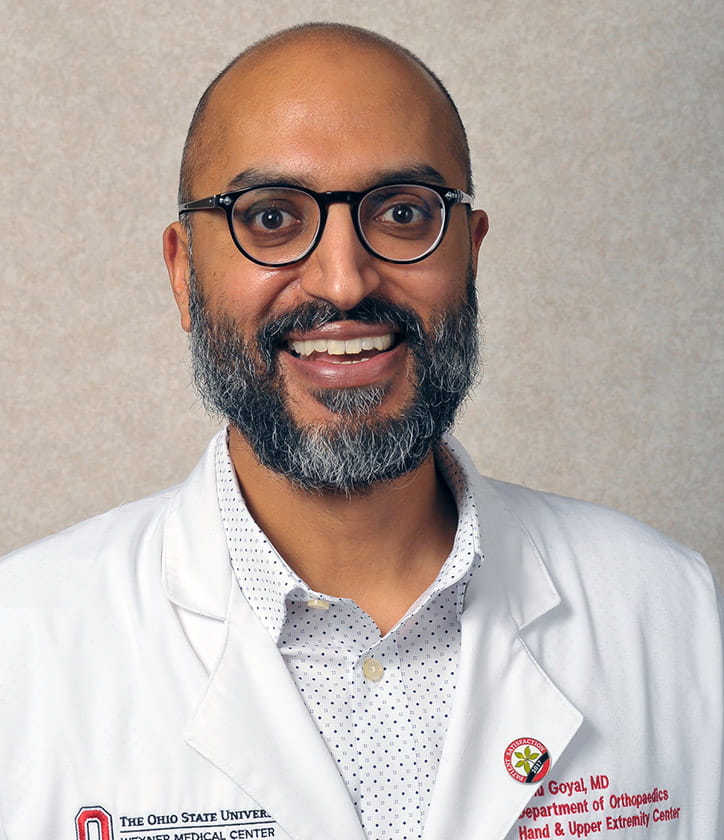 Kanu Goyal's roots in orthopaedic surgery began in his hometown of Naperville, Illinois, where he found an interest in the visual arts, crafts and engineering. Colleagues and students say these interests and his leadership make him an outstanding teacher, mentor, leader, role model and physician.
Goyal went on to pursue biochemical engineering and eventually medical school, at Case Western Reserve University. He completed his residency in Orthopaedic Surgery and subspecialty training in Hand and Upper Extremity Surgery at the University of Pittsburgh Medical Center.
In the fall of 2014, Goyal came to The Ohio State University Medical Center, where he is currently an associate professor and orthopaedic hand surgeon at The Ohio State University Wexner Medical Center. He is also associate program director for the Orthopaedic Surgery Residency and Vice Chair of Diversity, Equity and Inclusion for his department. During his almost eight years there, he has had a busy clinical practice, but has also found time for his other passions—teaching and research. He has been recognized for his efforts, receiving several teaching awards. Most of all, he remains dedicated to developing himself and those around him to become better doctors and surgeons.
Troy Schaffernocker '02 MD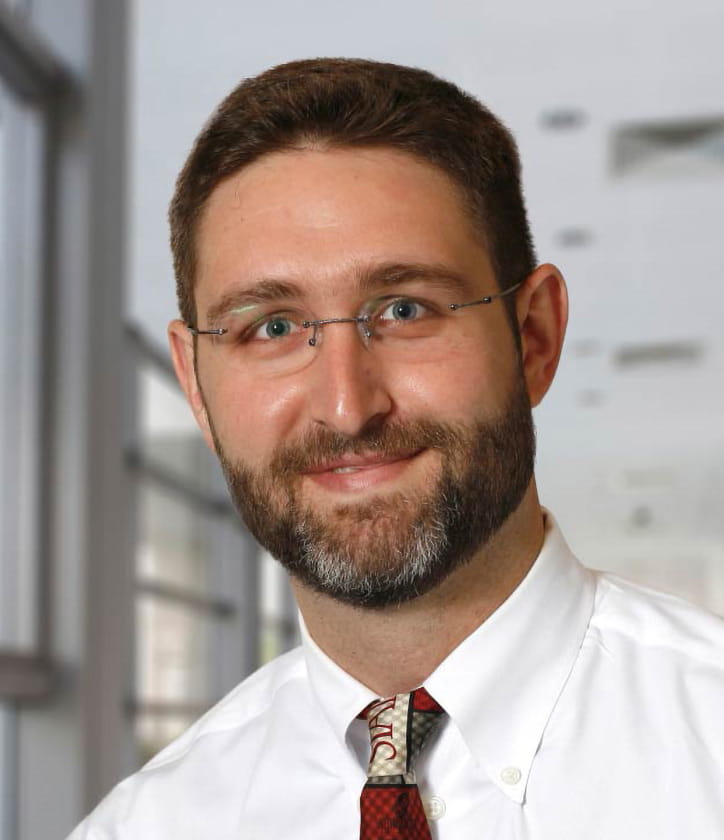 A pulmonologist and critical care specialist, Troy Schaffernocker is recognized for his work transforming the Ohio State College of Medicine student learning experience, creating interactive, hands-on learning and other advancements in medical education. Schaffernocker is assistant professor in the Department of Internal Medicine at The Ohio State University College of Medicine.
His curricular innovations have brought students out of the classroom and into the simulation lab for pulmonary and cardiac physiology. His pilot curriculum using the Human Physiology Simulator was so successful that it led to measurable differences in physiology scores on the final exam. When these results were presented to the Ohio State Executive Curriculum Committee, human simulator programs were accepted as an official teaching and learning method in the College's "Lead.Serve.Inspire." curriculum. He also developed an innovative assessment system that allows fourth-year medical students to demonstrate competency in advanced communication skills, which set a new standard in the college.
Likewise, he changed the medical student Internal Medicine Interest Group's monthly student lecture series into live physical examination sessions with volunteer patients with real health conditions. Schaffernocker's methods have been recognized internationally and he has presented at numerous conferences, including the Alliance for Academic Internal Medicine, the McMaster University and the International Meeting on Simulation in Healthcare.