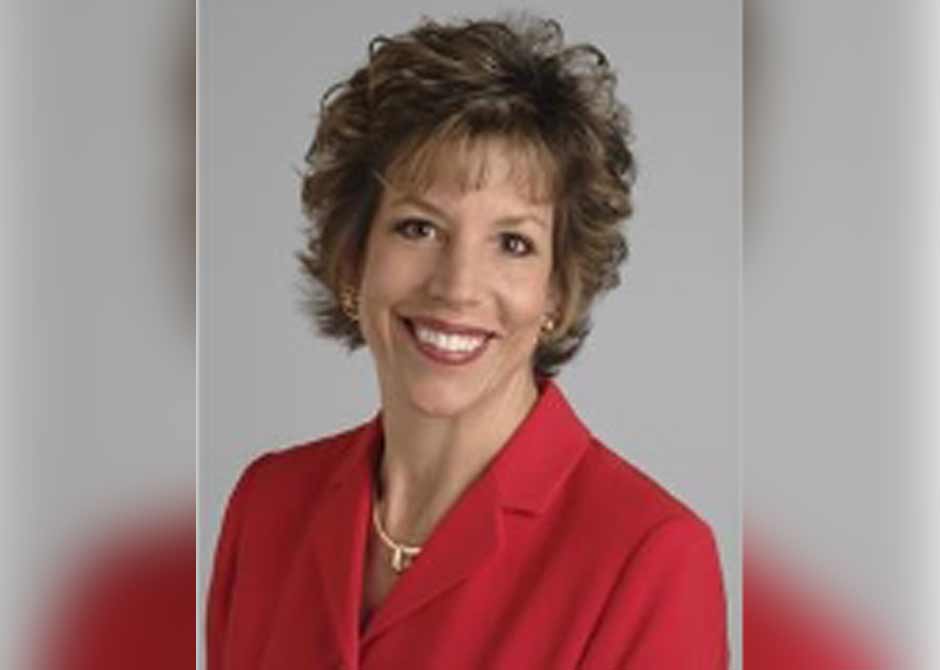 Congratulations to Deborah Venesy, MD, '90 Res, on being named the 2022 President of the American Academy of Physical Medicine and Rehabilitation
Dr. Venesy will lead the Board of Governors in their commitment and advancement of the Academy's mission and vision. She has been volunteering with AAPM&R since the early 1990s and has previously served as the vice president. Dr. Venesy currently works at the Center for Spine Health at The Cleveland Clinic. She previously served as the medical director for The Ohio State University Spine Center and as the president of The Ohio State University College of Medicine Alumni Society.
Jump to class year:
Class of 1990
Congratulations to David Danzeisen, '90 MD, on being named Physician of the Year in Solano County, California!
He was given this award by the Napa Solano Medical Society at their 2022 Awards Gala and Dinner in May.
Congratulations to Deborah Venesy, MD, '90 Res, on being named the 2022 President of the American Academy of Physical Medicine and Rehabilitation.
Dr. Venesy will lead the Board of Governors in their commitment and advancement of the Academy's mission and vision. She has been volunteering with AAPM&R since the early 1990s and has previously served as the vice president. Dr. Venesy currently works at the Center for Spine Health at The Cleveland Clinic. She previously served as the medical director for The Ohio State University Spine Center and as the president of The Ohio State University College of Medicine Alumni Society.
Geri Hewitt, '90 MD Named President-Elect of the North American Society for Pediatric and Adolescent Gynecology
Congratulations to Geri Hewitt, '90 MD, professor of Pediatrics and of Ob/Gyn, who was recently named president-elect of NASPAG. NASPAG is dedicated to improving the reproductive health of adolescent youth.
Class of 1991
Congratulations to Kristina Reber, '91 MD, on being promoted to Chief of Neonatology at Texas Children's Hospital and Baylor College of Medicine
Curt Daniels, '91 MD, was quoted discussing myocarditis in those recovering from COVID-19, especially in Big Ten athletes
People who had COVID-19 and no initial symptoms of chest pain or palpitations can partake in physical activity as long as they "take it more slowly," Curt Daniels, a cardiologist and professor at the Ohio State Wexner Medical Center who led a team of 30 researchers on the study, tells Axios.
Curt Daniels, '91 MD, was recently a part of a study about the effectiveness of a cardiac MRI in identifying myocarditis in athletes.
The study said that a cardiac MRI can effectively show inflammation in the heart and therefore can help determine which COVID-19 patients are recovered and can return to their sport. The research was published in JAMA Cardiology, and Daniels was quoted in articles discussing the findings.
In this interview with Medscape, Quinn Capers IV, '91 MD, discussed the importance of diversity in elevating the quality of medicine.
When protests broke out following the killing of George Floyd, Capers tweeted a message to young black boys who want to be doctors. He speaks in this interview about the effects of racism in the medical community and expands on his message to young black people.
Curt Daniels, '91 MD, spoke recently about the relation between myocarditis, which is inflammation of the heart, and COVID-19 in athletes.
Dr. Curt Daniels has discovered mild myocarditis in 10 to 13 percent of the athletes he tested, who previously tested positive for COVID-19.
"There appears to be a somewhat higher rate of cardiac involvement causing myocarditis with coronavirus than other viruses," said Dr. Curt Daniels, a cardiologist at OSU's Wexner Medical Center
Quinn Capers IV, '91 MD, was quoted by AAMC News discussing the anti-racism movement that medical students participated in to advocate for change
This is following the gathering on June 5th organized by second-year medical student Debbie Fadoju following the death of George Floyd.
Quinn Capers IV, '91 MD, recently spoke about how, because COVID-19 is infecting the black population at disproportionate rates, many doctors believe vaccine trials should aim to include African American subjects
Quinn Capers IV, '91 MD, shared a powerful message to black children who want to be doctors
Dr. Capers IV tweeted a powerful message that was then shared by 10 WBNS. His message is powerful especially during what he refers to as a two-pronged threat to the black community: a global pandemic and racism. He shared the challenges he faced as a young black boy growing up in Dayton who wanted to be a doctor. "The purpose of that tweet was to give some hope and to let children know, and others, to be persistent, be resilient, because, you know, dreams really do come true," he told 10 WBNS.
Michael Weinstock, '91 MD, led the research team that discovered that chest x-rays, which are often used to detect infections in the lungs, are not a reliable diagnostic tool for COVID-19.
Paul Lyons, '91 MD, named Dean and President of the California University of Science and Medicine
Dr. Paul Lyons has been named Dean and President of the California University of Science and Medicine (CUSM), one of the state's newest medical schools. CUSM's mission is focused on addressing the acute shortage of physicians in California and nationwide through innovative medical education programs, research and training compassionate physicians and leaders of tomorrow.
Dr. Lyons most recently served as the chair of family medicine and the senior associate dean for education with the UC Riverside (UCR) School of Medicine. Dr. Lyons was the first physician recruited at UCR and the founder of UCR Health, a network of family medicine clinics in Inland Southern California.
"CUSM is extremely honored to name Dr. Lyons dean and president," said Dr. Prem Reddy, CUSM Founder and Chairman of the Board. "He is the ideal candidate to lead the university in the education of a new generation of healthcare leaders who are inspired to practice and serve in underserved areas like right here in San Bernardino County."
The not-for-profit CUSM was accredited in 2018 as a private-public partnership, led by Prime Healthcare Foundation, San Bernardino County, City of Colton, and Arrowhead Regional Medical Center (the teaching hospital for CUSM), and includes a research institute and a graduate school of medicine. Critical to the mission of CUSM is providing opportunities for deserving students to pursue careers in medicine, and inspire these physicians to give back to their communities.
CUSM School of Medicine welcomed its inaugural class of 64 future physicians in July 2018. The CUSM School of Medicine will present Master of Biomedical Science degrees to its first graduating class on May 24, 2019.
"I am extremely grateful to have been chosen to lead CUSM through this exciting period as it addresses a critical shortage of medical professionals in our communities," said Dr. Lyons. "The School of Medicine's strong sense of mission and student-centered curriculum is unique, and its faculty is exceptional. I want to thank the Board of Trustees for this opportunity and I look forward to the critical and important work ahead."
Unlike most medical schools, CUSM has a majority of MD/PhDs as faculty, with each student receiving two dedicated mentors. It is the only school in the nation that is offering its curriculum free of charge to third-world countries, with world health built in as an integral part of student studies.
Dr. Reddy, through the Prime Healthcare Foundation, committed more than $60 million towards the establishment of CUSM. Plans are underway to build a future campus adjacent to its teaching hospital, the 456-bed Arrowhead Regional Medical Center in Colton.
Dr. Lyons received his medical degree from The Ohio State University in Columbus and completed his family medicine and community health residency at the University of Minnesota Medical Center in Minneapolis. After completing his fellowship at the Institute for Urban Family Health in New York City, Dr. Lyons spent time at Temple University in Philadelphia working with underserved communities. He has earned numerous awards for teaching excellence including the Great Teachers Award (Temple University's highest teaching recognition), National Golden Apple for Teaching Excellence from the American Medical Student Association, and Excellence in Humanism Award from the Associate of American Medical Colleges. Dr. Lyons is board certified in family medicine, and his understanding of the healthcare needs of the Inland Empire and recognition in the community provides a unique benefit to CUSM.
"Throughout his career, Dr. Lyons has demonstrated compassion and a unique sense of caring for patients in undeserved regions," said Kavitha Bhatia, MD, Vice Chair of the Board of Trustees at CUSM. "His experience and expertise are the perfect match for what we are trying to accomplish at CUSM – a school of medicine that inspires, motivates and empowers students to become excellent and caring physicians, scientists and leaders."
About the California University of Science and Medicine: The California University of Science and Medicine is dedicated to advancing the art and science of medicine through medical education, research, and compassionate healthcare delivery in an inclusive environment that inspires, motivates and empowers students to become excellent and caring physicians, scientists, and leaders.
Quinn Capers IV, '91 MD, Wins 2019 Professor of the Year
This year's winner of The Ohio State University College of Medicine's Professor of the Year award is overdue for the honor, according to his student nominators.
"This amazing, intelligent, caring and generous man has been with us – fighting for us, supporting us, cheering us – since before day one," wrote one student.
Quinn Capers IV, MD, associate dean for admissions and associate professor of medicine at the College of Medicine and program director of interventional cardiology in the Division of Cardiovascular Medicine at the Wexner Medical Center, receives the year's highest teaching award given within the College of Medicine, marking a career of excellence in medical education.
Nominations from graduating medical students lauded Dr. Capers, who received his own medical degree from The Ohio State University in 1991, as a role model, not just as a doctor, but also as a human.
"Dr. Capers is the reason we are all here, and he gives 110 percent for the College of Medicine and the Ohio State Wexner Medical Center, day in, day out," wrote one student. "We are forever grateful."
Many students said Dr. Capers' efforts to diversify the medical workforce was inspirational.
"Dr. Capers makes us better by forcing us to confront our biases, ensuring we are providing the best care to all patients regardless of their ethnic background," says a nominator.
"His lectures on implicit bias make me think twice in clinical scenarios and hopefully will make me a more just, equitable healthcare provider," writes another. "He has mentored countless underrepresented minorities and female students in a time that we truly need to diversify the medical field."
Several students pointed out that, as associate dean of admissions, Dr. Capers was involved with their decision to matriculate at Ohio State.
"And for those of us who received a personal acceptance phone call from him," writes a student, "there's a memory that isn't easily forgotten. His genuine dedication to our individual journeys is undeniable."
Dr. Capers proved a memorable cardiology lecturer, as well.
"His cardiology lectures during LSI Part I are constantly quoted by classmates, and he teaches in a way that is clear and concise," writes a student.
This is far from the first award for Dr. Capers, who has also been honored with the Ohio State Distinguished Diversity Enhancement Award, PrimaryOne Health's Healthcare Justice Award and a Laennec Clinician/Educator Award from the American Heart Association, as well as designations as a Best Doctor in American, a Castle Connolly Regional Top Doctor and a Columbus Business First Outstanding Diversity Champion – in addition to numerous other medical teaching awards.
As one effusive nomination ends: "Dr. Capers has made the College of Medicine, its students and the hospital system a better place."
Class of 1992
Congratulations to Grant Jones, '92 MD, Res, has been selected to receive Alumni Citation from Denison University, the highest honor Denison gives to its distinguished alumni.
Clinical associate professor of orthopaedics Dr. Grant Jones was selected for this honor to recognize his outstanding contributions to the nation's professional, civic and business life.
Opella Ernest, '92 MD named chair of The American Heart Association's metro Chicago Board of Directors
The American Heart Association of Chicago, Illinois named Opella Ernest chair of its metro Chicago board of directors. Ernest is SVP and chief clinical officer at Health Care Service Corporation (HCSC).
Jeffrey Scott Calder, '92 MD, to be inducted into the Loveland Schools Foundation "Hall of Fame" as a Distinguished Alumni
For many years, Loveland Schools have produced outstanding graduates who have excelled in their professional and personal lives and have had an impact on their communities, society, and the lives of others on a local, national and global level. It is the purpose of the Loveland Schools Foundation to identify these individuals, recognize then and to make current Loveland students, employees of the school district and the Loveland community as a whole aware of their qualities and accomplishments. The following four individuals will be inducted into the Loveland Schools Foundation "Hall of Fame" on Friday evening, September 21, at the Oasis Golf and Conference Center.
COLONEL (DR.) JEFFREY SCOTT CALDER
Colonel (Dr.) Jeffrey Scott Calder, Loveland Class of 1984, received his commission from the Reserve Officer Training Corps graduating from Miami University in 1988. He earned his medical degree from The Ohio State University College of Medicine in 1992 on a Health Professions Scholarship. He completed residency in general surgery at Wright State University in 1997. After moving up the ranks from staff general surgeon he received his promotion to colonel in May of 2010.
He has attended the Air War College, and the Aerospace Medicine Primary Course as well as others as he continued his professional military education.
Scott has served both at home and abroad, accepting his first overseas assignment to Misawa AB, Japan in July 1997. Later he was assigned to Bitburg AB, Germany where he was the surgical services flight commander. He served in Oman in support of Operation Enduring Freedom and later in Afghanistan and Italy. American shore assignments have included Barksdale AFB, LA, San Antonia – Lackland, Texas and Florida.
He holds an Unrestricted Medical License from the State Medical Board of Ohio, is Board Certified, American Board of Surgery and is a Certified Physician Executive.
During his years of service, Colonel Calder has received numerous decorations and awards: Meritorious Service with five oak leaf clusters, the Air Medal, The Air Force Commendation Medal, the Army Commendation Medal, The Humanitarian Service Medal, the NATO Medal, as well as 13 additional decorations and eight awards for leadership and excellence in his service to our country.
Colonel Calder is a fellow, American College of Surgeons, a certified physician executive, American College of Physician Executives and is board certified in general surgery. He is a senior flight surgeon with 409.5 flying hours in 10 aircraft
Class of 1993
Christopher Timan, '93 MD, was quoted in a Columbus Dispatch article discussing a federal grant to develop new technology to help asthma patients in their everyday lives.
Ohio State University received a federal grant for nearly a million dollars to develop a smartphone test for allergens that impact patients with asthma. Ohio State is partnering with the Asthma Express program at Nationwide Children's Hospital for this project, and Timan is the medical director of Nationwide Children's Hospitals.
Congratulations to Kevin Alten, '93 MD, who was promoted to Associate Professor in addition to being Academic Coordinator for the Marietta College Physician Assistant Program!
Stephen Markovich, '93 MD, was featured in a Columbus Dispatch article about how his military background helped to prepare him for the coronavirus pandemic.
Dr. Stephen Markovich has had two distinguished careers: one in the military, with the United States Air Force and Ohio Air National Guard, and the other as a physician and administrator with OhioHealth, where he is president and CEO.
Stephen Markovich, '93 MD, and Peter Edwards, '88 MD, recognized on Business First's Power 100 List
Columbus Business First this year is setting out to identify the most influential people in the community with its inaugural Power 100.
The first group of 20 is debuting today and we will continue to roll out the rest of the list this week. This initial batch, and the entire list of 100, is presented in random order.
The full Power 100 will be published online and in a special issue of the paper on June 28.
Read more on BizJournals.com
Steve Markovich, '93 MD, to Become CEO of OhioHealth Corp in 2019
'93 Steve Markovich, MD has been promoted to executive vice president for Acute Care Operations at OhioHealth Corp and will step into the CEO role on July 1, 2019.
Read more on BizJournals.com
Doug Knutson, '93 MD, joins Susan G. Komen Board of Directors
Susan G. Komen®, the world's leading breast cancer organization, today welcomed five new members to its board of directors. These respected leaders bring expertise in technology, finance, marketing and medicine, as well as a deep commitment to philanthropy and the fight against breast cancer. The organization also appointed a new chairman of the board of directors, Peter D. Brundage.
Brundage has served on Komen's Board of Directors since 2017, and succeeds Past Chair Connie O'Neill who will remain on the board as a member. Brundage brings more than three decades of knowledge in finance, mergers and acquisitions, and corporate governance, as well as vast philanthropic engagement in the Dallas/Fort Worth area.
"We are truly delighted by the talent and experience that these new members bring to Komen's board, and look forward to their contributions as we work to reduce breast cancer deaths and ultimately end this disease," said Brundage.
The new members, voted in unanimously in June are:
Kaye Ceille – Senior Vice President, Avis Budget Group. Ceille brings nearly two decades of experience in senior leadership positions in the travel and transportation industry, including international operations, global partnerships and business development. Ceille received a Bachelor of Business Administration from St. Norbert College in De Pere, Wisconsin, and a Master of Business Administration from Loyola University in Chicago. Ceille is a cancer survivor who is active in cancer organizations, including past experience on Komen's Board of Directors.
Michael B. Greenwald – Senior Vice President, Tiedemann Advisors. Greenwald brings a passion and dedication to serve on behalf of the United States and others, spending almost a decade with the U.S. Treasury Department. Greenwald also devotes his personal time to humanitarian and philanthropic efforts, including the fight against breast cancer, serving as the international advisor to Dana Farber Cancer Institute President Laurie Glimcher, and the United States Holocaust Museum board. Prior to joining Tiedemann, Greenwald worked in senior diplomatic roles within the U.S. government, serving as a financial diplomat in Africa, Europe, and the Middle East. Greenwald is a visiting fellow at Harvard Kennedy School's Belfer Center for Science and International Affairs and an adjunct professor at Boston University Pardee School of Global Studies. Greenwald earned a Juris Doctor degree from Boston University School of Law, a Master of Arts from Boston University's Frederick S. Pardee School of Global Studies, and a Bachelor of Arts in History from George Washington University.
Dr. Doug Knutson – Chief Academic Officer, OhioHealth. With 25 years of clinical experience, Dr. Knutson works to educate patients and caregivers, support biomedical research, and improve health care delivery systems. For six years, he has served on the Susan G. Komen Columbus Affiliate Board of Directors, including two years as board president, and now joins Komen's National Board of Directors as Affiliate Representative. Dr. Knutson received a Bachelor of Science from Miami University in Oxford, Ohio, and his MD from The Ohio State University College of Medicine.
Kristin Nimsger – Chief Executive Officer at Social Solutions, a performance management software company. A proven leader, Nimsger brings vast experience in technology, marketing, fundraising and organizational strategy, and a desire to empower women and improve outcomes. Nimsger received a Bachelor of Arts from the University of Minnesota, and a Juris Doctor from William Mitchell College of Law.
Stephanie Stahl – Founder of Studio Pegasus, an angel investment and digital start-up advisory company. Stahl has held leadership roles at well-known and respected brands including chief global marketing and strategy officer at Coach, and executive vice president and chief marketing officer at Revlon. Stahl was previously a partner at The Boston Consulting Group. With a broad range of experience and skills, and a deep personal connection to the cause, Stahl brings to Komen expertise in strategy development, governance, marketing, finance and more. Stahl received a Bachelor of Arts from Stanford University and a Master of Business Administration from Harvard Business School.
Board terms for Jane Abraham, Alan Feld, Janet Frantz, Dan Glennon, Melissa Maxfield and Dr. Funmi Olopade have ended, but each remains committed to Komen's mission and will continue to partner with the organization to support breast cancer programs worldwide.
"The commitment each of our Board members makes not only to guiding and strengthening this organization, but to helping us save lives and achieve our mission, cannot be understated. We are grateful to each person who has served on our Board, and look forward to continuing to work together to end breast cancer," added Brundage.
Class of 1995
Andrew Thomas, '95 MD, spoke recently about the blood shortage Ohio is currently facing
Andy Thomas, '95 MD, reminds us in an article with The Lantern that there is still a nationwide blood shortage!
The blood shortage is impacting Ohio and blood centers are calling for donations.
Congratulations to Udayan Bhatt, '95 MD, on winning one of this year's Lead. Serve. Inspire. Curriculum Awards!
Andrew Thomas, '95 MD, spoke on Ohio's stagnant vaccination rates
"Since about mid-April, we have seen a decrease," Dr. Andy Thomas with OSU Wexner Medical Center said. "I know here at Ohio State we were doing 1,500 first doses of vaccine per day, and now we are doing less than 500 per week."
He said more education, continued incentives and accessibility are all key factors in increasing the numbers.
Andrew Thomas, '95 MD, spoke on CNN about the potential COVID-19 spike in the Midwest
He also discussed ways to be safe while traveling and how to prevent a resurgence.
Reggie Duling, '95 MD, recently published a book entitled "ER Doc: Defining Moments of a Career in Emergency Medicine"!
Andrew Thomas, '95 MD, was quoted by CBS News discussing the rise in COVID-19 cases in Ohio
Ioanna Kanellitsas, '95 MD, joins medical team at CHANGE, Inc.'s Family Medical Care
CHANGE, Inc. is proud to welcome their newest OB/GYN physician, Dr. Ioanna Kanellitsas, to the Family Medical Care team.
Dr. Kanellitsas received her medical degree from The Ohio State University College of Medicine in Columbus, Ohio. She completed her residency with a specialty in obstetrics and gynecology at Mt. Sinai Hospital Medical Center in Chicago, Illinois, and Riverside Methodist Hospital in Columbus, Ohio. She is board-certified by the American Board of Obstetrics and Gynecology and is a fellow of The American College of Obstetricians and Gynecologists. With more than twenty years of experience, Dr. Kanellitsas is a welcomed addition to the women's health team.
Dr. Kanellitsas will begin seeing patients starting January 2, 2019 at the 200 Luray Drive, Wintersville, Ohio office, and starting in Spring 2019, 1151 Washington Street, Newell, West Virginia office during regular office hours. Family Medical Care is dedicated to providing quality and compassionate care to all patients.
Timothy J. Reeder, '95 MD, MPH, FACEP, Sworn in as NCMS' 165th President
Timothy J. Reeder, MD, MPH, FACEP, an emergency medicine physician at the Brody School of Medicine at ECU in Greenville, NC, was sworn in as the North Carolina Medical Society's (NCMS) 165th president on Friday, Oct. 19, at the Society's LEAD Health Care Conference in Raleigh.
Dr. Reeder joined the NCMS in 1998, and has served in a variety of roles including on the Finance Committee, the Credentials Committee and the Communications and Membership Advisory Committee. He was elected to the NCMS Board of Directors in 2012 and served several years as secretary-treasurer. Long a proponent of organized medicine, Dr. Reeder also was president of the Pitt County Medical Society in 2007 and remains active on the local level.
Dr. Reeder received his MD from The Ohio State University, where he also spent his residency. He earned his MPH at the University of North Carolina, Chapel Hill. He currently works at the Brody School of Medicine, Department of Emergency Medicine, as an associate professor and executive vice chair. His clinical interests include trauma care, pediatric emergency care and disaster medicine. His educational interests include health systems science including patient safety, quality and leadership. He also serves as Director of the Health System Transformation and Leadership Distinction Track.
"For the last 169 years, the NCMS has supported the practice of medicine," Dr. Reeder said in his inaugural address. "I believe it is part of our duty and obligation to ensure that the practice of medicine is as meaningful to these future physicians as it was and is to us."
About the North Carolina Medical Society: The North Carolina Medical Society is the oldest professional member organization in North Carolina, representing physicians and physician assistants who practice in the state. Founded in 1849, the society seeks to promote access to quality health care for all citizens in North Carolina and champions initiatives that seek to improve quality of care and promote patient safety.
7 College of Medicine Alumni receive 2018 Lead.Serve.Inspire Awards at The Ohio State University College of Medicine
The Ohio State University College of Medicine Presents the 2018 Lead.Serve.Inspire. Awards
The faculty and staff at the College of Medicine are celebrated annually at the spring symposium. Recipients of awards are nominated and selected by their peers or learners. These awards honor the outstanding contributors to the Lead.Serve.Inspire. curriculum and the College of Medicine's educational objectives.
College of Medicine alumni who received an award are listed below:
Part 1 Teaching and Learning Methods
Cardiopulmonary Disorders: Troy Schaffernocker, '02 MD
GI/Renal Disorders: Udayan Bhatt, '95 MD
Part 1 Educator
LP Preceptor of the Year: Jeffrey Weiland, '79 MD
LG Facilitator of the Year: Matt McCutcheon, MD, Res
Portfolio Coach of the Year
Deborah Lowery, '88 MD
Part 1 Excellence in Education
Sheryl Pfeil, '84 MD
Part 3 Excellence in Education
Troy Schaffernocker, '02 MD
Lead.Serve.Inspire.
Inspire: Nancy Liao, '10 MD
Class of 1996
Sunil Rao '96 MD has been appointed Director of Interventional Cardiology for the NYU Langone Health System in New York City, NY.
Dr. Rao is currently the President of the Society for Cardiovascular Angiography & Interventions and Editor-in-Chief for the journal Circulation: Cardiovascular Interventions.
The Evidence-Based and Healthcare Implementation Interest Group has created the Engineer Award in honor of Rakesh Engineer, '96 MD.
Dr. Engineer was a devoted husband and father and a dedicated emergency medicine clinical researcher.
Class of 1997
Congratulations to Catherine ("Anne") Lee '97 MD for completing an integrative medicine fellowship through the University of Arizona.
Dr. Lee is a rheumatologist at Kaiser Permanente in Spokane, WA. She is also a clinical assistant professor at the University of Washington College of Medicine.
Kent DeZee '97 MD has started staffing an internal medicine residency clinic at Walter Reed National Military Medical Center once a week.
Dr. DeZee continues to serve in the Army and spends most of his professional time as the Graduate Medical Education Director for Defense Health Agency in Virginia.
Jatin Shah '97 MD is now at Sumitomo as EVP, CMO and Head of Global Oncology Development.
Dr. Shah completed his hem/onc at UAB and spent nearly 10 years at MD Anderson Cancer Center in Houston in the Dept of Lymphoma/Myeloma. He was the CMO at Karyopharm and led several approvals prior to becoming the Head of Global Oncology Development.
John Clark '97 MD, JD, CPE currently serves as Executive Director Utilization Management for Colorado Permanente, part time Urgent Care practice.
Dr. Clark feels fortunate to have experience with Lean quality improvement, informatics, physician leadership, residency faculty, FM and ED practice.
Congratulations to Lee Kiser, '97 MD, on earning the Indiana Caregiver of the Year Award.
This award, presented by the Indiana Hospital Association, recognizes exemplary patient care in the health care industry. Dr. Kiser earned this award through his work as a hospitalist and inpatient nephrologist.
Andrew Hampshire, '97 MD Named Among Best Oncologists in San Diego
Below is a list of the top and leading Oncologists in San Diego. To help you find the best oncologist located near you in San Diego, our team at Kev's Best put together our own list based on this rating points list.
The top rated Oncologists in San Diego are:
Laurie Frakes – cCare
Donald B. Fuller – Genesis Radiation Oncology
Uladzislau Naidzionak, MD – San Diego Oncology
Marin Xavier – Scripps Mercy Hospital
Andrew Hampshire – Sharp Rees-Stealy Frost Street North
Andrew Hampshire, '97 MD, is a hematology specialist in San Diego, CA and has been practicing for 22 years. He graduated from Ohio State University College Of Medicine and Public Health in 1997 and specializes in hematology and oncology.
PRODUCTS/SERVICES:
Blood disorders; Cancer; Cervical Cancer; Bone marrow transplant services; Breast cancer program; Chemotherapy treatments; Colon cancer treatment; Lung cancer treatment; Prostate cancer treatment; Radiation therapy treatments; Surgical oncology procedures
REVIEWS:
"Dr. Hampshire treated my mom … her cancer was too advanced for her to be saved but he made sure that her last months on earth were good months; he made it so we were able to created lasting memories. Hampshire is upfront, caring, loving, and truly takes time with each and every one of his patients. Heather cannot go without recognition either … she is a light in a very dark time. The staff on the hydration station are beautiful souls …. in such a sad place there is so much brightness. He truly is "the good doctor." -Wesley Jane
"Dr. Hampshire is a very warm, and professional Doctor. He cares about all his patients. Always a pleasure to visit with him. I look forward to my appointments" –David Castaneda
Herman Weiss, '97 MD, appointed as new Chief Executive Officer of Todos Medical Ltd.
Todos Medical Ltd. (OTCQB:TOMDF) today announced that its board of directors has appointed Herman Weiss, MD MBA as the new chief executive officer of the company, effective July 30, 2018. Concurrently with Dr. Weiss' appointment as chief executive officer, Dr. Weiss stepped down as the chairman of the board of directors.
"I am honored to have been appointed as the next CEO of Todos Medical, Ltd. It is a privilege to be part of an organization that is striving to develop and bring to market simple blood tests for early cancer detection," said Dr. Weiss. "We are a medical diagnostic company that is led by a purpose - to save lives through early cancer detection while being minimally invasive to the patient."
Dr. Weiss succeeds Rami Zigdon, MBA, who will now hold the position of chief business officer. Additionally, Mr. Zigdon will remain on the board of directors of the company.
Procedurally, Dr. Weiss immediately vacated his position as chairman of the board of directors, although the company intends to re-appoint Dr. Weiss as chairman of the board of directors, subject to approval by the company's shareholders.
From March 2016 to June 2018, Dr. Weiss, served as vice president of medical affairs and clinical development for Juniper Pharmaceuticals Inc. and from December 2010 to March 2016, he served as the Global Medical Director of Women's Health and Bone Health at Teva Pharmaceutical Industries, Ltd. Dr. Weiss received an MBA from the George Washington University, Washington DC, an MD from the Ohio State University College of Medicine Columbus, OH and a BA in Philosophy (Summa Cum Laude) from Ramapo College of New Jersey. Dr. Weiss has served as a consultant to multiple medical device and pharmaceutical companies including American Medical Systems and venture capital firms in NYC and also founded and served as the CMO of a biotech medical device company in Israel. He owns multiple patents and is the author of numerous publications in the area of women's health/gynecology.
Class of 1998
Mahsa Mossadegh '98 MD was voted "Best General Surgeon" in The Woodlands, TX in 2020 & 2022 by readers of Living Magazine.
Dr. Mossadegh was chosen to serve as Cancer Liaison Physician for the Integrated Network Cancer Committee the Oncology ACO for Memorial Hermann.
Jessica Gallagher, '98 MD, joins Yellow Springs Primary Care
In the effort to serve more patients from in and around the village, a local medical office has added a new doctor. Dr. Jessica Gallagher, M.D., has joined Dr. Donald Gronbeck at Yellow Springs Primary Care, a popular independent practice he started at 888 Dayton Street in 2014. Gallagher arrived just last month, and specializes in family medicine.
While she calls Centerville home, a personal connection brought Gallagher to the Yellow Springs practice. She knows Gronbeck's wife, who suggested that she check out her husband's office.
"I watched Dr. Gronbeck work with his patients, liked how the office was run — and that was that," she said. "I was very impressed."
When asked what she values most about being a medical doctor, she replied that she likes talking to people and solving problems. Gallagher further commented that she always knew that she wanted to go into family medicine. "It's never the same day when it comes to family practice. I get to meet many different needs of my patients, from CPR to toe injuries. I also wanted a better, more balanced quality of life, which you can't always have with other medical specialties."
Gallagher said that she enjoys treating her patients, who mostly come from Yellow Springs and Fairborn, working to balance modern medicine with some of the "nontraditional" approaches her patients might choose when it comes to taking control of their health. "Some, particularly my patients from Yellow Springs, are into alternative medicines, such as homeopathic therapies and herbal remedies," she said. "My job is to make sure they are not doing anything too far off the grid."
While Gallagher treats the entire family, she practices in the area of women's health as well.
"I have often been the one, or one of very few woman doctors where I have practiced, so I found myself working in that field," she said. In addition, Gallagher is fond of sports medicine and osteopathic manipulative medicine, which is the straightening of bones.
A native Ohioan originally from the Cincinnati area, Gallagher attended The Ohio State University for her undergraduate education, and majored in biology. She later graduated with her M.D. from The Ohio State College of Medicine. Her training included the St. Elizabeth Family Medicine Residency Program in Dayton, and the Clinton Memorial Residency Program in Wilmington.
Gallagher went on to practice at the Dayton VA Medical Center, where she worked with young people returning from the war in Afghanistan and Iraq. She has also practiced at East Dayton Health Center, part of the nonprofit organization Community Health Centers of Greater Dayton.
When she is not busy treating her patients, Gallagher spends time at home with her husband, Kevin, and their 13-year-old son, Caleb.
Yellow Springs Primary Care is welcoming new patients.
Three College of Medicine Alumni Open Pediatric Associates of Lancaster, INC
Lancaster, OH— Pediatric Associates of Lancaster, Inc moved to a new location on June 18, 2018 and held the grand opening and open house on July 12, 2018. A ribbon cutting ceremony was hosted by the Lancaster Fairfield County Chamber of Commerce. The new address is 1554 Wesley Way in Lancaster, Ohio. Pediatric Associates of Lancaster, Inc had been providing medical care to infants through adolescents in the community for more than 25 years at its previous location 1550 Sheridan Dr, Suite 102 in Lancaster. The practice was outgrowing that location and broke ground on the construction for the new building in November of 2017. The new office offers double the square footage of the old location with many more exam rooms.
The practice was opened by Michele Hensley, '98 MD, (RES) Jennifer Miller, MD, and Michelle Golla, '10 MD.
Class of 1999
Ernest Mazzaferri '99 MD, and Bryan Whitson, MD, PhD will serve as interim co-directors of The Ohio State University Heart and Vascular Center!
The pair will lead the HVC as a nationwide search is conducted for permanent directors to fill the position.
https://onfirstup.com/ohiostate/ohiostate/contents/32460854
Congratulations to the newly elected members of the OSU chapter of Alpha Omega Alpha, Ernest Mazzaferni, Jr., '99 MD, Fellowship, and Frederick Kapetansky, Res.
The two, along with other residents and faculty, were inducted into the chapter officially on April 29th.
Doug Flora, '99 MD, named executive medical director of St. Elizabeth Oncology Services
A "champion" in the field of cancer treatment, Dr. Doug Flora was named executive medical director of St. Elizabeth Oncology Services on Thursday during a groundbreaking of the new cancer center.
"Dr. Flora has extensive experience as a leader in oncology services," said Kathy Jennings, senior vice president of oncology services. "We are thrilled to have this champion at the helm of the cancer center, which will change the way cancer care is delivered in our region."
The $130 million hospital will dedicate nearly a quarter-million square feet to fighting cancer.
The Northern Kentucky facility is the second new cancer hospital under construction in the region. TriHealth also is building a special facility to treat cancer.
The St. Elizabeth cancer hospital, to be five stories tall, is scheduled to open in 2020.
"The center is going to be a game changer," Flora said. "Cancer is a scourge on our population and now we'll be able to counter it more aggressively. We're going to have access to the latest technology, trials and treatments so that we can serve our community more intelligently."
The center will expand on St. Elizabeth's efforts in prevention, genetic screening, precision medicine, clinical research and treatment options.
Flora previously has served as the interim executive medical director of oncology services since September 2017.
"It's gratifying that I'll be able to see through the plans that we have been making for our region. It's a great chance, a chance to share my vision of what we can do as a regional center," Flora said.
Flora has been a medical oncologist and hematologist with St. Elizabeth since 2016. His other roles within St. Elizabeth have included president of medical staff, physician champion in precision medicine and Mayo e-Consults and chairman of medicine. He is a member of the board of trustees at St. Elizabeth and a member of the boards of directors with Cancer Family Care and the Andy and Jordan Dalton Foundation, Cincinnati.
Flora received a Doctor of Medicine from The Ohio State University College of Medicine and Public Health. He completed his internship, residency and fellowship in internal medicine at University of Cincinnati College of Medicine.
Certified by the American Board of Internal medicine in medical oncology, Flora's resume includes awards and letters of honor, including 2013 American Cancer Society, Kentucky Person of the Year. He has been published in numerous publications.
More Updates
Syed Mehmood, MD, Res, FACS recognized by Continental Who's Who
Syed A. Mehmood, MD, FACS is recognized by Continental Who's Who in the field of Medicine as a Lifetime Achiever for his role as a Cardiothoracic Surgeon at Willis-Knighton Health System.
With over 10 years of experience in his field and having served 4 years at his current location, Dr. Mehmood specializes in minimally invasive valve replacement, MitraClip, TAVR, pulmonary embolisms, Vascular Surgery, Cardiac/Heart Surgery, and Thoracic Surgery.
Throughout his education and training, Dr. Mehmood received his Bachelor of Science degree in cellular / molecular biology from the University of Michigan and his Doctorate of Medicine from Chicago Medical School. Following this, Dr. Mehmood completed a General Surgical residency at Wayne State University, a fellowship in cardiothoracic surgery at Ohio State University, and a super fellowship in complex adult cardiothoracic surgery Brigham and Women's Hospital (Boston).
Dr. Mehmood is a Certified General Surgery from the American Board General Surgery and a Certified Thoracic Surgery from the American Board Thoracic Surgery.
To further his professional development, Dr. Mehmood is Fellow at American College of Surgeons and the Society of Thoracic Surgeons.
Dr. Mehmood dedicates this recognition in loving memory of his father, Sajid Mehmood, MD, and his mother Sultana.
Malika Haque, MD, Res, Inducted into Women of Achievement Academy
As Christie Angel, the president and CEO of the YWCA Columbus, took the stage at the end of the organization's annual Women of Achievement luncheon, she wanted to make one thing clear: Every woman deserves access to opportunity in the workplace.
"We have to change the narrative," she told the crowd. "And it's going to take all of us."
Creating a new narrative starts with bringing women leaders to the forefront of businesses, Angel said. And that's was the focus of Wednesday's event.
The Women of Achievement awards ceremony, which inducts six women into its 262-women "academy," has been running since 1986. The event recognizes women leaders who are not only getting to the top inside the office, but have an inspiring service record on their off days, too.
This year, 2,000 attendees watched as the following women were honored for shattering different glass ceilings: Trudy Bartley, associate vice president of local government and community relations at Ohio State University; Darci Congrove, managing director at GBQ partners; Malika Haque, founder and medical director of Noor Community Clinic; Barbara Siemer, co-founder and chairman of Siemer Institute; Katie Smith, head coach for WNBA team the New York Liberty; and Sue Zazon, president of Huntington Bank.
As a result of the event, close to $1 million was raised to help further YWCA efforts.
While Angel said that the increased numbers of women tackling leadership positions in the workplace is no doubt inspiring, there is still more room to grow.
"The YWCA is built on programming," Angel told me the day before the luncheon. "But programming alone is not enough."
She said that the theme of the past year was the banner statement: "The time has come for bold action."
"We really believe that," she said. "We have a bold agenda to help change this community."
For its part, the YWCA plans to increase its education and empowerment efforts for the upcoming generation of women by fostering systemic change to prevent crises from arising in the first place through more advocacy and engagement work.
Angel and the six inductees gave a rallying cry to the women in the audience to go after what they want, even if others tell them otherwise. She said that women have to be lifting one another up and standing on the shoulders of the ones who went before them.
Those kind of conversations of empowerment all start with events like the Women of Achievement awards ceremony, she said.
"You've all helped us celebrate the success of women," she said to the crowd. "Women who are empowering others."
UH Portage Medical Center's Frank Kelley, '94 MD, honored as Alteon Health Facility Medical Director of the Year
Frank Kelley, MD, Director of Hospital Medicine at University Hospitals Portage Medical Center, was recently selected as one of three 2019 Facility Medical Directors of the Year by Alteon Health, the industry-leading national medical group that has managed Portage's Hospitalist program since 2006.