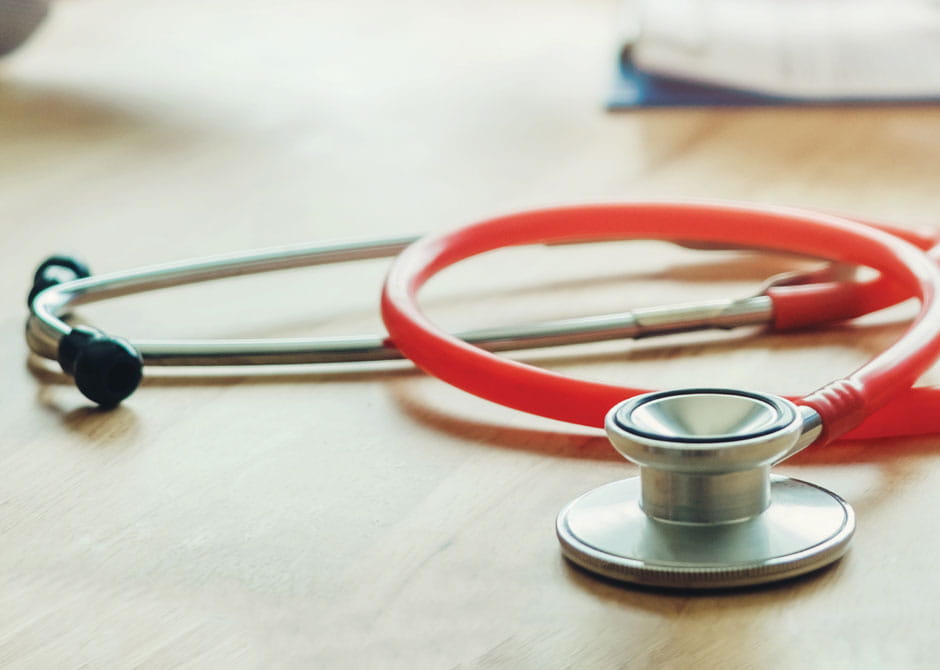 Matt Henn, '11 MD, is the fourth child of Ralph and Molly Henn and the fourth to become a surgeon
When youngest child Matt accepted a position at the Ohio State University's Wexner Medical Center, he became the fourth of his four brothers to become a surgeon. Their story is one of inspiration and resilience, as they lost their father unexpectedly in 1993.
Jump to class year:
Class of 2010
Three College of Medicine Alumni Open Pediatric Associates of Lancaster, INC
Lancaster, OH— Pediatric Associates of Lancaster, Inc moved to a new location on June 18, 2018 and held the Grand Opening and Open House on July 12, 2018. A ribbon cutting ceremony was hosted by the Lancaster Fairfield County Chamber of Commerce. The new address is 1554 Wesley Way in Lancaster, Ohio. Pediatric Associates of Lancaster, Inc had been providing medical care to infants through adolescents in the community for more than 25 years at its previous location 1550 Sheridan Dr, Suite 102 in Lancaster. The practice was outgrowing that location and broke ground on the construction for the new building in November of 2017. The new office offers double the square footage of the old location with many more exam rooms.
The practice was opened by Michele Hensley, '98 MD, Res, Jennifer Miller, MD and Michelle Golla, '10 MD.
Amy Raubenolt, '10 MD, named EMS Medical Director of the Year
The Ohio Department of Public Safety's Division of Emergency Medical Services (EMS), the State Board of Emergency Medical, Fire, and Transportation Services (EMFTS) and the Ohio Chapter of the American College of Emergency Physicians (Ohio ACEP) hosted the 19th Annual EMS Star of Life Awards ceremony in observance of National Emergency Medical Services Week, May 19-25.
"An estimated 240 million calls are made to 9-1-1 in the U.S. each year, with approximately one million emergency runs for EMS in the state each year," said Ohio EMS Executive Director Mel House. "EMS teams are ready to provide critical, lifesaving care to those in need 24 hours a day, seven days a week."
National Emergency Medical Services Week brings together local communities and medical personnel to publicize safety and honor the dedication of those who provide the day-to-day lifesaving services of medicine's front line. The theme, "BEYOND the CALL," exemplifies the commitment and dedication of the 750,000 EMS providers nationwide, and the more than 41,000 in Ohio, who provide an essential community service every day. EMS Star of Life Awards recipients are:
EMS Stars:
Berea Fire Department (Cuyahoga County)
Butler Township Fire and EMS (Montgomery County)
Fairfield Fire Department (Butler County)
Hanco EMS (Hancock County)
Homeworth Volunteer Fire Department (Columbiana County)
Mayfield Heights Fire Department (Cuyahoga County)
Middletown Division of Fire (Butler County)
Oxford Fire Department (Butler County)
Tri-Village Rescue Services and New Madison Volunteer Fire Department (Darke County)
EMS Agency of the Year: Whitehall Division of Fire
Provider of the Year: Christopher Menapace, Whitehall Division of Fire
EMS Medical Director of the Year: Dr. Amy Raubenolt, Akron
Frank Giampetro Distinguished EMS Educator Award: Doug LaRue, Lima Memorial Hospital
Lifetime Achievement Award: Charles Willis "Bill" Troy, Ohio Department of Public Safety (Retired)
7 College of Medicine Alumni receive 2018 Lead.Serve.Inspire Awards at The Ohio State University College of Medicine
The Ohio State University College of Medicine Presents the 2018 Lead.Serve.Inspire. Awards
The faculty and staff at the College of Medicine are celebrated annually at the spring symposium. Recipients of awards are nominated and selected by their peers or learners. These awards honor the outstanding contributors to the Lead.Serve.Inspire. curriculum and the College of Medicine's educational objectives.
College of Medicine alumni who received an award are listed below:
Part 1 Teaching and Learning Methods
Cardiopulmonary Disorders: Troy Schaffernocker, '02 MD
GI/Renal Disorders: Udayan Bhatt, '95 MD
Part 1 Educator
LP Preceptor of the Year: Jeffrey Weiland, '79 MD
LG Facilitator of the Year: Matt McCutcheon, MD, Res
Portfolio Coach of the Year
Deborah Lowery, '88 MD
Part 1 Excellence in Education
Sheryl Pfeil, '84 MD
Part 3 Excellence in Education
Troy Schaffernocker, '02 MD
Lead.Serve.Inspire.
Inspire: Nancy Liao, '10 MD
Med Center Names Three Associate Chief Clinical Information Officers
The medical center is pleased to announce the appointment of three associate chief clinical information officers: Eric Adkins, MD, Res; James Knight, MD, Res, FHM; and Ravi Tripathi, MD. A new role, the associate CCIOs are responsible for assisting the chief clinical information officer in providing institutional leadership for the development and deployment of information technology across multiple disciplines. The associate CCIOs will collaborate with clinicians and leaders to identify the best possible technology solutions across medical specialties and care disciplines and will assist clinicians in the use of the electronic medical record to help ensure the delivery of high-quality, cost-effective, patient-centered care. The appointments were effective Dec. 1.
Dr. Adkins is an associate professor of emergency medicine and critical care. He is the vice chair of clinical affairs in the Department of Emergency Medicine. He completed his medical degree at West Virginia University in 2002 and a five-year residency program for both emergency medicine and internal medicine at Christiana Care Health Services in Delaware in 2007. He completed fellowship training in pulmonary and critical care medicine at the Wexner Medical Center in 2010. He is board certified in all four specialties. He completed a master's degree in medical science at Ohio State in 2010. He has a joint appointment with the Department of Internal Medicine, Division of Pulmonary, Critical Care and Sleep Medicine, where he practices a portion of his time in the Medical Intensive Care Unit. He is a fellow of the American College of Emergency Physicians. Dr. Adkins currently oversees the two medical center Emergency Departments and two AfterHours care sites and is the chair of the IHIS Decision Support Committee.
Dr. Knight is the associate director of medical informatics in the Division of Hospital Medicine. He attended medical school at the Mayo Clinic, then completed an internal medicine and pediatrics residency at Ohio State. He joined the Ohio State faculty in 2009, and is passionate about leveraging technology to improve patient care and the physician experience. Dr. Knight is an Epic-certified physician builder, board certified in clinical informatics and has presented numerous times at Epic X-pert Group Meeting as well as at User Group Meetings.
Dr. Tripathi joined Wexner Medical Center in 2010 and is a clinical associate professor of anesthesiology and serves as director of Anesthesiology Critical Care Services. He received his medical degree from the Northeast Ohio Medical University. He then completed an anesthesiology residency and critical care medicine fellowship at the University of Michigan in 2010 and a cardiac anesthesia fellowship at Ohio State in 2012. Dr. Tripathi practices cardiovascular intensive care in the Ross Heart Hospital, where he serves as medical director of critical care and of information technology. He has academic interests in mechanical circulatory support, health information technology and nutrition and employee wellness. Dr. Tripathi is an Epic-certified physician builder and is also a co-founder of RossFit at the Ross Heart Hospital, a program to foster employee wellness.
Benjamin Kaffenberger, '10 MD, conducted research at the Ohio State University Wexner Medical Center that discovered a correlation between oral hygiene and psoriasis
Dr. Kaffenberger led a study at the Ohio State University Wexner Medical Center that asked patients about oral hygiene and found a correlation between poor gum health and more severe psoriasis. Read more here: https://www.fox2detroit.com/news/study-finds-bacteria-in-mouth-oral-hygiene-linked-to-psoriasis
Class of 2011
Matt Henn, '11 MD, is the fourth child of Ralph and Molly Henn and the fourth to become a surgeon. Their incredible family story was featured in The Columbus Dispatch
When youngest child Matt accepted a position at the Ohio State University's Wexner Medical Center, he became the fourth of his four brothers to become a surgeon. Their story is one of inspiration and resilience, as they lost their father unexpectedly in 1993.
M. Wesley Milks, '11 MD, associate program director of the cardiovascular disease fellowship at the Ohio State University Wexner Medical Center, shared tips for safe exercise when recovering for a heart attack
https://health.usnews.com/health-care/patient-advice/articles/safe-exercise-tips-for-recovering-from-a-heart-attack
Daniel Pap, '11 MD, joined OrthoNeuro practice as an Anesthesiologist
This multi-specialty practice of physicians is joined by Daniel Pap, MD. He will begin seeing patients at their New Albany and Grove City offices at the end of March.
Class of 2012
Iahn Gonsenhauser, '12 MD, shared a message on multiple platforms on the importance of kids understanding safety guidelines for the upcoming school year.
Iahn Gonsenhauser, '12 MD, discussed the effectiveness of different types of face masks as well as why everyone should wear one in an article with INSIDE.
Jarred Burkart, '12 MD, and Marium Husain, '12 MD, are part of a research group studying intestinal bacteria's interaction with the immune system
Matthew Rahrig, '12 MD, joins Mercy Washington
Matthew Rahrig, MD, recently joined Mercy Clinic Four Rivers, and will see patients at Mercy Pain Management in Washington, a service of Mercy Hospital Washington. Dr. Rahrig will partner with Justin Naylor, MD, in Suite 208 at Mercy Medical Building North, 851 E. Fifth St. He will also provide anesthesia services in the hospital.
Dr. Rahrig earned his medical degree from The Ohio State University College of Medicine in Columbus, Ohio. He finished residency training at University of Chicago Hospitals, Pritzker School of Medicine, and a fellowship at Northwestern Memorial Hospital, Feinberg School of Medicine in Chicago.
"I am very excited to join the team in Washington and help patients who are suffering from various pain issues," said Dr. Rahrig, who relocated from a private practice near Columbus, Ohio.
"Ongoing pain is frequently debilitating and leads to significant reductions in function, sleep, and quality of life for many people across the country," he said. "My goal is to help patients -— either through a procedure or through therapy — get back to normal function."
As a specialist in interventional pain management, Dr. Rahrig offers epidural steroid injections, ultrasound guided nerve blocks, spinal cord stimulation, joint injections and radiofrequency ablation (RFA) — which can help patients with chronic low-back, neck pain, and pain related to arthritis. He also can offer treatments for headaches that include Botox and nerve blocks.
"Whether a person's pain arises from surgery, injury, nerve damage, or a health issue, there are options available to help them," said Dr. Rahrig. "New technology also allows us to safely and effectively treat even the most complicated pain problems. But before any treatment takes place, I will make sure my patients have a clear understanding of their pain and how we will work together to make them feel whole again."
Mercy Hospital Washington, a member of Mercy, is a 148-bed hospital serving all or parts of Crawford, Franklin, Gasconade, St. Charles, St. Louis and Warren counties. The hospital offers comprehensive emergency, heart, cancer, surgical, obstetric, pediatric and other health services. The hospital is supported by the care of more than 180 physicians and advanced practitioners who are part of Mercy Clinic.
Teresa C. Cunningham, '12 MD, joins Grossman | Capraro Plastic Surgery
Grossman | Capraro Plastic Surgery has led the way in plastic surgery for more than four decades. Founder Dr. John A. Grossman has recruited a first-class team of partners and associates and has grown the practice into an icon in the cosmetic surgery industry. The elite practice is sought out by many in Denver, the United States and across the globe.
Grossman | Capraro Plastic Surgery welcomes Teresa C. Cunningham, MD, to the team. As a highly educated and accomplished plastic surgeon, Dr. Cunningham is the perfect complement to the current culture and personalities of Grossman | Capraro Plastic Surgery's three esteemed board-certified plastic surgeons.
"Choosing to join Grossman | Capraro Plastic Surgery was one of the easiest decisions I have made in my life," Dr. Cunningham said. "I feel honored to work alongside three first-class surgeons who share the same passion that I have for patient care and exceeding expectations with their work. The reputation they have earned speaks for itself, and I look forward to carrying on the tradition of excellence associated with the Grossman | Capraro name."
Dr. Cunningham graduated with highest honors from the University of Wisconsin – La Crosse. She then went on to medical school in Columbus, Ohio, where she attended The Ohio State University College of Medicine, graduating magna cum laude. She completed her surgical residency in plastic and reconstructive surgery at Wake Forest Baptist Health in Winston-Salem, North Carolina.
Dr. Cunningham is a well-rounded contributor in the plastic surgery field. She is not only a published author but also a sought-after presenter at various regional and national plastic surgery meetings – notably The American Society of Plastic Surgeons Annual Meeting and the American Burn Association Annual meeting. She also shares her talents through actively participating in ongoing research projects.
Patients are drawn to Dr. Cunningham's warm and approachable demeanor. She is a surgeon dedicated to personalized care and natural-looking results, and she approaches all of her patients as a true partner throughout the journey. She feels the power in plastic surgery is the ability to make one feel whole – physically and emotionally.
"Listening is key," she said. "Understanding goals, making a proper assessment, sharing all options and ensuring patients feel very cared for are all huge factors in the success of achieving beautiful results."
The decision to add a new physician to a team is never one that should be taken lightly, and it was certainly no different for Grossman | Capraro Plastic Surgery. Dr. Grossman adds:
"It takes a long time and it's a rigorous selection process. Dr. Cunningham comes to us not only with impeccable credentials, but with universal recommendations among her colleagues, peers and patients regarding her integrity, skill and personal demeanor. It's with great pleasure that we introduce her to Denver."
Iahn Gonsenhauser, '12 MD, appointed as chief quality and patient safety officer at The Ohio State University Wexner Medical Center
'12 Iahn Gonsenhauser, MD, MBA, has been appointed to the position of chief quality and patient safety officer at The Ohio State University Wexner Medical Center. He has been serving as the interim CQPSO since September 2017. Dr. Gonsenhauser is an assistant professor in the Division of Hospital Medicine within the Department of Internal Medicine and will continue actively practicing medicine as a hospitalist at The Ohio State University Wexner Medical Center.
Class of 2013
Ashley Lipps, '13 MD, was quoted by the Columbus Dispatch regarding the cancellation of the Boil-Water Advisory in Columbus.
Earlier this year, Mina Makary, '13 MD, performed a minimally-invasive procedure on a patient with cirrhosis of the liver, making her the first person to perform a purely mechanical thrombectomy-based TIPS revision in Ohio!
This procedure requires advanced technique and is only being done at large medical centers currently, but the procedure gives physicians the opportunity to treat patients with end-stage liver disease and cirrhosis.
Megan Conroy, '13 MD, was quoted in an article by Medscape about how the upcoming flu season will combine and impact the current COVID-19 pandemic.
Gabriel Lockhart, '13 MD, was interviewed by 9 News about working in a hospital during the COVID-19 pandemic.
When the National Jewish Health Hospital in Denver that Lockhart works at asked for volunteers to treat COVID-19 patients in New York, he volunteered. He speaks during the interview about how he was overwhelmed by the gratitude of New York citizens.

Read more on abc6onyourside.com
Whitney Whitis, '13 MD, marriage to Aftab Karma Singh Pureval
Dr. Whitney June Whitis and Aftab Karma Singh Pureval were united in marriage Saturday, May 26, 2018, by Judge Timothy S. Black, Southern District of Ohio United States, in an outdoor wedding at The French House in French Park Cincinnati.
The wedding party entered the venue to music by the Cincinnati Symphony's String Quartet playing "Stand By Me." The double ring ceremony included wedding vows written by the couple and the reading of Lin-Manuel Miranda's sonnet — "Love is Love is Love." Cocktails and a dinner dance followed the ceremony for 250 family and friends. The groom's family were delighted to host family and friends from England, Australia, Amsterdam, India and the United States.
In keeping with the union of two diverse families, the traditional Tibetan wedding ceremony was performed in the groom's family home Thursday afternoon followed by a luncheon. The traditional Sangeet and Mehndi was held Thursday evening with a dinner dance at the Dayton Art Institute and a performance of the Bhangra by The Ohio State University dancers. The traditional Sikh wedding ceremony — Anand Karaj — was performed at the Dayton Gurdwara followed by a luncheon for family and friends at The Country Club of the North, Xenia.
The bride is the daughter of John Whitis, of Cambridge, and Diane (Fred) Mottice, of Louisville. Whitney was escorted by her father, mother and sister, Erin Whitis, of New York, for all the wedding ceremonies.
The groom is the son of Drenko and the late Devinder Pureval, of Xenia. Grandparents of the couple are the late Betty June and Ralph Richard Whitis of Cambridge; Velma and the late Kennon Huntsman, of Zanesville; the late Joanee Ahrendts, of Cambridge; Brigadier General Ajit Singh and Randhir Kaur Singh, of New Delhi, India; and Ponpo Thoutop Gyonpo and Dorji Lhamo Gyonpo, of Katmandu, Nepal.
Whitney received her undergraduate degree and her Doctor of Medicine degree from The Ohio State University College of Medicine. Dr. Whitis is an internal medicine hospitalist for TriHealth Physician Partners working out of Bethesda North in Cincinnati. Aftab received his undergraduate degree from The Ohio State University and his law degree from the University Of Cincinnati College Of Law. He is Clerk of Courts for Hamilton County.
The couple makes their home in Cincinnati.
Read more on Ohio.com
Arpan Parikh, '13 MD, to pursue full-time MBA at the Wharton School at the University of Pennsylvania
After graduating from his psychiatry residency at Mount Sinai-St. Luke's/West Hospitals in New York City in 2017, Dr. Arpan Parikh accepted a full-time faculty position as the medical director of the Addiction Institute at Mount Sinai St. Luke's Hospital. Having served just over one year in this role, he will be leaving New York this August and moving to Philadelphia, where he will be pursuing his full-time MBA at the Wharton School at the University of Pennsylvania with areas of focuses in health care management and finance.
Mina Makary, '13 MD, designed an app called RadApp to help fellow radiologists find resourcesee to manage their workflow
Mina Makary, who works as an assistant professor of radiology at The Ohio State University Wexner Medical Center, designed an app called RadApp to help fellow radiologists find resources to manage their workflow and to prevent burnout. He discussed with Diagnostic Imaging the long-term impact of this informatics tool.
Class of 2014
A recent post on Your Digital Wall recently featured the bio of Steven Shin, '14 MD, a sports medicine specialist.
Class of 2015
Congratulations to Sophia Tolliver, '15 MD, as she has been as a 2021 WELD Honoree!
WELD honors the achievements of these notable women in our Women WELDing the Way calendar. The 2021 Women WELDing the Way honorees will be recognized at a November 5, 2020 reception at the Ohio Statehouse Atrium.
Sophia Tolliver, '15 MD, was quoted in an article discussing the effects of black licorice on health.
This conversation began following the death of a 54-year-old Massachusetts man after he ate large amounts of black licorice daily.
Sophia Tolliver, '15 MD, was quoted discussed important nutrients for a growing infant and breast feeding with Good Day Columbus in celebration of World Breast feeding Awareness Month and Black Breastfeeding Week.
James Van Hulle, '15 MD, joins Orangeburg Eye Center
Ophthalmologist Dr. James Van Hulle has joined Orangeburg Eye Center on Summers Avenue and is accepting new patients.
Dr. Van Hulle comes to Orangeburg after completing an internship in internal medicine at Akron City Hospital in Ohio, where he completed training in ophthalmology. He served as chief resident during his final year of training.
He attended The Ohio State University College of Medicine, where he was awarded the Means Scholarship and earned honors in ophthalmology, neurology and psychiatry. His undergraduate bachelor of science in microbiology was earned at Ohio State, with Dr. Van Hulle receiving the trustee scholarship.
Raised in Cincinnati, Dr. Van Hulle said he first became interested in ophthalmology in high school. "I had seen eye doctors my whole life and understood the importance of good vision," he said.
He was drawn to Orangeburg Eye Center by "the excellent physicians, small town atmosphere, and friendly and welcoming patients."
Dr. Van Hulle brings to the community a particular interest in diabetic eye disease and specializes in cataract surgery as well in-office laser eye surgery for a number of conditions. He is trained to treat cataracts, glaucoma, diabetic retinopathy, macular degeneration, eye injuries, and perform regular eye check-ups.
He is a member of the American Academy of Ophthalmology and the American Society of Cataract and Refractive Surgeons.
Dr. Van Hulle and his wife Rachael are the parents of four sons, with another on the way.
Read more on thetandd.com
Melissa Quinn, PhD, elected Director of the Central Region of North America
The Human Anatomy & Physiology Society (HAPS) elected Melissa Quinn, '15 PhD, assistant professor of anatomy, director of the entire central region of North America. HAPS is the largest community of anatomy instructors, and this role serves as a liaison between this large region and the HAPS national board of directors, of which Dr. Quinn will be a voting member.
Class of 2017
Tomas Guerrero, '17 MD, selected as Housestaff Recipient of Excellence in Teaching Award
This distinction is awarded on the merit of student ratings of teaching. To qualify, candidates are evaluated both on quality and quantity of student teaching. Tomas Guerrero, MD was selected as one of the top housestaff teachers in internal medicine.
Class of 2018
"TikTok Doc" Jason Campbell, '18 MD, has been spreading positivity on the app through dancing. He has become a viral sensation and hopes to use his new platform to talk about more important issues.
Read more on 10tv.com
Class of 2019
Erica Mantel, '19 MD, has been named as a candidate for the Leukemia and Lymphoma Society's Woman of the Year.
This award helps raise awareness and money to find cures for blood cancers. Mantel was diagnosed with acute lymphoblastic leukemia when she was a 22-year-old biology major at Ohio State. She then took a year off from school and then began at the Ohio State University College of Medicine, receiving her MD in 2019. Read more of her story in this article: https://www.10tv.com/article/dublin-doctor-cancer-survivor-running-leukemia-and-lymphoma-societys-woman-year-2020-may
More Updates
Leslie Adrian, MD Joins St. Luke's Regional Trauma Center
Dr. Leslie Adrian has joined St. Luke's Regional Trauma Center.
Dr. Adrian received her medical degree from Georgetown University School of Medicine in Washington, DC. She then completed her emergency medicine residency at The Ohio State Wexner Medical Center in Columbus.
Dr. Adrian was named the 2018-2019 Pediatric Emergency Medicine Resident of the Year at Nationwide Children's Hospital in Columbus.
Read more on BusinessNorth.com
Peter Y Chen, MD, Res, named as Fellow of the American Society for Radiation Oncology (FASTRO)
The world's largest society for radiation oncology professionals recently voted to confer upon Dr. Peter Y. Chen, the designation of American Society for Radiation Oncology Fellow (FASTRO). Dr. Chen received his FASTRO designation at an awards ceremony on Tuesday, Oct. 23, during ASTRO's 60th Annual Meeting in San Antonio.
"Dr. Chen joins an elite group of physicians and medical physicists who are recognized for their far-reaching contributions to the field of radiation oncology and their progress in advancing cancer research, education and patient care," said Brian Kavanagh, MD, MPH, FASTRO, Chair of the ASTRO Board of Directors. "Congratulations to Dr. Chen for achieving the designation of ASTRO Fellow."
Awarded annually since 2006, the ASTRO Fellows program recognizes individuals who have made significant contributions to radiation oncology through research, education, patient care and/or service to the field. Since its inception, the FASTRO designation has been awarded to just 327 of ASTRO's more than 10,000 members worldwide; the 2018 class of Fellows comprises 35 individuals, including Dr. Chen.
More information about the Fellows program is available via the ASTRO website, including the list of 2018 ASTRO Fellows, the complete list of ASTRO Fellows and information about the nomination and selection process.
Samir Parikh, MD, Res, named one of V-RED 2018 Honorable Mention Winners
This year, more than 40 patients nominated their doctors for the V-RED Award. One overall winner was chosen, and three other medical professionals were awarded honorable mention.
"The V-RED Award honors these healthcare professionals because their stories demonstrate the importance of the need for earlier diagnosis of vasculitis," says Joyce Kullman, executive director of the Vasculitis Foundation. "So often our patients fail to get an early diagnosis because vasculitis symptoms can mimic so many other conditions. We created the V-RED Award to celebrate those medical professionals who did catch the disease in its early stages, thus improving the outcome for the patient."
Samir Parikh, MD
The Ohio State University Wexner Medical Center, Columbus, Ohio Dr. Parikh was nominated by Sandy Nye, who was diagnosed with Microscopic polyangiitis vasculitis in 2014 after being sick for more than five years with no definitive diagnosis. Dr. Parikh, a nephrologist, made the diagnosis within four weeks after performing a kidney biopsy and recognizing the symptoms of vasculitis.
Read more on NewsWise.com
Andrew Figura, MD, Res, to join the AHN Cancer Institute at Saint Vincent
Saint Vincent Hospital today announced the recruitment of medical oncologists Jongming Li, MD, and Philip Symes, MD, effective Jan. 1, 2019, and radiation oncologists Andrew Figura, MD, and Conrad Stachelek, PHD, MD, who will join the AHN Cancer Institute at Saint Vincent in late 2019.
The four physicians are coming to Saint Vincent as part of the ongoing transition of cancer care from the Regional Cancer Center in Erie to independent cancer programs being established by the RCC members.
Saint Vincent is currently in the process of constructing a new comprehensive cancer center on its campus that will provide the complete spectrum of cancer care in one convenient location, including state-of-the-art radiation oncology capabilities, medical oncology and infusion therapy, nutritional counseling, social services and access to clinical trials being coordinated by Allegheny Health Network's quaternary hospitals, Allegheny General Hospital and West Penn, and Johns Hopkins.
The new facility is expected to open in late 2019.
Dr. Figura earned his medical degree at the Medical College of PA, Hahnemann University School of Medicine. He completed a residency in radiologic oncology at Ohio State Medical Center.
He is board certified in radiation oncology and holds memberships in The American Society of Therapeutic Radiologists, The American College of Radiation Oncology, The Pennsylvania Medical Society and The American Medical Association.
Read more on YourErie.com
J. Byers Bowen, MD, Res, and Ian Valerio, MD, pioneer technique that limits phantom limb and stump pain
Doctors at The Ohio State University Wexner Medical Center and College of Medicine are pioneering the use of primary targeted muscle reinnervation (TMR) to prevent or reduce debilitating phantom limb and stump pain in amputees.
Losing a limb due to trauma, cancer, or poor circulation can result in phantom limb and stump pain in upwards of 75 percent of amputees in the United States. Primary TMR – the rerouting of nerves cut during amputation into surrounding muscle – greatly reduces phantom limb and residual limb pain, as reported in recent publications by Dr. Ian Valerio, division chief of Burn, Wound and Trauma in Ohio State's Department of Plastic and Reconstructive Surgery, and Dr. J. Byers Bowen, a former resident who is now in private practice. Their latest work featured in the January 2019 issue of Plastic and Reconstructive Surgery describes how to perform this technique in below-the-knee amputations.
TMR was first developed to allow amputees better control of upper limb prosthetics. Traditionally doctors perform the surgery months or years after the initial amputation. When surgeons discovered the procedure also improves certain causes of pain, they started using it to treat disorganized nerve endings called symptomatic neuromas and/or phantom limb pain.
In this paper, Valerio and Bowen provide a detailed description of TMR in below-the-knee amputees and document the benefits of primary TMR for preventing pain.
Over the course of three years, the surgeons performed 22 TMR surgeries on below-the-knee amputees, 18 primary and four secondary. None of the patients have developed symptomatic neuromas and only 13 percent of patients who received primary TMR reported having pain six months later.
"A significant amount of pain in amputees is caused by disorganized nerve endings, i.e. symptomatic neuromas, in the residual limb. They form when nerves are severed and not addressed, thus they have nowhere to go," Valerio said. "Attaching those cut nerve endings to motor nerves in a nearby muscle allows the body to re-establish its neural circuitry. This alleviates phantom and residual limb pain by giving those severed nerves somewhere to go and something to do."
Valerio said patients who've had TMR significantly reduce or sometimes stop using narcotics and other nerve pain related medications, which can greatly improve their quality of life.
"TMR has been shown to reduce pain scores and multiple types of pain via a variety of validated pain surveys. These findings are the first to show that surgery can greatly reduce phantom and other types of limb pain directly," Valerio said.
Bowen added that upper extremity amputees are better able to use and control their prosthetics in addition to their improved pain outcomes. He said, "TMR allows for more individual muscle unit firings through the patient's thoughts. It provides for better intuitive control resulting in more refined functional movements and more degrees of motion by an advanced prosthetic."
The researchers believe primary TMR is a reliable technique to prevent the development of disorganized nerve endings and to reduce phantom and other limb pain in all types of amputations. When done at the time of initial amputation, there is minimal health risk and recovery is similar to that of traditional amputation surgery.
Surgeons perform TMR routinely at Ohio State, with primary TMR as the standard of care for most orthopedic-based traumatic and oncologic amputations. Valerio lectures and trains surgeons around the world on the primary TMR technique in an effort to make it a global best practice.
Thom E. Lobe, MD, Res, Recognized by Continental Who's Who
Thom E. Lobe, MD is being recognized by Continental Who's Who as a Pinnacle Lifetime Achiever for his work as a Regenerative Medicine Specialist with Regenevéda
Regenevéda is a regenerative medicine practice that focuses on advanced cellular therapy. They provide consultations for bio-identical hormone replacement therapy for men and women, intravenous therapies that include specifically tailored vitamin therapy, ozone and ultraviolet blood irradiation treatments, peptide therapy and cellular therapy all of which are designed to restore and maintain optimal physiological function and slow down the aging process.
Dr. Thom E. Lobe, specialist with Regenevéda and professor of clinical surgery at the University of Illinois, has been working in the field of regenerative medicine for more than four decades. Originally located in Beverly Hills, California, the practice was opened in 2008, and five years later was relocated to its current location. During his time teaching, Dr. Lobe worked at the University of Tennessee Health Sciences Center and the Saint Jude Children's Research Hospital, contributing to both research and leadership roles. One of Dr. Lobe's prouder accomplishments in his field was his success in creating a minimally-invasive surgery and robotic techniques for children. In reference to his work with Regenevéda, Dr. Lobe notes that "When patients find us, they don't leave us."
Attending the University of Maryland's School of Medicine, Dr. Lobe graduated Cum Laude. He then went on to study General Surgery with the Ohio State University Hospitals, and furthered his medical education at the Children's Hospital, now Nationwide Children's Hospital, where he studied pediatric surgery.
Dr. Lobe is currently affiliated with the American Academy of Pediatrics and the American Academy of Regenerative Medicine. He is also currently a member of the American College of Surgeons, Society of American Gastrointestinal and Endoscopic Surgeons, and the American Association for Anti-Aging Medicine.
In recognition of his outstanding work, Dr. Lobe has been globally recognized and awarded.
When he is not studying medicine, Dr. Lobe appreciates spending his time traveling and spending time with family and friends.
Read more on PRNewswire.com
Sakima Smith, MD, Res, Receives Landacre Research Honor Society Award
Congratulations to Sakima Smith, MD, who has earned the Landacre Research Honor Society Distinguished Researcher of the Year Award for his dedication to advising and mentoring future physicians at Ohio State's College of Medicine. Dr. Smith is an advanced heart failure and heart transplant cardiologist at Ohio State Wexner Medical Center.
The Landacre Research Honor Society is the College's medical student research honor society, which encourages medical students to pursue excellence in academic achievement and individual research. Activities include the welcome and informational session at orientation for first-year medical students, a biomedical research opportunities information session for medical students, a Landacre-sponsored Research Opportunities Fair, other research related workshops and participation in the organization of the annual Wexner Medical Center Trainee Research Day activities.
2019 class of the Mazzaferri-Ellison Society of Master Clinicians to be inducted
On Wednesday, June 19, 2019, this year's class of the Mazzaferri-Ellison Society of Master Clinicians were inducted. Congratulations to this year's recipients!
2019 class of the Mazzaferri-Ellison Society of Master Clinicians:
Gail Besner
Quinn Capers IV
Daniel Clinchot
William Farrar
Miriam Freimer
Mary Fristad
Chris Kaeding
Mark Landon
Sheryl Pfeil
Manisha Shah
Congratulations to 2019 Castle Connolly Top Doctors
Castle Connolly's nomination survey, research, screening and selection process involves many hundreds of thousands of physicians as well as academic medical centers, specialty hospitals, and regional and community hospitals across the nation. Castle Connolly's physician-led team of researchers follows a rigorous screening process to select top doctors on both the national and regional levels.
We have many physicians at the medical center who are named to the Top Doctors list and featured in the August issue of Columbus Monthly. The Ohio State University College of Medicine alumni are listed below.
Cardiovascular Disease
Cindy Baker, MD, Res
Michael Donnally, MD, Res
Ayesha Hasan, MD, Res
Dermatology
David Lambert, '81 MD, Res
Susan Massick, MD, Res
Diagnostic Radiology
Chadwick Wright, '06 MD, Res, PhD
Endocrinology, Diabetes & Metabolism
Kathleen Dungan, '01 MD
Willa Hsueh, '73 MD
Rebecca Jackson, '78 MD, Res
Laura Ryan, '98 MD, Res
Gastroenterology
Peter Stanich, MD, Res
Geriatric Medicine
Tanya Gure, '00 MD
Gynecologic Oncology
Floortje Backes, MD, Res
Hematology
Spero Cataland, '94 MD, Res
Michael Grever, MD, Res
Eric Kraut, MD, Res
Internal Medicine
Cynthia Kreger, '85 MD
Patricia Ryan, MD, Res
Geoffrey Vaughan, '93 MD, Res
Interventional Cardiology
Konstantinos Boudoulas, '01 MD, Res
Quinn Capers, '91 MD
Ernest Mazzaferri, '99 MD, Res
Medical Oncology
Maryam Lustberg, MD, Res
J. Paul Monk, '96 MD, Res
Jeffrey VanDeusen, '06 MD, PhD
Jennifer Woyach, '05 MD, Res
Nephrology
Udayan Bhatt, '95 MD
Neurology
Jacquelyne Cios, '04 MD, Res
Miriam Freimer, '85 MD, Res
J. Chad Hoyle, '03 MD, Res
Andrew Slivka, '80 MD, Res
Obstetrics & Gynecology
Michael Blumenfeld, '85 MD, Res
Geri Hewitt, '90 MD
Michelle Isley, MD, Res
Katherine Strafford, MD, Res
Wayne Trout, MD, Res
Ophthalmology
David Castellano, MD, Res
Colleen Cebulla, '02 MD, PhD
Andrew Hendershot, '05 MD, Res
Matthew Ohr, MD, Res
Michael Wells, MD, Res
Orthopaedic Surgery
Grant Jones, '92 MD, Res
Otolaryngology
Amit Agrawal, MD, Res
Brad deSilva, '03 MD, Res
Garth Essig, '03 MD
L. Arick Forrest, '88 MD, Res
Bradley Otto, MD, Res
Enver Ozer, MD, Res
Pathology
Wei Chen, MD, Res, PhD
Physical Medicine & Rehabilitation
Albert Clairmont, MD, Res
Samuel Colachis, MD, Res
Walter Mysiw, '81 MD, Res
William Pease, MD, Res
Psychiatry
Darryl Brush, '92 MD
James Young, MD, Res
Pulmonary Disease
Jonathan Parsons, MD, Res
Rheumatology
Zhanna Mikulik, MD, Res
Surgery
Doreen Agnese, MD, Res
Daniel Eiferman, MD, Res
William Farrar, MD, Res
Valerie Grignol, MD, Res
Urology
Geoffrey Box, '01 MD, Res
Vascular & Interventional Radiology
Hooman Khabiri, '90 MD, Res
Vascular Surgery
Jean Starr, '89 MD
Patrick Vaccaro, MD, Res